Here is a demonstration of the VCA envelope and the preset functionality of the Moog Sub Phatty.
Casino 2 contains 64 new presets for Cassini. Basses, Leads, Pads, Arpeggiations, Chiptune, Formant and FM patches, and more.
Every preset has the modulation wheel routed as well as all 4 performance modulation knobs assigned to interesting and important aspects of the sound, giving you a high degree of real time control and command over your sound.
Compatible with iPhone 3GS, iPhone 4, iPhone 4S, iPhone 5, iPod touch (3rd generation), iPod touch (4th generation) and iPad. Requires iOS 4.3 or later.
Format:
▪ 100% Original and Royalty Free
▪ 64 cassini_timbre files
▪ 256 Controller knob settings
▪ 64 Mod Wheel settings
▪ Includes easy installation instructions
Price: $2.49
Available from – www.sunsineaudio.com
Free Preview Pack – http://www.sendspace.com/pro/dl/cd5ikl
The Ambisphere soundbank for Rayblaster.
Coming soon: 150 fresh new ambient presets for Rayblaster.
Thiago Pinhero introduces AAS' electric piano.
Lounge Lizard EP-4 — Electric Piano
http://www.applied-acoustics.com/loungelizard/overview/
Background description:
In the studio
When time matters, simply pick from more than 100 custom electric piano presets. But when sound exploration is on the program, players will dig the real-time controls over hammer hardness, tine color and decay, damper noise, and pickup placement for an unsurpassed level of customization.
Live on stage
Gigging musicians will appreciate Lounge Lizard's small memory footprint, instant preset recalls, and stability. Furthermore, the huge library of Rhodes and Wurlitzer sounds as well as the complete selection of effects makes it easy to build a set list and get the perfect tone for each songs.
Alive beneath your fingers
There is something quite immersive when a connection develops between the player and the instrument. Whether it's the perfectly smooth velocity progression or the interactive reaction to your performance, Lounge Lizard makes that connection happen.
Beyond the electric piano
Lounge Lizard achieves convincing electric piano tones with less than twenty synth parameters. That's a quite a feat by itself, but pushed further, these parameters reveal a realm of other tones. Organs, bells, chimes, leads are all featured in the preset library's Experimental folder.
Custom tones
Even though famous players shared the same brand and models, they were all acheiving their own signature sound. Nevertheless, that usually meant spending many hours under the hood with screw drivers, wrenches, or even a solder iron. What's fun with Lounge Lizard is that whether you're looking to emulate a particular sound or simply find your own, all those tweaks are just a few knob turns away!
Generation –
Sunsine Audio's new pack for PPG Wavegenerator features 32 presets including 5 basses, 7 leads, 5 keys, 2 arps, 9 pads, and more. In addition 20 unique wavetables have been included, and exchanging these between presets allows a large degree of tonal variation very easily. Each preset has parameters mapped to both the horizontal and vertical keyboard control for expressive performance opportunities.
*Requirements: Compatible with iPad. Requires iOS 5.1 or later and PPG Wavegenerator.*
Format:
• 32 Presets in 1 .bin file
• 20 WaveTables in .wts files
• Full horizontal and vertical key modulation support.
• Easy Installation Instructions
Price: $1.49
Available from – www.sunsineaudio.com
Free Preview Pack – http://www.sendspace.com/pro/dl/unlxtv
http://www.appsformusicproduction.com/2012/11/06/50-magellan-presets/
50 Magellan presets from Apps for Music Production!
"Grab yourself 50 high quality Magellan presets here for just £1.99. Ready to slot into any production style and bursting with inspiration for your iOS music!"
33 Animoog Custom Patches
(Everything in this video was created by 'lewissa" on Youtube)
Download link for presets:
http://airplaneshadow.com/air/portfolio/33-animoog-patches
How to install:
-Download the 33-Animoog-Patches-JLewis.zip and un-zip the file (it may already download as an unzipped folder named 'presets').
-Connect your iPad (with Animoog installed) to your computer.
-Launch iTunes and select the iPad in the devices list.
-Select the "Apps" tab for the iPad.
-Scroll down to "Animoog File Sharing," and click "Add."
-Select all the files in the folder you just un-zipped.
Launch Animoog and select "Import Presets" from the settings tab.
This is a reference video of all of the patches I have created.
BASS
00:03 A Person
00:34 Figuratively Speaking
01:02 Insert Bass Here
01:34 Speak For Yourself
01:49 That Began Here
EFX
02:36 One Key At A Time
03:18 PBS Title Sequence
03:40 Sequentially Elated
04:04 Special Flower
04:35 Superintended
HITS
04:57 Feel That Burn
05:18 For Ever First
05:48 Realize It
06:09 That Place
06:21 Yesterday Now
KEYS
06:49 Feel That Tomorrow
07:29 Good Sunset
07:55 Hold On
08:36 Intrepidation
09:12 Surprise!
LEADS
09:48 Frances
10:12 Tell Me Something I Don't Know
PADS
10:40 Drawn
11:15 Somewhere Beyond
11:33 This Is Delicious
12:03 Verticalism
PLUCKED
12:32 Hallow Rent
13:10 One Thread
13:24 Registered 64
13:37 Scientactical
USER
14:08 Horizontalist
14:31 Secret Song
15:09 Veronica
Background information and tutorial settings below:
This is a MicroKorg tutorial showing how to make the synth lead sound from my "Sunday Synth Jam" Video: http://www.youtube.com/watch?v=pp8620beSxY If you have questions or comments, go ahead and post them below!

Thanks for watching!
____SETTINGS:____
Initialize the sound on the MicroKorg by pressing SHIFT + 3 and then 3 again.
Pitch: 0 – 0 – 10 – 5 – /
Osc1: SIN – 0 – 0 – / – /
Osc2: SQU – SYC – 12 – 0 – /
Mixer: 127 – 54 – 0 – / – /
Filter: 12.L – 61 – 84 – 15 – 19
Filter EG: 0 – 0 – 33 – 31 – ON
AMP EG: 0 – 77 – 64 – 107 – ON
LFO 2: SIN – OFF – OFF – 12 – /
Patch 1: LFO.2 – CUT – 10 – / – /
Patch 2: LFO.2 – 2.TN – 10 – / – /
Mod FX: ENS – 50 – 99 – / – /
Delay: L-R – ON – 1.4 – 50 – /
Press SHIFT + WRITE and then WRITE again to save the sound to the current slot.
Solo with the analog, one VCO mono synth, Roland SH-2000.
Pad: Oberheim OBXa
EFX: Roland DEP-5
Reverb: Sonar
Live played and recorded by magevers 04-11-2012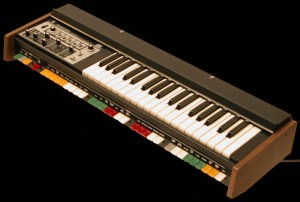 The SH-2000, introduced in 1973, is Roland's second synthesizer and is essentially a limited version of the SH-1000. Like the 1000, it is a single-oscillator monophonic analog Preset synthesizer designed to sit atop a home organ. It's got a great old analog sound but its lack of edit-ability and connectivity compared to the SH-1000 is what ultimately holds it back from being really great. (Perhaps Roland wanted to simplify it for the target demographic at the time – churches and casual home organists.)
Below its 37-note keyboard are several colorful tab switches which are used to select any one of its 30 Preset sounds. They range from the usual to the unusual: Tuba, Trombone, French Horn, Trumpet, Saxophone, Bassoon, Oboe, Flute, Clarinet, Cello, Violin, Bass Guitar, Hawaiian Guitar, Banjo, Fuzz Guitar I, Fuzz Guitar II; Piano, Harpsichord, Accordion, Vibraphone, Xylophone; Singing Voice, Song Whistle, Popcorn, Space Reed, Planet, Frog Man, Funny Cat, Growl Wow and Wind.
Left of the keyboard are the only editable controllers available on the SH-2000. They include the filter's cutoff, resonance and modulation sliders, LFO modulation rate, portamento, vibrato, pitch bend, volume and master tuning. The filter and LFO are severely limited and there are no ADSR envelope controls. However, the cool 'Growl' and 'Wow' effects and the Random Note Generator from the SH-1000 are here, which is nice. Amazingly, this 1973 synth has aftertouch, called the 'Touch Effect' which can be assigned to modulate the volume, Vibrato, pitch, 'Wow' and 'Growl' effects. A few other drawbacks to the SH-2000 is the total lack of CV/Gate for external communication and no user memory.
The SH-2000 is great for squeaky effects and growling bass notes. However the SH-1000 offers much more flexibility and a better sounding filter.