Generation -
Sunsine Audio's new pack for PPG Wavegenerator features 32 presets including 5 basses, 7 leads, 5 keys, 2 arps, 9 pads, and more. In addition 20 unique wavetables have been included, and exchanging these between presets allows a large degree of tonal variation very easily. Each preset has parameters mapped to both the horizontal and vertical keyboard control for expressive performance opportunities.
*Requirements: Compatible with iPad. Requires iOS 5.1 or later and PPG Wavegenerator.*
Format:
• 32 Presets in 1 .bin file
• 20 WaveTables in .wts files
• Full horizontal and vertical key modulation support.
• Easy Installation Instructions
Price: $1.49
Available from – www.sunsineaudio.com
Free Preview Pack – http://www.sendspace.com/pro/dl/unlxtv
http://www.appsformusicproduction.com/2012/11/06/50-magellan-presets/
50 Magellan presets from Apps for Music Production!
"Grab yourself 50 high quality Magellan presets here for just £1.99. Ready to slot into any production style and bursting with inspiration for your iOS music!"
33 Animoog Custom Patches
(Everything in this video was created by 'lewissa" on Youtube)
Download link for presets:
http://airplaneshadow.com/air/portfolio/33-animoog-patches
How to install:
-Download the 33-Animoog-Patches-JLewis.zip and un-zip the file (it may already download as an unzipped folder named 'presets').
-Connect your iPad (with Animoog installed) to your computer.
-Launch iTunes and select the iPad in the devices list.
-Select the "Apps" tab for the iPad.
-Scroll down to "Animoog File Sharing," and click "Add."
-Select all the files in the folder you just un-zipped.
Launch Animoog and select "Import Presets" from the settings tab.
This is a reference video of all of the patches I have created.
BASS
00:03 A Person
00:34 Figuratively Speaking
01:02 Insert Bass Here
01:34 Speak For Yourself
01:49 That Began Here
EFX
02:36 One Key At A Time
03:18 PBS Title Sequence
03:40 Sequentially Elated
04:04 Special Flower
04:35 Superintended
HITS
04:57 Feel That Burn
05:18 For Ever First
05:48 Realize It
06:09 That Place
06:21 Yesterday Now
KEYS
06:49 Feel That Tomorrow
07:29 Good Sunset
07:55 Hold On
08:36 Intrepidation
09:12 Surprise!
LEADS
09:48 Frances
10:12 Tell Me Something I Don't Know
PADS
10:40 Drawn
11:15 Somewhere Beyond
11:33 This Is Delicious
12:03 Verticalism
PLUCKED
12:32 Hallow Rent
13:10 One Thread
13:24 Registered 64
13:37 Scientactical
USER
14:08 Horizontalist
14:31 Secret Song
15:09 Veronica
Background information and tutorial settings below:
This is a MicroKorg tutorial showing how to make the synth lead sound from my "Sunday Synth Jam" Video: http://www.youtube.com/watch?v=pp8620beSxY If you have questions or comments, go ahead and post them below!

Thanks for watching!
____SETTINGS:____
Initialize the sound on the MicroKorg by pressing SHIFT + 3 and then 3 again.
Pitch: 0 – 0 – 10 – 5 – /
Osc1: SIN – 0 – 0 – / – /
Osc2: SQU – SYC – 12 – 0 – /
Mixer: 127 – 54 – 0 – / – /
Filter: 12.L – 61 – 84 – 15 – 19
Filter EG: 0 – 0 – 33 – 31 – ON
AMP EG: 0 – 77 – 64 – 107 – ON
LFO 2: SIN – OFF – OFF – 12 – /
Patch 1: LFO.2 – CUT – 10 – / – /
Patch 2: LFO.2 – 2.TN – 10 – / – /
Mod FX: ENS – 50 – 99 – / – /
Delay: L-R – ON – 1.4 – 50 – /
Press SHIFT + WRITE and then WRITE again to save the sound to the current slot.
Solo with the analog, one VCO mono synth, Roland SH-2000.
Pad: Oberheim OBXa
EFX: Roland DEP-5
Reverb: Sonar
Live played and recorded by magevers 04-11-2012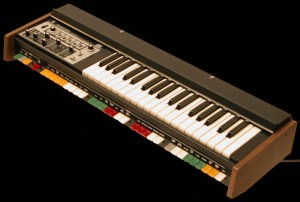 The SH-2000, introduced in 1973, is Roland's second synthesizer and is essentially a limited version of the SH-1000. Like the 1000, it is a single-oscillator monophonic analog Preset synthesizer designed to sit atop a home organ. It's got a great old analog sound but its lack of edit-ability and connectivity compared to the SH-1000 is what ultimately holds it back from being really great. (Perhaps Roland wanted to simplify it for the target demographic at the time – churches and casual home organists.)
Below its 37-note keyboard are several colorful tab switches which are used to select any one of its 30 Preset sounds. They range from the usual to the unusual: Tuba, Trombone, French Horn, Trumpet, Saxophone, Bassoon, Oboe, Flute, Clarinet, Cello, Violin, Bass Guitar, Hawaiian Guitar, Banjo, Fuzz Guitar I, Fuzz Guitar II; Piano, Harpsichord, Accordion, Vibraphone, Xylophone; Singing Voice, Song Whistle, Popcorn, Space Reed, Planet, Frog Man, Funny Cat, Growl Wow and Wind.
Left of the keyboard are the only editable controllers available on the SH-2000. They include the filter's cutoff, resonance and modulation sliders, LFO modulation rate, portamento, vibrato, pitch bend, volume and master tuning. The filter and LFO are severely limited and there are no ADSR envelope controls. However, the cool 'Growl' and 'Wow' effects and the Random Note Generator from the SH-1000 are here, which is nice. Amazingly, this 1973 synth has aftertouch, called the 'Touch Effect' which can be assigned to modulate the volume, Vibrato, pitch, 'Wow' and 'Growl' effects. A few other drawbacks to the SH-2000 is the total lack of CV/Gate for external communication and no user memory.
The SH-2000 is great for squeaky effects and growling bass notes. However the SH-1000 offers much more flexibility and a better sounding filter.
A walk through some of THE DARK ZEBRA synth presets – a Zebra2 soundbank created by Hans Zimmer and Howard Scarr. A few of the clips reveal extra "ZebraHZ" features that are not present in the regular Zebra2.
Available from July 23rd, 2012 at www.u-he.com
(running the HZ version of this plugin requires a license for Zebra2)
Sunsine Audio has released Animation Vol 1, a set of 130 presets for Moog's Animoog IOS synth.
Dubstep basses, modulation mayhem, chiptune keys, ambient voyages, hard leads and dirty funk characterize this set of 130 presets for the award winning Animoog ios synth. Compatible with both IPad and IPhone versions. The cheapest, most diverse and usable set available. Recharge your Moog and find out why this synth is creating such a stir!
*Requires Animoog synthesizer for IPad or IPhone*
130 .preset files
Includes easy installation instructions.
Pricing and Availability:
$4.99
More information:
"Drum Bloop – Testing the Buchla drum presets. You can find them on page 247 of the user manual…"
Via It's full of stars
"Vegas Buchla and OP-1 Sunset – Chillin at Encore waiting for Deadmau5 making lots of noise"
Moog Music has announced that it has paired up with sound design and synthesist wizards Drew Neumann and Kevin Lamb to concoct a brew of unsettling and bone-chilling sounds that are now available as a free download for Animoog, the incredibly popular, professional polyphonic synthesizer designed for Apple's iPad.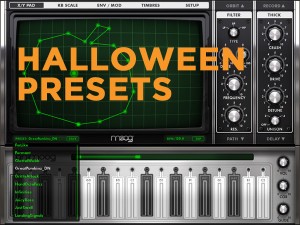 Moog instruments have been iconic in popular music for more than 40 years, but they've also been responsible for creating the sounds of fear, suspense and terror in popular cinema. From Hollywood blockbusters to horror films, and even The Simpsons' Halloween specials, Moog synthesizers have added a spooky element to thousands of soundtracks.

In the "spirit" of Moog's scary side, and due to the phenomenal success of Animoog as one of the top-10 paid iPad apps on the iTunes store, Moog Music is offering a Halloween sound set to users for free on it's website (http://www.moogmusic.com/content/animoog) through Friday, November 4.

"It's always thrilling to hear the new sounds that artists and sound designers create when we have developed a new instrument," said Cyril Lance, chief engineer at Moog Music. "In this case, Animoog inspired Drew and Kevin to create an entire library of spooky sounds for Halloween which we are extremely excited to share with you."

The add-on to Animoog includes presets that span the range from sci-fi to horror, and, in some cases, look like their names. Users can watch for the Zombie Hand, run from the Cyclops, escape the Evil Portal, and avoid the Scythe of the Grim Reaper!

The heart of Animoog is Moog's Anisotropic Synthesis Engine (ASE), a technology that has been in development at Moog for nearly six years. Animoog captures the vast sonic vocabulary of Moog synthesizers and applies it to the modern touch surface paradigm, enabling any user to quickly sculpt incredibly fluid and dynamic sounds that live, breathe, and evolve as they play them. Whether users are new to synthesizers or are professional musicians, Animoog's unique user interface gives them the ultimate tool for total creative expression.
Animoog is currently available on the iTunes app store for the iPad and iPad 2 for a limited time price of only $.99 USD (returning to the regular price of $29.99 USD November 18).