August 16, 2014 · Posted in
Uncategorized
·
Comments Off

on SID Redux Sound Pack for the Analog Rytm
Get the SID Redux SoundPack from: http://www.elektron.se
The spirit of the Sidstation lives on – and it has found a comfortable home in the Analog Rytm. We have programmed and sampled our first-born machine and are proud to present the SID Redux Sound pack: a collection of gnarly, home computerish, and totally wonderful percussive sounds. This Sound pack will give your beats a lovely digital edge of the rusty kind.
July 8, 2014 · Posted in
Uncategorized
·
Comments Off

on Chip64 Rack Extension has been released
Chip64 brings the sound chips from vintage computers and video game consoles to the Reason rack.
Music by Tune Cooks.
Ochen K has released Chip64, described as a new synth Rack Extension that's an emulation of audio chips from vintage computer and video game consoles. 

A spokesperson told us, "Chip64 brings the sound chips from vintage computers and video game consoles to the Reason rack. Chip64 includes mathematical modeling of 5 chips: the TIA used in the Atari 2600, the SID chip used in the Commodore 64, the TA0x series used in the NES and Gameboy, the Vic-I used in the Vic 20, and the SN76489 chip used in the ColecoVision and Sega consoles. With an on-board sequencer, as well as a multi-mode filter, LFO, modulation envelope, and more, Chip64 brings true chip emulation to your rack."
Pricing and Availability:
Available at the Propellerhead shop.
€32.00
More information:
May 30, 2014 · Posted in
Uncategorized
·
Comments Off

on Ultra SID Orbitals
This video is about Ultra SID Orbitals
December 17, 2013 · Posted in
Uncategorized
·
Comments Off

on Free download: basic 65 – inspired by the Commodore 64 and its legendary SID chip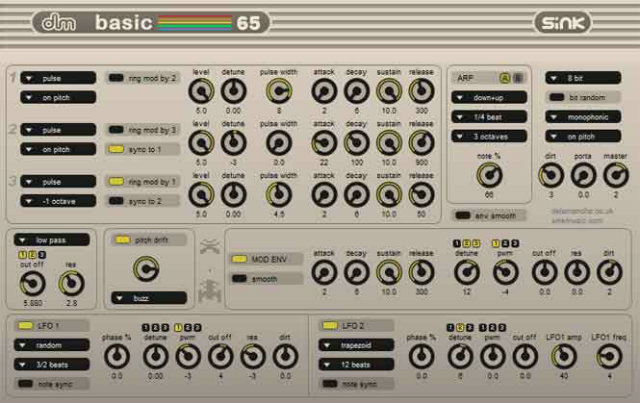 de la Mancha is continuing to put synths that were previously available for purchase online as free downloads. The latest is a monophonic synth, basic 65, inspired by the classic 80s home computer, the Commodore 64 and its legendary SID chip. Building on the waveforms and signal path of this famous chip, basic 65 adds further features and options to take things a step further. Here's more details:
The double arpeggiator allows complex versions of that retro 8-bit game sound and the modulation options inspire experimentation via the mod envelope and 2 comprehensive LFOs. Pulse width modulation, ring modulation and oscillator detune/sync are key ingredients in the signature sound. Throw in some pitch drift, bit drift, a sprinkle of dirt and randomisation and you have a wide range of lofi, chiptune, retro-tastic sounds at your disposal.
This version is the update to the popular basic 64, redesigned from scratch, with many improvements, new features and all new presets. basic 65 was co-developed with sink, who also made the amazing presets.
Features
Monophonic synth in VST format for Windows based hosts
3 oscillators with pulse, saw, triangle and noise waveforms
Pulse width can be modulated by envelope or both LFOs
Each oscillator can be sync'd to another and/or ring modulated by another
Each oscillator has its own ADSR envelope and can be routed to filter individually
Resonant filter with low pass, high pass, band pass and notch modes
2 tempo-sync Arpeggiators in series for complex arp sounds
Arp tempo, range and note length can be adjusted
Modulation envelope can control pulse width and pitch of individual oscillators as well as filter and dirt
2 tempo-sync LFOs with wide range of waveforms, including random
Both LFOs can control pulse width and pitch of individual oscillators
One LFO also controls filter and dirt, the other can modulate the depth and speed of the first LFO
Envelopes are non-linear and can be retriggered from zero or smoothed on each new note
Pitch drift models instability with variable depth and frequency
Options for 4, 6, 8, 12 or 16 bit audio with randomising feature
Developed with SE 1.1, so no problems with multiple instances
128 presets by sink covering arps, leads, bass, drums and lofi sounds
Pricing and Availability:
basic65 VSTi for Windows used to be a payware plugin, but is now free to download. However, if you like and use any de la Mancha plugins, please consider donating to Cancer Research UK in order to help care for and find a cure for cancer sufferers.
October 18, 2013 · Posted in
Uncategorized
·
Comments Off

on Elektron Monomachine demo (mostly SID emulation)
Product description:
The Monomachine SFX-60+ MKII is the ultimate sound generator. Five different synthesis methods plus sequencing make it the mixed martial artist of synthesizers.
Each of the six Monomachine tracks is loaded with sound shaping devices. At your command is a tape style delay, a resonant multi mode filter, a sample rate reducer, a distortion effect, an arpeggiator and no less than three LFO's – per track. The sound palette is limitless.
Despite the depth of the Monomachine it is very easy to use. Every parameter is close at hand and no confusing menus are in your way. Everything is laid out in a logical and usable manner. This is particularly useful when you perform live and don't want to press the wrong buttons.
A special MIDI mode gives you control of six dedicated MIDI tracks. Use the versatile arpeggiators and all the other special sequencer features to take MIDI sequencing to the next level. The Monomachine is a given centre piece in any studio.
You can upload your own customized waveforms and use them in the Monomachine environment. This, plus the ability to treat sound incoming through the two external inputs using the special FX machines, makes the Monomachine a sound designer's dream come true.
The Monomachine SFX-60+ MKII comes equipped with a +Drive by default. With a +Drive there is no risk of running out of storage space. Over 16'000 patterns, 16'000 kits and 8'000 waveforms can be internally stored.
Man and machine have never been closer to each other.
October 3, 2013 · Posted in
Uncategorized
·
Comments Off

on Commodore 64 – Monkey Island – Kompositkrut (remeade, No Emulation)
Kompositkrut rocks with a C64, details below:
Yo I remade the Monkey Island after a request. And I made a little demo or something to watch wile listening.
The song is composed in the native c64 tracker SID Wizzard 1.4 (by Hermit)
http://csdb.dk/release/?id=115599
The visuals are coded by me and I used Kick Assembler (by Camelot), Notepad++ and Charpad (by subchrist) for the gfx. The program visualisates the 3 voice on the SID
http://csdb.dk/release/?id=89532
http://csdb.dk/release/?id=101863
Yea and I crunched my program with BongoCruncher by Samar Productions
http://csdb.dk/release/?id=115758
Sorry for the poor video quality I recorded it via my Video capturing device, I will make my self a s-video cable. That might give me some higher video quality.
I will uppload the SID and the prg to CSDB after I done some adjustments

August 25, 2013 · Posted in
Uncategorized
·
Comments Off

on SoundCells introduces the updated bitBUMPER deluxe v3 – The Art Of LoFi!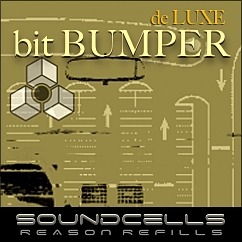 "bitBUMPER deluxe v3" – the ultimate 4 and 8 bit Pandora Box filled with hundreds of low bit surprises.
This ReFill is your best friend when you´re looking for inspiring new sounds with a character and a bite. To catch this character some amazing sources were sampled: RozzBox One v2, QuadraSID, the old grey Gameboy from 1989 with "Nanoloop 1" and "Littlesounddj", the Gameboy Advance SP from 2003 with "Nanoloop 2" and the Nintendo DS Lite from 2006 with "DS Electroplankton" and "Korg DS-10".
Version 3 adds new rex loops, 20 new combinator & 25 NNXT patches, as also lots of new samples …
bitBUMPER deluxe v3 Contents:
• 382 combinator patches.
• 185 NNXT patches, 138 rex loops, 650 unique samples.
• 12 demo tracks in Reason format included.
Offering price per unit is 27,90 ,- EUR (normal price is 39,90 ,- EUR)
August 22, 2013 · Posted in
Uncategorized
·
Comments Off

on Mode Machines SID – Quick demo
Headphones recommended.
ModeMachines SID quick demo
Googlish product description below:
Its logical structure and ease of use delivers pleasure at the first touch already. The proven sequencer allows to program beats and Patters in seconds. Three buttons control the expression of each main Feauteres patches to obtain immediate results. But do not be fooled by its simplicity: The supplied SID STUDIO SOFTWARE lets you control every parameter, which is located below surface! Times and designe your own patches with instant feedback from the SID. It is also worthwhile to try out the new NERD-PANEL: a very powerful and interactive design that allows each pin of the SID CHIPS be addressed separately.
July 30, 2013 · Posted in
Uncategorized
·
Comments Off

on Sidpad – new 8-bit style chiptune synth for iPad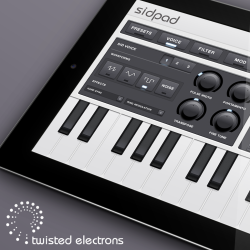 Alex Smith has introduced Sidpad – an 8-bit style chiptune synth for the iPad.
Features:
3 Voice Synthesizer – Over 40 controllable parameters to create a wide range of 8 bit chip-tune sounds. All knobs are MIDI controllable.
Multimode Filter – includes Type, Cutoff, Resonance and customizable Cutoff Envelope
Flexible Modulation – Hand draw up to 4 graphs and assign them to the synth's parameters to add movement and expression to your sound
Wavetable Editor – The 16 step wavetable editor lets you set up sound effects and arpeggiated melodies. You can sequence notes and waveform changes either as one shot or in a loop and vary the speed
Help Mode – Every feature is explained via the help button to get you up and running with SidPad regardless of your synthesizer experience.
Sidpad is a free download right here >>
February 2, 2013 · Posted in
Uncategorized
·
Comments Off

on Mode Machines SID Synthesizer
While perusing the vast NAMM convention this year I bumped into the Mode Machines booth which is offering a lot of cool designs. I briefly plugged in and sampled some of the new SID synthesizer, which utilizes the classic Atari Commodore 64 SID chip as it's sound source.