This is a demonstration of the features of the new Vari-Clock Quantizer for the MFOS 16 Step Sequencer.
"You can make one yourself but it's a very challenging project and I don't recommend it for people just getting started. Seasoned synth-diyers will have no problem with this project. PC boards will be available in a few weeks if you're interested (sometime in June 2012)."
Here is a link to the project:
http://www.musicfromouterspace.com/index.php?MAINTAB=SYNTHDIY&PROJARG=SEQ…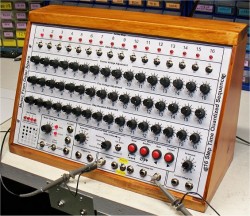 Features:
Each step's duration can be set independently.
Each step's duration is settable from 1 to 16 clock cycles.
Main clock adjustment affects all steps equally.
Clock selection: Quantized or Normal
Two gate/trigger modes: Single per step and Multi per step.
External clock supported.
Clock out supported.
Pasto is a multi-touch 32 step sequencer suite built in Ableton, TouchOSC and OSCulator.
more info, audio examples and downloads:
http://abelflaubert.com.ar
"This is for the people that had asked me to do a tutorial on the Korg Radias Step Sequencer. This is the Low quality Version, I will upload the 720 Version soon. Please note – This is a Very Basic – I say again. Very Basic Tutorial on Step Sequencing and Creating a sound that has Velocity Sensitivity effected by the Step Sequencer causing the Filter (EG1) on the Radias to change the way the notes are played."

The Korg Radias is a Virtual Analog synthesizer that was released by Korg in 2006. It takes advantage of the MMT (Multiple Modeling Technology) that their flagship OASYS synthesizer module employs. The synthesizer itself is similar in design to the MS2000, but offers many more capabilities. It is capable of emulating older digital synthesizers and classic analog synthesizers like the MS-series without any noise or aliasing. The Radias also allows for various external sounds to be fed through its filters and envelopes. It also has the Korg DWGS (Digital Waveform Generator System) that the Korg DW-8000 employs.
The Radias also takes advantage of the KKS (Korg Komponent System) which allows it to be used with the 49-key keyboard or used as a standalone rack module, and the Radias-R unit can be connected to the M3 Music Workstation/Sampler along with its various keyboard models.
The Radias has two oscillators per timbre and a noise generator. Oscillator #1 has nine basic waveforms, with four types of modulation and PCM (64 synth sounds, 128 drum sounds) and Oscillator #2 has four basic waveforms with two types of modulation. The Radias has the ability to stack up to five types of waveforms in Oscillator #1, while using only one voice of polyphony. In Unison mode, you can stack five additional waveforms, while using more polyphony. With this function, you can create some awesome super waveforms-the overall result can contain up to 25 detuned waveforms. The Radias also has two Low-frequency Oscillators (LFO) that add more modulation to the two audio oscillators. These LFO's provide six waveforms and their speeds can be set manually or by tempo.
The Radias itself has four timbres per program. With a timbre, you can assign one drum program, another can have a lead, a bass, and a vocoder as well; all in one program! Each timbre can contain one synthesizer/drum kit, equalizer, and two multi-effects.
The Radias has two filters that can be used side-by-side, individually, or in a series. They offer Low Pass, High Pass, Band Pass, and Combination modes. Each filter offers 24 or 12 dB modes for the low pass filter. The effects on this unit are remarkable as well. The Radias comes loaded with 33 different effects: Delays, Chorus, Flangers, Compressors, talking modulator, and even the good old Polysix Ensemble effect. You can assign one master effect to the program, while each timbre gets its own two effects, creating a whole world of possibilities. The Radias also offers a 16-band vocoder with a nice Formant Motion recording function that allows you to record up to 7.5 seconds of external audio which can then be triggered via the keyboard.
The Radias has a built in arpeggiator as well, providing six different patterns to choose from. Patterns can be up to 32 steps long and the gate/velocity can be set for each step to get that sound you want! It also has two 32-step sequencers (they can be combined for a 64-step on a single timbre). They can easily be assigned to a drum kit, for example, to use the Radias as a programmable drum machine. The step sequencer supports 8-voice polyphony per step.
Here are the background details from Livid Instruments:
Testing out the new Brain v2, I repurposed the Code Step Sequencer (as featured here: cycling74.com/2012/01/17/working-with-hardware-livids-code-part-two/) so it would work with these MIDI controller parts.
I hooked up a couple of the Livid Elements modules to the Brain, and hooked up my photosynth (an array of 16 photoresistors, described here: blog.lividinstruments.com/2011/04/22/photosynthesis/) to control the effects on one of the sounds (parameters on the reverb, delay, and filter). I use my crummy cellphone camera's light to provide a source of photons to alter the effects in a dramatic fashion.
Background data:
A step matrix sequencer created by a chess board. I have given a lot of thought to the user interface to make as much nuances as possible out of the 8×8 pattern, with a few intuitive knobs.
www.tinkartank.com
Chip stepsequencer – AY38910
"Song i made in train
Video i shot in train"
Numerology 3 Pro and analog step sequencers in the modular. A real-time studio recording in Cubase 6. Synths used were the modular synths, Waldorf MWXT, MicroQ, TX816, Nord Lead 2X, Prophet 8, DX7II and Korg ES-1. Using a Novation Launchpad to control the Numerology tracks. Step sequencers are dotcom Q960, Q119 and STG Soundlabs Time Suite. The opening and closing sound is a new SSL1130 DDVCO through a CGS01 harmonic sequencer and back into the DDVCO exponential and linear modulation inputs. Video editing in Final Cut Pro X.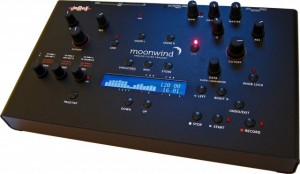 Boutique synthmaker Jomox introduced the Moonwind Analog Filter Tracker.
The Moonwind Analog Filter Tracker is a true analog stereo filter, with built-in step sequencer, an FX chip, 2 LFOs and envelope modulation. Everything is storable and controllable via MIDI.
MoonWind AcidMoon by Sonicyogi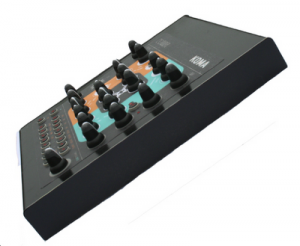 Below is their pitch and specs:
This year, Eowave is attending the NAMM 2012 and will announce the release of the KOMA! 2011 has been full of new releases with the Ribbon, a monosynth/USB/audio controller and the release of the little analogue synth DOMINO in November. We'll show the KOMA [no relation to KOMA Electronik], an analog bassline synth with memory and a 16 step sequencer that will be ready to ship very very soon!
, a step back into the 80s with a touch of 2012…
KOMA is an analog sequenced bass synthesizer inspired by classic synths from the 1980s with a synthesis section with 256 sound presets and 256 patterns and a step sequencer section.
The synthesis section offers the possibility to mix 4 different waveforms (saw, square, sub, noise) for infinite modulations. The SUB DESYNC mode enables to desynchronize and to detune the SUB and the main oscillator for complex sounds. The filter is a 24 dB resonant low-pass filter. The LFO has 8 waveforms (triangle, ramp up, ramp down, square, random, digital noise, staircase up, staircase down) and can modulate the VCO, VCF or PWM.
To this particular analog sound of the 80s, we added a touch of modernity with controls and parameters to save compositions and performances. The 16 step sequencer has 4 sections: 1 for the notes and 3 freely assignable to a parameter of your choice to create living sequences with sonorities like Vince Clark or Jan Hammer.
With 256 sound presets and 256 patterns locations, the KOMA is a versatile instrument for live performance as well as a powerful composition and sound design tool. Its very intuitive control panel allows the user to edit all parameters in real-time.
Oscillator section
MAIN OSCILLATOR
- Main VCO with 2 waveforms (square and saw), plus SUB (square) and NOISE
- The pulsewidth of the square waveform can be modulated by env2 or by the LFO.
- The main oscillator can be transposed up to 3 octaves
- The main oscillator frequency can be modulated by the LFO or by env3
- Glide
- Mix of the 4 waveforms
SUB
- sub (sub can be 1 or 2 octaves below the master freq).
- The DESYNC mode enables to desynchronize and detune the SUB from the main oscillator.
- In the DESYNC mode, the SUB can be at the same frequency than the main oscillator or 1 octave below.
Filter section
- 24dB resonant low-pass filter for a classical 80s sound
- Variable cutoff and resonance
- The filter can be modulated by ENV2, KB, LFO.
- External audio with a trimmer to feed the filter
LFO section
- The LFO has 8 waveforms (triangle, ramp up, ramp down, square, random, digital noise, staircase up, staircase down)
- Variable speed
- The LFO modulates the VCO, VCF or PWM
- External MIDI clock synchronization
ENV1, ENV2 & ENV3
- ENV1 & ENV2: these 2 envelopes ADSR modulate respectively the amplitude and the filter.
- Attack goes from 2ms to 10 s.
- ENV3: envelope Attack/Decay modulates the VCO
VCA section
- Vca is affected to env1
MEMORY
- 4 banks of 64 sound presets (SAV PRST, SAVE PAT)
- 4 banks of 64 patterns
- 256 sound presets
- 256 patterns
Sequencer
- 16 steps sequencer with 16 LED
- 4 sections: 1 section for gate and note and 3 sections freely assignable to any parameter of the front panel.
- Random feature
- Adjustable tempo
- You can transpose the sequencer via an external MIDI keyboard.
- Each line can have a different number of steps to create complex modulations
- Chain up to 8 sequences.
- Shuffle feature
- External MIDI clock synchronization
Connections
- Audio in
- Audio out
- MIDI in
- USB (for software update and MIDI in&out)"
Der OTO is the new firmware upgrade that turns your Biscuit into a 2 oscillators monosynth with an integrated 16 steps sequencer.