This video shows the result of using the Koushion step sequencer app and the Moog Multi-Pedal (in MIDI-to-CV conversion mode) to create a tempo-synced filter step sequence on the Moog Sub Phatty synthesizer. The analog CV out of the Multi-Pedal is connected to the filter CV input on the Sub Phatty.
Learn more at www.experimentalsynth.com
The mighty analog Moog Sub Phatty Synthesizer is under control of Q960 Sequential Controller. As usual, Row A is for Pitch, Row B is for Filter opening. On this video, while sequence is running, there are tests for EGs snap, OSC reset under key Gate, fattyness of SubOsc, wild brutality of Multidrive distortion. Such a lovely, little analog machine.
Moog Sub Phatty has two oscillators, one sub oscillator, one noise generator, one lowpass filter transistor ladder and a dual distortion unit pre/post filter. On this video, you'll find a walkaround of waveforms and treatment ready to go with sub oscillation and distortion.
With Audulus, you can build synthesizers, design new sounds, or process audio. All with low latency real-time processing suitable for live performance. Audulus's user interface is clean, simple, and easy to learn, allowing you to focus on sound.
"I made an improved version of the standard step sequencer that comes with Audulus, it includes controls for start, stop, swing and step and sequence length. This is a demo of a song using made using it, all sounds are coming from the standalone version and shows how Audulus can be used to create custom performance setups."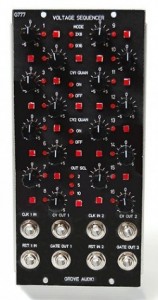 Grove Audio has introduced the GMS777 Voltage Sequencer – a 2×8 or 1×16 step sequencer, which produces a CV output and gate output per channel.
Each channel has a clock input and a separate reset input. Several step functions are programmable using a push button and LED for each step. Stop and skip can be programmed for each step.
There is a separate switchable quantizer for each channel. The output voltage range 0-2V, 0-5V, and 0-10V is selectable from the panel. The module will also support the "Q" bus modules and interface.
The unit will be available in MU, in MOTM and in EURORACK configurations all running about $350.00 range. Pre-orders for delivery in March can be made through an Indiegogo crowd-funding project. The purchaser will have the option of selecting format and knob styles, including the new custom-molded Davies 1900 knobs in ivory.
The Koushion iPad MIDI step sequencer app is a great tool to use with Ableton Live. For more information, visit www.facebook.com/koushion
***Link to the App Store***
http://itunes.apple.com/app/koushion/id424454249
Youtube alias JingleJoe explores the Octaviatron, details below:
This is an 8 step sequencer I made which can also function as a VCO with programmable analogue waveform.
Video quality is a bit low but I think the sound is okay, the original file was too large to upload (four hours, I'm not even going to be awake in four hours!) so I had to compress it drastically.
A quick overview using the Koushion MIDI step sequencer iPad app to control a variety of synthesizer apps including WaveGenerator, Alchemy, Animoog, and more. Koushion is on sale for the holiday season until Dec 31. Buy it now for $4.99 in the App Store!
**Link to the App Store**
http://itunes.apple.com/app/koushion/id424454249
Koushion is a MIDI step sequencer that allows you to easily program drum patterns and melodies using your existing drum machine, hardware synthesizers, or soft synths and samples in your DAW.
Features:
* 16 steps per scene (up to 128 steps in chain mode)
* 8 scenes with independent midi channel per scene
* 4 playback modes: single, simultaneous, chain, rebound
* Key switching between any major, minor, or pentatonic scale
* Adjustable quantization (1, 1/2, 1/4, 1/8, 1/16 and 1/32)
* Quantized scene switching
* MIDI clock send/receive
* Tap to set tempo (great for syncing with a live band)
* Velocity control
* Monophonic drawing mode (only allows one note per step; great for programming leads)
* Wireless connectivity via CoreMIDI Network Sessions
* Automatic integration with other apps via CoreMIDI virtual ports. Open up a synth in the background and Koushion will trigger the notes!
Ableton Push is specially designed for making beats, with step sequencing and pad modes that work side by side. This video demonstrates how to make a natural-sounding, nuanced beat using Push.
Learn more about Ableton Push: https://www.ableton.com/en/push/
This is a demonstration of a 4×4 step sequencer Youtube alter ego Chisel316 has created for the Snazzy FX ArdCore Eurorack module. The top left knob sets the X position, the top right knob sets the Y position, the bottom left knob sets the CV at the X,Y position, the CLK input (yellow patch) advances the X step and the A3 input (green patch) advances the Y step.
"In the first part, I use both knobs on the 8nu8r to advance through the X and Y steps manually while programming the sequences. In the second part, I plug the X and Y clocks into the ES-3 which is acting as a clock divider sending out gates in 1 to 8 steps. For example, by patching the X clock into output 1 and the Y clock into output 4 the sequencer advances through all 16 steps in order. Hope you enjoy it!"