This is how you set up the Novation Ultranova to be used inside of Maschine 2.o or really any DAW
How to achieve the classic Larry Heard "Can You Feel It" bass line
Ski Oakenfull breaks down one of the best known tracks from electronic music pioneers Kraftwerk. This deconstruction took place at Ableton's artists meet and greet at Sync Studios, Barcelona.
Buy the digitally remastered version of The Model from Beatport here: http://ow.ly/mqPYh
OR ITunes: http://ow.ly/mqPSe
How to play with Polyphonic Aftertouch on Channel Pressure "only" synths. You need a synth with multi patch support like the Oberheim Xpander, Studio Electronics Code 8 and Alesis Andromeda.
Number 10 in the SynthMania quick tips series – here's one way to obtain the classic "Hi-NRG fast sequenced synths" used in many hits of the '80s.
Here's a good classic vintage example:
Dead Or Alive – You Spin Me Round
At popular request, Ean shares how he has the VU meters in Traktor mapped to four different channels on his Kontrol X1 controllers. Read more: http://www.djtechtools.com/2013/10/27…
In this series, we demonstrate how to efficiently and painlessly create sample chains, to be used in the Elektron Octatrack, or any other sampler. This video focuses on creating a very simple chain with 8 similar sounding samples.
This is a demo and tutorial for the Vogel CMI..A sim of the iconic and classic Fairlight CMI, one of the most famous keyboards ever..
EQ is probably the most important tool to make sure your mix sounds good. But how do you know where to cut or boost? What frequencies are important? In this video Propellerhead product specialist Mattias lets you in on four EQ tips for a better mix. Learn basic EQ usage, what frequencies matter in a kick drum and more!
The Propellerhead crew got a Hot Hand USB MIDI controller sent to the office. It's a wireless motion sensor you put on like a ring that can then control parameters via MIDI. Of course Mattias had to give it a try! Here he's controlling filter frequency, noise level and phase on a Subtractor.
And AskAudio has a new tutorial out: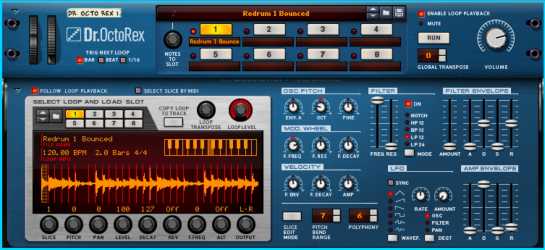 Reason 7: Creating REX Files
Oh, it's hard to believe it. The reason to own Recycle, that *ahem* older once-miracle of modern sampling has now past. No longer do you need to encode audio files in another application, outside of Reason. Now, you can convert audio files within Reason, into Rex files. Which, of course, are the loop files that Dr. Octo Rex eats for breakfast.

So, why, with Reason's amazing time stretching ability would this feature even be relevant? Well, if you've ever gone into the editor of Dr. Octo Rex, and have actually messed around with features like the Amp envelope, Filter envelope, or you've applied an LFO to a loop. Or, if you've ever modified the pan, pitch, or filter frequency of individual slices within a REX file… Well, you know you can take loops to a very different place.

In short, REX files are still amazing, relevant and because you can now easily create your own REX files life has gotten much better.

So, how do you do it?