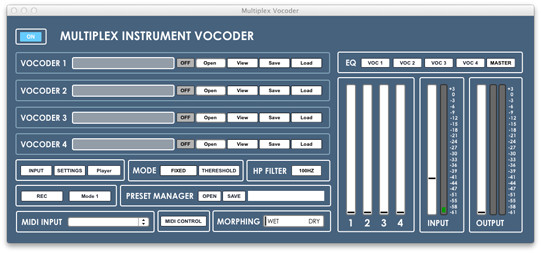 Audiomeals has introduced Multiplex Vocoder, a prototype audio app conceived for music production, live sets and audio post-production.
Multiplex Vocoder features four VST Vocoder modules where you can load any Virtual Instrument to design your final vocoder sound using from 1 to 4 vocoder sound sources. Optional 100Hz High Pass Filter at input stage.

Transform your favourite synthesisers into vocoders, send your voice to 4 vocoders simultaneously while recording the audio output, optional dry/wet recording mode. Each Vocoder features it`s own 3-band parametric equalizer.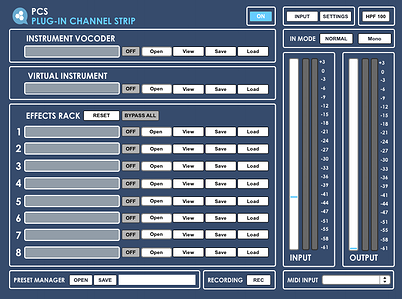 Multiplex Vocoder features
Optional 100Hz High Pass Filter at input stage.
Transform your favourite synthesisers into vocoders.
Send your voice to 4 vocoders simultaneously while recording the audio output.
Optional dry/wet recording mode.
Each Vocoder features its own 3-band parametric equalizer.
Input depending mode available. Each vocoder will be activated or deactivated depending the input level, you can set the threshold individually.
MIDI Learn mode. Control the app via your MIDI controller faders.
Multiplex Vococer is available to download for Mac (VST) at no cost until December 5th, 2013 (regular 5 EUR). Windows version is coming.
New electronic synth pop track from The Modifiers. Retrosonic sounds flavored with vintage vocoder vocals on the theme science and technology evolution.
Vintage gear demo of "70s Stringensemble Trilogy"
0.08 – 1.23 Roland VP-330 Vocoder Plus (1979)
1.24 – 2.32 Crumar Performer (1979)
2.33 – 3.53 Logan String Melody II (1979)
Used the special functions (human voices, brass filter, lfo, tone colour, chorus…) on the stringmachines.
bass: Moog Taurus 1 basspedal (1976)
drums: Keio Minipops Junior (1972)
recording: multitrack without midi
fx: a bit reverb and delay
Reversing the typical analysis/synthesis order to show off some alternative uses of fine band vocoding.
Novation has overhauled the vocoder on its flagship UltraNova hardware synthesizer. The free firmware update comes with 17 vocoder patches which are new to UltraNova, and is available, free of charge, to all UltraNova owners.
The UltraNova vocoder is a 12 band vocoder that can be fed by the included gooseneck microphone or other instruments via stereo line inputs. The overhauled vocoder algorithm improves the sound and performance of UltraNova's vocoder.
Other updated features include:
Separation and spread controls for moving the bands
Formant freeze
Adjustable band resonance and decay time
Vocoder runs at full bandwidth
Pricing and availability. The update for the UltraNova is available now, and free to all UltraNova owners, who can download the latest installer, which includes the firmware update, at this link. Additional free artist and sound-designer soundpacks – including banks from the original Supernova and Supernova II synths – available to download at this link.
UltraNova is a 'Nova' series analogue-modelling synthesizer with a powerful effects processor. It is a single-part synth taking the Supernova II synth engine, and "packing it" with the latest technology. The UltraNova now has features which include wavetable synthesis, more powerful filters, a software editor and a "revolutionary" new touch-sense performance mode.
In this video Ryan Hemeon demos and do a quick walkthrough of the iOS vocoder iVoxel.
"This is the best vocoder I have ever used, which may not be saying very much because I haven't used very many but I really like this app. In the video I show a lot of the options and what they do as well as showing how to make your own "voxel". There is A LOT more to the app then I could show you in 15mins but I hope this gives you some insight. "
For more info please visit www.iosmars.com
Voice Bot is a real time channel vocoder for the iPad. Using the microphone, your voice modulates the synth resulting in a robot like singing voice.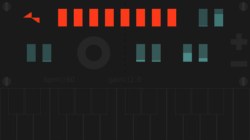 The synth engine, also known as the carrier, comes with the oscillator shapes saw, square, pulse and noise and a pitch lfo. For the modulation part of the engine there is amplification settings for 8 frequency bands, frame smudge and sample rate, delay and flanger. There is also a minimalistic sampler, support for MIDI  and Audiobus.
Features:
microphone input.
oscillator (saw, square, pulse and noise).
8 band amplification.
frame smudge.
sample rate.
pitch lfo.
delay.
flanger.
self adapting input gain.
output gain.
core midi (usb/wifi).
Audiobus (output, effect and input).
Sonivox has announced that their Vocalizer Pro, a Vocoder musical instrument:
Vocalizer Pro allows the creation of simple or intricate vocal harmonies that can extend far beyond the natural limitations of the voice. One preset has the ability of producing thousands of different results—depending on the audio source. The original Vocalizer is known for its ability to process any type of vocal, percussive or melodic audio track;  Vocalizer Pro expands on these capabilities. Using SONiVOX?s Polaris spectral synthesis engine, Vocalizer Pro can transform any audio input "into a synthesizer," for "deep and complex" musical results.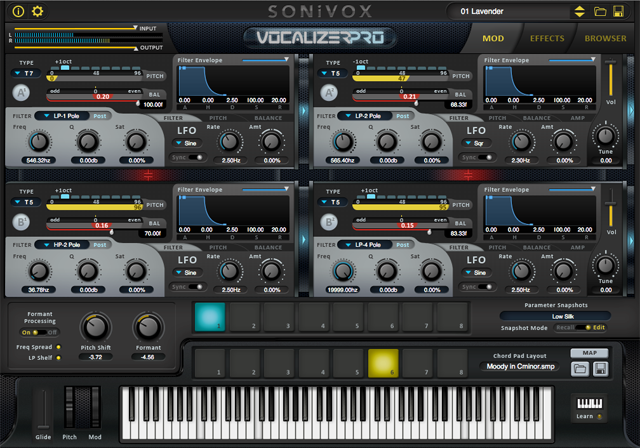 "We created Vocalizer Pro to provide a truly unique experience. These snapshot pads give you endless ways to be expressive and creative," says Jason Jordan, Head of Soundware at SONiVOX. "For each pad, every automatable parameter can be set to a different setting. It's almost as if every pad is a completely different patch, allowing the performer to instantly switch between parameter settings. People are really going to have a lot fun with Vocalizer Pro."
Sonivox Vocalizer Pro supports AU, VST, or RTAS formats, and is compatible with 32- or 64-bit Mac or Windows systems. The MSRP is $199.99 (USD).
http://www.sonivoxmi.com
Vintage synthesizer demo track by RetroSound
"Lost City"
synthesizer sounds: Oberheim OB-X Analog Synthesizer (1979)
analog strings and human voice choir: Roland VP-330 Vocoder Plus (1979)
recording: multi-track without midi
fx: a little bit delay and reverb
the long version:
https://soundcloud.com/retrosound-ii/…