1.Alesis MetaVox
2.Clavia Micro Modular
3.Digitech Talker
4.Roland SVC 350
carrier Flame Talking Synth Modul
input Moog Freqbox quartet
CP251
Buchla System #1
Doepfer 2x A132-3
4ms Peg RCD VCAMatrix
Make Noise Format Jumper Wogglebug
Roland System 104 Sequencer
Kenton Pro 2000 II
Kick Logic Ultrabeat
FX Boss VF 1 Line6 Echopro Lexicon PCM 80 TC M3000
Live microtonal vocoding performance featuring Opal Chameleon, Nord G2, LMSO and Logic Pro
See http://www.seraph.it/blog_files/category-video.html
More Kraftwerk tunes coming your way, here's a new cover of Spacelab by 'organfairy', details below:
After discovering that there is a vocoder effect in the multitrack part of CoolEdit pro I have thought about how I could use it. And then a couple of months ago someone suggested to me that I should play something by Kraftwerk.
And now I have added these two factors together and played the classic track "Spacelab" that was originally recorded back in 1978 on the album Man Machine.
Apart from the vocoder software and the old Telefunken microphone I use Yamaha HE-8 and Technics SX-C600 organs, Roland SH-2000, Korg Poly 800, and Roland JX-8P synthesizers, and finally the little Wersi M.A.X.1 module for the rhythm.
Most of the sounds are only treated with some reverb or echo. But I had to speed up the sequence in the beginning in post production because that was the only way I could do that particular sound.
And sorry about the goofy face. I am not used to singing on camera but I wanted to show that it is really me that sings – allthough in a modulated fashion

Novation MiniNova Vocoder & VocalTune™ demonstration:
Check out these other MiniNova videos:
MiniNova performance: http://youtu.be/uvDfHhuFF5w
Artist first look: http://youtu.be/m7fJ7nUWPkU
Selecting Sounds tutorial: http://youtu.be/fdshUAWIb7Q
Two of MiniNova's most interesting and fun features are VocalTune™ and the classic vocoder. This video takes you through what they are and how to start using them to make those iconic vocal sounds.
MiniNova is a compact, super-cool performance synth with the same sound engine as its big brother: the UltraNova. It comes with 256 incredible onboard sounds which you can tweak with 5 knobs, or totally warp with 8 'animate' buttons. MiniNova also has an onboard VocalTune™ effect as well as a classic vocoder so you can recreate iconic vocal sounds from Hip Hop, Urban and electronic music.
Novation MiniNova key features:
• Hugely powerful micro synthesizer with UltraNova's sound engine
• Brand new VocalTune™ and classic vocoder effects
• Live synth: tweak and warp your sounds in realtime
• 256 awesome onboard sounds – instantly searchable
• Layer up to 5 effects per voice
• Comes with editing software and a software patch librarian
• Run guitars and other instruments through the vocoder, VocalTune™ and effects
• 37 key controller keyboard with MIDI I/O
For more videos subscribe to our YouTube channel here:
http://www.youtube.com/novationtv
Klirrfaktor continues to explore vocoders and modulars in this nice video or as he states himself in German: "Ein frischer Modulartrack – den letzten habe ich irgendwie unterschlagen – hole ich nach ;)"
Starring:
Voice: Blue Baby Bottle thru Qneo Voice Synth
Drums: MFB Schlagzwerg sequenced with Elektron Octatrack thru Metal Muff
Lead: WMD Synchrodyne
Pads: Doepfer Dark Energy, Bubblesound uLFO
Noise/Percussion: Trogotronic Model 676, Pittsburgh Generator, 4ms Noise Swash, WMD Gamma Wave Source, Sound Of Shadows
Bass 1: Bubblesound VCOb + MakeNoise Wiard Borg Filter
Bass 2: Doepfer A-196 PLL + Metasonix R-52
More at: http://www.klirrfaktor.com
A brief, stereotypical vocoder demo featuring the amazing Sennheiser VSM 201 Vocoder with an EML POLYBOX. These were both units that were in for repair at The Analog Lab in NYC. The tone generator is routed through the EML where it is divided into user selected pitches/chords. The chords remain static, but the pitch shifts with the change of the frequency of the tone generator.
Sennheiser Vocoder VSM201
made in 1978
this is a luxury 20bands vocoder
fully analogue
of course only the "creme de la creme" used THIS, because it is really not cheap.. Kraftwerk!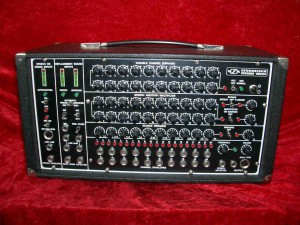 The vocoder was first a military device to encode speech signals
www.theanaloglab.com
Josh Tallman demos the vocoder – Electrix Warpfactory:
Designed for both DJs and Musicians, the Warp Factory is possibly the ultimate stand-alone Vocoder. With those great big knobs, the Warp Factory is designed for straight-forward hands-on use. It has an XLR Mic input (conveniently located on the front) and a quarter-inch line input for use as the Formant or carrier signals. Then there are two quarter-inch line-inputs and two RCA phono inputs for your stereo source sounds, either drum loops, mixes, songs, synth pads, etc…
The way it works is whatever Formant signal you have, say your voice, will be warped into taking on the characteristic of the Source signal you have, say a buzzy synth sound. This would in effect give you that Robot voice effect.
The Warp section is where you'll find most of the knobs and cool features of the Warp. There is a low- and high-pass filtering switch. A 'Gender' knob adjusts the pitch of the Formant. 'Q' adjusts the width of the filtering. An 'Order' adjusts the filter resolution for clear to abstract vocoding effects. There is also Noise and a built-in oscillator Source signal whose pitch is adjusted by 'Robot Pitch'. Various Bypass and Freeze switches and complete MIDI implementation make this the ultimate Vocoder for DJs, musicians and producers.
For this short improvised demo, the author has used internal programs and mixes from preset and Hollow Sun banks.
Here are the details:
8 tracks recorded in audio live in Presonus Studio One Artist v 1.6.5:
– mix "DANGER" (rythmics)
– Pea PG Vox (relatively close to the "human choir" of the Roland VP330 with no strings)
– imported sample : PolyMoog Vox Humana for bass and lead parts
– mix "high pass heaven"
– mix "trancin" with arpeggiator
– ambiance + chorus
– Sounds Fx 1 and 2
Making a quick beat with two drums and a speaking toy. Get WerkBench for the iPad here: http://bit.ly/L6jhd9
Strange Attractor is a truly novel sound generator based on chaos theory. The outcome of PhD research, it uses a feedback system to process and generate sound. Unlike conventional synthesis techniques, sounds emerge in surprising and unexpected ways, almost having a life of their own. By moving your finger on the screen, you can navigate through a space of evolving sounds, that build-up, pulsate, and decay. Sound input through the microphone or headphone socket can be processed into fractal textures, or will trigger and control oscillations.
Voco is a touch controlled phase vocoder. Sounds can be manipulated by touching the screen, and played like like an instrument. Time is represented on the horizontal axis, and pitch on the vertical. The yellow bars display the sounds intensity. Sounds can be sampled through the microphone or headphone socket, or loaded via iTunes. There are also features to constrain the pitch to different scales, and to glide the playing point around the screen to make rhythmic loops.