Klirrfaktor continues to explore vocoders and modulars in this nice video or as he states himself in German: "Ein frischer Modulartrack – den letzten habe ich irgendwie unterschlagen – hole ich nach ;)"
Starring:
Voice: Blue Baby Bottle thru Qneo Voice Synth
Drums: MFB Schlagzwerg sequenced with Elektron Octatrack thru Metal Muff
Lead: WMD Synchrodyne
Pads: Doepfer Dark Energy, Bubblesound uLFO
Noise/Percussion: Trogotronic Model 676, Pittsburgh Generator, 4ms Noise Swash, WMD Gamma Wave Source, Sound Of Shadows
Bass 1: Bubblesound VCOb + MakeNoise Wiard Borg Filter
Bass 2: Doepfer A-196 PLL + Metasonix R-52
More at: http://www.klirrfaktor.com
A brief, stereotypical vocoder demo featuring the amazing Sennheiser VSM 201 Vocoder with an EML POLYBOX. These were both units that were in for repair at The Analog Lab in NYC. The tone generator is routed through the EML where it is divided into user selected pitches/chords. The chords remain static, but the pitch shifts with the change of the frequency of the tone generator.
Sennheiser Vocoder VSM201
made in 1978
this is a luxury 20bands vocoder
fully analogue
of course only the "creme de la creme" used THIS, because it is really not cheap.. Kraftwerk!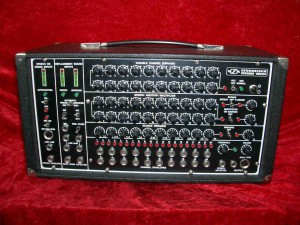 The vocoder was first a military device to encode speech signals
www.theanaloglab.com
Josh Tallman demos the vocoder – Electrix Warpfactory:
Designed for both DJs and Musicians, the Warp Factory is possibly the ultimate stand-alone Vocoder. With those great big knobs, the Warp Factory is designed for straight-forward hands-on use. It has an XLR Mic input (conveniently located on the front) and a quarter-inch line input for use as the Formant or carrier signals. Then there are two quarter-inch line-inputs and two RCA phono inputs for your stereo source sounds, either drum loops, mixes, songs, synth pads, etc…
The way it works is whatever Formant signal you have, say your voice, will be warped into taking on the characteristic of the Source signal you have, say a buzzy synth sound. This would in effect give you that Robot voice effect.
The Warp section is where you'll find most of the knobs and cool features of the Warp. There is a low- and high-pass filtering switch. A 'Gender' knob adjusts the pitch of the Formant. 'Q' adjusts the width of the filtering. An 'Order' adjusts the filter resolution for clear to abstract vocoding effects. There is also Noise and a built-in oscillator Source signal whose pitch is adjusted by 'Robot Pitch'. Various Bypass and Freeze switches and complete MIDI implementation make this the ultimate Vocoder for DJs, musicians and producers.
For this short improvised demo, the author has used internal programs and mixes from preset and Hollow Sun banks.
Here are the details:
8 tracks recorded in audio live in Presonus Studio One Artist v 1.6.5:
– mix "DANGER" (rythmics)
– Pea PG Vox (relatively close to the "human choir" of the Roland VP330 with no strings)
– imported sample : PolyMoog Vox Humana for bass and lead parts
– mix "high pass heaven"
– mix "trancin" with arpeggiator
– ambiance + chorus
– Sounds Fx 1 and 2
Making a quick beat with two drums and a speaking toy. Get WerkBench for the iPad here: http://bit.ly/L6jhd9
Strange Attractor is a truly novel sound generator based on chaos theory. The outcome of PhD research, it uses a feedback system to process and generate sound. Unlike conventional synthesis techniques, sounds emerge in surprising and unexpected ways, almost having a life of their own. By moving your finger on the screen, you can navigate through a space of evolving sounds, that build-up, pulsate, and decay. Sound input through the microphone or headphone socket can be processed into fractal textures, or will trigger and control oscillations.
Voco is a touch controlled phase vocoder. Sounds can be manipulated by touching the screen, and played like like an instrument. Time is represented on the horizontal axis, and pitch on the vertical. The yellow bars display the sounds intensity. Sounds can be sampled through the microphone or headphone socket, or loaded via iTunes. There are also features to constrain the pitch to different scales, and to glide the playing point around the screen to make rhythmic loops.
Now available as VST and Standalone
http://gstormplugins.blogspot.com/2012/05/vsp-330r2-voice-synth-plus-is-here….
G-Storm Plugins announces the release of VSP-330 version 2.0 Voice Synth Plus VST plugin and standalone version. The VSP-330 is a recreation of the rare and nearly extinct VP-330 string ensemble and human voice formant choirs. The emulation is made possible by synthesis and effects DSP techniques, not samples.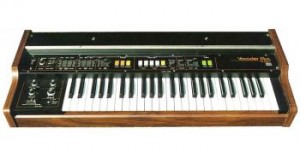 Roland VP-330 Vocoder: The vocoder shapes its envelope and filters by any sound source fed into it, your voice or even a drum loop can be used which is then applied to another sound source, typically a synth pad. This creates a very unique and famous robot-like sound.
http://youtu.be/vHeecSX6Sec
Aside from the 10-band vocoder, the VP-330 added a string synth section, choir and a human-voice sound, both of which are quite excellent themselves. Its 3 sound sections offer a few different presets that can be slightly edited with de-tuning and vibrato. The VP-330 is one of the best Vocoder synths ever and although there are many other types of Vocoders, none sound as good as this!
And here are the details:
Hello. My name is Mars.
 Today we'll talk about vocal processing through a vocoder. Daft Punk have used this technique in many of their tracks.
I have searched for a long time to find a convenient and easy vocoder, and tried many different devices.

When we started work on the PLAYMA track "Cuz We Are PLAYMA", the vocals weren't catchy enough, and at the time I had not had the opportunity to ask some of my friends to record vocals for me. I decided to try recording them myself, even though I don't like my voice.
For the record, I used a standard iPod headset. That sounded funny and my voice was so wrong. Here I was not even in tune, but it's ok for this example.
To begin, compress the vocal track a little bit to cut some peaks in the sample, then use the vocoder effect.

In order to implement this effect, I first need to make a synth, which fills out my voice. For this I used a standard preset of "NI Massive" synth.
To create a melody for the synth, I copied the midi clip, which I used to lay down the guitar track.

The Vocoder effect is very simple to use. To make it work you just need to select the source channel as the Massive synth. After this you should tweak up the effect a little for a more pleasant sound.
Next, add a slight delay between the left and right channels to spread the stereo, and cut low frequency a little bit.
Thank you for watching. My name is Alexander Mars and this was my tutorial on "Daft Punk vocoder". If you are interested in professional, affordable music courses, head over to xssracademy.com. There you will also find more free video lessons and articles, so be sure to check it out. Click "Like" below if you enjoyed this video, see you soon!
The Vocoder intro to the 1983 song "Mr Roboto" by Styx originally was created with a Roland VP-330 Vocoder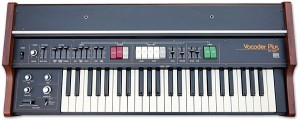 "One of the coolest instruments out there. The vocoder shapes its envelope and filters by any sound source fed into it, your voice or even a drum loop can be used which is then applied to another sound source, typically a synth pad. This creates a very unique and famous robot-like sound.
Aside from the 10-band vocoder, the VP-330 added a string synth section, choir and a human-voice sound, both of which are quite excellent themselves. Its 3 sound sections offer a few different presets that can be slightly edited with de-tuning and vibrato. The VP-330 is one of the best Vocoder synths ever and although there are many other types of Vocoders, none sound as good as this!"