Togu Audio Line has released updates for it's free TAL-Vocoder II and TAL-Filter II plug-ins.  Here's what's new:
Release of TAL-Vocoder-2 version 1.02. Fixes an issue that could lead to a crash while saving the presets or loading the plugin.
Apples new XCode 4 (newest developement environment) does not support universal binaries (PPC) anymore.
This release supports only OSX on intel machines. Please do not update if you have a PPC. The release is tested on OSX 10.6.Version History:
OSX 10.5 support (2011.09.04).
Fixed a bug that could lead to a crash while loading or closing the plugin (Version 1.02).
Only OSX intel supported (Version 1.02).
Release of 
TAL-Filter-2
 version 1.20. Fixes clicks when the host was stopped and audio from an instrument played through this channel. The release includes also some small bugfixes in the envelope editor.
Apples new XCode 4 (newest developement environment) does not support universal binaries (PPC) anymore.
This release supports only OSX on intel machines. Please do not update if you have a PPC. The release is tested on OSX 10.6.
Version History:
OSX 10.5 support (2011.09.04).
Clicking while host is stopped fixed (version 1.20).
Other small bugfixes in the envelope editor (version 1.20).
Only OSX intel supported (version 1.20).
"All sequences recorded by myself.
KORG R3, Omnisphere, Virus TI sounds used for this one"
Featured gear: Omnisphere is designed with a unique user interface containing progressive layers of 'zooming' to accommodate the complete range of users – from musicians who just want to be inspired by the sounds and customize them in an easy way, to expert synthesists and the most advanced sound designers. Users can go deeper and deeper into the software and progress in their synthesis knowledge by simply exploring additional levels of sound manipulation options. To make sure that all users get the most out of the new capabilities, Omnisphere includes an extensive set of video tutorials and synthesis lessons taught by the renown Spectrasonics sound design team.
Omnisphere offers a host of hybrid synthesis and new control capabilities including Variable Waveshaping DSP synthesis, Granular synthesis, Timbre Shifting, FM, polyphonic Ring Modulation, high-resolution streaming Sample Playback, Harmonia™, Dual Multimode Filter structure, Chaos Envelopes™, an advanced Unison mode, and the innovative Flex-Mod™ modulation routing system – to name a few.
The huge core library of Omnisphere is filled with years of creative sampling experiments and thousands of inspiring patches. Spectrasonics has pioneered several brand-new types of sampling for the core library of this instrument, including unique "Psychoacoustic" sounds and soundsources created with a new Composite Morphing Technique (CMT) – which morphs the harmonic characteristics of one instrument to another. As a bonus, a section of the core library is also devoted to representing the best of Spectrasonics award-winning sample libraries. When all of these organic core library soundsources are combined with the synthesis power of the STEAM engine, the sounds become "alive" in a truly dynamic and expressive way.
Use the FRUITY LOOPS' VOCODER in Real Time from your Microphone connected to your PC.
Here: How To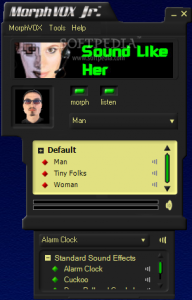 MorphVOX® Junior is free voice changer software that will modify your voice to match your personality. You can sound like a man, woman, or little folk. Built-in voices and sound effects make this voice changer so convenient to use.
MorphVOX Junior is optimized for online games, but is also great for prank calling friends via instant messaging and VoIP. This voice changer can even send out car screeches and drum rolls with a push of a key, mouse or joystick button.
· High-quality voice changing technology
· Learns from your voice
· Integrates easily with online games and chat programs
· Low bandwidth and CPU usage
· Built-in Voices
· Built-in sound effects
· Full key, mouse and joystick support for gamers
MorphVOX Junior is fun and absolutely free.
Visit: screamingbee.com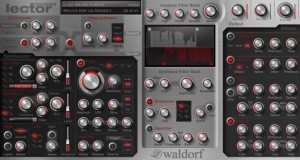 Waldorf has released Lector, a vocoder effect plug-in for Windows and Mac.
Robot voices, whispering strings, talking drum loops, rhythmic pads, the resonant ringing of bells, dripping water – the possibilities are all but infinite. With a quick tweak here and there, the Lector turns any incoming signal into novel sounds and effects.

Tremendously versatile, the Lector puts in your hands a sonic toolset for a wide range of diverse applications. Just about anything goes, from distorting the human voice to adding subtle harmonies to lead vocals and getting creative with movie soundtracks. The analysis filter bank splits the incoming audio signal into as many as 100 frequency bands, the intensity of which modulates the volume levels of an equal number of band-pass filters in the synthesis filter bank. The integrated 16-voice synthesizer or an external source provides the input signal for the synthesis filter bank. This lets you do fun things like apply a melody line or chord sequence to articulate vocals or speech.
Lector features
3 to 100 band Vocoder.
Adjustable range of Analysis Filter Bank.
Adjustable offsets and LFO modulation of Synthesis Filter Bank.
3-band Equalizer with variable mid band.
Individual Compressors for Speech and Carrier signal.
Voiced / Unvoiced Detector.
Overdrive (types Tube, Diode, Clip).
Stereo Chorus / Flanger, 2 to 6 stages.
Stereo Delay, syncronizable.
Reverb.
Sidechain input (VST 3 and Audio Unit).
Carrier plug-in (VST 2).
16-voice Synthesizer (per voice):

Polyphonic, Monophonic or Free-Running.
2 Oscillators, waveforms sine, triangle, sawtooth, pulse with pulse width modulation, sample&hold, noise, single and multi sample playback.
FM.
Ring Modulation.
Portamento / Glissando.
1 Filter, types Lowpass, Bandpass, Highpass, Notch (12dB and 24dB), Whitening.
1 LFO, synchronizable, waveforms sine, triangle, sawtooth, square, sample&hold, noise.
2 AR envelopes.
Lector for Windows and Mac (VST) is available to purchase for 199 EUR.
The Korg VC-10 vocoder came out 1978 together with the MS-synths. The VC-10 also contains a full polyphonic keyboard and a dynamic microphone. It has a switchable "ensemble" effect. Vibrato. It also have a (noisy) noise generator for reproducing consonants.
The VC-10 has the same casing as the Korg MS-10, the VC-10 is just heavier (and this is not because its microphone).
The VC-10 sounds quite good. It sounds typically analog. Digital vocoders sound different. Of course the VC-10 is not a Sennheiser or an EMS, but the Korg was also much cheaper. The pitch can also be controlled by an external voltage.
For some reason, the carrier signal is to be heard even without talking in the microphone – almost everytime I press the keys (as you can see in the video). If someone exactly knows the responsible trimpot inside, please let me know.
At the end of the video I played the VC-10 with a delay from Roland DEP-5.
The VC-10 was used by Jean-Michel Jarre.
The CYLON VOICE is voice transformer on your iPhone. When you talk to this App, it repeats your words soon in robot voice.
If you tap their face, it turns gold color and change their voice.
Download from this link:
http://bit.ly/lGFmvI
The sounds of the legendary Bode Vocoder,, Related to the Moog Vocoder,, check out the beautiful melodic sounds that it produces,, One of the top 3 Analog vocoders, right up there with EMS and Sennheiser. In 1979 Moog released a vocoder of their own, although its design and architecture is almost identical to the Bode 7702 vocoder. It's a 16-band analog vocoder which separates a given synthesizer sound (carrier signal) into seperate frequncy bands ranging from 50 to 5080 cycles per second. It does not have any internal oscillators so it is designed to be used as a processor for external carrier and modulator wave sources. The modulator is typically a vocal or drum beat used to modulate the carrier/synth sound being processed.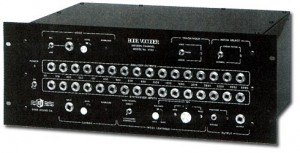 It has microphone and line inputs as well as 16 synthesizer inputs (1 for each frequency band) and 16 outputs. This 16 channel cross-matrix patching system is cumbersome, but useful during the modular synth era, allowing for full external patching between synth and vocoder sections. Other features include a high-frequency bypass, a short 6ms response time for capturing fast percussive sounds, sample-and-hold, and a global bypass switch to turn off the vocoding effect. Unfortunately there is no output mixer, MIDI or CV/Gate.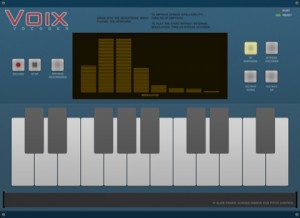 Voix is an 8-band vocoder for iPad that lets you play your voice like a synth. With Voix, your voice sounds like a singing robot. For best results, use with headphones.
- Simple to use: just speak into the iPad mic while playing the keyboard.
- Slide your finger across the ribbon controller for finer pitch control.
- Play up to 5 octaves with the Octave Up and Down buttons.
- Make speech more intelligible with the HF Emphasis button.
- Play the vocoder like a regular sawtooth synth with the Bypass Vocoder button.
- Record your performances, save them to your computer with iTunes or send them via e-mail.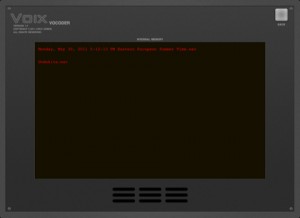 The Vocoder 71B is a solid DSP interpretation of the classic Vocoder effect. Analogue Vocoders that offer an adequate number of filter bands can be a challenge to manufacture with high parts count, large circuit boards and enclosures and lengthy calibration procedures. All of which adds up to high costs and large dimensions. The 71B attempts to address this, providing the most important features of a mid range Vocoder in a small package ideal for a modular environment.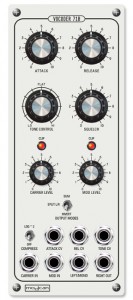 To keep the footprint small we chose a simple "tone" knob which provides a "tilt" like control that scales the high and low bands with center position being flat. This method combines considerable space saving and versatility without the need for individual sliders for band levels. It also makes it possible to have with voltage control. The filter/envelope detector network uses ten 4 pole 24dB band pass filters which we found to provide good frequency isolation, important for clarity when used with vocals or speech. Also works very well processing Drum loops and other sources.
In this video:
This is just two modules, a Modcan Vocoder 71B and a Synth Tech MOTM-101 noise source. The EV dynamic mic goes through a Shure mic pre and then to the vocoder, along with some pink noise. Having the speakers up a bit was causing some feedback that helped produce some of the sustain and depth.