Modular Synth Clavia D Drum & Nord Modular (Vocoder)
4ms RCD
Alesis filtre
Analogue Systems RS 360
Boss RV 5 & SL20
Buchla System #1
Doepfer A133 A134 …….
Kenton Pro solo & 2000 II
Line 6 Filter Pro
Mackie Mixer
Make Noise Maths QMMG Wogglebug
Malekko AO & Uncle
Moog B Murf FreqBox MP201
Roland SP-S
Simmons Digital Clap Trap
Logic sequence by Korg micro X arp
Wired Magazine has an article out featuring synth virtuous Tycho and a set of pictures of his most precious jems, here are two of them: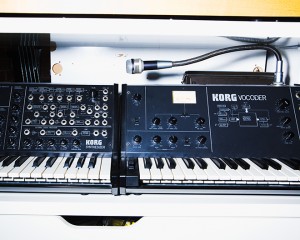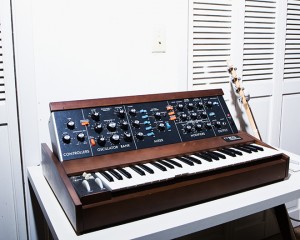 I guess these two are of no surprise to anyone

Excerpt from the article:
Scott Hansen owns a lot of synthesizers. Moogs. Korgs. Obscure Italian synths from companies that don't exist anymore. He loves them and protects them, because they make the music that makes him famous.
But whatever you do, don't call Hansen, who performs under the name Tycho, a "synthesizer collector."
Leading Wired.com through the basement studio here that houses his wares, Hansen lovingly showed off each item, but stressed that having so many synths isn't about amassing fetish items — it's about trying lots of machines in order to find particular sounds.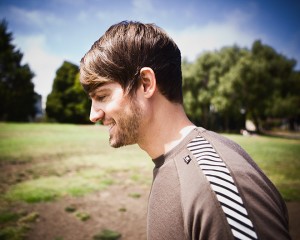 "I know it looks bad right now, but that's why I have to get rid of some of them because there is some redundancy and waste here," Hansen said. "I'd rather sell all of them than refer to myself as a collector. It seems sacrilegious. It's wasteful if it's not getting used because there are only so many of these in the world. Somebody else could put it to good use."
That doesn't mean there aren't a few prized items Hansen, who is also a graphic designer under the name ISO50 (see his blog of the same name here), simply couldn't live without. When making his latest album, Dive, which came out last week on Ghostly International, Hansen fell in love with the Minimoog and ended up using it to create many of the sounds on the record. He also used string synths to get the ambient, atmospheric vibes he was looking for.
Can't believe I have already had mine for almost ten years now

Take a closer look at the microKORG; Korg's compact analog modeling synthesizer with an outrageous Vocoder built right in — we even include a cool gooseneck microphone. Chances are you've seen it on stage or heard it on a favorite song. Now is your chance to see it up close and hear some of 128 Killer sounds that are stashed inside. It's compact, battery powered, and fun to play. And there all kinds of extras to enjoy: an arpeggiator with mute-able steps, effects, delays, pitch & mod wheels, and more. In addition to keyboard players, the microKORG is great for bassists who need a synth bass-sound, vocalists who want to add some sonic extras, or really any musician. Heck, just watch the video! http://www.korg.com/microkorg
Vintage synth demo track by RetroSound – "Zero Gravity"
strings and human voice choir: Roland VP330 Vocoder Plus mk2
lead and pad sounds: Oberheim OB-X 8-Voice
recording: multitrack
The Oberheim OB-X is an analog polyphonic synthesizer. It was the first Oberheim synthesizer that was created with internal prewired modules and not with the bulky SEM modules. Because of this, it was more functional for live performance, and therefore more portable. It was introduced in 1979 and was discontinued in 1981. It came in four, six, and eight-voice models. The starting price for only 4 voices of polyphony was a steep US$4,595. Besides the generous polyphony, each OB-X came with a memory capable of holding 32 user-programmable presets, along with polyphonic portamento, and polyphonic sample and hold. The OB-X was in direct competition with the Sequential Circuits Prophet-5. The OB-X would be used by artists such as Nena, Rush, Queen, Prince, and Jean Michel Jarre. It spawned more Oberheim analog synthesizers, such as the OB-Xa, the OB-8, and the Matrix series of synthesizers.
Sonicprojects have created a VSTi emulation of the OB-X, for Windows and Mac platforms called the OP-X, with near-identical sounds to the hardware version.
VST effect plug-in for Windows that recreates a classical 16-band digital vocoder.

Togu Audio Line has released updates for it's free TAL-Vocoder II and TAL-Filter II plug-ins.  Here's what's new:
Release of TAL-Vocoder-2 version 1.02. Fixes an issue that could lead to a crash while saving the presets or loading the plugin.
Apples new XCode 4 (newest developement environment) does not support universal binaries (PPC) anymore.
This release supports only OSX on intel machines. Please do not update if you have a PPC. The release is tested on OSX 10.6.Version History:
OSX 10.5 support (2011.09.04).
Fixed a bug that could lead to a crash while loading or closing the plugin (Version 1.02).
Only OSX intel supported (Version 1.02).
Release of 
TAL-Filter-2
 version 1.20. Fixes clicks when the host was stopped and audio from an instrument played through this channel. The release includes also some small bugfixes in the envelope editor.
Apples new XCode 4 (newest developement environment) does not support universal binaries (PPC) anymore.
This release supports only OSX on intel machines. Please do not update if you have a PPC. The release is tested on OSX 10.6.
Version History:
OSX 10.5 support (2011.09.04).
Clicking while host is stopped fixed (version 1.20).
Other small bugfixes in the envelope editor (version 1.20).
Only OSX intel supported (version 1.20).
"All sequences recorded by myself.
KORG R3, Omnisphere, Virus TI sounds used for this one"
Featured gear: Omnisphere is designed with a unique user interface containing progressive layers of 'zooming' to accommodate the complete range of users – from musicians who just want to be inspired by the sounds and customize them in an easy way, to expert synthesists and the most advanced sound designers. Users can go deeper and deeper into the software and progress in their synthesis knowledge by simply exploring additional levels of sound manipulation options. To make sure that all users get the most out of the new capabilities, Omnisphere includes an extensive set of video tutorials and synthesis lessons taught by the renown Spectrasonics sound design team.
Omnisphere offers a host of hybrid synthesis and new control capabilities including Variable Waveshaping DSP synthesis, Granular synthesis, Timbre Shifting, FM, polyphonic Ring Modulation, high-resolution streaming Sample Playback, Harmonia™, Dual Multimode Filter structure, Chaos Envelopes™, an advanced Unison mode, and the innovative Flex-Mod™ modulation routing system – to name a few.
The huge core library of Omnisphere is filled with years of creative sampling experiments and thousands of inspiring patches. Spectrasonics has pioneered several brand-new types of sampling for the core library of this instrument, including unique "Psychoacoustic" sounds and soundsources created with a new Composite Morphing Technique (CMT) – which morphs the harmonic characteristics of one instrument to another. As a bonus, a section of the core library is also devoted to representing the best of Spectrasonics award-winning sample libraries. When all of these organic core library soundsources are combined with the synthesis power of the STEAM engine, the sounds become "alive" in a truly dynamic and expressive way.
Use the FRUITY LOOPS' VOCODER in Real Time from your Microphone connected to your PC.
Here: How To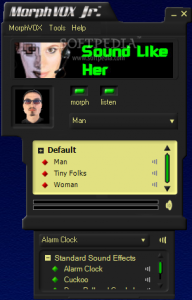 MorphVOX® Junior is free voice changer software that will modify your voice to match your personality. You can sound like a man, woman, or little folk. Built-in voices and sound effects make this voice changer so convenient to use.
MorphVOX Junior is optimized for online games, but is also great for prank calling friends via instant messaging and VoIP. This voice changer can even send out car screeches and drum rolls with a push of a key, mouse or joystick button.
· High-quality voice changing technology
· Learns from your voice
· Integrates easily with online games and chat programs
· Low bandwidth and CPU usage
· Built-in Voices
· Built-in sound effects
· Full key, mouse and joystick support for gamers
MorphVOX Junior is fun and absolutely free.
Visit: screamingbee.com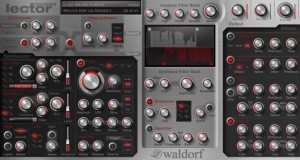 Waldorf has released Lector, a vocoder effect plug-in for Windows and Mac.
Robot voices, whispering strings, talking drum loops, rhythmic pads, the resonant ringing of bells, dripping water – the possibilities are all but infinite. With a quick tweak here and there, the Lector turns any incoming signal into novel sounds and effects.

Tremendously versatile, the Lector puts in your hands a sonic toolset for a wide range of diverse applications. Just about anything goes, from distorting the human voice to adding subtle harmonies to lead vocals and getting creative with movie soundtracks. The analysis filter bank splits the incoming audio signal into as many as 100 frequency bands, the intensity of which modulates the volume levels of an equal number of band-pass filters in the synthesis filter bank. The integrated 16-voice synthesizer or an external source provides the input signal for the synthesis filter bank. This lets you do fun things like apply a melody line or chord sequence to articulate vocals or speech.
Lector features
3 to 100 band Vocoder.
Adjustable range of Analysis Filter Bank.
Adjustable offsets and LFO modulation of Synthesis Filter Bank.
3-band Equalizer with variable mid band.
Individual Compressors for Speech and Carrier signal.
Voiced / Unvoiced Detector.
Overdrive (types Tube, Diode, Clip).
Stereo Chorus / Flanger, 2 to 6 stages.
Stereo Delay, syncronizable.
Reverb.
Sidechain input (VST 3 and Audio Unit).
Carrier plug-in (VST 2).
16-voice Synthesizer (per voice):

Polyphonic, Monophonic or Free-Running.
2 Oscillators, waveforms sine, triangle, sawtooth, pulse with pulse width modulation, sample&hold, noise, single and multi sample playback.
FM.
Ring Modulation.
Portamento / Glissando.
1 Filter, types Lowpass, Bandpass, Highpass, Notch (12dB and 24dB), Whitening.
1 LFO, synchronizable, waveforms sine, triangle, sawtooth, square, sample&hold, noise.
2 AR envelopes.
Lector for Windows and Mac (VST) is available to purchase for 199 EUR.