TAL-Vocoder is a vintage vocoder emulation with 11 bands that emulates the sound of vocoders from the early 80's. It includes analog modeled components in combination with digital algorithms such as the SFFT (Short-Time Fast Fourier Transform). This vocoder does not make a direct convolution of the carrier and modulation signal as other digital vocoders maybe do. It includes an envelope follower for every of the eleven bands. This vocoder is optimized for voice processing and includes some algorithms for consonants to make the voice more intelligible.
The carrier signal is a VCO (Voltage Controlled Oscillator) with a Pulse, Saw, Noise and SubOsc. But it's also possible to use the left stereo input as carrier. This way every sound source can be used as carrier signal. This plug-in supports every sample rate.
11 band vocoder engine.
Internal carrier synth (pulse, saw, sub osc, noise, mono, poly, portamento, sync mode, tune).
Possiblity to route an external carrier signal.
Harmonic control (adds more harmonics to any carrier signal)
"Ess" enhancer for a clean understandable voice, also with a carrier that hasnt much high frequencies.
Clip LED, glows if the input signal will be clipped.
Panic button stopps hanging notes within the synth.
Documentation shows different routing possiblities.
Low CPU usage.
Download options:
In this video:
New single from electronic/ambient act Bears in Nippon – Okinawa
Featuring vocoders, Moog synths, ARP, Jupiter8, Reason DAW, AKai and samplers.
Movie: Produced by BiN. We pay tribute to all these great animators who have contributed with material
Taken from the forthcoming album – Sapporo Love
Check out this setup. When using the Voyager's Mixer Out/Filter In jack with a vocoder like this, the vocoder's mic input becomes a portal for injecting rhythm into your Voyager patches. When that rhythm is MIDI Clock Synced, things get really fun, really fast.
Go robotic I guess!
Decided to share with you a moment of our upcoming app.
This will be the next release from Wizdom Music
Hello this is our version of Kraftwerk`s Radioactivity using 2 AtomoSynth krakken keyboards one of them with an Electro Harmonix vocoder, also a krakken module for the sound effects, drums and bass with Fruity loops, recorded on analog tape with a Tascam porta07
Thanks to Karin Arakaki.
Saturday morning synth music with robotic voices – original tune from SBC, enjoy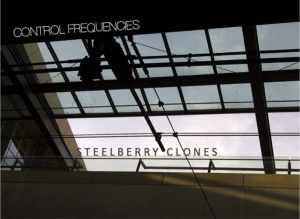 Steelberry Clones – Control frequencies by Stereoklang Produktion
http://www.youtube.com/watch?v=HxHqnztxpTg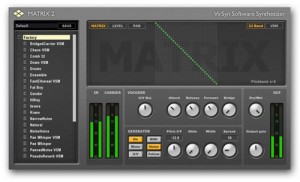 Inspired by the legendary VSM 201 Vocoder from Sennheiser we´ve spent MATRIX an additional Filter module modelling the analog Sound of the VSM. But to make it even better we´ve extended the filter range by adding two additional filters for the high end and MATRIX got two Filterbanks for stereo operation. MATRIX 2 also comes with a redesigned user interface, some additional presets and we´ve spent an internal noise generator for whisper effects.
The Vocoder was invented by Homer Dudley in the mid-30′s of the last century. Dudley worked at Bell Laboratories, and this is where the first Vocoder took shape.
The basic function of a Vocoder is characterized by an analysis of the input signal, usually speech but other type of inputs can also be very interesting. In a special filter bank, a spectral analysis is performed and signals are developed which follows the amount of spectral energy in each channel. What makes MATRIX 2 different to the vocoders in the past ?
- Precise analog modelling 8-pole filters and extremely fast envelope followers for unprecedented resynthesis quality.
- New voiced/unvoiced detection and pitch extraction algorithms for high intelligibility.
- Stereophonic synthesis filter bank preserves the spatial characteristic of the replacement signal.
- Easy to use interface.
- Latency free operation.
Check out more info on the MATRIX 2 as well as hear some demos on the official VirSyn product page at http://www.virsyn.de/en/E_Pr…
Demo of working VP-330 features. No Processing FX or processing. Note that my gain staging to the video capture device was not perfect so there is some amplified whine during quiet passages. The whine originates in the video gear and is not present in the audio output of the VP-330.
…the new teaser from System's upcoming album
System-Pitch Black by ProgressProductions
As reporeted earlier this week System are back with a new album
- It has been taken to a point where you no longer can tell if it is a human machine or a robotic human singing, System says.

Dupont and The Pain Machinery have made remixes for the limited edition of the album which also will, for the first time, feature a song with vocals – real vocals that is.