December 13, 2010 · Posted in
Uncategorized
·
Comments Off

on New album from And One this spring
German EBM act And One, consisting of front man and lead singer Steve Naghavi, backed by Chris Ruiz, Gio Van Oli, released the latest "Bodypop" in 2006, which was updated with three new tracks and was released again in 2009 as "Bodypop 1 1 / 2 ".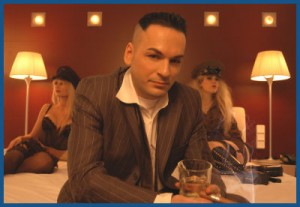 But now the trio are finally back with brand new material. The single "Zerstörer" released in January, followed by new full length album "Tanzomat" scheduled for March 2011. The filling single / EP 's comes in addition to the title track with two more songs and as an added bonus, it also brings together three live recordings from the last tour.
"Zerstörer" released January 14 via Out Of Line and Metropolis Records for Europe and North America.
Tracklist:
Zerstörer
Sex Drive
No Song For You
Mirror In Your Heart (Live 2010)
The Secret (Live 2010)
Military Fashion Show (Live 2010)
Military Fashion Show (Original Version)
Zerstörer (Peine I.S.T. die Ansage 2011 Mix)
December 5, 2010 · Posted in
Uncategorized
·
Comments Off

on Blackfield festval line up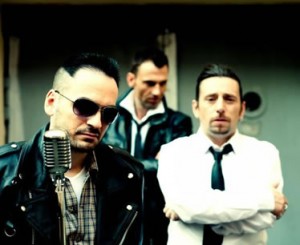 The Blackfield 2011 festivals will take place on June 25 at Amphitheater Gelsenkirchen and on June 26 at Burg Querfurt in Germany.
The line-up, so far, includes And One (pic), Apoptygma Berzerk, Rabia Sorda, Absolute Body Control, Schandmaul, Letzte Instanz, Dreadful Shadows and Sono.
Via RMM
Hi all
Time to sum up the past ten years and list the 20 best / most important electronic, electro, EBM and synth albums that has been released. This is of course a tricky quest and will most likely create some debate. Numerous of good albums has been released and I have certainly not listened to all of them, but still someone needs to make a statement :-). The albums are listed in order of importance, but may not be absolute, in the sense that – if they are rated as number 6, they could easily be argued to have place number 7 instead etc, but still…
Number 1:
Kraftwerk – Tour de france soundtrack
Number 2:
The Knife – Silent Shout
Number 3:
Goldfrapp – Black Cherry
Number 4:
Covenant – Skyshaper
Number 5:
Colder – Again
Number 7:
Daft Punk – Discovery
Number 8:
Felix! – Kittenz and thee glitz
Number 9:
Welle: Erdball – Die wunderwelt der technik
Number 10:
Suicide – American supreme
Number 11:
DAF – Fünfzehn neue D.A.F-Lieder
Number 12:
VNV Nation – Futureperfect
Number 13:
Röyksopp – Melody A.M.
Number 14:
Rammstein – Mutter
Number 15:
Vive la fete – Republique populaire
Number 16:
And One – Agressor
Number 17:
Jeans Team – Musik von oben
Number 18:
Recloose – Cardiology
Number 19:
Melotron – Sternenstaub
Number 20/21:
Télépopmusik – Genetic world
System – Self organizing
October 8, 2009 · Posted in
Electronic Music
·
Comments Off

on And One release concert album and DVD
And One will release a concert DVD and album, both simply titled Live, October 30 on Out of Line Music. The DVD edition features two discs of material, including 55 live songs recorded from 2004-2008, plus every music video the band has ever released and a complete concert filmed in 1989. The CD version features two discs and 38 songs. Both versions of Live are available separately for pre-order from the Out of Line Music Web site.
April 2, 2009 · Posted in
Electronic Music
·
Comments Off

on Tinitus for the last time
So if you are in Stockholm make sure to attend this massive event
TINITUS FESTIVAL 2009
We launch our 10th anniversary and last festival ever.
Two days of synth love for the masses. An all-star classic, a gathering of the tribes. For the love of music through the art of party.
March 19, 2008 · Posted in
Electronic Music
·
Comments Off

on Going to Germany in April?? Well perhaps you should…
…in April Steve Naghavi and the rest of the And One crew will head for a short German tour visiting 6 cities.
The first big news from these guys since the so and so OK album release Bodypop.
Special guest during this tour will be Alexander Marcus, let's see how the ebm grufties will receive him… Visit www.alexander-marcus.de to hear some tunes.
Here are the confirmed dates:
04.04.2008 Leipzig, Anker
05.04.2008 Dresden, Straße E
11.04.2008 Hannover, Capitol
12.04.2008 Duisburg, Pulp
18.04.2008 Berlin, Columbiahalle
26.04.2008 Hamburg, Docks
And One, the popular synth-pop band from Germany, formed in 1989 after Chris Ruiz and Steve Naghavi met in a Berlin disco. They were both fans of Belgian EBM music, so they decided to play together, using only a drum machine and two keyboards, like their musical idols Depeche Mode had. Working together they compiled a demo tape that producer Jor, who was planning on starting a sub-label off of Modern Music, happened to like. The duo met success rather quickly after that, as they were the first signed band to Machinery Records. In 1990 they released their first single, «Metalhammer».