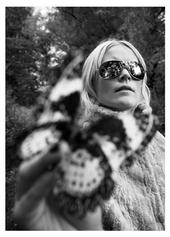 I sure hope this is just a side project and that the awesome collaboration between the two siblings aint over for good. Anyhow, Miss Karin Dreijer Andersson from The Knife send out this message on a couple of news sites telling us about the newly posted laidback and minimalistic piece "If I Had a Heart" with her solo project Fever Ray on MySpace. The debut album is scheduled for early 2009. Amongst the influences mentioned we find "Miami Vice", Aphex Twin, David Lynch and Björk.
And for old time sake a nice Knife video:
[youtube=http://www.youtube.com/watch?v=VrjwqXwyzNU]
Cheers Ola
Clark has released a new album on Warp Records entitled Turning Dragon. I have looked forward to this album for some time after listened to his previous release, Throttle Promoter EP. Clark is definately one of the most refreshing artists on Warp, he has a very innovative but still classic UK electronic sound. Hard, deep, continuously evolving and gritty tracks, aimed at contorting your body on the dance floor or just contorting your brain. This is an album that you could almost call techno, but techno with the a.d.d. detail pushed as far as it can go.
Clark – Tuning Dragon Sampler Part I
Clark – Tuning Dragon Sampler Part II