http://youtu.be/exsuWe6Beds
ABSYNTH 5 is an exceptional synthesizer with unique sonic potential and 1,800 preset sounds. Its speciality is a limitless spectrum of unusual, evolving sounds created using the powerful, hybrid synthesis architecture and sophisticated modulation and effect system – resulting in sounds far removed from the everyday. What's more ABSYNTH 5 is not just a synthesizer, but a powerful effect plug-in for treating audio tracks using the unique ABSYNTH 5 effects bank.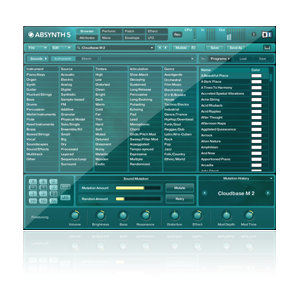 ABSYNTH 5 is unrivalled as a tool for creating unique sounds. The hybrid architecture features three oscillator channels and a semi-modular signal flow combined with diverse sound generating methods such as subtractive synthesis, FM, wave-table, granular sampling, and sampling with wave-morphing, filters, modulators and effects. In addition, a uniquely flexible envelope control with 68-stage envelopes allows for sounds to be subtly or radically animated. From softly undulating pads to aggressive rhythmic synth attacks – everything is possible with ABSYNTH 5.
In this video:
My Absynth version of Aphex Twin's "Rhubarb " from Selected Ambient Works Vol. 2.
News has been released as to the headline act for Bloc 2011, and it is none other than the Braindance master, Aphex Twin. Aphex Twin last played Bloc 2009, which featured, as part of an incredible show, a mysterious loudspeaker dancer. Aphex Twin sets are known to be special, so many will wait with anticipation for this one.
Apart for the headliner, Bloc near Bristol, UK, continues to show its development into the country's premier electronic music festival with an already impressive early line-up – playing across the 11-13 March will include such acts as: LFO, Moderat, Speedy J, Dopplereffekt, Daedelus, Jimmy Edgar and B12 as the cream of what is still a largely unknown pie.
More information on lineup, tickets and all things Bloc related is available at the new Bloc website.
Via RM
Artist: APHEX TWIN
Song: GWELY MERNANS
Director: RINO STEFANO TAGLIAFIERRO
Editing: RINO STEFANO TAGLIAFIERRO
Time: 05'12″
Year: 2010
Pretty cool I must say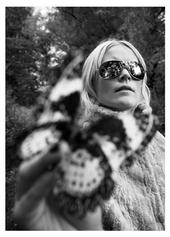 I sure hope this is just a side project and that the awesome collaboration between the two siblings aint over for good. Anyhow, Miss Karin Dreijer Andersson from The Knife send out this message on a couple of news sites telling us about the newly posted laidback and minimalistic piece "If I Had a Heart" with her solo project Fever Ray on MySpace. The debut album is scheduled for early 2009. Amongst the influences mentioned we find "Miami Vice", Aphex Twin, David Lynch and Björk.
And for old time sake a nice Knife video:
[youtube=http://www.youtube.com/watch?v=VrjwqXwyzNU]
Cheers Ola