The cut-off frequency of the Korg Monotron analog low-pass filter is controlled by an Arduino micro controller and a DAC chip.
This video features a prototype of a new synth called XOR and is actually a true digital polyphonic synthesizer, details below:
thanks to Tim Barrass for the amazing Mozzi library
sensorium.github.com/Mozzi/
Arduino programming compatible – running on atmega 328
open source
standuino.eu/devices/instruments/xor-synth/
based on fraAngelico synthesizer
Features:
-MIDI Input
-polyphony 6 voices
-velocity sensitive
-selectable wavetable (sine,saw,triangle,noise)
-selectable bitoperator that modulates the wave (xor, or, and)
-overflow distortion
-envelope
-lfo
-presets
The Snazzy FX ArdCore is a Eurorack module based around the Arduino microcontroller. You can create programs (a.k.a. sketches) on your computer and upload them via USB into the module.
For this video, 'chisel316' loaded the Random Walk Generator sketch into the ArdCore and use it to modulate the VCOs on the Kraftzwerg. Also in play in this patch are the Kraftzwerg's Dual cross-modulating LFOs and the Doepfer A148 Sample and Hold module.
"As you can see, I started expanding my modular setup. I've been collecting modules that I feel compliment the Kraftzwerg."
The rePatcher is an Arduino shield that gives you a hardware interface
to control and "repatch" your Pure Data and MAX/MSP patches
It has 6 general purpose potentiometers for modifying parameters in your patch
and a 6 x 6 patchbay matrix
rePatcher made by
http://www.openmusiclabs.com/projects/repatcher/
wiki:
http://wiki.openmusiclabs.com/wiki/Repatcher
A demo of some Arduino programs that Amanda Ghassaei has produced – that use an accelerometer and gyroscope for tilt/motion sensing
more info about it on Instructables:
instructables.com/id/Use-an-Accelerometer-and-Gyroscope-with-Arduino/
All LED, button, and MIDI processing is being done by the Arduino, MIDI out was sent to and recorded in Ableton.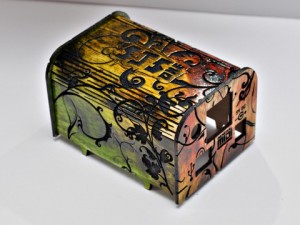 Here's a new treat for 8bit synth fans, check out the SJS-ONE.
SJS-ONE is a software defined 8-bit mono synthesizer with a dual (series) MAX261, switch-cap filter, which we are, as far as we know, the only ones to use at this point in a DIY-synthesizer.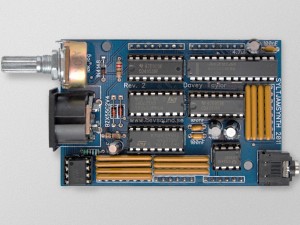 The synthesizer has some interesting history that has certainly colored its development and ultimately it's sound. The initial version was developed as an instructional workshop for a synth-event called SyltJam in 2011. The workshop idea was to show people how quickly you can design the basic hardware and software required to produce a platform for versatile audio and music generation.
As it turned out, people liked it's sound so much that we decided to refine the design – which more or less involved adding peripheral components to increase configurability and improve on stability and ESD, ground-mismatch and noise sensitivity while keeping the actual design minimal and simplistic.
It's beginnings are as humble as it's production – less than 50 of these have been made available and all parts are hand assembled and hand soldered, while the manual is hand drawn and cases hand painted.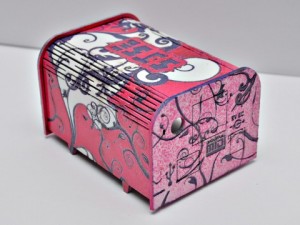 Perhaps the most unique aspect of this synth is the choice of digital platform – the Arduino. We did not want to build something static and opted to keep the Arduino instead of adding an on-board microcontroller. Because this will make it so much easier to modify the functionality of the synth firmware provided by us, or to write your own software with a completely unique sound using the vast community support that is available for the Arduino platform.
All aspects of the synth can be fully controlled by designing your own custom firmware and we sincerely hope that people will share their firmware in the spirit of the open source and hardware that inspired us to drive this project from idea to final product.
Link:
http://devsound.se/2012/sjs-one
Demo of a custom device build around Arduino in order to control the Roland Alpha Juno 2 via Wifi.
The Arduino connects the Juno2 to the Wifi network of the iPad via an Airport router, an Arduino Ethernet shield and a midi shield.
I used Touch OSC to design the controller.
Touch OSC sends OSC messages (e.g /jun/DCO_Range 2.000) which are translated by the Arduino into Midi SysEx messages.
But the Arduino also translates Midi sysex messages from the Juno 2 into OSC messages (sort of loopback) so that when you change the patch on the Juno2, faders automatically move to the right position !
The code and detailled instructions will soon be published on http://4colors.free.fr
The control design mimics Roland PG300, but better !
Some fun with an old joystick and a sampler made from an Arduino + the Adafruit Waveshield.
Curious about what the Adafruit is? Here's a description:
Adding quality audio to an electronic project is surprisingly difficult. Here is a shield for Arduinos that solves this problem. It can play up to 22KHz, 12bit uncompressed audio files of any length. It's low cost, available as an easy-to-make kit. It has an onboard DAC, filter and op-amp for high quality output. Audio files are read off of an SD/MMC card, which are available at nearly any store. Volume can be controlled with the onboard thumbwheel potentiometer.
This shield is a kit, and comes with all parts you need to build it. Arduino, SD card, tools, speaker and headphones are not included. It is fairly easy to construct and anyone with a successful soldering project under their belt should be able to build it.
The shield comes with an Arduino library for easy use; simply drag uncompressed wave files onto the SD card and plug it in. Then use the library to play audio when buttons are pressed, or when a sensor goes off, or when serial data is received, etc. Audio is played asynchronously as an interrupt, so the Arduino can perform tasks while the audio is playing.
http://adafruit.com/products/94