This demo goes through using the Nord Modular (0:00) and G2 (6:00) editors on the Surface Pro.
If you want to just know "Does the Surface Pro work well with these editors?" my answer is 'yes, but…'
The 'but' being that it seemed most useful using the pen throughout. While I at first felt that your fingers would work fine for knob twisting and such, even on the Nord Modular editor (not G2), I looked back at the video and felt that my finger still had trouble catching the knobs. However, I would say WITH the pen, you would have very little trouble using the editors. I hope you enjoyed the video and that it provided you with some insight into this combination. Please let me know if you have any questions. Thank you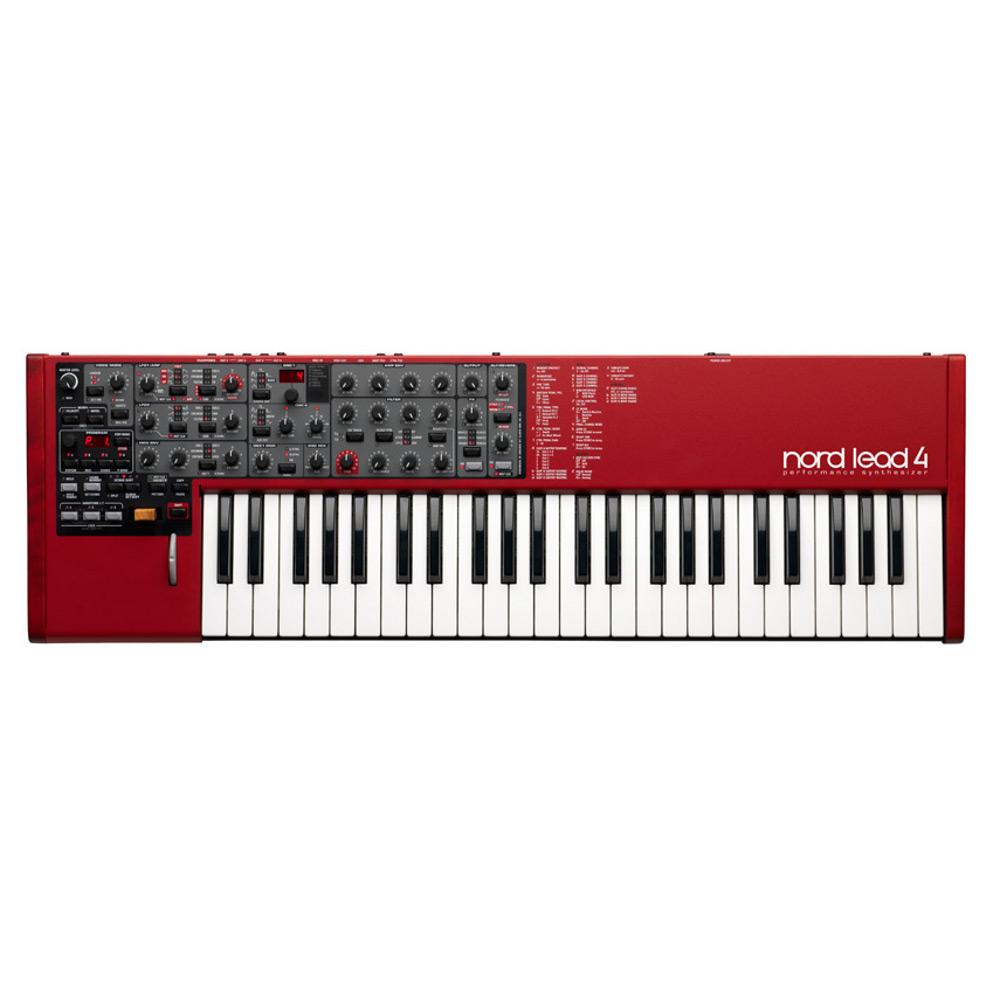 Nord has announced six new artist sound banks for the new Lead 4 and Lead 4R are now available for free download. They tell us that six very different sound designers have created a wide range of new sounds covering everything from classic analogue vintage leads and pads, FM pianos, evil distorted rave basses and complex performance patches with multilayered synchronized arpeggiating monsters and much more.
The sound creators are ASL SoundLab, Federico Solazzo, Åke Danielson, Palle Dahlstedt, Kristofer Ulfves and Ulf "Vinyl" Stenberg.
The sounds are compatible with the Nord Lead 4 and the Nord Lead 4R and are transferred using the Nord Sound Manager.
Free download from the Nord Lead 4 Program Library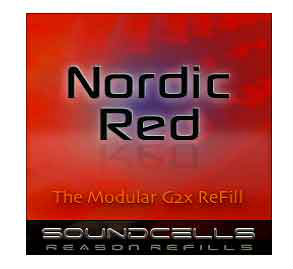 Soundcells has released Nordic Red version 2, a ReFill based on samples from the Nord Modular G2x synthesiser. They believe that it is especially great for film scores, game music, ambient and experimental music.
Version 2 adds 250 Mb of new Nord Modular G2 samples, new combinator patches and changes in detail.
Nordic Red v2 Contents:
•  140+ impressive combinator patches.
•  170+ NNXT patches containing the basic patches which were used to build the combinators.
•  850+ 44 khz 24bit samples, 1.3 GB uncompressed.
•  Great for film scores, game music, ambient & drones but also modern dance styles.
•  11 demo files with 'tutorialesque' value are included.
Pricing and Availability:
Introductory price is 18.90 EUR (normally 24.90 EUR).
'Prepare yourself for a journey where your creativity can reach new levels' – this statement from the 'Welcome' section of the G2 manual is a perfect description of what you can expect from the Nordic Red ReFill. The ability to create an unlimited range of individual sounds will not only provide you with "otherworldly" atmospheric stuff, the deepest textures and great keys, but also with surprisingly "in-your-face" bass patches and wonderful pads when diving into this ReFill. The "self-playing" patches (called "Noodles" in the G2), for example, are great starting points to create some ultra-deep atmospheric textures – an ideal entry for composing film scores or game music. Or simply pitch down the samples to listen to the "hidden magic" inside these up to 90 seconds long 'Noodle' recordings. Version 2 adds 20 combinator patches based on 250 mb of new Modular G2 samples …
Clavia's product specialist Tomas Johansson demonstrating an awesome patch with multiple layers of Arpeggiators using two Nord Lead 4's (6 slots used in total / 1,5 Nord Lead 4:-)).
All elements (3 percussion sounds and 3 synthesizer sounds) are triggered live (no external sequencers).
Clavia gives us a quick run through of their new synth at MusikMesse 2013
Features and specs all revealed on this new red beauty
SBC live from the event

After a couple of days of teasing – the new Nord Lead 4 has finally been fully revealed, and boy does it look promising


We will of course take a closer look at it down at  MusikMesse, stay tuned for more on this red beauty
Nord Lead 4 is a 4-part multi-timbral synthesizer sporting a brand new 2-oscillator virtual analog sound engine with 2x oversampling. In addition to the classic analog waveforms there's a Wavetable mode with unique new Formant Wavetables. Frequency Modulation and Hard/Soft sync options are available for mutilating your sound further and the True Voice Unison mode can stack up to four oscillators per voice for really thick, beefy leads and pads.
The filter section boasts Low Pass (12/24dB), High Pass, and Band Pass filters and also stunning new simulations of two transistor and diode ladder filters capturing the squeaky, dirty character of the originals. A dedicated filter overdrive can distort your sound before it passes through the effect section.
The new Variation buttons let you override almost any parameter of the synthesizer, instantaneously. Ever wanted to change LFO speed, Modulation routings and reverb amount – all at once, in the middle of a sound? With the Nord Lead 4 you can! With 7 assignable variations per program Nord Lead 4 gives you creative freedom to warp and improvise your sound live, both rhythmically and sonically and thanks to the Master Clock Synchronization, it can be done in perfect sync to other layers or an external MIDI Clock.
All 4 slots have dedicated effect sections with delay, reverb, tube amp simulated overdrive, a Talk effect modeled after a vocal tract and a sample rate reducing Crush effect.
The Nord Lead 4 is also available as a Tabletop/Rack version, the Nord Lead 4R.

Key features
4-part multi-timbral with 4 separate outs.
2-Oscillator Virtual Analog Subtractive synthesis, with Frequency Modulation, Hard and Soft Sync and True Voice Unison.
Morph and Variation performance controls.
Wavetable synthesis, including unique Formant Wavetables.
12/24 dB Low-pass, High-pass, Band-pass filter section plus transistor and diode ladder filter simulations.
2 LFO/Arpeggiator sections and Mod Env section with flexible routing possibilities.
LFO, Arpeggiator and Delay can be synchronized to the Master Clock (or external MIDI-Clock).
Crush, Talk and Distortion, Reverb, Delay effects (available per slot)
2x oversampled sound engine.
49­-key velocity sensitive keyboard (C-C) (Not Nord Lead 4R).
USB MIDI.
Suggested Street Price:
Nord Lead 4: 1,849 euro, shipping May 2013. Nord Lead 4R: 1,649 euro, shipping August 2013
More info: www.nordlead4.com
This video is about an electronic band of toys-robot that play some tiny music instruments drived by Arduino Uno and Clavia Nordbeat, a MIDI sequencer app for iPad.
http://www.opificiosonico.com
http://www.facebook.com/OpificioSonico
https://twitter.com/OpificioSonico
http://www.flickr.com/photos/opificio…
Three musicians showcasing the different sections of Nord C2D Combo organ. Tone-wheel Organ: Pierre Swärd, Baroque Pipe Organ: Ulla Olsson and Mats Björke on the Farfisa Transistor Organ.
Read more about the Nord C2D here: http://nordkeyboards.com/c2d
Big thanks to the musicians and to Hasse & Lasse (http://www.hasseochlasse.se/) for making the video!
The movie shows an improvisation in Carlos Alpha tuning system recorded while playing a Nord Modular G2 and my "alternative MIDI controller".
The only melodic/harmonic sound source for this piece is the G2 retuned to Carlos Alpha with LMSO by X.J.Scott. The rhythmic track was created with Omnisphere Stylus RMX.
Read my blog for details: http://www.seraph.it/blog_files/c46d0a7ca80368e67afd7f2aadb46297-162.html

The Nord Electro 4 SW73 has twice the memory capacity of its predecessor, Nord Electro 3 SeventyThree, letting you use more sounds from the Nord Piano and Sample Libraries. The Organ section has been upgraded to the latest Tone Wheel engine from Nord's dual manual organ Nord C2D, including a new 122 Rotary speaker simulation and Drive.
The Nord Electro 4 SW73 joins the Nord Electro 4 HP and Nord Electro 4D SW61, introduced earlier in 2012.
Key features:
73 Semi-Weighted Waterfall (F-F)
Digital LED Drawbars
380 MB memory for Nord Piano Library sounds
128 MB memory for Nord Sample Library sounds
C2D Tone wheel engine with 122 Rotary simulation and Drive
Delay Effect with Tap-Tempo
4 Dynamic Response Curves
Long Release
4 Live Locations
Nord Sound Manager 6.x support for Bundles
USB MIDI
Audio demos:
The Electro 4 SW73 is priced at 1,999 EURO / US MAP 2,399 USD and is shipping in December 2012, and to US & Canada in January 2013. See the Nord site for more info >>