Clavia gives us a quick run through of their new synth at MusikMesse 2013
Features and specs all revealed on this new red beauty
SBC live from the event

After a couple of days of teasing – the new Nord Lead 4 has finally been fully revealed, and boy does it look promising


We will of course take a closer look at it down at  MusikMesse, stay tuned for more on this red beauty
Nord Lead 4 is a 4-part multi-timbral synthesizer sporting a brand new 2-oscillator virtual analog sound engine with 2x oversampling. In addition to the classic analog waveforms there's a Wavetable mode with unique new Formant Wavetables. Frequency Modulation and Hard/Soft sync options are available for mutilating your sound further and the True Voice Unison mode can stack up to four oscillators per voice for really thick, beefy leads and pads.
The filter section boasts Low Pass (12/24dB), High Pass, and Band Pass filters and also stunning new simulations of two transistor and diode ladder filters capturing the squeaky, dirty character of the originals. A dedicated filter overdrive can distort your sound before it passes through the effect section.
The new Variation buttons let you override almost any parameter of the synthesizer, instantaneously. Ever wanted to change LFO speed, Modulation routings and reverb amount – all at once, in the middle of a sound? With the Nord Lead 4 you can! With 7 assignable variations per program Nord Lead 4 gives you creative freedom to warp and improvise your sound live, both rhythmically and sonically and thanks to the Master Clock Synchronization, it can be done in perfect sync to other layers or an external MIDI Clock.
All 4 slots have dedicated effect sections with delay, reverb, tube amp simulated overdrive, a Talk effect modeled after a vocal tract and a sample rate reducing Crush effect.
The Nord Lead 4 is also available as a Tabletop/Rack version, the Nord Lead 4R.

Key features
4-part multi-timbral with 4 separate outs.
2-Oscillator Virtual Analog Subtractive synthesis, with Frequency Modulation, Hard and Soft Sync and True Voice Unison.
Morph and Variation performance controls.
Wavetable synthesis, including unique Formant Wavetables.
12/24 dB Low-pass, High-pass, Band-pass filter section plus transistor and diode ladder filter simulations.
2 LFO/Arpeggiator sections and Mod Env section with flexible routing possibilities.
LFO, Arpeggiator and Delay can be synchronized to the Master Clock (or external MIDI-Clock).
Crush, Talk and Distortion, Reverb, Delay effects (available per slot)
2x oversampled sound engine.
49­-key velocity sensitive keyboard (C-C) (Not Nord Lead 4R).
USB MIDI.
Suggested Street Price:
Nord Lead 4: 1,849 euro, shipping May 2013. Nord Lead 4R: 1,649 euro, shipping August 2013
More info: www.nordlead4.com
This video is about an electronic band of toys-robot that play some tiny music instruments drived by Arduino Uno and Clavia Nordbeat, a MIDI sequencer app for iPad.
http://www.opificiosonico.com
http://www.facebook.com/OpificioSonico
https://twitter.com/OpificioSonico
http://www.flickr.com/photos/opificio…
Three musicians showcasing the different sections of Nord C2D Combo organ. Tone-wheel Organ: Pierre Swärd, Baroque Pipe Organ: Ulla Olsson and Mats Björke on the Farfisa Transistor Organ.
Read more about the Nord C2D here: http://nordkeyboards.com/c2d
Big thanks to the musicians and to Hasse & Lasse (http://www.hasseochlasse.se/) for making the video!
The movie shows an improvisation in Carlos Alpha tuning system recorded while playing a Nord Modular G2 and my "alternative MIDI controller".
The only melodic/harmonic sound source for this piece is the G2 retuned to Carlos Alpha with LMSO by X.J.Scott. The rhythmic track was created with Omnisphere Stylus RMX.
Read my blog for details: http://www.seraph.it/blog_files/c46d0a7ca80368e67afd7f2aadb46297-162.html

The Nord Electro 4 SW73 has twice the memory capacity of its predecessor, Nord Electro 3 SeventyThree, letting you use more sounds from the Nord Piano and Sample Libraries. The Organ section has been upgraded to the latest Tone Wheel engine from Nord's dual manual organ Nord C2D, including a new 122 Rotary speaker simulation and Drive.
The Nord Electro 4 SW73 joins the Nord Electro 4 HP and Nord Electro 4D SW61, introduced earlier in 2012.
Key features:
73 Semi-Weighted Waterfall (F-F)
Digital LED Drawbars
380 MB memory for Nord Piano Library sounds
128 MB memory for Nord Sample Library sounds
C2D Tone wheel engine with 122 Rotary simulation and Drive
Delay Effect with Tap-Tempo
4 Dynamic Response Curves
Long Release
4 Live Locations
Nord Sound Manager 6.x support for Bundles
USB MIDI
Audio demos:
The Electro 4 SW73 is priced at 1,999 EURO / US MAP 2,399 USD and is shipping in December 2012, and to US & Canada in January 2013. See the Nord site for more info >>
Keith McMillen Instruments has uploaded a new video featuring their new controller QuNexus – playing alongside a Clavia Nord
1.Alesis MetaVox
2.Clavia Micro Modular
3.Digitech Talker
4.Roland SVC 350
carrier Flame Talking Synth Modul
input Moog Freqbox quartet
CP251
Buchla System #1
Doepfer 2x A132-3
4ms Peg RCD VCAMatrix
Make Noise Format Jumper Wogglebug
Roland System 104 Sequencer
Kenton Pro 2000 II
Kick Logic Ultrabeat
FX Boss VF 1 Line6 Echopro Lexicon PCM 80 TC M3000
Gear used: Elektron Machinedrum as main sequencer, Waldorf Blofeld, Akai mpc500, Korg Ms2000, Clavia Nord Modular G2 and DSI Tetr4.
Clavia gets into the app game with a nice looking iPad step sequencer known as Nord Beat. It's free and, thanks to its CoreMIDI support, can be used to control not only Nord modules and synths – it's been designed with the Nord Drum particularly in mind – but also any other MIDI instrument. Nord Beat offers four tracks, a 16-step sequencer and up to eight patterns. You can either loop one of these or chain them together (repeating patterns if necessary) to create a song. You can choose from three velocity levels and adjust the amount of shuffle, while a Pad mode gives you the option of playing your drum sounds.
You can download Nord Beat for iPad now from the App Store.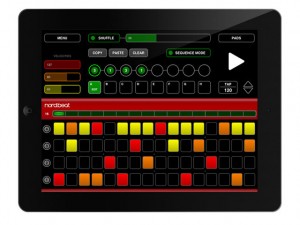 Clavia Nord Beat official info
Nord Beat is a 4-track CoreMIDI Step Sequencer for iPad. Nord Beat is a perfect companion for your Nord Drum and is available for free at the App Store!
Sequencer
Nord Beat lets you create drum beats in classic 16 step grid with up to 8 patterns and offers great control over velocity. Patterns can be played back in two ways: In Sequence Mode, up to 8 patterns can be cued and will play in a chained fashion. Each pattern can be set to repeat up to 8 times to create a song progression. When Sequence Mode is turned off, a single pattern will loop until you cue another. Any pattern can be edited while playing and the Copy/Paste function lets you create variations over a pattern very quickly. There are 3 velocity levels represented by colors, and are easily changed by swiping up or down on the desired notes. The actual velocity values can be altered with the velocity faders for changing accents and dynamics in real-time. The Shuffle amount can also be changed on the fly and each of the 4 tracks can be muted individually. The Pattern length can be shortened (1-16) while playing for creating breakdowns or alternative time signatures.
Pad Mode
Nord Beat also features a Pad Mode that lets you play the Nord Drum (or other MIDI gear) with your fingers and even gives you great control over the velocity! The center zones transmit full velocity and gradually gets lower towards the edges. The pads can be used simultaneously with the sequencer.
Easy Setup
Although designed with the Nord Drum in mind, Nord Beat can be used with any MIDI instrument. Just choose the desired MIDI-channel and Note Numbers in the Nord Beat Settings menu and you're ready to go!
A CoreMIDI compatible MIDI interface is required.