A short demotrack made with the Waldorf Rocket synthesizer.
All sounds from the Rocket. Delay, reverb, compression from Cubase 5.
Thanks to Depeche Mode.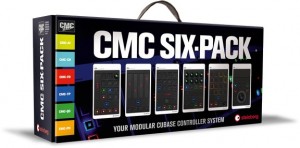 Steinberg has announced the release of the CMC Six-Pack, a new bundle deal comprising the award-winning CMC line-up of USB controllers.
"The CMC Six-Pack is the most flexible controller setup ever made for Cubase: it's a touch-based mixer; it's a handy pad controller; it's a transport control you won't want to miss after the first try," comments Stefan Schreiber, product marketing manager at Steinberg.

The CMC Six-Pack is made up of all six controllers designed to offer users a modular controller experience. Arranging the units in a way that best suits the personal needs when using Cubase makes the CMC series a very customizable hardware control system. Each of the six slim-sized USB controllers provides tactile control over Cubase features.
CMC Six-Pack features
Six unique micro controllers designed to take control of dedicated Cubase areas — faster and more convenient than with any other solution.
Modular system: combine multiple units to form an eminently powerful Cubase control station that exactly fits your needs; joint plate included for quick and easy connection.
Fully mirrored Cubase functionality: intuitive operation due to the adoption of the Cubase color scheme and icons.
Perfect ergonomics guarantee a unique level of handling quality — created to make your recording and live performance workflow more musical than ever.
Brings innovative technologies to your fingertips: illuminated, high-resolution touch controls and rotary encoders for detailed visual feedback.
Portable and compact: small enough to fit in your pocket, on a master keyboard or wherever desired
User-assignable functions for even more flexibility and tweaking options.
USB-powered: no additional power supply required.
Cross-platform compatible: OS X and Windows support.
Cubase AI download version included to start recording your music straight away.
The CMC Six-Pack is available from selected resellers and through the Steinberg Online Shop as long as stocks last, with a suggested retail price of 299 EUR including German VAT.
Producers around the world talk about Cubase 7.
M-Phazes, Peter Frampton, Gabry Ponte, Oleg Chechik, Karim Sebastian Elias, Antoine Clamaran, Nick Blagona, Dong Dongdong, Stefano Ritteri, Buraka Som Sistema, Lotek, Allen Morgan.
Yamaha MX61 Synthesizer is heavily focused on performance; there isn't the MOTIF in deept editing and you can only modify the very very main synth parameters of sounds. You can play two different parts in Split or Layer; the remaining 14 parts are available for composing/arranging/performing thru MIDI/USB with bundled Cubase.
Connecting deeper to Cubase than any other app, Cubase iC
Pro is the most advanced Cubase control app with a clear focus
on recording, making it your very personal recording assistant.
The project overview page and the mixer allow you to see your
project as you know it from Cubase, while the key command
page gives you a powerful tool to set up your most-used
keyboard shortcuts and macros. Up to four dedicated cue mixes
can be set up with Cubase iC Pro, giving musicians the
freedom to adjust their own mix with a phone or tablet. Cubase
iC Pro is Cubase's perfect companion!
www.steinberg.net/cubaseicpro
All sounds in this short demotrack including drums come from the beautiful Grp A4 synthesizer from Italy. Multitracked in Cubase, some delay, reverb and compression added.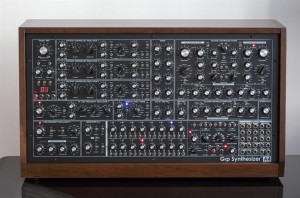 The Grp Synthesizer was developed to offer the enthusiasts of analogical sound a more affordable synth in terms of price and dimension in comparison with the precursor model A8, without renouncing to the quality and performance that characterize our synths. Being featured with the same step sequencer used for the Grp A8, this synth is able to guarantee nearly infinite sound combinations due to the new characteristics which have been implemented in the instrument, with the possibility to filter out external signals and to manage all the important parameters of the analogical generation chain.
The A4 has been derived from an audio section of the Grp A8 (of which it takes over the structure) and it results more versatile and eclectic passing from smooth and extreme clean sonorities to harder sounds thanks to the two distortion installed in the synth (one for each filter) and due to the possibility to make interact synth, ring modulator, external signals and step sequencer in only on mechanism with an immense sonority power. Furthermore, the Loop EG function enables the conditioned and unconditioned repetition of the envelope, in order to reach particular and temporal articulated sonorities.
So here are some quite unexpected news from Steinberg – Cubase goes mobile: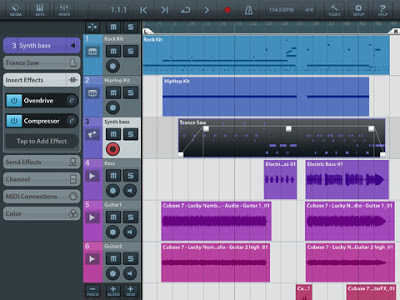 Portable Music Production System Cubasis is Steinberg's streamlined, multitouch sequencer for the iPad. Specially designed for quick and easy operation, Cubasis makes recording, editing and mixing a breeze. Record tracks in CD audio quality, and edit your music with the Key and Sample Editors, while the included mixer and audio effects polish your song to perfection. Cubasis comes loaded with dozens of virtual instrument sounds which can be played in real time using the virtual keyboard and drum pads. Cubasis' projects can be even opened in Cubase under Windows and OS X! Cubasis places touch-intuitive production tools in your hands, opening up a new world of possibilities for your creativity.
Key features
Unlimited audio and MIDI tracks (depends on the device used)
Over 70 virtual instrument sounds based on HALion Sonic
MixConsole with over 10 effect processors
Over 300 MIDI and audio loops
Virtual keyboard and virtual drum pads
Sample Editor and Key Editor
Export projects to Cubase, Dropbox, SoundCloud, AudioCopy and email
Core Audio and Core MIDI compatible hardware supported
Sequence other CoreMIDI apps (MIDI recording only) and run Cubasis simultaneously via background audio
Audio import from iTunes music library, AudioPaste, Wi-Fi server and iTunes file sharing
Audio mixdown and MIDI export
Polyphony:
48 voices: iPad 2, iPad mini
64 voices: iPad 3, iPad 4
Project export to Cubase requires Cubase 7/6.5, Cubase Artist 7/6.5, Cubase LE AI Elements 6 or higherCubasis project importer extension must be installed and is available at http://www.steinberg.net/cubasisimporter
Cubasis is priced at $49.99.
Youtube alias peahix has uploaded this DM cover of Big Muff, details below:
I've had several skeptics weigh in on my various Depeche Mode covers done all on my Yamaha CS01II synth, so I thought I'd make a screen-cap video showing the Cubase session for my rendition of "Big Muff." Here's the mastered version I posted previously: http://www.youtube.com/watch?v=5IiZlvr7fXs
In this version, you can see all my parts, and I solo all the different bits throughout so you can hear how it all comes together. Note that for several sounds there are actually two different tracks that play together to form a composite sound. The CS01II is a pretty limited synth, and in order to more accurately achieve certain sounds, I had to split things into their component parts. The channels that remain muted throughout are just the MIDI parts, which aren't outputting to anything here, since each MIDI track was recorded one at a time via the CS01II to an audio track. Anyway, hopefully this is useful or interesting to someone!!
Yamaha CSo1 II:
The CS01 is a very old but classic analog monosynth from Yamaha. Although originally designed for use by novice musicians or first time synth-buyers, the CS01 has been recognized by today's electronic musicians as one fat little bass machine with simple controls. In a nutshell, the CS01 is simple to use and edit but still has some great features for any situation. It's tiny and portable, it has baby-sized keys and it can run on batteries, and there is a built-in amplifier and speaker which is quite fun.
As for sounds and synthesizing, the CS01 is the perfect monosynth for bubbly and growling bass! It features a very nice 12dB resonant VCF filter. In addition to the oscillators' sine and square type waveforms there is PWM and noise. There are also LFO controls, glissando (like portamento), a typical ADSR envelope generator, pitch & mod wheels and even a breath controller input. A CS01 mkII (pictured below) was later released by Yamaha soon after the original. It featured an improved 24dB resonant VCF (filter) with adjustable slider control over resonance instead of switchable on/off resonance as found on the original. The CS01 mkII is also identifiable by its black case with green letters.

Cubase was on show at the Music Production Show at London's Emirate Stadium this week.
"We grabbed product specialist Andy to show us more about the new Mixer Window"
The completely new MixConsole excels not only in terms of usability, look and feel, but also sounds better than anything before it! Featuring full-screen mode, total scalability and quick in-place access to the parameters most relevant to the task, MixConsole adjusts seamlessly to notebook screens and large-scale displays.
With its extremely flexible channel layout, 12 dB boost and dedicated processing power per channel, an exceptional feel to the controls and comprehensive online and offline automation tools, MixConsole provides uncompromising audio quality and routing flexibility from the outset, with plenty of pristine headroom and a fundamentally transparent sonic signature.
Cubase 7 brings extraordinary workflow improvements to the table, delivering a genuine benefit to professionals working regularly with the mixer. Highlights include A/B comparison and global bypass for all audio effects, a plug-in search function as well as drag-and-drop support throughout.
Plus, dynamic sends and inserts provide a streamlined overview, whereas the professional meter bridge lets you keep track of your signals. Aiming on providing barrier-free accessibility to the blind and visually impaired, MixConsole is compatible with screen reader software and can be operated using only the computer keyboard.