So three out of five bands has been confirmed for Swedens best synth, electro, EBM, industrial and Dark alternative Xmas party, two more will be revealed before it kicks off.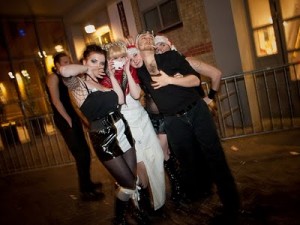 We've already got the first 3 bands booked and we think you're going to like them!
HOCICO (mx)
TYSKE LUDDER (de)
NECRO FACILITY (se)
Check out the Artists page for more info.
2 more bands are waiting to be booked to complete the lineup as well as DJ's to keep the dance floor moving. Check back here or register on our Facebook group to get the latest info as it happens!
Tickets are on sale now and as usual we're offering a special "early-bird" discount! This is limited to the first 50 tickets, so you're going to have to be quick!
Check out the Tickets page for more info and to buy your ticket!
The bands in action:
Hocico
Tyske Ludder
Necro Facility
…and here is the complete line up: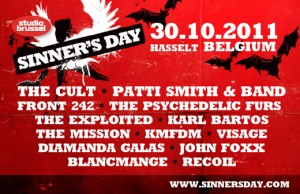 On Sunday 30 October 2011 Hasselt (BE) will host the best of new wave, EBM, electro, synthpop, post punk, darkwave and industrial. For this 3rd edition the festival will work with 2 stages in the main hall of the Ethias Arena so that visitors no longer need to choose between 2 different halls.
Here's a round-up of the bands playing:
FRONT 242 (BE) – Undeniable the biggest electronic band that Belgium ever was able to export before, during and after (and not thanks to) the New Beat era. Signed nowadays with the Belgian electro label Alfa Matrix they are set for a few more surprises in the next months. The influential Belgian band will celebrate its 30th birthday at Sinner's Day. Happy birthday guys!
THE CULT (UK) – The band became cult itself by melting Led Zeppelin's hard rock with The Doors' mystique and The Cure's dark new wave. If there's one The Cult song that you all know, it's the anthem and million seller "She Sells Sanctuary" which was recorded for the band's second album "Love" (1985). This will be a unique opportunity to see the band live.
THE PSYCHEDELIC FURS (UK) – The Psychedelic Furs were top of the bill in the Club during Sinner's Day 2010. It was their first concert in Belgium since 25 years. They are back now for the main stage bringing a mix between punk and pop.
THE EXPLOITED (UK) – Punk and New Wave, the pair has gone together for years. Since 1980 The Exploited has been the image 'par excellence' of the punk movement with "Punk's Not Dead" being their first legendary album. 11 guitar players, 10 bass players and 8 drummers, we'll see singer Wattie Buchan showing that the band has still enough guts after 31 odd years.
JOHN FOXX AND THE MATHS (UK) – John Foxx was the original singer of Ultravox and was the very first British artist to actually make a complete synthesizer album. Foxx was also the guy who penned "Underpass". Enough said? Well, he also was responsible of Gareth Jones joining up with Mute records.
RECOIL (UK) – Recoil is the project of Alan Wilder, the former musical director, sound sculptor, producer, magician (…) of Depeche Mode. Wilder was also one of the first musicians to work with samples. Live he creates a universe of sounds which you hoped you'd have heard before. Expect the necessary Depeche Mode hints during the live show. This is one of the last shows Recoil will probably bring for a very long time, so make sure to be there.
BLANCMANGE (UK) – Contemporaries of Depeche Mode, Soft Cell, The The and more (they were all featured on the Some Bizarre CD compilation with rare to find tracks or versions), Blancmange brings catchy synthpop presented by their first big worldhit "Living On The Ceiling". In the rest of Europe they scored massively with the brilliant track "Don't Tell Me".
DIAMANDA GALAS (USA) – We thought we had missed our last chance to see her live at work, but behold, there's always Sinner's Day to make us happy. The American diva with Greek roots has an amazing voice, period. Her 3,5 octaves cut through you like a knife. From vocal terror to endearing blues and back. We couldn't have described it better. For the connaisseurs, she also sang vocals on various Recoil tracks. A must see if you are more an eclectic music fan.
KMFDM (GER) – Teutonic sounds will come from KMFDM, better know as Kein Mehrheid Fuer Die Mitleid (or as 'Kill Mother Fucking Depeche Mode'). The band was founded by Sascha Konietzko in 1984. Konietzko literally lives and breathes industrial.
THE MISSION (UK) – Here's another Side-Line favorite (really Wayne!). The band singlehanded helped give gothic a face (Andrew Elderitch being too numb) and got massive MTV airtime with "Deliverance" or yet the beautiful "Butterfly on a wheel". On Sinner's Day they will celebrates their 25th anniversary. The gig will be the only concert in Belgium this year.
KARL BARTOS (GER) – Kraftwerk is half dead, long live Karl Bartos. Expect bleeps and beeps that lay in the line of what he used to do with Kraftwerk. We are very much looking forward to see this Einzelgaenger at work.
VISAGE (UK) – Visage is the brainchild of the remarkable Steve Strange, who not only graced the tabloids for the brilliant tunes he crafted but also for his very chaotic life style. His major hit "Fade To Grey" is still being played worldwide. Let's see what he can deliver us live in 2011.
PATTI SMITH (USA) – This American lady is labeled as 'the ultimate queen of new wave'. Debby Harry was better looking so is said – well tastes differ – but Smith surely was more vigorous. Her most famous songs are "Gloria", "Because The Night", "Dancing Barefoot" and "People Have The Power".
Doors open at 12AM, and the first show will start at 1PM. The last band will end at around 1AM, followed by after party. Tickets are only 58 euro in presale, so head for www.sinnersday.com to get hold of yours!
Here's a teaser from Skinny Puppy
Hello friends!
I decided to make cutting-snippet from the upcoming album Skinny Puppy – "Handover". It will be released October 28, 2011.
Enjoy!

Tracklist:

01 Ovirt
02 Cullorblind
03 Wavy
04 AshAs
05 Gambatte
06 Icktums
07 Point
08 Brownstone
09 Vyrisus
10 Village
11 NoiseX

Pre-order the album for you here http://www.amazon.de/s/275-1987046-7605069?ie=UTF8&search-type=ss&tag…
"Freihet" is the name of their debut, enjoy
The first video clip from Electro-veterans Chris Ruiz and Gio van Oli, now better known as PAKT.
Director Golo Schultz
AD Max Nadolny
DoP Garth von Glehn
Producer Lasse Scharpen
Production Design Jan Reider
Make-up Simi Schuchert
Model Charmie Pfeffer
PAKT Chris Ruiz & Gio van Oli
After last year's international breakthrough, with the already classic YouTube video for the song "Pong", which to date has close to 3 million views, the German electro/EBM band Eisenfunk is now ready to present their fourth album "Penta Funk ", the sequel to last year's" 8-bit ". Electro-industrial-Eisenfunk trio, consisting of Michael Mayer, Arthur Stauder and Toni Schulz picked up by record label Danse Macabre in 2009, which released the band's second album "Schmerzfrequenz".
The debut in 2007 through the self-titled album "Eisenfunk", released by the record company Biohazzard Records, who also made the releases, including Inline.Sex.Terror and British V2A.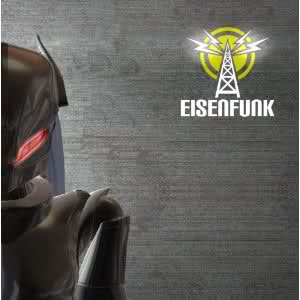 Track list:
Introludiom
Pentafunk
Pestilenz
Prehistorical
Neandertal
Traditional
Taiko
Jericho
Vampire Hunt
Eiszeit
Funk´n Base
Uncle Sam Needs You
Camperglück
Jinglefunk
Pentafunk (Pentafuck RMX)
Pentafunk (RMX by Bodyharvest)
"Penta Funk" released September 6 through Danse Macabre Records.
Here is a batch of electronic videos that we have come across recently, enjoy
http://youtu.be/p_XFUMXKeIQ
http://youtu.be/eoOIMoX5TVQ
Leave your thoughts if you like or dislike it
On Friday 18 November Front 242's Patrick Codenys presents workshop 'How to build an EBM track' in Lille (France). The workshop is part of the "Children Of EBM" event featuring a Front 242 DJ-set (BE), Suicide Commando (BE), The Hacker (FR) and Khimaira (JAP). Place to be: Gare Saint-Sauveur in Lille (France) at 8 PM and also at the Krak in Avelgem (Belgium) so it seems.
More info to come
Compact Space – Push Push
The full length video for Push Push, directed by Danny Drysdale
Music video for the track "Alive" by Danish synth rock band Neotek.
The video was shot with a Canon EOS 5D mkII and edited in Final Cut Pro. Produced at no budget by the band with the help from good friends.
As we reported on earlier Chris Ruiz and Gio van Oli have left Steve Naghavi alone at the helm of And One in early June – so now it is time for the two renegade members Chris Ruiz and Gio van Oli to debut their new EBM project PAKT.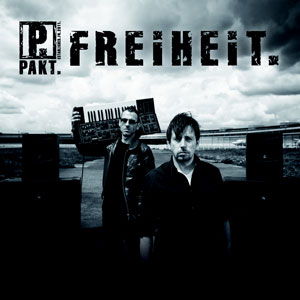 The Berlin-based duo is assigned to And One's former record label Out Of Line and the first single release "Freiheit" lands in the middle of August.
In addition to the b-side "Angriff" and the original version of the title track also includes two remixes from the record company colleagues in Formalin and Funker Vogt's Gerrit Thomas. In addition to this another version signed by Robert Görla (better known from DAF).
"Freiheit" is released August 12th via Out Of Line.
Track listing:
Freiheit
Angriff
Freiheit (Robert Goerl Remix by Robert Goerl of DAF)
Freiheit (Gummi-Drum-Remix by G.Thomas of Funker Vogt)
Freiheit (Freiheit und Gerechtigkeit Rework by Formalin)
Nice new synth/EBM video from Dekad
Dekad presents a new single taken from the Monophonic album: New Religion. The single contains two versions of New Religion, a remix of Don't Try by Neutral Lies and a previously unreleased track 'Ordinary Love' taken from the Monophonic recording sessions…A new video accompanies this digital single release.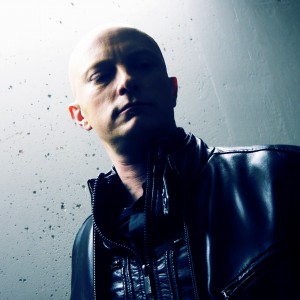 About the band:
Dekad was formed in 2000, at the time the band was composed of 4 people with similar influences (new wave, punk rock, electro pop, EBM, goth.) The lineup was made of JB, Seb, Yoyo and Manu: 2 guys with cheap keyboards, a singer and a guitar player. Dekad started playing live but soon realized that they could do things differently and JB decided to transpose the live demos on his computer which led to a total re-organization. Things became more serious and live sessions slowly left place to home studio sessions, and the band quickly turned to a trio. In 2003, Dekad sent a demo to BOREDOMproduct including the track 'Tell Me' that would be released in the "Synthetique" compilation. This was the start of a new collaboration: the next year JB and Member U-0176 from Celluloide started working on Dekad's debut album "Sin_Lab", based on the demos of the band. Sin_Lab was finally released in 2005, with a new version of "Tell Me", and other tracks such as "Dare" and "Club Devil". The album was very well received by the fans but got limited media coverage.
The trio returned in studio in 2006 to record their second album "Confidential Tears". From the sound of the first single "Dive" it was clear that Dekad was evolving and its music was now more solid and focused. The album was once again very well received amongst the fans of electronic pop, and gathered more interest in the media. After participating to the second BOREDOMproduct compilation "Auto-Reverse" in 2007, the band went into hiatus as it became harder for its member to find the time to compose together. In the meantime JB frequently joined Foretaste on stage as second keyboard player, and kept on writing new songs on his own.
As a new album fully took shape, JB decided in 2009 to reactivate Dekad, even as a solo act…Thirteen new tracks have been composed and recorded in the last few months. As always, member u-0176 produces this new album with JB. Its name is in line with the new lineup of the 'band': "Monophonic". The debut single, "So Sorry" is an emotional duet with Foretaste's singer.