In Februrary 2011 FM headed to Amsterdam to spend some time in the studio with French master of House and Tech to talk production, Ableton and hardware.
We interview the man of many modules about his studio and amazing synth collection. See a very special studio in North London and one of the finest collections of synths in the world. Home to producer and musician Benge, MemeTune Studios is wall-to-wall synth magic, featuring some of the rarest and most impressive synths ever made.
Although not brand new – it is still worth posting
The collaboration between Ryuichi Sakamoto and Alva Noto began in 2003, year in which the first album of this new project, "Vrioon", came to light. After having followed up their debut in March 2005 with "Insen", the Japanese-German duo began a series of theatre concerts, which aims explicitly at the combination between music and visual installations. The stage presents Sakamoto's piano along with Alva Noto's desk, with two laptops and electronic instruments. On the background, the images which seems to follow Sakamoto's music meticulously. The essence is seized visually upon listening to this music, so unattainable and precise, but at the same time alive and not exclusively metaphysical.
The landscapes described by the collaboration between Ryuichi Sakamoto and Alva Noto are able to interpret the duality of our times, the contrasts that create a world. From the essence of Japan to the visionary research of Germany, the fragility of the past is in contrast with the hardness of the new world, creating in our time an overwhelming moment at the exact point of their encounter. A journey into the paranormal possibility that binds us simultaneously to this world and to the other, to be able to see yet another.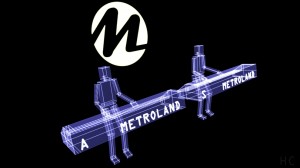 Excerpt from the interview:
METROLAND have a manifesto: a conceptual band, consisting of Passenger A and Passenger S, bringing synthetic sounds from the 'underground', highly influenced by KOMPUTER and KRAFTWERK. Certainly the capital letter 'K' is highly resonant in their sound but in many ways, as the single 'Enjoying The View' indicates, METROLAND are perhaps more textural, a ride through an electronic landscape, layered with authentic warm sequences, robotic vocals and uniquely vintage drum machines, all designed for the commuter world.
With METROLAND, we never started out that way nor did we plan to create a concept album, really. METROLAND, as a band, was not even founded in the true essence of the word; it kind of derived out of a creative, musical frustration.
In our former musical career, which lasted already for 20 years at that point, we felt that we reached all that could have been achieved. There were very, very few ambitions to fill and no more goals to achieve.
Another reason was the boundaries that we were setting ourselves. While making music and experimenting with sounds and ideas we got frustrated as so many good ideas would not fit in with our former works and policy. Hundreds of arrangements and melodies were rejected due to this limitation. But we kept on going, creating songs, making arrangements, carefully watching not to throw everything away.
At a certain moment we created a baseline with a rather sinister feeling about it and we were struggling yet again with the question "erase this: yes or no?". We went for "no" and started working on it, this time with no boundaries. Some weeks later we picked it up again and a second and a third track turned out in the same idea.
metroland-01After many sleepless nights and loads of conversations on how to proceed with our musical creativities, we concluded that some of the demo-songs we had now made were too strong to leave untouched. Still, they could not be hosted under our former project, so the first step towards the new band 'METROLAND' was taken.
The name METROLAND itself comes from the UK-band KOMPUTER, who used it as the name of a remix of their song 'Looking Down On London' (coincidentally, this remix happens to be Passenger S' favourite piece of music).
Still, at the point where we decided to head for that different musical direction, we did not even talk about any concept to fit all those arrangements. It was much later, when we picked up some nice samples from the underground, that we started working towards the end result where we are now with our conceptual album 'Mind The Gap'. The combination of METROLAND as a band name and the first track (pun not intended) 'Mind The Gap' triggered us much further than we ever thought possible.
We were already used to working around a concept, which we feel has been one of our very strong points, but with METROLAND we took this conceptual idea to the hilt and beyond. Result is that our album 'Mind The Gap' is all about metro systems, the Tube, commuting and transport in general. The samples, the artwork, the titles….they all breathe the same concept. As you can read, this amazing ride that brought us up to where we are now didn't just happen overnight.
The full interview can be read at the Electricity Club – right here >>
POEM's Thomas Janak talked to "I dream of wires" producer Jason Amm about the documentary and the work it entailed, future plans such as the announced shorter theatrical version and more but the conversation also touched on the modular synths themeselves, what they do to people, why they are still popular and why the resurgence of using modular systems is at an all time high. Note: The 4 hour hardcore version of the documentary is only available for a very short time and you should get your copy NOW! www.idreamofwires.org
"I dream of wires" – a 4 hour documentary about Modular Synths by Poem on Mixcloud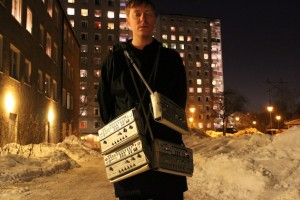 Attack Magazine has a nice interview out with Swedish electronic pop artist and producer Andreas Tilliander
Andreas Tilliander's latest album sees him focus his attentions on Roland's classic x0x series. We spoke to him to find out how the project came about and discover how he avoids techno cliches.
Attack: Tell us about the roots of the project. Did you decide in advance to make an album based entirely on the classic Roland gear or was it an organic process?
Andreas Tilliander: The funny thing is that I never had an album or concept in mind. I recorded the first couple of tracks just as a joke for my friends. People kept telling me I was crazy collecting all those Roland boxes. I had the entire series, but I also had several of some machines, like the 303 especially.
I wanted to show them that it's possible to use several 303s in one track. You just have to have some imagination and good will. I filmed it just to show them that I didn't overdub it or anything like that.
Read the full interview here >>
At NAMM 2013, MIDI creators and innovators Alan Parsons, Tom Oberheim, Dave Smith, Jordan Rudess, George Duke and Craig Anderton discussing the past, present and future of MIDI.
Background description below:
The conversation, filmed and presented above, fits the spirit of collaboration that surrounds these four musicians – Foxx' new album, Evidence includes a track recorded with Gazelle Twin, who is herself working with Scanner on a project looking at the very workings of the human body.
The four musicians start off discussing how in electronic music they're a great freedom to play with identity, from Gazelle Twin's costumes to Scanner sending people away to play live events on his behalf. Foxx, though, has a warning: "it gives you the opportunity to step away from your old self, and that can be good for you, because you're often burdened down with a lot of old baggage that you've collected through your life. And you see people who don't understand that, and die, because they've confused themselves with the object they're creating. If they think they are that object, it kills them. It's an interesting lesson to learn, and I've seen a lot of people do that."
Watch John Interview Roxy Music's Brian Ferry: http://youtu.be/m91SFw0G9GQ
John Doran meets Gary Numan for the second episode of The British Masters, our latest interview series featuring the most influential and colourful figures from British popular music history.
In Johns Words "Today I'm talking to Gary Numan, who became an overnight sensation in 1979 when his post punk group Tubeway Army released the single "Are 'Friends' Electric?" and then achieved worldwide success later the same year with the release of his first solo album, and one of the cornerstones of synth pop, 'The Pleasure Principle.' Following some very lean years in the wilderness, Gary started the long and arduous task of rebuilding his career in the mid-90s, becoming a peer of many industrial and techno artists he had originally been an influence on. We catch him on tour in the UK as he gears up for the release of his 18th solo album, the much anticipated "Splinter."
Gary Numan's new remix album "Dead Moon Falling" (Mortal Records), a remix of 2011's "Dead Son Rising," is available now from http://www.numan.co.uk
Herbie Hancock talks about how Bob influenced his life and how his work has influenced the greater worlds of music, science and creativity. Bob Moog's legacy is carried forward by the Bob Moog Foundation.
To support our work, please donate: http://bit.ly/donatebmf