In April 2012, the I Dream of Wires team met with legendary Detroit techno producer Carl Craig, to discuss his electronic music influences and production experiences, including his recent interest in eurorack modular synthesis. Craig's experiments in modular synthesis are best heard on 2010′s "Modular Pursuits" 12-inch, released under his No Boundaries alias. For more info on Carl Craig: carlcraig.net Music, used with permission from Planet E: "Desire" by 69 "Pursuit 1″, "Pursuit 2″, "Pursuit 3″ by No Boundaries.
In this short interview, Howie B talks about working with analog gear, producing in the box and why he loves the VINTAGE COMPRESSORS Series. See how he uses the VC 2A on "Summer's Flower" – a track from his upcoming album.
Click here for the full interview:
http://www.youtube.com/watch?v=3LsovGoFEZc
Full version
More info: http://bit.ly/TIfQZj
During Dubspot's recent trip to Seattle's Decibel Festival, our video team caught up with Roger Linn, the godfather of the modern drum machine, Carl Craig, one of Detroit's most talented producers, for a lecture/discussion about the history and evolution of the rhythm machines that have shaped our musical world.
One of the most inspiring elements of Seattle's annual Decibel Festival is the conversations that transpire between some of the world's most talented musical thinkers. Decibel acts as a catalyst for these moments, with lectures and demonstrations taking place throughout the festival. We were especially excited to catch a workshop where drum machine creator and pioneer Roger Linn joined Detroit techno innovator Carl Craig for a talk on the evolution of drum machines and the future of electronic rhythm.
In this video, Linn explains that our assumption of drum machines appearing in the early 80s is incorrect, and he takes us on a tour of early electronic rhythm devices such as Leon Thermin's Rhythmicon (1930), the Chamberlin Rhythmate (1957), Raymond Scott's Bandito the Bongo Artist (1963), Seeburg's Select-A-Rhythm (1964), the PAiA Programmable Drum Set (1975) and the CompuRhythm CR-78 (1978). Craig probes with questions regarding interface design for musicians vs. engineers, discusses the development of drum interfaces, and talks about how the Akai MPC changed his production and composition techniques.
Electronic music pioneer, Thomas Dolby, sat down with Party Ben of Slacker Radio before his set at Moogfest 2012. Thomas Dolby (1958) is an English musician and producer. Best known for his 1982 hit "She Blinded Me with Science", and 1984 single "Hyperactive!" he has also worked extensively in production and as a session musician.
Music video by Thomas Dolby performing She Blinded Me With Science (2009 Digital Remaster).
For more music and interviews from the festival, visit www.slacker.com/moogfest.
Here's another video plucked from the Future Music archive, filmed in Early 2006. Here we get an insight in to the way producer legend Arthur Baker was working and why the Roland Space Echo is one of his favourite bits of kit. Plus a sneaky look around Mute Records old London studio.
Austrialian tech house producer, live remixer and finger drummer Bass Kleph shares some of his tips and tricks he uses when building a performance on his Maschine.
Learn more about Maschine here: http://bit.ly/PjED9I
Check out Bass Kleph's site here: http://www.basskleph.com/
Filmed earlier this week at Bristol O2 Academy, Sonic talked to Martyn Ware from Human League BEF and Heaven 17, as well as a general chat about the tour, the band and synthesizers.
Yesterday evening Mute label boss Daniel Miller was honored with the Pioneer Award at the AIM Awards 2012. AIM (short for Association of Independent Music) is a trade body established in 1999 to provide a collective voice for the UK's independent music industry, each year they offer 15 awards.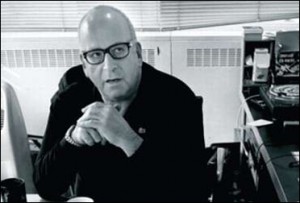 With the Pioneer Award the AIM wants to recognize the visionary independent label founder. This year's ceremony was be held at The Brewery in the heart of East London. The awards was hosted by BBC Radio 1′s Huw Stephens and 6Music's Steve Lamacq.
More info: http://blog.dubspot.com/electronic-music-pioneer-morton-subotnick
In this episode of Dubspot's Wireless interview series, influential composer and electronic music pioneer Morton Subotnick invites composer, producer, and educator Raz Mesinai to his studio for an interview. Their discussion ranges from the innovations and rapid acceleration of music technology over the last sixty years to developing an iOS app that presents a new way for kids to create music.
Subotnick has worked extensively with interactive electronics and multi-media, co-founding the San Francisco Tape Music Center with Ramon Sender, and often collaborating with his wife Joan La Barbara. Morton Subotnick is one of the pioneers in the development of electronic music and multi-media performance and an innovator in works involving instruments and other media, including interactive computer music systems. Most of his music calls for a computer part, or live electronic processing; his oeuvre utilizes many of the important technological breakthroughs in the history of the genre.