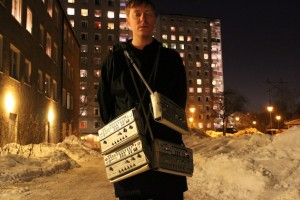 Attack Magazine has a nice interview out with Swedish electronic pop artist and producer Andreas Tilliander
Andreas Tilliander's latest album sees him focus his attentions on Roland's classic x0x series. We spoke to him to find out how the project came about and discover how he avoids techno cliches.
Attack: Tell us about the roots of the project. Did you decide in advance to make an album based entirely on the classic Roland gear or was it an organic process?
Andreas Tilliander: The funny thing is that I never had an album or concept in mind. I recorded the first couple of tracks just as a joke for my friends. People kept telling me I was crazy collecting all those Roland boxes. I had the entire series, but I also had several of some machines, like the 303 especially.
I wanted to show them that it's possible to use several 303s in one track. You just have to have some imagination and good will. I filmed it just to show them that I didn't overdub it or anything like that.
Read the full interview here >>
At NAMM 2013, MIDI creators and innovators Alan Parsons, Tom Oberheim, Dave Smith, Jordan Rudess, George Duke and Craig Anderton discussing the past, present and future of MIDI.
Background description below:
The conversation, filmed and presented above, fits the spirit of collaboration that surrounds these four musicians – Foxx' new album, Evidence includes a track recorded with Gazelle Twin, who is herself working with Scanner on a project looking at the very workings of the human body.
The four musicians start off discussing how in electronic music they're a great freedom to play with identity, from Gazelle Twin's costumes to Scanner sending people away to play live events on his behalf. Foxx, though, has a warning: "it gives you the opportunity to step away from your old self, and that can be good for you, because you're often burdened down with a lot of old baggage that you've collected through your life. And you see people who don't understand that, and die, because they've confused themselves with the object they're creating. If they think they are that object, it kills them. It's an interesting lesson to learn, and I've seen a lot of people do that."
Watch John Interview Roxy Music's Brian Ferry: http://youtu.be/m91SFw0G9GQ
John Doran meets Gary Numan for the second episode of The British Masters, our latest interview series featuring the most influential and colourful figures from British popular music history.
In Johns Words "Today I'm talking to Gary Numan, who became an overnight sensation in 1979 when his post punk group Tubeway Army released the single "Are 'Friends' Electric?" and then achieved worldwide success later the same year with the release of his first solo album, and one of the cornerstones of synth pop, 'The Pleasure Principle.' Following some very lean years in the wilderness, Gary started the long and arduous task of rebuilding his career in the mid-90s, becoming a peer of many industrial and techno artists he had originally been an influence on. We catch him on tour in the UK as he gears up for the release of his 18th solo album, the much anticipated "Splinter."
Gary Numan's new remix album "Dead Moon Falling" (Mortal Records), a remix of 2011's "Dead Son Rising," is available now from http://www.numan.co.uk
Herbie Hancock talks about how Bob influenced his life and how his work has influenced the greater worlds of music, science and creativity. Bob Moog's legacy is carried forward by the Bob Moog Foundation.
To support our work, please donate: http://bit.ly/donatebmf
Canadian duo Orphx have been releasing electronic music since 1993, and while they were best known in experimental/industrial music circles for many years, today they are regarded as pioneers in the fusion of techno and industrial music. Orphx's recent output on Sonic Groove has met with critical acclaim from many of techno's leading DJs. Having performed live with laptops for several years, Orphx's Christina Sealey made the decision to delve in modular synthesizers, hoping it would bring some spontaneity and excitement to Orphx's music, both on stage and in the studio.
orphx.com
orphx.bandcamp.com
facebook.com/orphx
soundcloud.com/orphx
In April 2012, the I Dream of Wires team met with legendary Detroit techno producer Carl Craig, to discuss his electronic music influences and production experiences, including his recent interest in eurorack modular synthesis. Craig's experiments in modular synthesis are best heard on 2010's "Modular Pursuits" 12-inch, released under his No Boundaries alias. For more info on Carl Craig: carlcraig.net Music, used with permission from Planet E: "Desire" by 69 "Pursuit 1″, "Pursuit 2″, "Pursuit 3″ by No Boundaries.
In this short interview, Howie B talks about working with analog gear, producing in the box and why he loves the VINTAGE COMPRESSORS Series. See how he uses the VC 2A on "Summer's Flower" – a track from his upcoming album.
Click here for the full interview:
http://www.youtube.com/watch?v=3LsovGoFEZc
Full version
More info: http://bit.ly/TIfQZj
During Dubspot's recent trip to Seattle's Decibel Festival, our video team caught up with Roger Linn, the godfather of the modern drum machine, Carl Craig, one of Detroit's most talented producers, for a lecture/discussion about the history and evolution of the rhythm machines that have shaped our musical world.
One of the most inspiring elements of Seattle's annual Decibel Festival is the conversations that transpire between some of the world's most talented musical thinkers. Decibel acts as a catalyst for these moments, with lectures and demonstrations taking place throughout the festival. We were especially excited to catch a workshop where drum machine creator and pioneer Roger Linn joined Detroit techno innovator Carl Craig for a talk on the evolution of drum machines and the future of electronic rhythm.
In this video, Linn explains that our assumption of drum machines appearing in the early 80s is incorrect, and he takes us on a tour of early electronic rhythm devices such as Leon Thermin's Rhythmicon (1930), the Chamberlin Rhythmate (1957), Raymond Scott's Bandito the Bongo Artist (1963), Seeburg's Select-A-Rhythm (1964), the PAiA Programmable Drum Set (1975) and the CompuRhythm CR-78 (1978). Craig probes with questions regarding interface design for musicians vs. engineers, discusses the development of drum interfaces, and talks about how the Akai MPC changed his production and composition techniques.