Sonic had the chance to speak to Mr Fumio Mieda – one of the creators of the MS20 and the MS20 Mini.
And here is a second one uploaded by KORG themselves:
Original Korg MS-20 developers Mr. Fumio Mieda and Mr. Hiroaki Nishijima recently sat down to reminisce about developing the legendary analog MS-20 and resureccting that classic synth 35 years later in the form of the new MS-20 Mini.
To learn more about MS-20 Mini head over to http://www.korg.com/ms20mini.
Erasure have spent this week writing material for their upcoming new album. Andy and Vince have been locked away in Vince's studio in Brooklyn where the duo made this video…
Karl Bartos, former member of electronic pioneers Kraftwerk and Elektric Music, was on BBC 6 Music yesterday speaking to Mark Radcliffe and Stuart Maconie about his recent album, Off The Record.
Comprising material from his Kraftwerk days right up to the present, the album takes in a range of influences and emotions in an attempt, says Bartos, to cover the whole "European landscape". Amongst discussing British weather and northern soul, when asked about his Kraftwerk roots and the influence it has on his solo work, Bartos said: "I'm not trying to get away [from being that guy], but I am ambivalent."
Ean Golden sat down with electronic music technology pioneers Dave Smith and Roger Linn for a special in depth interview focused on analog hardware and its uses for making compelling electronic music.
This interview was shot in January – Dave Smith has since been awarded with a Grammy, and MIDI turned thirty! Read more here: http://www.djtechtools.com/2013/01/09…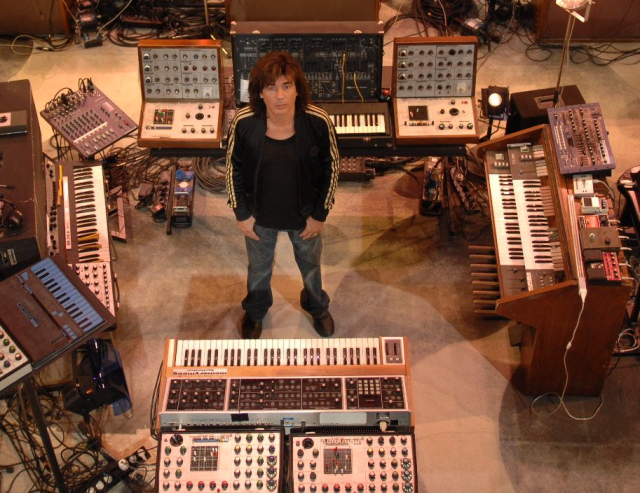 In a new interview, synth music pioneer Jean Michel Jarre explains why, despite all the advances in electronic music technology, he still has a love for vintage gear:
Jean Michel Jarre is reeling off some of the music he's been listening to lately: Actress, Fuck Buttons, Zomby… It's not the average 64-year-old's playlist, but Jarre has never really done average. His presence has loomed over electronic music for some four decades. The Frenchman studied under musique concrète progenitor Pierre Schaeffer—one of electronic music's earliest pioneers—and released the seminal Oxygene LP in 1976, which proved the catalyst to a sustained period of commercial and artistic success throughout the '80s and '90s. His career has been defined not just by his achievements themselves, but also the scale of them: on Bastille Day in 1979 he played to a live audience of one million in Paris, while a further 100 million tuned in on TV; nearly two decades later in Moscow he performed to a crowd of 3.5 million. He's also sold around 80 million albums (Oxygene alone has sold more than 18 million copies).

Jarre now exceeds the French pension age by four years, but he's not showing any signs of slowing down. He talks excitedly of two new albums he has on the boil. His most recent project, InFiné by JMJ, saw him delve into the French label's back-catalogue and pick out his 12 favourite tracks for a compilation. It was a low-key affair—by Jarre's standards at least. In conversation, he's clearly enthused by the project, earnestly discussing the merits of each inclusion and explaining his shared roots with the label—both he and former label boss Agoria hail from Lyon in southern France—with pride. We called up Jarre at his studio to discuss the compilation's origins, his current musical interests and his ambitious plans for an electronic music academy in East London.

Can you tell me about how the InFiné compilation came about?

It's a concept that started in my hometown. Like me, InFiné has its roots in Lyon, and lots of the label's artists are also from that part of France. I collaborated with some of the InFiné artists at the Nuits Sonores festival in Lyon last year, and we had a special evening where some of them revisited my work on stage. When InFiné decided to celebrate their tenth anniversary with a compilation, they asked if I would look into their catalogue and make some selections for a compilation.

How did you go about compiling it?

I went through lots of different tracks, and tried to build a kind of journey, using songs and artists that fit well together. As the music on InFiné is quite varied—there are artists from all kinds of different musical worlds—it was important to have some sense of direction on the compilation. A selection like this is always subjective; [the final selection] doesn't come down to which track is better than the other, it's just more reflective of my own tastes.

How did that sense of direction develop?

One of the reasons why InFiné is so important to me is that lots of artists on the label have been influenced by my own music. For the compilation I chose tracks that I felt were close to my own music in some way. The first track [Oxia's "Exaila"] could almost be a kind of introduction to one of my own albums; it's a short piece and I think it opens the door to the compilation nicely. Then there's Murcof's "Como Quisiera Decirte." I've admired this guy's work for a while, at times it's very close to the kind of stuff I was doing when I studying with Pierre Schaeffer at the musique concrète studio in Paris, when we were experimenting with sound design in pretty abstract ways. Murcof has an approach to music that I really enjoy—he mixes an experimental approach with Latin flavour. I've always been interested in trying to mix the Spanish or Italian soundtrack ambience of people like Pedro Almodóvar or Fellini into music. I find "Como Quisiera Decirte" quite haunting. It has a Mexican feel but it's still definitely electro. I love that mix, that hybrid feeling between two different worlds.

Which other artists on the compilation did you find yourself drawn to?

Rone is a good one—he has a very interesting sound. The problem with so much electronic music now is that more often than not, you hear a track, and it's interesting, but you don't feel it belongs to somebody in particular, or has a particular style, even if it's OK and you like it. In the case of Rone, for instance, or Agoria, and some of the other artists on this compilation, they have a definite sound world of their own. That's rare these days

Talking more broadly, which other contemporary artists do you listen to?

I'm listening to lots of different music. I really love Zomby's work, I've listened to a lot of his tracks over the past two years. And there's Actress—I've been appreciating his style of music recently. Then there are more established electronic artists in France like Air, Vitalic, M83, Justice or Sébastien Tellier—actually in fact I've just finishing a recording session with Sébastien today, we are working on a track together. I also really like Fuck Buttons. The first time I listened to their music I thought, "Wow, they've got such a special and unique type of sound." I mean, those guys build a kind of wall of sound in front of you, a fog of audio, with a kind of techno beat lost in smoke. It's a vaporized sound. I really love their direction and their Olympians EP was very nice.

How much time do you find yourself spending in the studio each week?

I try to spend as much time as possible in the studio, but it's never enough. There are always other things to do. My dream is to be like a writer, and spend four or five hours every day locked in the studio, but I can't really do that, I don't know why. I'm a workaholic in short spurts—I'll go into the studio and work for three or four days and nights, then I'll stop, take a break, and go back to the studio a week or so later. So for me, it's three or four days on, then three or four days off.

I read in an interview that you said when you're in the studio you feel more like a "painter than a producer, mixing with colour and light, and experimenting with textures." Do you still feel that way even when you're not in the studio as much?

Yes, more than ever. I think that's the beauty of electronic music. I used to do a lot of painting when I was a student, and I even hesitated between pursuing a career in painting or music. Over the years, when I've been faced with electronic instruments, oscillators and all these kind of strange machines, it occurred to me that mixing colours and mixing audio frequencies is actually the same thing. You are a craftsman, you are a painter, mixing colours and textures. For me, electronic music is very close to abstract painting, which is all about textures, shapes, colours and contrasts. These days, I like mixing analogue synthesizers with pure digital elements. I think this combination is actually reflective of society itself, because we aren't analogue anymore, but we're also struggling to deal with being in a virtual, digital world. I think it's quite nice when you can mix both worlds.
Full interview can be found here >>
In Februrary 2011 FM headed to Amsterdam to spend some time in the studio with French master of House and Tech to talk production, Ableton and hardware.
We interview the man of many modules about his studio and amazing synth collection. See a very special studio in North London and one of the finest collections of synths in the world. Home to producer and musician Benge, MemeTune Studios is wall-to-wall synth magic, featuring some of the rarest and most impressive synths ever made.
Although not brand new – it is still worth posting
The collaboration between Ryuichi Sakamoto and Alva Noto began in 2003, year in which the first album of this new project, "Vrioon", came to light. After having followed up their debut in March 2005 with "Insen", the Japanese-German duo began a series of theatre concerts, which aims explicitly at the combination between music and visual installations. The stage presents Sakamoto's piano along with Alva Noto's desk, with two laptops and electronic instruments. On the background, the images which seems to follow Sakamoto's music meticulously. The essence is seized visually upon listening to this music, so unattainable and precise, but at the same time alive and not exclusively metaphysical.
The landscapes described by the collaboration between Ryuichi Sakamoto and Alva Noto are able to interpret the duality of our times, the contrasts that create a world. From the essence of Japan to the visionary research of Germany, the fragility of the past is in contrast with the hardness of the new world, creating in our time an overwhelming moment at the exact point of their encounter. A journey into the paranormal possibility that binds us simultaneously to this world and to the other, to be able to see yet another.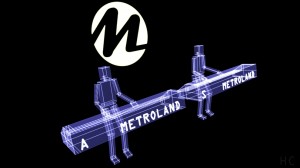 Excerpt from the interview:
METROLAND have a manifesto: a conceptual band, consisting of Passenger A and Passenger S, bringing synthetic sounds from the 'underground', highly influenced by KOMPUTER and KRAFTWERK. Certainly the capital letter 'K' is highly resonant in their sound but in many ways, as the single 'Enjoying The View' indicates, METROLAND are perhaps more textural, a ride through an electronic landscape, layered with authentic warm sequences, robotic vocals and uniquely vintage drum machines, all designed for the commuter world.
With METROLAND, we never started out that way nor did we plan to create a concept album, really. METROLAND, as a band, was not even founded in the true essence of the word; it kind of derived out of a creative, musical frustration.
In our former musical career, which lasted already for 20 years at that point, we felt that we reached all that could have been achieved. There were very, very few ambitions to fill and no more goals to achieve.
Another reason was the boundaries that we were setting ourselves. While making music and experimenting with sounds and ideas we got frustrated as so many good ideas would not fit in with our former works and policy. Hundreds of arrangements and melodies were rejected due to this limitation. But we kept on going, creating songs, making arrangements, carefully watching not to throw everything away.
At a certain moment we created a baseline with a rather sinister feeling about it and we were struggling yet again with the question "erase this: yes or no?". We went for "no" and started working on it, this time with no boundaries. Some weeks later we picked it up again and a second and a third track turned out in the same idea.
metroland-01After many sleepless nights and loads of conversations on how to proceed with our musical creativities, we concluded that some of the demo-songs we had now made were too strong to leave untouched. Still, they could not be hosted under our former project, so the first step towards the new band 'METROLAND' was taken.
The name METROLAND itself comes from the UK-band KOMPUTER, who used it as the name of a remix of their song 'Looking Down On London' (coincidentally, this remix happens to be Passenger S' favourite piece of music).
Still, at the point where we decided to head for that different musical direction, we did not even talk about any concept to fit all those arrangements. It was much later, when we picked up some nice samples from the underground, that we started working towards the end result where we are now with our conceptual album 'Mind The Gap'. The combination of METROLAND as a band name and the first track (pun not intended) 'Mind The Gap' triggered us much further than we ever thought possible.
We were already used to working around a concept, which we feel has been one of our very strong points, but with METROLAND we took this conceptual idea to the hilt and beyond. Result is that our album 'Mind The Gap' is all about metro systems, the Tube, commuting and transport in general. The samples, the artwork, the titles….they all breathe the same concept. As you can read, this amazing ride that brought us up to where we are now didn't just happen overnight.
The full interview can be read at the Electricity Club – right here >>
POEM's Thomas Janak talked to "I dream of wires" producer Jason Amm about the documentary and the work it entailed, future plans such as the announced shorter theatrical version and more but the conversation also touched on the modular synths themeselves, what they do to people, why they are still popular and why the resurgence of using modular systems is at an all time high. Note: The 4 hour hardcore version of the documentary is only available for a very short time and you should get your copy NOW! www.idreamofwires.org
"I dream of wires" – a 4 hour documentary about Modular Synths by Poem on Mixcloud