New interview with Martin Gore, check it out
Depeche Mode have managed to stay in a single time zone this past week, playing a sweaty, raucous two-hour show to the black swarm on the Rhine in Düsseldorf this past Wednesday, and prepping to do it all again tonight. We sat down with Martin Gore to find out about revisiting the sounds of melancholy past and how technology has changed not only Depeche Mode's music but also their live show.
Soul sensation Alicia Keys discusses her new virtual piano plug-in "Alicia's Keys" with editor-at-large Jon Regen in this June 2010 interview.
What is it: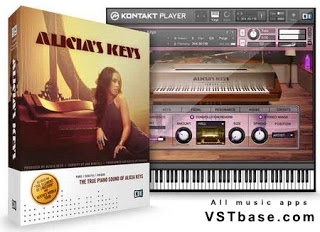 The instrument samples of Native Instruments Alicia's Keys come from Alicia Keys' very own Yamaha C3 Neo grand piano. This unique and highly-sought after instrument was built to celebrate Yamaha's 100th anniversary in 2002 and represents the very top of the Conservatory Collection line.
The exquisite and unique sound of the C3 Neo were painstakingly captured by Thomas Skarbye, Kontakt script wizard Nils Liberg, and Grammy-award winning engineer Ann Mincieli – making this exclusive instrument available to everyone.
Using vintage microphones and preamps and through detailed analysis of Alicia's playing, the team succeeded in capturing the warm, soulful and inspiring sound of the C3 Neo all the way down to the finest nuances.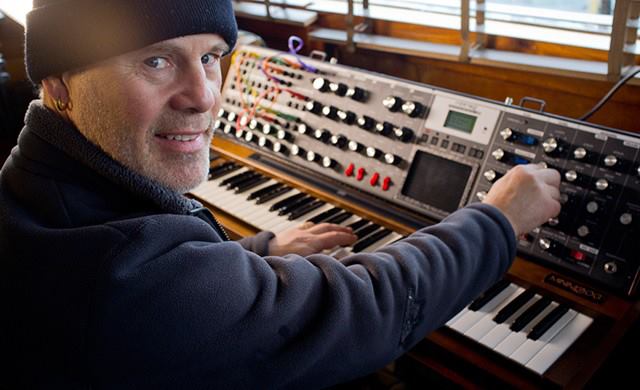 Moog had the pleasure to sit down with Thomas Dolby last week in England to deliver his custom Minimoog Voyager XL. Dolby talked with us about his experiences with Moog synthesizers, his musical process, and his history with many different musicians.
When were your first experiences with Moogs? When did you first get the opportunity to experiment and play with them?
There tended to be Minimoogs lying around professional studios round-about the end of the 70's – 76-77-ish when I first got into studios. And when the Micromoog came out I picked one up second hand out of the back of Melody Maker. And that was the first off-the-shelf synth I'd owned. Before that the only synth I'd owned was a Transcendent 2000.
Ah, that's the DIY one isn't it? 
Yeah. And I didn't have a keyboard for it. So I could sort of generate tones but that was about it. I remember hooking it up to the keyboard from an ARP.
That's very old school – in the sense of using it as an oscillator bank.
Yeah. So I was familiar with Minimoog but the Micro was the first one I could afford. And the next one was the Source. And for a while I had a three piece band, and I was basically playing the Micro and the bass player was using the Source.
And so I've used Mini's a lot over the years but never owned one. The first serious recording I did with one was on the Foreigner "4" album. I remember Mutt Lange had left for the night, and left me for the night like a kid locked up in a toy shop. And I had six tracks and had to make an intro for "Waiting for a Girl Like You".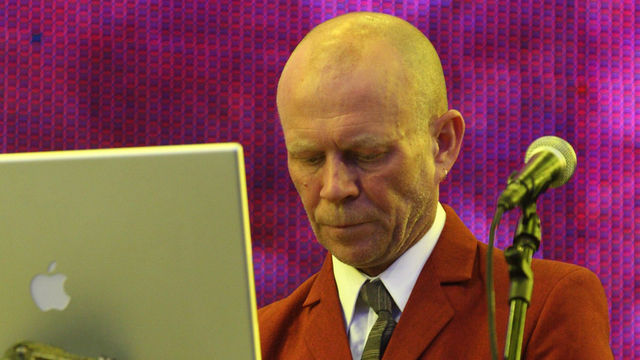 Historical interviews with the most famous electro musicians in the world have appeared in a new eBook.
The Electro Legend Interviews features interviews conducted over the past 20 years and taken from the archives of Computer Music and Future Music magazine.
Revealing their music-making techniques and inspirations are: Aphex Twin, Gary Numan, The Prodigy's Liam Howlett, Vince Clarke, Kraftwerk's Wolfgang Flür, Moby, Hot Chip, Alec Empire and Ultravox's Midge Ure.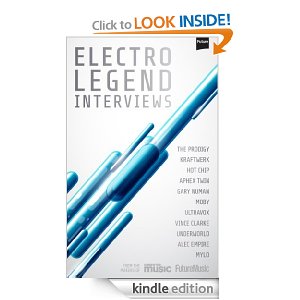 Available for just £2.99, the book sheds light on The Prodigy's place in the early rave scene, with Liam Howlett explaining in a 1993 interview that"When rave dies there are always going to be people who will still want to dance, so as long as we keep coming out with original songs we'll still be around…"
Meanwhile, Gary Numan discusses his classic Replicas album. Addressing the cover art, he says: "The character on the cover is called a Machman – he's looking out on the world, looking out at the park. Outside of the park, there's a man in a grey coat and a grey hat, which was a ghost I saw when I was much younger…"
Elsewhere reclusive genius Aphex Twin gives one of his only ever interviews. "If you plan to be good at anything, it has to happen using your own ideas. It's inevitable. It's exactly like natural selection," he muses.
Speaking exclusively about the early days of Kraftwerk, WolfgangFlür comments: "We were young, shy and childish! We loved to construct things and we never thought we would get famous from that."
The book also features Vince Clarke revealing his computer music-making secrets. "Once you've got the hang of the computer and the software," he says, "then you've still got to write the songs…"
And discussing the history of Ultravox, Midge Ure reveals that: "In those early days, a lot of musicians saw synths as electronic guitars. We just started going bang-bang-bang. Suddenly, you got this blast of unearthly noise and it changed the musical landscape."
Synth designer Peter Vogel, creator of the groundbreaking Fairlight CMI synthesizer, is featured in a new article in Australia's Sydney Morning Herald. Along with the print article, there is also a short video, embedded above, about the Fairlight and its influence on popular music since its debut in 1979.
For a certain kind of music nerd, or a music nerd of a certain age, Australian Peter Vogel is a messiah figure. To them, he is the "man who changed the world".

With an old school friend called Kim Ryrie, Vogel invented a strange and important musical instrument (of sorts) called the Fairlight in 1979. The ungainly keyboard, huge processor and clunky old green-screen monitor was hailed as the world's first sampler – a digital sampling synthesiser.

Its full name was the Fairlight CMI, with those letters standing for "computer musical instrument". The pair developed it in Ryrie's grandmother's house in Point Piper, Sydney. And it was popularised by the household names of international pop music through the 1980s: Peter Gabriel, Duran Duran, Devo.
Full article can be found here >>
Sonic had the chance to speak to Mr Fumio Mieda – one of the creators of the MS20 and the MS20 Mini.
And here is a second one uploaded by KORG themselves:
Original Korg MS-20 developers Mr. Fumio Mieda and Mr. Hiroaki Nishijima recently sat down to reminisce about developing the legendary analog MS-20 and resureccting that classic synth 35 years later in the form of the new MS-20 Mini.
To learn more about MS-20 Mini head over to http://www.korg.com/ms20mini.
Erasure have spent this week writing material for their upcoming new album. Andy and Vince have been locked away in Vince's studio in Brooklyn where the duo made this video…
Karl Bartos, former member of electronic pioneers Kraftwerk and Elektric Music, was on BBC 6 Music yesterday speaking to Mark Radcliffe and Stuart Maconie about his recent album, Off The Record.
Comprising material from his Kraftwerk days right up to the present, the album takes in a range of influences and emotions in an attempt, says Bartos, to cover the whole "European landscape". Amongst discussing British weather and northern soul, when asked about his Kraftwerk roots and the influence it has on his solo work, Bartos said: "I'm not trying to get away [from being that guy], but I am ambivalent."
Ean Golden sat down with electronic music technology pioneers Dave Smith and Roger Linn for a special in depth interview focused on analog hardware and its uses for making compelling electronic music.
This interview was shot in January – Dave Smith has since been awarded with a Grammy, and MIDI turned thirty! Read more here: http://www.djtechtools.com/2013/01/09…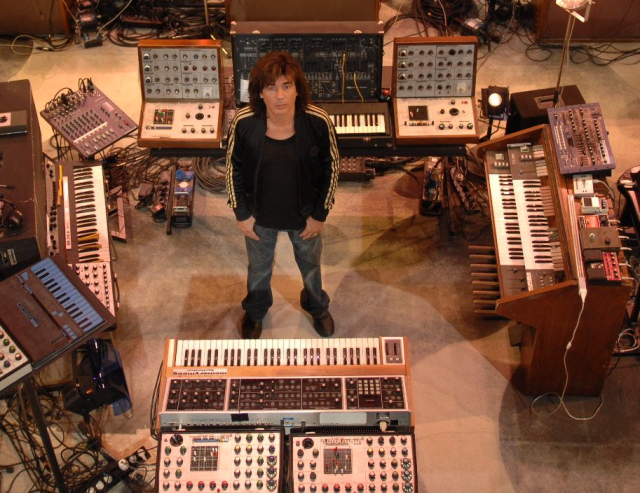 In a new interview, synth music pioneer Jean Michel Jarre explains why, despite all the advances in electronic music technology, he still has a love for vintage gear:
Jean Michel Jarre is reeling off some of the music he's been listening to lately: Actress, Fuck Buttons, Zomby… It's not the average 64-year-old's playlist, but Jarre has never really done average. His presence has loomed over electronic music for some four decades. The Frenchman studied under musique concrète progenitor Pierre Schaeffer—one of electronic music's earliest pioneers—and released the seminal Oxygene LP in 1976, which proved the catalyst to a sustained period of commercial and artistic success throughout the '80s and '90s. His career has been defined not just by his achievements themselves, but also the scale of them: on Bastille Day in 1979 he played to a live audience of one million in Paris, while a further 100 million tuned in on TV; nearly two decades later in Moscow he performed to a crowd of 3.5 million. He's also sold around 80 million albums (Oxygene alone has sold more than 18 million copies).

Jarre now exceeds the French pension age by four years, but he's not showing any signs of slowing down. He talks excitedly of two new albums he has on the boil. His most recent project, InFiné by JMJ, saw him delve into the French label's back-catalogue and pick out his 12 favourite tracks for a compilation. It was a low-key affair—by Jarre's standards at least. In conversation, he's clearly enthused by the project, earnestly discussing the merits of each inclusion and explaining his shared roots with the label—both he and former label boss Agoria hail from Lyon in southern France—with pride. We called up Jarre at his studio to discuss the compilation's origins, his current musical interests and his ambitious plans for an electronic music academy in East London.

Can you tell me about how the InFiné compilation came about?

It's a concept that started in my hometown. Like me, InFiné has its roots in Lyon, and lots of the label's artists are also from that part of France. I collaborated with some of the InFiné artists at the Nuits Sonores festival in Lyon last year, and we had a special evening where some of them revisited my work on stage. When InFiné decided to celebrate their tenth anniversary with a compilation, they asked if I would look into their catalogue and make some selections for a compilation.

How did you go about compiling it?

I went through lots of different tracks, and tried to build a kind of journey, using songs and artists that fit well together. As the music on InFiné is quite varied—there are artists from all kinds of different musical worlds—it was important to have some sense of direction on the compilation. A selection like this is always subjective; [the final selection] doesn't come down to which track is better than the other, it's just more reflective of my own tastes.

How did that sense of direction develop?

One of the reasons why InFiné is so important to me is that lots of artists on the label have been influenced by my own music. For the compilation I chose tracks that I felt were close to my own music in some way. The first track [Oxia's "Exaila"] could almost be a kind of introduction to one of my own albums; it's a short piece and I think it opens the door to the compilation nicely. Then there's Murcof's "Como Quisiera Decirte." I've admired this guy's work for a while, at times it's very close to the kind of stuff I was doing when I studying with Pierre Schaeffer at the musique concrète studio in Paris, when we were experimenting with sound design in pretty abstract ways. Murcof has an approach to music that I really enjoy—he mixes an experimental approach with Latin flavour. I've always been interested in trying to mix the Spanish or Italian soundtrack ambience of people like Pedro Almodóvar or Fellini into music. I find "Como Quisiera Decirte" quite haunting. It has a Mexican feel but it's still definitely electro. I love that mix, that hybrid feeling between two different worlds.

Which other artists on the compilation did you find yourself drawn to?

Rone is a good one—he has a very interesting sound. The problem with so much electronic music now is that more often than not, you hear a track, and it's interesting, but you don't feel it belongs to somebody in particular, or has a particular style, even if it's OK and you like it. In the case of Rone, for instance, or Agoria, and some of the other artists on this compilation, they have a definite sound world of their own. That's rare these days

Talking more broadly, which other contemporary artists do you listen to?

I'm listening to lots of different music. I really love Zomby's work, I've listened to a lot of his tracks over the past two years. And there's Actress—I've been appreciating his style of music recently. Then there are more established electronic artists in France like Air, Vitalic, M83, Justice or Sébastien Tellier—actually in fact I've just finishing a recording session with Sébastien today, we are working on a track together. I also really like Fuck Buttons. The first time I listened to their music I thought, "Wow, they've got such a special and unique type of sound." I mean, those guys build a kind of wall of sound in front of you, a fog of audio, with a kind of techno beat lost in smoke. It's a vaporized sound. I really love their direction and their Olympians EP was very nice.

How much time do you find yourself spending in the studio each week?

I try to spend as much time as possible in the studio, but it's never enough. There are always other things to do. My dream is to be like a writer, and spend four or five hours every day locked in the studio, but I can't really do that, I don't know why. I'm a workaholic in short spurts—I'll go into the studio and work for three or four days and nights, then I'll stop, take a break, and go back to the studio a week or so later. So for me, it's three or four days on, then three or four days off.

I read in an interview that you said when you're in the studio you feel more like a "painter than a producer, mixing with colour and light, and experimenting with textures." Do you still feel that way even when you're not in the studio as much?

Yes, more than ever. I think that's the beauty of electronic music. I used to do a lot of painting when I was a student, and I even hesitated between pursuing a career in painting or music. Over the years, when I've been faced with electronic instruments, oscillators and all these kind of strange machines, it occurred to me that mixing colours and mixing audio frequencies is actually the same thing. You are a craftsman, you are a painter, mixing colours and textures. For me, electronic music is very close to abstract painting, which is all about textures, shapes, colours and contrasts. These days, I like mixing analogue synthesizers with pure digital elements. I think this combination is actually reflective of society itself, because we aren't analogue anymore, but we're also struggling to deal with being in a virtual, digital world. I think it's quite nice when you can mix both worlds.
Full interview can be found here >>