IMEA STUDIO – GROOVE DRUMS door ImeaDan
GROOVE DRUMS
VSTi plugin compatible MAC and WINDOWS, its architecture combines a sampler and an innovative and powerful tool allows you to create easily and intuitively grooves and drums loops.
• Sequencer / sampler designed to generate percussion.
• Innovative tool for randomization.
• Ability to create loops that can be used by loops sequencer softwares.
• Drag & Drop patterns.
• 8 channels. Comes with 2 VST, one with 8 independent outputs.
• 16 patterns of 64 steps per channel.
• Equalizer, insertions and effects sends.
• Comes with Chorus, Compressor, Delay, Filter, Flanger, Limiter, Reverb and Overdrive.
Lur is a livelooping duo from Malmo, Sweden. They record and loop all instruments and sounds live on stage.
The Big Bug is a liveact that starts where ordinary club acts ends. With bombastic beats, DIY instruments, interactive projections and musical magic tricks, they will offer a liveloopingshow for all party animals in the urban swamp.
For more info visit:
lurlurlur.com
Here's an introduction to Propellerhead ReCycle. ReCycle is a creative tool that helps you make the most of your grooves. In simple terms, ReCycle lets you do with sampled loops what you can do with beats programmed from individual drum sounds — like alter the tempo, or replace sounds and process them individually. A tool for quickly editing sampled parts, chopping up riffs, remixing and doing mash ups.
Propellerhead has released ReCycle version 2.2 for sale–an update to the industry standard tool that creates REX files. Sporting a completely overhauled graphical user interface, ReCycle 2.2 adds new key commands, workflow enhancements and a new Online Help system–making it, say Propellerhead, even faster and easier to use. Version 2.2 is a 64-bit compatible application with full support for Windows 7 and Mac OS X Lion operating systems. Here's what Propellerhead has to say…
About ReCycle
An industry standard, ReCycle is the fastest way to make sampled material your own. ReCycle lets you do with sampled loops what you can do with beats programmed from individual drum sounds–like alter the tempo, or replace sounds and process them individually. Producers use Recycle for making loops tempo-independent, for quick editing of sampled parts, chopping up riffs, remixing and doing mash ups.
Load any loop or musical phrase into ReCycle. The program will look at the file, analyze it, and slice it up into its rhythmic components. The file can then be rearranged, pitched or have its tempo freely adjusted. Artists have full control over the individual slices and can alter the timing or even quantize the groove, keep the feel of the loop and replace the sounds with their own. Or load the file into a software sampler and trigger the individual parts from a MIDI keyboard to turn the sampled material into a completely new performance.
A favorite among sound designers and producers, ReCycle's REX file format is supported by all major music software titles including applications such as Apple Logic, Avid Pro Tools, Steinberg Cubase, Cakewalk Sonar, Ableton Live, MOTU Digital Performer and Propellerhead Reason, as well as software instruments such as Native Instruments Kontakt and Spectrasonics Stylus RMX.
Pricing and Availability:
ReCycle 2.2 is available now for purchase worldwide, at a suggested retail price of USD $249 / EUR €229.
The ReCycle 2.2 upgrade is available as a free download for any registered owner of ReCycle version 2 or higher.
Upgrades from 1.x of ReCycle can be purchased from the Propellerhead web shop.
More information:
Nucleus SoundLab would like to introduce you to a brand-new ReFill exclusively built for Propellerhead Reason 6 – Celluloid Beats. Celluloid Beats features an amazingly unique set of cinematic percussion loops suitable for filmscoring, game sound design, IDM and other electronic genres. The loops inside have been specially processed using a proprietary additive vocoding techique to emphasize long, smooth decay stages. Beyond the high-quality loops themselves, Celluloid Beats is also the first ReFill in an innovative new series called Modular Grooves.
Modular Grooves ReFills are meant to provide musicians and producers with a infinitely configurable palette of loops. These loops sound great at virtually any tempo thanks to being sampled using Wide BPM technology – anywhere from 60bpm to 300bpm is fair game. There is no reason to be limited by the original tempo of a loop any more!
Each Combinator patch in a Celluloid Beats contains 8 loops – 1 original loop and 7 creative loop remixes. This is achieved by using the Slice Edit Mode on Dr. OctoRex to change filtering, decay, volume and more on a per-step basis for each loop. Going farther than that, unique FX are added to each patch which are used to effect specific loop slices – so each slice in a loop can have a different distortion, filtering or delay! The resulting loop remixes sound incredibly complex, but they certainly aren't complicated to use. A single Combinator Rotary switches between all 8 loops; and you can also easily dive into Dr. OctoRex to tweak any loop remix to taste! To help users understand the Modular Grooves technology and get the very most out of it, PDF documentation is included.
Celluloid Beats also comes packed with all its loops in raw REX2 format outside the ReFill itself at no additional charge. So users can easily load these loops into other sampler, such as Kontakt, Ableton Live, Battery and more without any hassles.
40 24-bit 44khz REX2 loops form the base of Celluloid Beats
280 loop remixes using all 8 loop slots on Dr. OctoRex
Each patch built exclusively for Reason 6
All REX2 loops included outside the ReFill, for use in other samplers
Detailed PDF documentation on the creation and operation of the ReFill
Download the free Demo ReFill right here.
Sample Magichas a holiday gift for you – a free 170MB sample library: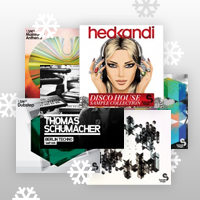 Not only has it been packed with massive sample releases: Hed Kandi's Disco House Samples, the runaway success story of Tech-House, the luscious Deep House and the neon-tinged Indie-Dance; we've also had a sterling take-up of our new sub-label, SM101 with everything from Drum Fills to Club Kicks getting the SM treatment in 101 bite-sized chunks.
Six years since we started out in the sample business we remain as passionate as ever – and as committed to our loyal customer base.
As a way of saying thanks – and Happy Christmas – we've compiled a tasty, exclusive 170+MB bundle of free loops and samples from some of this year's biggest hitters, from Hed Kandi and Thomas Schumacher to Techno and Indie-Dance by way of Dubstep and Mainroom Anthems.
You can download the library at the Sample Magic site.
This is a video demo of the Electro Bass MIDI loop pack by Audiovapor.
250 original, exclusive 16-step MIDI loops for electro, techno and house available for instant download for only $9.
In this video I use energyXT as my host sequencer but because these are MIDI loops they will work in all major DAWs (FL Studio, Logic, Sonar, Live, Reason, Cubase, etc.) My synthesizer in this demo is DUNE from Synapse Audio but any synth will work.
To download this MIDI pack go to my website: http://www.audiovapor.com/midi-sequences.html
Wide variety of keys and scales
All loops are exclusive to this product
Works in all DAWs that can import MIDI
Instant download after payment received
No filler! Each file has been carefully programmed by hand
Royalty-free to use in your own commercial or private compositions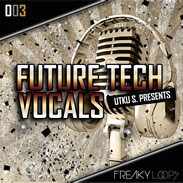 Freaky Loops has released Future Tech Vocals, a collection of one word single shot samples, glitched vocal sounds, vox stabs, Fx Processed Loops, vocal hooks and re-sequenced parts which together form a formidable collection of samples for any producer looking to introduce the human element to loops and sections of their productions.
Future Tech Vocals, includes over 750 vocal loops and samples. In this unique pack you can expect to find vocoded and distorted, dry and compressed vocals.

This pack is suitable for electro, dubstep, minimal, tech house, progressive house, grime, glitch or big room electro.. no matter what genre, these vocals will top off your production nicely. Concentrating on single phrases and short, catchy lines, this is perfect for hooks and top lines.
Future Tech Vocals features
460 MB content, featuring 150 loops at 128 Bpm, and over 600 Single Hit Vocal samples recorded at 24 bit quality.
Includes 100 Glitched Vocal Loops, 50 Twisted Vocal Loops, 32 Vocal FX, 157 Voice Phrases, 195 One Shot Vox, plus 222 Vocal Words.
All loops are tempo labeled.
Future Tech Vocals is available to purchase for £24.95 GBP.
More information: Future Tech Vocals