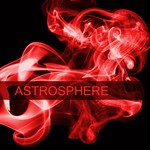 Precisionsound has released its Astrosphere collection of futuristic, out of this world soundscape loops.
Conjuring alien habitats, future technology, and spaces that defy the laws of physics, Astrosphere provides nearly an hour of sonic material for film music, game audio, theater applications, and radio productions. Of course, the evolving sounds may be useful to composers of electronic and ambient music as well. Each soundscape is over one minute in length, crafted to loop seamlessly.
Astrosphere features:
50 Stereo 24-bit, 48 kHz WAV files for use with DAWs or video editors, such as Cubase / Nuendo, Sonar, Vegas, Pro Tools, Logic, and so forth
Over 54 minutes of audio (897 MB total content)
1 Program for all versions of HALion
1 Program for Kontakt 1 and 2
1 Program with scripted GUI for Kontakt 3 and higher
Sampler programs are included for easy auditioning of sounds
The program for Kontakt 3 displays the name of the played file on the GUI when you press a key
Precisionsound notes that the files in Astrosphere are intended to be placed directly on the timeline of a DAW or video editor, while the sampler programs are included for easy auditioning of sounds. The program for Kontakt 3 and higher displays the name of the played file on the GUI when you press a key. Although you do not need a sampler to use Astrosphere, you will need the full version of Native Instruments Kontakt (not Kontakt Player) in order to audition the sounds in Kontakt.
Astrosphere can be yours as a download library for $29 or on DVD for $40. All sampler formats are included. For more information on the new sound library, visit Precisionsound's Web site at precisionsound.net.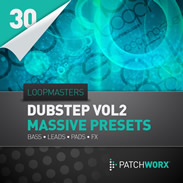 Loopmasters has released presents Dubstep Synths Vol.2 – Massive Presets by Re-Zone, a new title in the Patchworx series of soundsets.
Re-Zone tracks have been released on Toolroom Records, Black Hole Recordings, 1605, Baroque, Be Yourself Music, BugEyed, Unreleased Digital, Perfecto, Stereo Productions, Whoop, Kinky Vinyl and more.Re-Zone is continually supported by: Pete Tong, Carl Cox, Mark Knight, Roger Sanchez, Axwell, Tiesto, Sasha, Laurent Garnier, and Nick Warren.

The 64 Massive Dubstep Patches included in this pack are comprised of 28 Basses, 4 SFX, 21 Leads and 11 Pads. Included are Vocalised Leads, Hypnotic FX, Epic Pads, Evil Growls, and Sequenced Dubstep Basses.
The soundset is available to purchase for £14.95 GBP.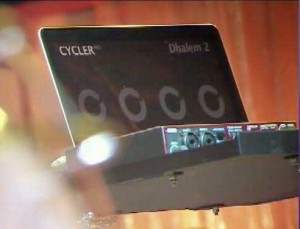 A pre-release version of Cycler Looper has been announced. Its makers tell us that the software has been created to support all aspects of sound performances (playback, looping, remixing) and gives musicians a simple yet extremely powerful set of looping tools. Here's their press release wih all the details:
Cycler Looper software gives musicians a simple yet extremely powerful set of looping tools. Created to support all aspects of sound performances (playback, looping, remixing), it can be learned in one hour, and does not require expertise in digital audio. Nicolas Lacoumette, a musician who designed award-winning audio software like the GURU rhythm system and the Krishna synthesizer, is behind this bold new product. Cycler Looper excels by providing musicians with an extraordinary sense of freedom, far surpassing other computer-based solutions. Users create their own personalized loop station (like a turbocharged RC-50), with clear, engaging on-screen visual feedback. Refined and field tested at numerous live shows, Cycler Looper speeds and facilitates the set-up and sound check. It eliminates trouble-prone connections between the sound board and the stage and automatically sets levels for all recorded loops. A built-in playlist system automatically manages loading, sequencing and fades while eliminating the risk of computer-related operational errors. It comes with a full range of standard looping functions. In addition, users can explore the musical potential of a particularly comprehensive suite of new functions: double, half, infinite undo/redo, resample, as well as full control over loop time. Cycler Looper's effects are specifically designed to solve problems that occur in live performance situations. Its practical library of stock effects, executable in real time with a single command, can be augmented with modular user-defined effects. A brilliant innovation, Cycler Looper's "temporal effects" modify a loop's timebase, yielding effects like slowdown, repeat, scratch, reverse and time stretch. In brief, Cycler Looper is an instinctive creative tool that enhances the pleasure of performing live, while freeing the user from technological constraints.
Summary of Cycler Looper's main features
Easy installation
Quick learning curve
Reliable and stable (Cycler Looper is a closed system, like Reason)
Synchronized multi-user support
Lightning fast project loading
Efficient user interface
Clear, elegant on-screen feedback
Very rapid set-up for live shows
Reduces overall equipment requirements (cables, preamps, mixers…)
Technical Features
8 loopers et 8 players per user
Auto Level correction on Record
Internal Playlist system with various crossfade modes
MIDI Board adaptive to any controller brand
Advanced looping functions
Peak detection on first loop (Perfect Match)
Free looping time, or adaptive to music (from 16th to 16 bars)
Easy and accurate Global latency detection
16 ins (stéréo/mono), 16 outs (stéréo/mono) manager
Odd signatures
Basic and graphical side chain compression effect system
Base Effects : Delay, Resonnant Filter (hpf/bpf/lpf), Overdrive, Flanger/Chorus,Phaser, Reverb, Volume/pan/mute, Ring/Amp Modulator, Bit/Samplerate reduction, compressor, Sample/Loop Player
Base Time Effects :Incarn, Reverse, Smooth, speed up, speed down, time stretch.
Modular and programmable effects
Send/Return
Minimum system requirement :
Mac or PC, Audio sound card. MIDI controller is welcome, but Cycler Looper also supports keyboard assignation.
Pricing and Availability:
Free download.
More information: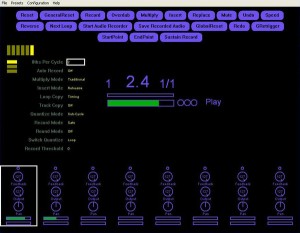 Circular Labs has announced a major update to its cross-platform looping software, Mobius.
Mobius is a free application for Mac & WIndows that was inspired by the hardware loopers of the past. But Mobius offers 8 synchronized stereo loopers that can be used in any combination with extensive MIDI and computer keyboard control.
Here's what's new in Mobius 2.0:
Redesigned synchronization engine for improved sync.
Support for Audio Units host sync (Logic, Garageband).
Support for other sample rates besides 44100.
Redesigned UI button window that works like other binding windows.
Improved OSC support.
Mobius is available now as a free download for Mac & Windows.

Time again for a review here at Steelberry Clones – this time we have taken a closer look at Nucleus SoundLabs' new Reason Refill called Celluloide Beats.
To begin with Celluloide Beats consists of around 50 (x8) or so Combinator patches and associated sounds recreated as REX-files. Due to the way they are built they may easily be run in anything from 60/70 BPMs up to 270 > or so BPMs – it will still sound great. To get an overview of what you are getting I would loosely categorize it as multi-sampled drums, beats and percussions into a massively unique and powerful mix of rhythms and sounds that would easily fit into dubstep, electro, house, techno type music, but I would not limit it to that since there are several intriguing ambient type sounds with a real sci-fi / cinematic approach to them.
A good thing with the CMBs are that they are very easy to work with, partly because each CMB is more or less a full mix in itself with limited need for further mixing and mastering, and partly because they are using fairly common rhythms meaning that the tempo and the sequenced beats are not overly experimental. Each Combinator patch in a Celluloid Beats contains 8 loops – 1 original loop and 7 creative loop remixes. This is achieved, according to Nucleus, by using the Slice Edit Mode on Dr. OctoRex to change filtering, decay, volume and more on a per-step basis for each loop. Going farther than that, unique FX are added to each patch which are used to effect specific loop slices – so each slice in a loop can have a different distortion, filtering or delay. The resulting loop remixes sound incredibly complex, but they certainly aren't complicated to use.
To purchase the product use the link below:
Click here to view more details
This little experiment plays with 'polluting' arrays of pixels depending on the sound level coming in.
There is a feedback loop on the sound, and every time the sound gets looped, it's degraded to a much lower quality.
This was done as an exercise for the Generative Design class at CIID.dk.
Taught by Joshua Noble and David Gauthier.
For more, please vist soundplusdesign.com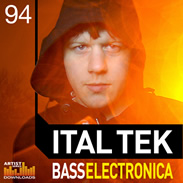 Loopmasters has released Ital Tek – Bass Electronica, a collection of bass driven samples and electronica from Ital Tek, an influential and current producer from the bass and dubstep scenes.
From Punchy Dubstep Beats, Dub Tech Synths, Slow Breaks, Drum Machine Beats, Dissonant Bells, Distorted Sequences, Moody Strings, Live Beats, Dub Sirens Lazers and more – this is a fantastic and unique collection from a producer whom we consider to be on top of his game and creating an influential sound which transcends genres.

Bass Electronica from Ital Tek weighs in at 955MB and includes 465 24Bit Samples, including 228 Loops between 80 – 140 Bpm, and 236 One Shot Sounds. Also included are no less than 120 ready to play patches for Reason NNXT, Halion, Kontakt, EXS and SFZ compatible soft samplers. Apple Loops, Reason Refill and Ableton Live versions are available to purchase separately.
Ital Tek – Bass Electronica is available to purchase for £29.95 GBP. The loops pack and single shot samples & sampler patches are also sold separately for £16.95 GBP each.
24Bit Qualty
955Mb
42 Bass Loops
90 Synth Loops
96 Drum Loops
6 Bass Hits
2 Multi Sampled Bass Instruments
100 Drum Hits
9 Mutli Sampled Synth Instruments
40 Fx Shots
11 Synth Hits
21 Pad Sounds
242 Rex2 Files
120 Soft Sampler Patches For Kontakt, Halion, Nnxt, Exs24 and SFZ Formats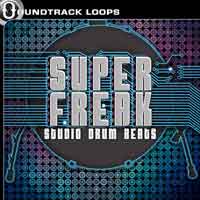 Soundtrack Loops has announced a fresh batch of live and electronic drum loops.
Super Freak Studio Drum Beats offers both live studio acoustic kits and electronic drum beats. There are 450 loops and 27 oneshots in total.
"The live acoustic side offers 243 loops. This folder includes beats, hi hats, and fills. Tempos range from 85-100 BPM. The acoustic kits were recorded on the 1956 Round Badge Gretsch that was used to record "Super Freak" by Rick James. They were recorded and mixed by Howie Beno – producer, mixer, for Dionne Warwick, Ministry, and Red Hot Chili Peppers. The electronic side offers 207 electronic beats. This folder includes mixed beats, kick patterns, and hi hat patterns performed by Drummer Felix Miklik (Producer of Studio Breaks by Peace Love Productions)."
Formats:
Apple-looped .aif
ACIDized .wav
Recycle .rx2
Ableton Live .alp
24 bit 44.1kHz Stereo.
Pricing and Availability:
$24.95
More information:
Link to template at Liine's User Library:
http://liine.net/en/community/user-library/view/188/
Requirements:
iPad / iPad 2
Lemur (download from the App Store)
Ableton Live (full download)
Recommended:
Native Instruments Massive (v1.3 or higher)
A live looping template for Lemur and Ableton Live 8 for a single audio channel, drums, a monophonic synth, and a polyphonic synth. Two Ableton Live projects are included in this download: one for owners of Native Instruments "Massive" and the other version works with the full download of Ableton Live 8. No other software or plugins are required. "Massive" is highly recommended. Version 1.3 (or higher) of Massive is required, or the patches will not load.
The Massive patches are included in the download package from Liine as separate files, and are the exact patches used in 90% of the "Live Jams" on this YouTube channel.
Cluster Sound has announced FX Drooms, a massive collection of FX layered percussion kits specifically designed for Ableton Live and for a wide range of electronic music styles.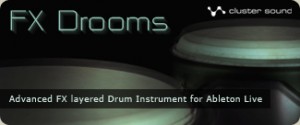 This Live Ready Instrument provides 5400 WAV samples, 312 percussion clips and 312 instrument racks organized into 13 categories : Congas, Bongos, Djembe, Metals, Woods, Toms, Mixed, Ethnics, Snares, Kicks, Shakers, Low Percs and Clanks.
Sample FX Layering : In FX Drooms, each of the dry percussion samples has been processed with 24 esoteric reverb and sound effect templates obtained by stressing DSP, hardware and convolution sources. Thanks to our Sample FX Layering technique you will be able to mix these external effect signals to the dry samples and manage them via dedicated controls : FX Amount, Decay Time, Pre Delay, Low Cut, Hi Cut, Pitch, Shaper, OSC Volume.
Mixed with the solid dry sources, the included FX templates give the library a distinctive glommy psycho (acoustic) athmosphere characterized by incredible hi end and definition. In addition to the dry percussions and the Sample FX Layers the included instruments implement also several sound-specific send effects created by using Ableton Live plugins.
FX Drooms
Live Clips
Live Instruments
Live Ready Pack
WAV
Specification:
5400 WAV samples
312 Percussion Clips
312 Percussion Racks
24 Sample FX Layers
FX Drooms is available to purchase for 24.95 EUR.