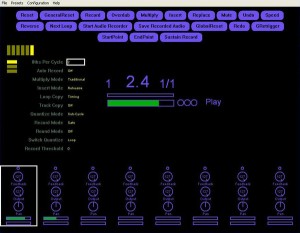 Circular Labs has announced a major update to its cross-platform looping software, Mobius.
Mobius is a free application for Mac & WIndows that was inspired by the hardware loopers of the past. But Mobius offers 8 synchronized stereo loopers that can be used in any combination with extensive MIDI and computer keyboard control.
Here's what's new in Mobius 2.0:
Redesigned synchronization engine for improved sync.
Support for Audio Units host sync (Logic, Garageband).
Support for other sample rates besides 44100.
Redesigned UI button window that works like other binding windows.
Improved OSC support.
Mobius is available now as a free download for Mac & Windows.

Time again for a review here at Steelberry Clones – this time we have taken a closer look at Nucleus SoundLabs' new Reason Refill called Celluloide Beats.
To begin with Celluloide Beats consists of around 50 (x8) or so Combinator patches and associated sounds recreated as REX-files. Due to the way they are built they may easily be run in anything from 60/70 BPMs up to 270 > or so BPMs – it will still sound great. To get an overview of what you are getting I would loosely categorize it as multi-sampled drums, beats and percussions into a massively unique and powerful mix of rhythms and sounds that would easily fit into dubstep, electro, house, techno type music, but I would not limit it to that since there are several intriguing ambient type sounds with a real sci-fi / cinematic approach to them.
A good thing with the CMBs are that they are very easy to work with, partly because each CMB is more or less a full mix in itself with limited need for further mixing and mastering, and partly because they are using fairly common rhythms meaning that the tempo and the sequenced beats are not overly experimental. Each Combinator patch in a Celluloid Beats contains 8 loops – 1 original loop and 7 creative loop remixes. This is achieved, according to Nucleus, by using the Slice Edit Mode on Dr. OctoRex to change filtering, decay, volume and more on a per-step basis for each loop. Going farther than that, unique FX are added to each patch which are used to effect specific loop slices – so each slice in a loop can have a different distortion, filtering or delay. The resulting loop remixes sound incredibly complex, but they certainly aren't complicated to use.
To purchase the product use the link below:
Click here to view more details
This little experiment plays with 'polluting' arrays of pixels depending on the sound level coming in.
There is a feedback loop on the sound, and every time the sound gets looped, it's degraded to a much lower quality.
This was done as an exercise for the Generative Design class at CIID.dk.
Taught by Joshua Noble and David Gauthier.
For more, please vist soundplusdesign.com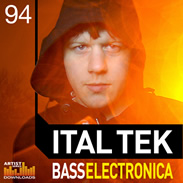 Loopmasters has released Ital Tek – Bass Electronica, a collection of bass driven samples and electronica from Ital Tek, an influential and current producer from the bass and dubstep scenes.
From Punchy Dubstep Beats, Dub Tech Synths, Slow Breaks, Drum Machine Beats, Dissonant Bells, Distorted Sequences, Moody Strings, Live Beats, Dub Sirens Lazers and more – this is a fantastic and unique collection from a producer whom we consider to be on top of his game and creating an influential sound which transcends genres.

Bass Electronica from Ital Tek weighs in at 955MB and includes 465 24Bit Samples, including 228 Loops between 80 – 140 Bpm, and 236 One Shot Sounds. Also included are no less than 120 ready to play patches for Reason NNXT, Halion, Kontakt, EXS and SFZ compatible soft samplers. Apple Loops, Reason Refill and Ableton Live versions are available to purchase separately.
Ital Tek – Bass Electronica is available to purchase for £29.95 GBP. The loops pack and single shot samples & sampler patches are also sold separately for £16.95 GBP each.
24Bit Qualty
955Mb
42 Bass Loops
90 Synth Loops
96 Drum Loops
6 Bass Hits
2 Multi Sampled Bass Instruments
100 Drum Hits
9 Mutli Sampled Synth Instruments
40 Fx Shots
11 Synth Hits
21 Pad Sounds
242 Rex2 Files
120 Soft Sampler Patches For Kontakt, Halion, Nnxt, Exs24 and SFZ Formats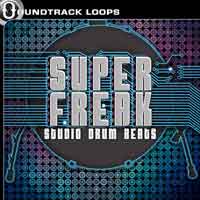 Soundtrack Loops has announced a fresh batch of live and electronic drum loops.
Super Freak Studio Drum Beats offers both live studio acoustic kits and electronic drum beats. There are 450 loops and 27 oneshots in total.
"The live acoustic side offers 243 loops. This folder includes beats, hi hats, and fills. Tempos range from 85-100 BPM. The acoustic kits were recorded on the 1956 Round Badge Gretsch that was used to record "Super Freak" by Rick James. They were recorded and mixed by Howie Beno – producer, mixer, for Dionne Warwick, Ministry, and Red Hot Chili Peppers. The electronic side offers 207 electronic beats. This folder includes mixed beats, kick patterns, and hi hat patterns performed by Drummer Felix Miklik (Producer of Studio Breaks by Peace Love Productions)."
Formats:
Apple-looped .aif
ACIDized .wav
Recycle .rx2
Ableton Live .alp
24 bit 44.1kHz Stereo.
Pricing and Availability:
$24.95
More information:
Link to template at Liine's User Library:
http://liine.net/en/community/user-library/view/188/
Requirements:
iPad / iPad 2
Lemur (download from the App Store)
Ableton Live (full download)
Recommended:
Native Instruments Massive (v1.3 or higher)
A live looping template for Lemur and Ableton Live 8 for a single audio channel, drums, a monophonic synth, and a polyphonic synth. Two Ableton Live projects are included in this download: one for owners of Native Instruments "Massive" and the other version works with the full download of Ableton Live 8. No other software or plugins are required. "Massive" is highly recommended. Version 1.3 (or higher) of Massive is required, or the patches will not load.
The Massive patches are included in the download package from Liine as separate files, and are the exact patches used in 90% of the "Live Jams" on this YouTube channel.
Cluster Sound has announced FX Drooms, a massive collection of FX layered percussion kits specifically designed for Ableton Live and for a wide range of electronic music styles.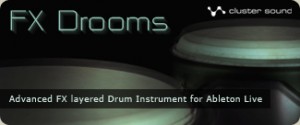 This Live Ready Instrument provides 5400 WAV samples, 312 percussion clips and 312 instrument racks organized into 13 categories : Congas, Bongos, Djembe, Metals, Woods, Toms, Mixed, Ethnics, Snares, Kicks, Shakers, Low Percs and Clanks.
Sample FX Layering : In FX Drooms, each of the dry percussion samples has been processed with 24 esoteric reverb and sound effect templates obtained by stressing DSP, hardware and convolution sources. Thanks to our Sample FX Layering technique you will be able to mix these external effect signals to the dry samples and manage them via dedicated controls : FX Amount, Decay Time, Pre Delay, Low Cut, Hi Cut, Pitch, Shaper, OSC Volume.
Mixed with the solid dry sources, the included FX templates give the library a distinctive glommy psycho (acoustic) athmosphere characterized by incredible hi end and definition. In addition to the dry percussions and the Sample FX Layers the included instruments implement also several sound-specific send effects created by using Ableton Live plugins.
FX Drooms
Live Clips
Live Instruments
Live Ready Pack
WAV
Specification:
5400 WAV samples
312 Percussion Clips
312 Percussion Racks
24 Sample FX Layers
FX Drooms is available to purchase for 24.95 EUR.

IMEA STUDIO – GROOVE DRUMS door ImeaDan
GROOVE DRUMS
VSTi plugin compatible MAC and WINDOWS, its architecture combines a sampler and an innovative and powerful tool allows you to create easily and intuitively grooves and drums loops.
• Sequencer / sampler designed to generate percussion.
• Innovative tool for randomization.
• Ability to create loops that can be used by loops sequencer softwares.
• Drag & Drop patterns.
• 8 channels. Comes with 2 VST, one with 8 independent outputs.
• 16 patterns of 64 steps per channel.
• Equalizer, insertions and effects sends.
• Comes with Chorus, Compressor, Delay, Filter, Flanger, Limiter, Reverb and Overdrive.
Lur is a livelooping duo from Malmo, Sweden. They record and loop all instruments and sounds live on stage.
The Big Bug is a liveact that starts where ordinary club acts ends. With bombastic beats, DIY instruments, interactive projections and musical magic tricks, they will offer a liveloopingshow for all party animals in the urban swamp.
For more info visit:
lurlurlur.com
Loopmasters has released Dark Scapes, a collection of dark and menacing sounds for Propellerhead Reason.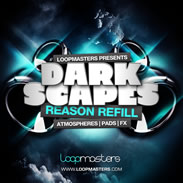 Aimed at Producers who make Cinematic, Atmospheric styles of music for TV and Film (think Horror, Drama and Sci-Fi) plus cutting edge musicians looking to mix up dark influences and moody soundbytes within their musical scores.
Utilising the full collection of awesome sound sculpting instruments and effects within the Reason 6 environment, Dark Scapes is a unique library fusing organic sounds with cutting edge technology to provide the user with limitless combinations of sounds at your fingertips. Included with this Refill are no less than 312 Combinator Instruments which utilise instruments including Malstrom, Thor, Subtractor, Kong, NNXT, which are combined with the effects including Compressors, Reverbs, Gates, Delays, Flangers, Chorus and much more. Dark Scapes for Reason 5 or higher is available to purchase for £19.95 GBP.
More information: Loopmasters / Dark Scapes
Patches In Detail:
63 Atmosphere and Drones
40 Pads
103 Fx
25 Leads
15 Real World Sounds
3 Kong Kits
62 Bonus Sounds