A live looping improv jam performed on a DJ TechTools "MIDI Fighter 3D." No phrases or pre-reocrded loops were used. Only single notes are being triggered from an instance of NI's Kontakt for drums, and three separate instances of NI's Massive for the bass, lead, and polyphonic synth. The bank-select buttons at the top of the unit selects the proper instrument in Ableton Live.
Tilting the unit to the right controls a low-pass filter on the synths. A backward tilt controls the resonance on those filters, and tilting the unit forward controls modulation/vibrato. The side buttons are controlling Ableton's loopers, and are also used to engage the master filter at the end of the song.
Lemur on the iPad is being used to clear loops and control reverb and delay on all four instruments.
More info on the DJ TechTools MIDI Fighter 3D can found on DJTT's site: http://store.djtechtools.com/midi-fighter-3d.html
"Around the late 40s the atom was split… We discovered that everything was forever changed, when we discovered the word could be cut up, that sound could be cut up. That everything having to do with culture could be cut up and reassembled in ways that didn't exist before. That will be seen as the most radical, important thing that happened this century" – Genesis P Orridge, Modulations
GlitchBreaks from Alex Matheu is a powerful iOS loop manipulation tool. Anyone who has seen, heard or played with it can vouch for its quality and flexibility. It puts buffer override, scrubbing, beat-juggling, and pitch and time stretching all within the palm of your hand, cheaply. We got so excited about this App we contacted GlitchBreaks about partnering, and the fruit of that can be seen in the 20 new free factory loops we provided for version 1.03.
We are pleased to premiere our first loop-pack intended for use with GlitchBreaks. Containing 49 high quality abstract 1 bar loops, this pack is designed for the glitchhead who can't get enough. Already glitchy in their nature these loops will send you spinning off into microcosms of uncontrolled electronic pleasure when paired with GlitchBreaks. Prepare to travel down the rabbit hole, and bring your headlamp because the journey will get dark, dirty and shocking!
All loops are provided in 16-bit as well as high quality 24-bit files, for use in any desktop DAW and numerous other iOS apps.
Format:
49 16-bit/44.1 khz Wav files
49 24-bit/48 khz Wav files
All files tagged with BPM (tempo) and initials.
Installation Instructions for GlitchBreaks included.
Price: $2.99
Available from – www.sunsineaudio.com
Rheyne in a nice session featuring lots of nice controllers, synths and pads, enjoy
Live looping improv jam using analog keyboards, USB controllers, and iOS devices. iPads are running Animoog, Lemur, and SoundPrism Pro. SP Pro is triggering NI's Massive through an iConnectMIDI. A DJ TechTools MIDI Fighter 3D is controlling loopers, drums, and a monophonic synth. Its rotation is mapped to filters and vibrato. Normally my drums are played on an Akai MPD26, but wanted to get used to the MF3D for a portable live rig. An Akai APC20 and Novation Launchpad are controlling the recording and playback of loops in Ableton Live. The DSI MoPho, Fender Rhodes, and Moog Prodigy are all running through a PreSonus 1818VSL connected to a Macbook Pro. All loops are recorded live.
Download or stream the audio at SoundCloud: http://snd.sc/LP21G9
The audio editor is a powerful sample editing tool. This video introduces some of the available operations and also demonstrates how to slice a loop.
Defame and Nathan Monk present [Circuit Bent Beats]. A collaborative experimental project based around Defame sampling and chopping/looping sounds recorded by Monk through various circuit bent objects; kids toys, turntables, etc. The 5 song EP will be available 3.27.12 via audiorecon.net and defame.bandcamp.com.
Loop Twister is an interactive sample player that allows the real-time mixing and processing loops on your iPhone and iPad.And here's there pitch: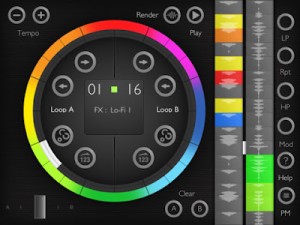 Loop Twister is the most advanced and intuitive beat-remixing app. It turns your iPad and iPhone into a creative and powerful machine designed for playing and realtime processing of musical loops. Easy to use, loaded with 64 fresh sounding loops and quality DSP effects gives you endless possibilities of new making sounds for using in your own beats or just for playing and having fun.
Enjoy a range of cutting-edge studio loops made by Marcin Cichy, co-founder of "Skalpel" music act that released several Eps and albums on famous Ninja Tune label. Marcin currently works as music producer and mastering engineer at PlugAudioMastering.
KEY FEATURES
☯ Simple, easy to use and intuitive interface. It looks exactly the same on both iPhone and iPad.
☯ 8 high-quality DSP effects including LP & stereo HP filters, pitch bender, foldback distortion and bass booster/ring modulator, LO-FI resampler and more.
☯ 2 banks of factory loops ( 32 loops each) -great source of samples for electro house, dubstep, grime and hip hop tracks including drums, percussions baselines and chiptune sounds.
☯ 16-step programmable sequencer for adding effects to loops with optional randomization.
☯ Pattern manager for saving and loading sequencer settings.
☯ Built-in wav rendered that allows to record your own loops and export them for using in other music apps on your iPhone, iPad or a computer. Loop Twister supports Audio Pasteboard and iTunes file sharing.
☯ Import of custom loops for playing, processing and mixing with factory sounds.
☯ Fast and accurate crossfader.
☯ Tempo range : 60 – 240 BPM.
☯ Built-In help and a comprehensive user manual (available online).
☯ Universal app.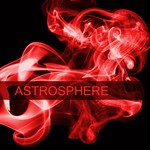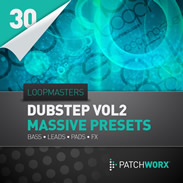 Loopmasters has released presents Dubstep Synths Vol.2 – Massive Presets by Re-Zone, a new title in the Patchworx series of soundsets.
Re-Zone tracks have been released on Toolroom Records, Black Hole Recordings, 1605, Baroque, Be Yourself Music, BugEyed, Unreleased Digital, Perfecto, Stereo Productions, Whoop, Kinky Vinyl and more.Re-Zone is continually supported by: Pete Tong, Carl Cox, Mark Knight, Roger Sanchez, Axwell, Tiesto, Sasha, Laurent Garnier, and Nick Warren.

The 64 Massive Dubstep Patches included in this pack are comprised of 28 Basses, 4 SFX, 21 Leads and 11 Pads. Included are Vocalised Leads, Hypnotic FX, Epic Pads, Evil Growls, and Sequenced Dubstep Basses.
The soundset is available to purchase for £14.95 GBP.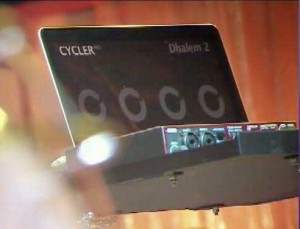 A pre-release version of Cycler Looper has been announced. Its makers tell us that the software has been created to support all aspects of sound performances (playback, looping, remixing) and gives musicians a simple yet extremely powerful set of looping tools. Here's their press release wih all the details:
Cycler Looper software gives musicians a simple yet extremely powerful set of looping tools. Created to support all aspects of sound performances (playback, looping, remixing), it can be learned in one hour, and does not require expertise in digital audio. Nicolas Lacoumette, a musician who designed award-winning audio software like the GURU rhythm system and the Krishna synthesizer, is behind this bold new product. Cycler Looper excels by providing musicians with an extraordinary sense of freedom, far surpassing other computer-based solutions. Users create their own personalized loop station (like a turbocharged RC-50), with clear, engaging on-screen visual feedback. Refined and field tested at numerous live shows, Cycler Looper speeds and facilitates the set-up and sound check. It eliminates trouble-prone connections between the sound board and the stage and automatically sets levels for all recorded loops. A built-in playlist system automatically manages loading, sequencing and fades while eliminating the risk of computer-related operational errors. It comes with a full range of standard looping functions. In addition, users can explore the musical potential of a particularly comprehensive suite of new functions: double, half, infinite undo/redo, resample, as well as full control over loop time. Cycler Looper's effects are specifically designed to solve problems that occur in live performance situations. Its practical library of stock effects, executable in real time with a single command, can be augmented with modular user-defined effects. A brilliant innovation, Cycler Looper's "temporal effects" modify a loop's timebase, yielding effects like slowdown, repeat, scratch, reverse and time stretch. In brief, Cycler Looper is an instinctive creative tool that enhances the pleasure of performing live, while freeing the user from technological constraints.
Summary of Cycler Looper's main features
Easy installation
Quick learning curve
Reliable and stable (Cycler Looper is a closed system, like Reason)
Synchronized multi-user support
Lightning fast project loading
Efficient user interface
Clear, elegant on-screen feedback
Very rapid set-up for live shows
Reduces overall equipment requirements (cables, preamps, mixers…)
Technical Features
8 loopers et 8 players per user
Auto Level correction on Record
Internal Playlist system with various crossfade modes
MIDI Board adaptive to any controller brand
Advanced looping functions
Peak detection on first loop (Perfect Match)
Free looping time, or adaptive to music (from 16th to 16 bars)
Easy and accurate Global latency detection
16 ins (stéréo/mono), 16 outs (stéréo/mono) manager
Odd signatures
Basic and graphical side chain compression effect system
Base Effects : Delay, Resonnant Filter (hpf/bpf/lpf), Overdrive, Flanger/Chorus,Phaser, Reverb, Volume/pan/mute, Ring/Amp Modulator, Bit/Samplerate reduction, compressor, Sample/Loop Player
Base Time Effects :Incarn, Reverse, Smooth, speed up, speed down, time stretch.
Modular and programmable effects
Send/Return
Minimum system requirement :
Mac or PC, Audio sound card. MIDI controller is welcome, but Cycler Looper also supports keyboard assignation.
Pricing and Availability:
Free download.
More information: