April 15, 2010 · Posted in
Uncategorized
·
Comments Off

on New stuff from Toontrack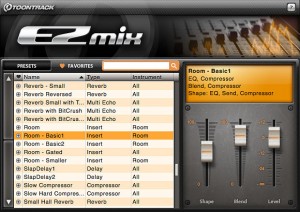 Toontrack Music has announced the release of EZmix, a mixing tool for Windows and Mac.
For all the track and songwriters with tight deadlines and a mobile work situation out there, Toontrack, in collaboration with DSP developers par excellence Overloud, has developed EZmix.

EZmix is a simple (EZ), yet powerful, mixing tool that gives you access to a huge array of mix presets for the whole gamut of mixing needs. Whether you need to mix drums, vocals, guitars, bass or keyboards this is your tool.

Simply connect EZmix to a channel strip in your sequencer like you would any plug-in, pick a preset for the instrument or sound on that strip. Done. For demo purposes or in full on production EZmix will cut your studio time, speed up and enhance your creative process from the initial hook to the final track.
EZmix is available to purchase for PC and Mac (VST/AU/RTAS), priced at 49 EUR / $69 USD.
More information: Toontrack / EZmix
February 1, 2010 · Posted in
Electronic Music
·
Comments Off

on Soundscaper II – free VST effect
Homegrown Sounds has released SoundScaper II, a free effect plug-in for Windows and Mac.
SoundScaper is versatile and great for comb effects, reverbs and endless delays. It is has been included in most of my synths over the last couple of years.

There are only a few presets at the moment, please feel free to send me some if you come up with any good ones.

There are lots of randomizers as usual to make using SoundScaper a fun and creative experience! It is not advisable to use the plug in any active projects yet as it may change before official release, but I'd love to hear some feedback especially from Mac users.
SoundScaper II beta is available as a freeware VST effect plug-in for PC and Mac (Intel).
January 18, 2010 · Posted in
Electronic Music
·
Comments Off

on Who needs a HW MIDI?
Simple but neat when you are on the road and works well with most software synths I have tried it on. Of course as with all virtual MIDIs you will miss out on the fact that it is not pressure sensitive, but often you can come quite far anyhow.
So, sometime it's nice to not have to plug in a keyboard to play around with a softsynth, especially when you're writing one. So here's a little app you can use instead. It shows a little keyboard on screen, and you can use the computer keyboard to play MIDI notes. 'z' through ',' is the octave starting a middle C (note 60). The keys on the row above are flats, and the octave below is on the row starting with 'q' (and the digit row is that octave's flats).
* MidiKeys is now a universal binary.
* Minimum system is now 10.5.
* Changed ownership to Immo Software.
* New configurable hot key to toggle global hot keys.
* Support for automatic software updates using the Sparkle framework.
* New option to show the key caps on the on-screen keyboard.
* The MIDI channel field has been changed to a pop-up menu.
* The disclosure button to show the destination and listen menus is now a normal button instead of being a repurposed toolbar toggle button.
* Pressed key highlights are drawn with a slight gradient.
* New Global Hot Keys menu item.
* New preferences to control the visibility of overlay notifications.
* It is now possible to have no modifier key for global hot keys, so you only have to press the key corresponding to the note.
* Key maps were extended to use more keys on the keyboard.
* Non-English localisations have been disabled for this release due to the number of UI changes.
* Added a preference to make the keyboard window transparent to mouse clicks when MidiKeys is in the background.
* Made the keyboard window minimizable.
* Reorganized the preferences window with several tabs.
* Added preferences to control software updates.
October 16, 2009 · Posted in
Electronic Music
·
Comments Off

on Ever heard of the MACPod?
MacPOD Publisher's Description:
MacPOD uses granular synthesis to generate a wide range of audio effects, including time compression and expansion, from any non-protected soundfiles. Transform speech or instrumental sounds into glorious, rich soundscape textures. A great tool for composers and sound designers!
MacPOD/WinPOD [2009] reprises the original MacPOD, first released in 1998 (and recipient of a Bourges Festival  award).
Features include:
* Ultra-long time-stretching and freezing
* 34 voice real-time granulation of sampled sound creates expansive textures from speech sounds, sound objects or other recordings
* Autostretch preserves speech transients
* Equalizer and resonator section
* Spectrogram and FFT display
MacPOD is named in honour of the original POD GSAMX system developed by Barry Truax at Simon Fraser University.
DiscoDSP has finally released a Mac version of its virtual synth Vertigo.
Vertigo is a 256 oscillators additive synth with resynthesis and sound morphing. It imports WAV audio and PNG images and offers a very accurate recreation of complex musical phrases, drumloops, speech and simple tones. The full version includes 128 presets.
Additive synthesizer, able to import WAV and PNG files into two morphable layers, each with up to 256 oscillators.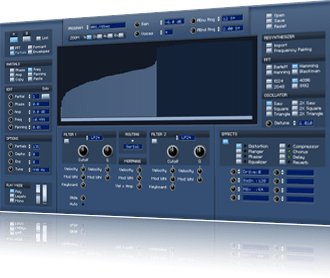 75 € / 99 $ (VAT Included)
Features :
Vertigo boasts the following powerful feature set:
General
● Up to 16 voices polyphony.
Envelope
● 256 breakpoints parabolic envelopes with stage slope control.
Partials (Oscillators)
● Euler generated (Max: -120dB s/noise ratio) (no wavetables used).
● Up to 256 per voice.
● 2 Modulation sources with morphing.
● Phase.
● Amplitude.
● Note pitch shift amount.
● Frequency ratio.
● Freq./amp envelope (see Envelope above).
Synthesis options
● Harmonize (Harmonic/Odd Harmonic vocoder).
● Phase smearing.
● Frequency smearing (ensemble).
● Classic waveform generator assistant (Saw/Square/Triangle/2X Saw/Square/Triangle).
Filter
● -24dB/Oct modes: Lowpass/Hipass/Bandpass/Notch
● -12dB/Oct modes: Lowpass/Hipass.
● Cutoff envelope.
● Wheel/Key/Velocity modulation amounts for cutoff.
● Wheel/Velocity modulation amounts for resonance.
Voices
● Two resonant filters (serial/parallel mode).
● Pitch envelope.
● Amplitude envelope.
● Pitch bend control
Mono Effects
● Distortion (8 times oversampled overdrive with soft clip).
● Phaser (up to 128 taps).
● Flanger.
● Compressor.
● Equalizer (8 bands).
Stereo Effects
● Chorus.
● Delay.
● Reverb.
Resynthesis and Sampling
● WAV PCM analysis and bitmap import.
● 1024, 2048, 4096, 8192 FFT frame sizes
● 4 Windows: Bartlett, Hamming, Hanning, and Blackman.
September 22, 2009 · Posted in
Electronic Music
·
Comments Off

on Free VST plug-in pack for download – Blue cat
All Blue Cat Audio freeware VST, Audio Unit and DirectX audio plug-ins gathered together in a bundle. It's here! Save download time and get them all in a single package!
The bundle contains a wide range of modulation effects, an EQ and analysis tools to get you started with your favorite Digital Audio Workstation, for free! This bundle is available for Mac and PC, in DirectX, Audio Unit and VST plugin formats. Enjoy!
September 14, 2009 · Posted in
Electronic Music
·
Comments Off

on V7 of Digital Performer from MOTU
Digital Performer lets you record, edit, arrange, mix, process and master audio and MIDI tracks side by side for songwriting, studio production, live performance, film and television sound tracks, audio post production, surround mixing and other professional audio production tasks.

Digital Performer 7 offers new features, enhanced operation and improved performance at all levels, from hundreds of small enhancements driven by user requests to major new features and plug-ins that add unprecedented value.
Changes in Digital Performer 7
Custom '59™ — A meticulously detailed guitar amp emulator modeled after all-time classics from Fender® and Marshall®.
Guitar pedals — A new suite of stunningly accurate classic guitar pedals modeled after all-time favorites from Boss®, Ibanez® & others.
Channel Strip — Gain instant access to all mixer channel settings for the track you are working on in any Editor window.
Live Room | G™ — A superb physical modeling speaker cabinet emulator with four mixable mics (close, near and far) and 3-band EQ per mic.
Inline EQ & dynamics — Control DP's multi-band graphic EQ and vintage dynamics processing directly in each Mixing Board channel.
Lead sheets — Create and print lead sheets, complete with lyrics and transposable chord symbols.
Freely resizable Counter — Resize the Counter window to any size you wish, even the entire width of your screen.
Marker Counter — Display markers in large type in the resizable Counter window. Use markers as a teleprompter for lyrics during live performance or recording sessions.
Consolidated V-Racks — Display V-Rack virtual instruments and effects side by side with disk tracks in the Mixing Board.
Lyrics — Type in lyrics directly below notes on the QuickScribe page. Or paste them into the Lyric window from your word processor and flow them into a track with one click.
Transposable chord symbols — Add complex chord symbols directly on the page and transpose them at any time, together with or independently from notes.
QuickScribe notation enhancements — Numerous enhancements give you even more control over the look of your score and help speed your notation workflow.
Support for Pro Tools 8 — Industry-leading support for operation as a complete software front-end for Pro Tools | HD systems.
Info Bar mixer controls — Get instant access to mixer channel settings in any editor window that follow the track you're working on.
Next-generation sample rate conversion — A new ultra-fast, CPU-efficient sample rate conversion algorithm delivers increased precision, efficiency, and transparency, with an astonishing 138 dB signal-to-noise ratio.
Real-time crossfades — All crossfades are now computed in real time for lightning fast edits.
Wave64 support — Support for the industry standard Wave64 extension to the Broadcast WAVE file format lets you record and import audio files larger than 4GB.
Range automation modes — Raise, lower or write automation moves within any selected range, preserving everything before and after.
Audio Units instrument side chains — Route side chain inputs to all your favorite third-party Audio Units plug-ins.
September 1, 2009 · Posted in
Electronic Music
·
Comments Off

on Download the TITAN Free synthesizer at Stereoklang
From Best Service
Get your free copy of the brand new TITAN Synthesizer now and discover how to make a big sound experience in our Sample Player ENGINE based on 12 great TITAN multi samples! Did you know that you can even import up to 24 of your own samples (per layer) into ENGINE? Make your experience with this unlimited version of ENGINE – more than a sample player – and the free TITAN demo content now!.
July 31, 2009 · Posted in
Electronic Music
·
Comments Off

on Synchronize multiple collections of Traktor PRO automatically
I really like how DJ Josef Prusa has been using SugarSync to synchronize Native Instruments' Traktor Pro DJ software, so that he and his brother have their full music collection at the ready at gigs. (Naturally, this same technique means that if one of their MacBooks should die, bro to the rescue!) Not only does music get synced, but playlists, collections, MIDI mappings, and settings do, too. Now, you could use something like the ubiquitous free command line utility rsync to do the same thing, but SugarSync has the advantage of giving you cloud storage, too, so you have an additional backup and always-on access to your files.
What is synced?
playlists
collection
midi mapping
settings
music
SugarSync
April 6, 2009 · Posted in
Electronic Music
·
Comments Off

on Good news for iPod and iPhone lovers
audioMIDI.com and VirSyn have announced iSyn, a virtual music studio for the iPhone/iPod Touch.
iSyn features
Touch keyboard for live playing.
Eight drum pads- tap for live beats.
Two synth and one drum grid sequencer track.
Two fully-programmable three-oscillator virtual analog synths.
32 song projects, each with 32 independent patterns.
Incredible modulation effects using tilt and X/Y touch screen.
Eight sample-playback drum machines- including 808, 909, synth drums and classic 80's drum machines.
Effects generator with delay, chorus, flanger and phaser.
KEYBOARD PAGE
Pressing the "Live" button with track 1 or 2 selected lets you play the iSyn keyboard in real time. Transpose the keyboard range up and down with the arrows above the keyboard. Dragging your finger after notes are played lets you add slides and vibrato; dragging up and down adds mod parameters for extra expression!
DRUM PAD PAGE
Press the "Live" button while the "D" (drum)
track is selected and bang on the eight drum pads all day!
SEQUENCER GRID
Tap and drag to insert notes on the grid. The piano keyboard can be swiped up and down to transpose the note range.
PATTERN PAGE
Press the "Pattern" button to select from 32 user-programmable patterns. Each project contains its own separate set of 32 patterns. Use the "AUTO" button to automatically play patterns one after the other and create entire songs!
SOUND SELECT PAGE
Choose from 32 user-editable preset sounds.
PROJECT PAGE
Here you can choose a complete song to work on.
A "project" consists of sound settings for synth tracks 1 and 2,
drum track settings, effects setting and 32 patterns.
SYNTH EDIT PAGE
iSyn features two powerful virtual analog synthesizers with the same sound quality and editability of computer-based virtual instruments! Simply tap each "building block" to access in-depth editing parameters.