So here are some quite unexpected news from Steinberg – Cubase goes mobile: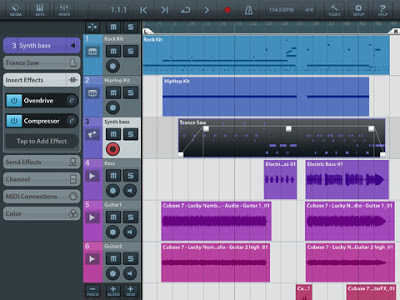 Portable Music Production System Cubasis is Steinberg's streamlined, multitouch sequencer for the iPad. Specially designed for quick and easy operation, Cubasis makes recording, editing and mixing a breeze. Record tracks in CD audio quality, and edit your music with the Key and Sample Editors, while the included mixer and audio effects polish your song to perfection. Cubasis comes loaded with dozens of virtual instrument sounds which can be played in real time using the virtual keyboard and drum pads. Cubasis' projects can be even opened in Cubase under Windows and OS X! Cubasis places touch-intuitive production tools in your hands, opening up a new world of possibilities for your creativity.
Key features
Unlimited audio and MIDI tracks (depends on the device used)
Over 70 virtual instrument sounds based on HALion Sonic
MixConsole with over 10 effect processors
Over 300 MIDI and audio loops
Virtual keyboard and virtual drum pads
Sample Editor and Key Editor
Export projects to Cubase, Dropbox, SoundCloud, AudioCopy and email
Core Audio and Core MIDI compatible hardware supported
Sequence other CoreMIDI apps (MIDI recording only) and run Cubasis simultaneously via background audio
Audio import from iTunes music library, AudioPaste, Wi-Fi server and iTunes file sharing
Audio mixdown and MIDI export
Polyphony:
48 voices: iPad 2, iPad mini
64 voices: iPad 3, iPad 4
Project export to Cubase requires Cubase 7/6.5, Cubase Artist 7/6.5, Cubase LE AI Elements 6 or higherCubasis project importer extension must be installed and is available at http://www.steinberg.net/cubasisimporter
Cubasis is priced at $49.99.
Akai has teamed up with Retronyms to bring the MPC to your iPad. With more than 1,200 samples, 50 editable programs, 80 editable sequences, and iconic MPC workflow, iMPC is the first app to bring all the functionality of a classic Akai Pro MPC to your iPad.
Developed in partnership with Retronyms, iMPC includes everything you need to create a beat quickly and easily, including built-in effects, plus the ability to create new sequences and record and overdub beats. Time correction from 1/8 note to 1/32T with variable swing, and Note Repeat from 1/8 note to 1/32T with latch control are also built in. The app's built-in sampler can record samples three different ways: using the mic on the iPad, using the line input on the iPad, or using the multi-touch turntable interface in iMPC to record samples directly from iTunes or other music libraries.
Download the iMPC App here: https://itunes.apple.com/us/app/impc/id584548447?ls=1&mt=8
To learn more and download iMPC visit: http://akaiprompc.com/impc
Steinberg has announced Nuendo 6, the latest version of its audio post-production software.
Highlights of Nuendo 6:
New mixing console for enhanced operational speed, including a new channel strip with 'high-quality' effects
Nuendo 6 ADR Taker solution for voice recording and language dubbing
Fully integrated loudness measurement, featuring EBU-compliant metering plus a large choice of RMS metering scales and a dedicated loudness lane
Anymix Pro from IOSONO for state-of-the-art surround productions and Voxengo CurveEQ with sound-matching technology
More professional workflow, with new tools such as MemZap quick-jump tool, Remote Control Editor and Steinberg ASIO Guard with intelligent dropout-prevention techniques
Professional sound library by the specialists of Pro Sound Effects with more than 1.5 GB of dedicated post-production sounds
In addition, Nuendo 6 represents the core of the Nuage system solution, a top-end post-production platform introduced by Yamaha and Steinberg.
Background video description:
The Nuage integrated audio production system offers top-class hardware and software working in perfect harmony, for unprecedented mixing, editing, or dialog replacement efficiency in audio post production applications.
Yamaha control and interface hardware seamlessly integrates with Steinberg Nuendo DAW software in a purpose-built system that offers all-new productivity and flexibility as well as premium audio quality.
More information: http://www.yamahaproaudio.com
An introduction to the user interface of Audulus for iPad.
Built in modules:
Virtual Analog Oscillator (4 classic waveforms)
ADSR Envelope
Noise Generator
Sample Player (coming soon to iPad)
Mathematical Modules: Add, Subtract, Multiply, Sine, Modulo
Random Number Generator
MIDI controlled Keyboard
MIDI assignable trigger
Delay
Distortion
Low Pass Filter
High Pass Filter
Pitch Shifter
Constant Value
Gain
Mapper Curve
Piecewise-linear Spline Curve
Sample and Hold
Crossfade
4-Channel Mixer
Level Meter
Value Meter
Scrolling Waveform Meter
Input/Output
Polyphonic to Monophonic signal mixer
Global Time
Sub-Patch (Coming soon to iPad)
Timer
Zero-crossing Counter
Audio Unit Plug-in (Mac Only)
More info here – http://www.image-line.com/documents/news.php?entry_id=1348098765&title=fl…
Features include:
Audio tracks – Import WAV/MP3/AAC/AudioPaste & iPod library.
Wave editor – Cut, trim, normalize, reverse, fade in/out
Multi-tracking – Up to 8 track simultaneous recording
FL Studio Mobile HD – Now a Universal App
iPad retina display – Supported
Dropbox – Export to Dropbox. Import from Dropbox App.
Library – Amped Guitar & Bass pack in the shop
ZIP – Export improved to include all custom instruments, audio recordings and the project
NOTE: To load an FL Mobile 2 projects in FL Studio for Windows you will need FL Studio 10.8 or higher. In addition to use the Amped expansion you will need to delete the existing FL Mobile Samples folder, from the Shared Data folder (C:\Program Files\Image-Line\Shared\Data\FL Mobile Samples) then re-download it from the content library.
Where's ANDROID will it EVER happen?! Yes. see here…
http://www.youtube.com/watch?v=6kPX5xTPRKU&feature=plcp
New information about Ableton live 9!
See Ableton Push in action. Push is a new instrument that solves an old problem: how to make a song from scratch. With hands-on control of melody and harmony, beats, sounds, and song structure, Push puts the fundamental elements of music making at your fingertips – and it fits in a backpack alongside your laptop.
According to Kevin McCoy this really prevents iOS from being a serious platform for software instruments, despite its merits of having a touch interface and amazing sounding apps.
"Please comment if you have a solution!", says Kevin
In this video series Freth Productions go into detail about the Tabletop interface and the specifics about how the devices work, up to and including making music.
This video was made using Reflection (iPad screen and audio to PC wirelessly), Camtasia (recorded with) and Power Director 10 (processed for YouTube from a raw AVI to MP4). NOTE: There are audio glitches during extended audio, caused by the Reflection software. It is not caused by Tabletop.
Stereoizer is a high-specification stereo image manipulation tool suitable for natural expansion, reduction and introduction of stereo width at any stage of the audio production process.
Developed for and tested by professional audio engineers, Stereoizer adds natural sounding width and depth to any audio recording, mono or stereo, leaving the inherent character of the original source intact. Quite simply Stereoizer will make your audio more coherent, highly polished and spatially balanced without adding artificial reverberation, chorusing or delay.
• natural stereo to stereo extension
• mono to stereo enrichment
• leaves original character intact
• subtle to extreme enhancement
• band limited precision
• dynamic visual feedback
The Sonci guys are at it again, this time taking a closer look at the Integra-7, details below:
Integra-7. Roland's latest professional sound module – with masses of sound and the Jupiter 80 sound engine and a lot more. Product specialist Gareth Bowen came down to show us what it can do