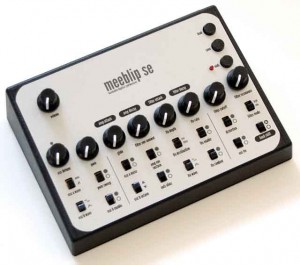 Create Digital Music are building and shipping MeeBlip SE. A spokesperson said, "Whatever the 'SE' stands for – seconda edizione, or a meaning of your own choosing – the MeeBlip SE is the original MeeBlip, but better. Building on the first version of our open source synthesizer, we've worked with feedback from users to make the MeeBlip more usable and more sonically versatile."
New in this version:
A more intuitive, playable control layout. The changes are subtle, but after lots of conversations with users, we worked to make each knob and switch the choice we liked best. (Of course, you can still modify those choices via our open source firmware, if you like.)
Patch storage. Sure, it was a bit more "pure" never being able to store patches, but this is a digital synth, after all. Now, you can save and recall up to 16 patches right on the MeeBlip, using dedicated front panel load and save buttons. It's especially nice for live performance.
Variable pulse width. Instead of a fixed square wave, you can now use the dedicated PWM knob to adjust the timbre of the first oscillator. There's also a "pwm sweep" switch for enabling an automated PWM envelope, of which we've grown rather fond. Hello, thick synth leads.
Anti-aliasing. You can now use more pristine anti-aliased waveforms, or turn this off for other timbral effects. It gives you another option for coloring the MeeBlip's sound.
Control everything with MIDI. It's simple: if there's a sound parameter in the MeeBlip, there's a switch or knob to play with it. And now, the reverse is true, too: if you see a switch or knob, you can control it via MIDI. At last, you can use a tracker or sequencer to program detailed MeeBlip sounds.
Pricing and Availability:
MeeBlip SE Quick Build Synthesizer: $139.95 until March 31st ($149.95 after that)
MeeBlip SE Build Everything Kit; $119.95 until March 31st ($129.95 after that)
MeeBlip micro Kit: $39.95
More information:
DODECAUDION
a project by panGenerator / HEDOCO product.
pangenerator.com
hedoco.com
Dodecaudion is a spatial audiovisual controller based on such technologies as infrared distance sensors, arduino, bluetooth, processing and osc.
Most of the sound in this video was recorded live and edited/postproduced later on.
(you'll find live and uncut performance played during hackdays here: blip.tv/hackdays/dodecaudion-koncert-5556815 – please mind that sound setup and recording weren't optimal though )
The project is in alpha phase right now but should be ready for production in following months and will be available via HEDOCO online shop.
Dodecaudion is totally opensourced:
MIT license – source code.
Creative Commons (CC BY-NC-SA) – form design, PCB layout & everything else.
You'll find source code, CAD documentation and PCB schematics on github ( please note however that they still need some cleanup, we'll post an update soon ).
github.com/panGenerator/dodecaudion
The heart of Dodecaudion is an Arduino and open source software. The Arduino collects data from all the Dodecaudion sensors and sends them to a computer.
Dodecaudion connects via Blutooth to computers. Messages are translated and retransmitted via OSC (software for Mac OSX and Windows available for download).
Included:
Arduino Uno,
Dodecaudion Shield rev. 2.0,
Alluminium and polymer composites housing,
Power source (230 V for EU continental outlets)
USB cable (not neccesary for normal operation but handy for tinkering with microprocessor code)
It's available now and priced at 5,000 PLN, which translates into around US $1,600.
Max Justicz has announced a new DIY MIDI controller 'brain', the CHOMP, that looks awesome.
Basically, the CHOMP (Configurable Hardware Open-source MIDI Platform) is a cheap board you plug switches and pots into to create custom MIDI controllers.
Features:
Completely open-source.
Affordable ($50).
Compatible with ANY MIDI configuration.
48 Inputs/Outputs!
Made and assembled in the USA.
Programmable
Tiny, only 100mm x 60mm x 25mm
Here's what Max Justicz has to say about the CHOMP:
It has come to my attention that the world needs an inexpensive (but extraordinarily solid) MIDI controller.  That's where the Chomp comes in.  With zero technical skills, you can hook up dozens of buttons, knobs, switches, and sensors to control endless parameters of digital software.
The Chomp is the first open-source MIDI controller that's been designed right.  Other MIDI controllers on the market are proprietary, difficult to use, non configurable, and most of all: expensive. The only other commercial option available ships exclusively from Europe and costs the US equivalent of $240.
But because it's Arduino powered and completely user programmable, the Chomp is more than an awesome MIDI controller.  With new code, Chomp can do just about anything: play Bach on a digital keyboard, or help you along in a live musical performance.
Latest update:
"The Rockit case is finally finished. I got the third and final prototype of the Rockit case in, put it together, and did the happy dance. I'm going to make some small adjustments for the production order, but nothing that will require another round of prototypes. I'm going to put up the case for pre-sale today. I need to hit a threshold of about 50 orders in order to buy it. The lead time from the laser cutter is three weeks, so these should ship in February. The cost will be $50."
"Rockit is a monophonic, digital and analog hybrid synthesizer. Rockit can make one sound at a time, but it has the capacity to make very simple sounds to very complex and dynamic sounds. Sound generation begins with digital synthesis, moves through analog amplification, analog filtering, and comes out a product of both the digital birth and the analog processing. The digital synthesis is comprised of two oscillators with independent waveform selection. These oscillators can be mixed or played independently and the second oscillator can be detuned from the first in note steps. The analog amplification stage has independent envelope controls for a complete ADSR envelope generator. Rockit's filter section is an entirely digitally controllable analog filter, meaning all filter parameters are explicitly accessible internally, via knobs and switches, and externally, via MIDI. In addition, Rockit has two Low-Frequency Oscillators for modulating various synthesizer parameters at controllable rates and amounts.
Rockit offers 18 knobs and 8 switches for controlling both the digital synthesis and shaping the analog processing. Rockit is enabled to store and recall 16 patches, storing all knob, switch, and LED settings. Rockit also has a Drone and Loop feature that allows for independent play. For inputs and outputs, Rockit has an audio output and an audio input which routes into the analog filter. Rockit has MIDI In and Out capabilities with all settings accessible via MIDI controller channel numbers. All knob movements are transmitted to the MIDI output on the appropriate MIDI channel number…"
More: http://hackmeopen.com/
"The original MLR was written in Max/Msp by Brian Crabtree, inventor of the Monome. I have rebuilt his program in another language, Reaktor for many reasons: to best understand how a program works, bottom up; because I would like to see the program have more functionality, and I am more fond/capable of/with Reaktor over Max/Msp; and because Reaktor adds certain features that Max/Msp does not allow for. For one, the ability to use any program created in Reaktor as a VST, automatically in your favorite DAW.
After I am complete advancing the program the way I would like to in Reaktor, I will code it in C as a standalone program."
opensource collaboration with no regard for national borders or trade agreements. this is grass roots interaction with the aid of the modern world.
mlrV is fundamentally based on brian crabtree's mlr
it has been REFACTORED by trent gill with assistance from %
see: vimeo.com/2434050
GET IT > docs.monome.org/doku.php?id=mlr:mlrv
monome.org for the latest updates
An over view of the new music production and live host software, Music OS. Powered by Open Labs
Music OS 3.0 or MOS (moss) is the world's first music creation and live performance software designed specifically to address the needs of both music creators and live performers. MOS was developed and optimized for touch screen use; however, a touch screen is not required when installed on PC desktops and laptop systems. With streamlined recording and performance features, MOS allows music innovators to create, record and perform their ideas quickly and seamlessly. MOS was engineered to work in conjunction with traditional D.A.W. programs; leveraging existing studio investments and adding strong value, features and capabilities in areas where most musicians need it – the creative & live performance process. One can think of MOS as a professional 'scratch pad' when creating and performing live music. MOS emphasizes ease-of-use, stability and power all in an affordable $299/USD package.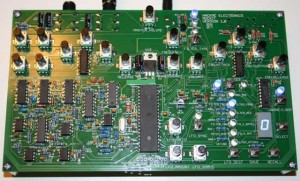 HackMe Electronics has announced that the Rockit synth – their DIY 8-bit synthesizer project – has shipped.
Rockit is an open source analog-digital hybrid synth, created by Matt Heins. Heins says that he's shipped about 175 Rockits in some for (assembled, kits or PCBs). The Rockit is now available assembled for $229, or as a kit for $139.
Features:
Two Mixable Oscillators with 16 Waveshapes/Sounds and Detune
Analog Voltage-Controlled Amplifier with ADSR controls
Digitally Controlled Analog Filter with Selectable Low/Band/High Pass and External Audio Input and Independent Envelope
Two LFOs with 16 Waveshapes and 6 Destinations Each
MIDI In and Out
Open Source C Code with an AVR Microcontroller
16 Slots for Patch Save and Recall
You can preview the sound of the Rockit synthesizer below:
Background information:
Striving for higher resolution electronic instruments to connect the player to the sound the old-fashioned way.
This is a technical demonstration, meaning, I finished the technical coding, hooked it up, patched the simplest thing I could on the modular and started noodling.
The way this works is that since EigenD (eigenharps platform) is now open source, we've (with the help of eigenlabs) been able to crack it open a bit for hacking. We now have an OSC agent which pumps an insane volume of raw data out of the harp ready for some experimental harvesting.
In this demo, I have a MAX patch which sanitizes the data, and makes it expressly fit for translation to control voltage of a modular.
Some data points here. EigenD sends 2000 events per control point per second. Per note there are 3 high res control points per note (pressure, yaw, pitch). So that is 6000 events per sec translated over the wire into voltage. 2 more control points require voltage which are pitch and cv. That means using an audio interface for cv, you need 5 audio outs per level of polyphony. 5 outs for monophonic, 10 outs for duophonic, and up.
Luckily, monophonic is pretty amazing, duophonic is an incredible luxury and 3 levels is showing off.
After I have prototyped this, I could see writing an EigenD agent expressly to do this directly, making the eigenharp modular friendly out of the box.
I however have to mention that this would not be possible without Expert Sleepers Silent Way plugins as the OSC to CV bridge. Nor would it be possible without MAX in this prototype stage.
PICratchBOX will be released later this year.
And more information is coming soon.
This is a preview of an upcoming polychord release. In this video, we're using polychord (BETA) as a MIDI keyboard for nLog Pro (BETA) — all on one iPad, all without any cables. App makers are starting to work together to make all of your iOS music apps play nicely with each other through virtual MIDI. This is still experimental, and it will be a little while until app makers optimize their apps for multitasking, and enable virtual MIDI. It's very exciting and clearly the future of iOS music making.
If you are a developer, get involved with the open music app group: groups.google.com/​group/​open-music-app-collaboration