Central to the groove is the Roland TR-808 drum machine – in fact, rumour has it that this was one of the first commercial hits to utilise the 808. Though the beat and groove sound simple, there's a lot of syncopation so it's essential to study the original beat. Try importing the track and slowing down the drum-only intro using Logic's varispeed feature.
"Hello, AfroDJMac here with a tutorial and free Ableton Live Device Rack for you! This week I give you an Roland 808 bass drum sample that can be tuned to play in key with your song or as a bass line. The Roland 808 has some great low end on it and it makes for a nice instrument to create earth shaking bass sounds. At higher octaves this synth makes for a nice electric keyboard like instrument #bonus! "
Download: http://bit.ly/freesynth36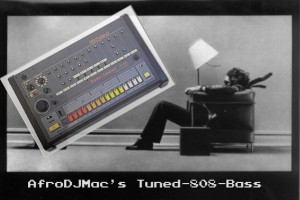 The iconic Roland 808 drum machine is a staple in modern music.  Each sound is loaded with character and can be found across many musical genres.  This week I spent some time with samples of the heavy hitting bass drum.  The result is a Free Ableton Live Device Rack that allows you to play the bass drum like an instrument.  I've tuned the bass drum and spread it out over the keyboard to create a bass instrument that allows your bass drum to play in key with your songs and even play melodies.  To help give it some punch, I have fortified it with an additional 808 bass drum sample and a sample made with Ableton's Operator.  These two layers add a more high end "click" sound to the bass drum notes, helping to round out the sound and add definition to the low end melodies.  In the accompanying video, I take you through how I created it, so you can mimic this idea with any sample you like, and then explain how the device rack is set up.  So get your subs out and get ready to shake the neighborhood as we dive in to some serious lo frequency madness!
Here's what Kebu has to say about the tune:
This is a remix I made for a competition. If you like it, please follow this link and vote for it by pressing "spin" (requires registration):
http://www.beatportal.com/remix/detail/ab-you-got-to-go-k…
I didn't plan to make any more videos before my upcoming album is ready, but I stumbled upon a competition to remix Above & Beyond's "You got to go". Since I've recently discovered Anjunabeats and their great trance compilation Worldwide 03, which I've been spinning almost every day now for two weeks, I just had to take the time to give it a shot!
I saved only the vocals (sung by Zoë Johnston) from the original track and remade all music using only analog synths. The analog synths and analog drum machines were controlled in realtime by a MIDI sequencer and mixed together with the vocal using an analog mixer and hardware effects.
Equipment used: Korg Mono/Poly, Polysix, Poly-61; Roland Juno-60, Alpha Juno, TR-808 (w. MIDI); Moog Source; Oberheim Matrix 6R; Vermona DRM1 Mk III; Electro Harmonix Small Stone; Boss BD-2 (H2O mod), DD-3; Lexicon MPX500; DBX 290; Emagic AMT8; M-Audio Midisport 8×8/s; Alesis iO26; Cubase SL 1.06; Allen & Heath GS1; Yamaha S30 (as MIDI keyboard); Doepfer MCV1; Kenton Pro 2.
Camera: Canon HF100
Hope you enjoy my t-shirt! 😉
"This new composition is about the unknown, and having no idea where things are going but knowing that you'll get there somehow and enjoying the journey along the way.
The piano lead (Yamaha Motif-6/A-90) played by Danielle is improvised over the accompaniment of the Jupiter-8 res/bass patch and the D-50 synth strings patch played by Crystal.
TR-808 drum machine is also used for an analog percussion track.
Please enjoy the randomness.
and thanks for joining us on the journey. :)"
All things analog and here among other things you will witness the Jupiter 8.
The Jupiter 8 was Roland's first truly professional analog synthesizer. The Jupiter 8 features 16 rich analog oscillators at 2 per voice, eight voice polyphony and easy programming! At eight voices you can get some pretty thick analog sounds. Easy and intuitive programming via front panel sliders, knobs and buttons for all your tweaking needs. The legacy of the Jupiter synthesizers is due to their unique voice architecture and design, creating sounds that were so unreal and amazing that they have to be heard! No other synths in the world can create analog sounds as cool and authentic as these.

The Jupiter 8 was the biggest and fattest of them all (Jupiters and Junos)! It was one of the first synths to allow its keyboard to be split and layered – it's eight voices of trance heaven! Cross-mod, oscillator sync, a great LFO and a classic arpeggiator are also on-board. There's also two killer resonant analog 24dB/oct filters with 2-pole and 4-pole settings as well as low- and high-pass filtering methods. Unfortunately for the earlier models, tuning was very unstable but that seemed to be resolved in later models. Unlike its smaller counterpart, the Jupiter 6, the Jup 8 does not feature MIDI, only Roland's DCB sync can be found on some models. However, MIDI retro-kit's are available from various companies. Patch presets can store keyboard splits, arpeggiator settings, voice assign mode, hold, portamento and modulation settings.
But you will also notice the fat sound of the TR808: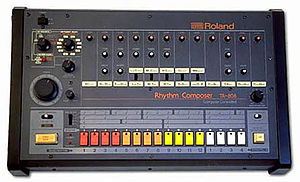 The Roland TR-808 Rhythm Composer was one of the first programmable drum machines ("TR" serving as an initialism for Transistor Rhythm). Introduced by the Roland Corporation in early 1980, it was originally manufactured for use as a tool for studio musicians to create demos. Like earlier Roland drum machines, it does not sound very much like a real drum kit. Indeed, because the TR-808 came out a few months after the Linn LM-1 (the first drum machine to use digital samples), professionals generally considered its sound inferior to sampling drum machines; a 1982 Keyboard Magazine review of the Linn Drum indirectly referred to the TR-808 as sounding like marching anteaters. However, the TR-808 cost US$1,000 upon its release, which was considerably more affordable than the US$5,000 LM-1.
Drum machines in general became an integral part of hip hop music as a cheap and simple way of producing a drum sound. The Roland TR-808 held specific appeal because of the ability of its bass drum sound to produce extremely low-frequency sounds.
In this video:
This video features a Jupiter-8 bass patch U: (21), slightly edited with Fc set to 6 with no resonance. this patch is in poly-1 mode, (half of JPs oscillators used). Also featured is the TR-808 with an original pattern programmed just before the recording. Both the Jupiter-8 and TR-808 are magic machines!
Demo of Sounds from the Arp Odyssey. 5 tracks mono, each recorded in one take.808 on drum track.Composition,performance and visuals by Raul Pena. Recorded April 13th,2011 at Switched On Electronics, Austin, TX.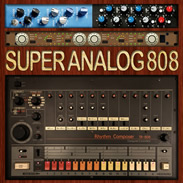 Loopmasters has released Super Analog 808, a sample library featuring high quality TR-808 samples by Goldbaby.
Punchy, warm, analog drums with Round Robin Layering. Using high-end outboard and a compulsive attention to detail… this 808 sample set is pure analog drum heaven.

Why have you created another TR-808 sample set?

For a start the 808 is one of my favorite drum machines! Secondly I thought I could offer something a little different. This sample pack has been recorded at a higher sampler rate and has extensive Round Robin treatment to recreate the feel and movement of an analog drum machine. The Tape808 used tape to give it extra Mojo… this time I have used some new high end outboard. Tasty…

Is there anything else that is different?

Yes there certainly is. This pack has tuned chromatic BD and Conga patches. So you can play them on your keyboard!
Super Analog 808 features
1168 x 24 bit / 96 kHz wav files.
Instrument patches for: Battery 3, EXS24, Kontakt 3.
Patches make use of extensive Round Robin mapping for a more analog feel.
Also includes tuned Chromatic BD and Conga patches (Kontakt, EXS24, Battery).
Note: the GURU pack includes the samples + Drum Mashine patches for Guru.
Super Analog 808 is available to purchase for £24.95 GBP.
More information: Loopmasters / Super Analog 808
Continuing on the vocoder theme hare a nice demo of the Roland SVC-350 together with a Roland Juno 60 and Roland TR-808.