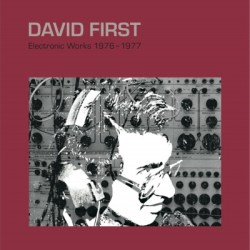 DAIS Records has an upcoming release that features vintage Buchla works by composer David First. Here's what they have to say about the album, David First: Electronic Works 1976 – 1977:
During his time at Princeton, First was introduced to the classical electronic music studio there, a lonely outpost of the famed Columbia-Princeton Electronic Music Center which housed one of the very first Buchla 100 series systems acquired by Vladimir Ussachevsky & Otto Luening.
Due to the introduction of digital technology within the music world, this system was left to languish in the studio unattended and nearly forgotten. First fell in love with this equipment and seized the opportunity to compose using the Buchla 100 synthesizer, at first experimenting only with electronic synthesis but later adding in his signature guitar stylings to make these compositions unique to the academic output typical of university music.
Thankfully, these compositions were recorded by First at Princeton on various reel to reel tapes and stored away for over 35 years. It wasn't until the summer of 2012, when David First and Ryan Martin (of Dais Records) decided to revisit and transfer these reels to compile an album presented here as a selection of genuine, uninhibited exploration into modular electronic synthesis.
The release is limited to an edition of 500 copies, with liner notes by David First. The release/shipping date is Jan 21, 2014.
Nord Modular + Boss DR660 _________ Tascam 22-2
Five demo clips of the Roland Juno-60 and Roland Juno-106, two classic DCO-based analog synths of the '80s. LinnDrum – drums; Eventide H3000-D/SE = dual long delay
Clip 1: Juno-60: Bass; Juno-106: Brass — 00:10
Clip 2: Juno-60: Harp; Juno-106: Strings — 01:57
Clip 3: Juno-60: Syn Strings; Juno-106: Synth — 04:21
Clip 4: Juno-60: Strings; Juno-106: Bass — 07:09
Clip 5: Juno-60: Organ; Juno-106: Bass — 09:54
The Roland Juno-60 is a popular analogue 61-key polyphonic synthesizer introduced by Roland Corporation in 1982 and a successor to the slightly earlier Juno-6. Like its predecessor, the Juno-60 has some digital enhancements, used only for clocking the oscillators and for saving and loading patches. This instrument was succeeded by the Roland Juno-106 in 1984.
Roland was losing market share with the Juno-6 in competition against the Korg Polysix. Related in features and price-class, the Polysix featured external control and patch memory, which the Juno-6 lacked. These features were quickly added to the Juno-6's design, which sonically and architecturally did not change notably between the two versions, and then released as the Juno-60.
The Juno-106 is a very common and widely used analog polysynth. It continues to be one of the most popular analog synths due to its great sound and easy programmability. It was the next major incarnation of the Juno-series, following the Juno-60. While it has virtually the same synth engine as the Juno-60, the 106 added extensive MIDI control making it one of Roland's first MIDI-equipped synthesizers. There was also increased patch memory storage, up to 128 patches instead of the 56 patches available in the Juno-60. However, the Juno-60 is often said to have a slight sonic edge over the more advanced 106. The 60 had the ability to modulate oscillator pulse from its envelope and has a "punchier" sound quality.
The Juno-106 is a six-voice polyphonic and programable analog synth with one digitally controlled oscillator (DCO) per voice. While classic monophonic synths used two or three oscillators to create a fatter sound, the Juno-106 uses built-in Chorus to fatten up its sound to dramatic effect. The nature of its DCO meant it was stable and always in perfect tune but still warm and analog. There is an excellent 24dB/oct analog lowpass filter with plenty of resonance and self-oscillating possibilities and a non-resonant highpass filter. The programable pitch/mod bender can be assigned to control the DCO pitch, VCF cutoff, and LFO amount all at once or individually.
The Juno-106 was the first MIDI equipped Juno and its implementation is quite good. There are 16 MIDI channels available and MIDI SysEx data can be transmitted/received from all the sliders and buttons for total remote control and sequencing capability. A switch on the back of the keyboard, next to the MIDI ports allows the user to switch between three types of MIDI modes: Keyboard and Hold data only; Keyboard, Hold, Bender, Patch selection data; or All data (including SysEx). Most users simply set it to MIDI Function mode 3 and forget it.
This synth is incredibly straightforward and very powerful. It's SH-series derived panel layout is easy to understand and very hands-on. Use it to generate lush pads, filter sweeps, and funky bass lines and leads. The Juno-106 is an awesome learning tool for anyone new to analog synthesis, as well as an electronic musician's dream for its warm analog sounds coupled with modern features like MIDI and memory – all at a very reasonable price. And still the Juno-106 has an even cheaper alter-ego in the form of the HS-60 – a hobbyist version with built-in speakers.
All synthesizer sounds: Oberheim OB-Xa Analog Synthesizer (1981)
drums: Roland TR-808
recording: multi-tracking
fx: reverb and delay
The Oberheim OB-Xa was Oberheim's overhaul of their first compact synthesizer, the OB-X. The OB-Xa was released in December 1980, a year after the OB-X was released. Instead of discrete circuits for oscillators and filters, the OB-Xa (and the Oberheim synths to follow) switched to Curtis integrated circuits. This made the inside of the synth less cluttered, reducing the labor required to replace bad parts, and reducing the cost of manufacture. However, today it's much easier to fix an OB-X than an OB-Xa, as Curtis parts are getting scarcer, whereas discrete parts used in the OB-X are almost always readily available.
Aside from hardware changes, the OB-Xa had better interface features than the OB-X. These included being able to split the keyboard into two halves with different voices and the ability to layer voices to create thicker sound (essentially making two notes sound for every key pressed). Polyphony stayed the same – again 4,6 and 8-voice models were offered.
One function that did disappear from the OB-X voice architecture was cross modulation, or frequency modulation of the first VCO with the second VCO. When done with analogue circuits, it's a unique sound made famous by the Sequential Circuits Prophet 5 and its poly-mod section. The lack of this feature somewhat reduced the range of sounds possible on the OB-Xa.
The Klark-Teknik DN27A 1/3rd octave graphic equaliser is the successor of the widely acclaimed DN27. It is a totally professional unit which combines the ease of use and reliability of its predecessor with many new features and improvements, to give uncompromising performance and maximum possible flexibility.
Considerable experience in the field of equalization coupled with a philosophy of continual research and development, has enabled the realisation of a product which meets the design criterion; simply the best.
Use of the highest quality materials and components is maintained throughout: Precision, ground air-gap ferrite cores and custom-wound coils are combined to produce the inductors required in each filter; the faders are oil-damped for smooth, positive operation.
The construction is completely dependable and robust, every unit being thoroughly tested both electronically and subjectively before leaving the factory.
More vintage flavors:
Waldorf Pulse 2 +++ Vintage Treats +++ Klark-Teknik DN27 +++ Urei Model 537
Taking a closer look at the vintage synth Roland D-70, video details below:
I played the Roland D-70 without any additional effects or eq. All you hear is coming straight out of the Roland D-70.
The fully digital Roland D-70 employs a LA (Linear Arithmetic) sound engine. It contains samples which can be filtered with lowpass/bandpass/highpass filters. The oscillators can be modulated via DLM (differential loop modulation). This can produce weird sounds, like heard in the video. A pity, that the JD-800 does not have this feature. It also has a multi effect processor built in (reverb, chorus, delay…). It has TONE PALLETE sliders, which help a lot to tweak the sounds.
In my opinion, the D-70 is more a "live performance synth" than a studio synthesizer. That's the reason why a rack version never appeared.
The D-70 is very complex. But not exactly the synthesis engine – rather the performance functions: splits, MIDI functions, controller maps, master keyboard functions and that sort of things…. but I must admit, sometimes it sounds beautiful.
It was used by Michael Cretu (Enigma, Sandra).
From the album: "Ghuna X Plays the Philicorda"
http://ghunax.bandcamp.com/album/ghun…
The Philicorda is a 1960s transistor based organ that has found favour with producers in recent times ; one was used on the album '19' by Adele by producer Jim Abiss. The instrument has a built in spring reverb, vibrato and 5 switchable stops. There is also an extra 'voxchord' setting, which splits the lower half of the keyboard into single-key chords, for left hand accompaniment. It has a thick, smooth sound that can give just the right atmosphere to certain productions.
The baby brother of the Jupiter-8. Still a pretty great machine, with an awesome arpeggiator and the cool Jupiter sound.
Italo-Disco style live improvisation with JP-6, TR-707, SH-101. Leveraging the power of the JP-6's sweet sounding multi-mode filter
Roland Jupiter-6 = BPF pad, portamento brass
Roland TR-707 = rhythm
Roland SH-101 = sequenced synth bass
The Roland Jupiter-6 (JP-6) is a synthesizer manufactured by the Roland Corporation introduced in January 1983 as a less expensive alternative to the Roland Jupiter-8. The Jupiter-6 is widely considered a workhorse among polyphonic analog synthesizers, capable of producing a wide variety of sounds, such as ambient drones, pads, lead synthesizer lines, and techy blips and buzzes. It is renowned for its reliability and easy, but sophisticated programmability.
The JP-6 has 12 analog oscillators (2 per voice), and is bitimbral, allowing its keyboard to be "split" into two sounds – one with 4 voices, and one with the remaining 2 voices (either "Split 4/2" or "Split 2/4" mode). "Whole Mode" is also available, dedicating all 6 voices to single (monotimbral) sound across the entire keyboard.
The JP-6 was among the first electronic instruments (alongside the Roland JX-3P and the Sequential Circuits Prophet-600) to feature MIDI, then a brand new technology. Sequential CEO Dave Smith demonstrated MIDI by connecting the Prophet to a Jupiter-6 during the January, 1983 Winter NAMM Show.
Europa, a popular firmware replacement available from 'Synthcom Systems' adds modern enhancements to the instrument's MIDI implementation, user interface and arpeggiator, turning the Jupiter 6 into a contemporaneously adaptable machine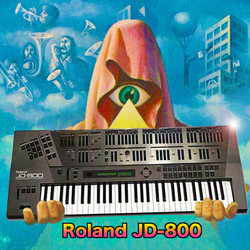 Legowelt has released a free sample pack featuring 350 samples from the 1992 JD-800 flagship synthesizer from Roland.
The JD-800 is Roland's answer to half a decade of hard-to-program synthesizers. Covered in sliders that act as dedicated editors just like a classic analog synth, the JD-800 is an extremely programmable and hands-on digital synthesizer. It is also an interesting and great sounding digital synth with incredible flexibility and control. Internal ROM based waveforms are combined to build your sounds. The sounds are based on Roland's D-50, but updated for the nineties with multimode filters – uncommon but welcome at the time.
Colossal Juicy Thick Basses, bizarre unearthly pads, uncanny strings, mystifying effects, entrancing chords and lots lots more all ready for u to use in your sampler, DAW, tracker, workstation, MPC, Octatrack or whatever u use Let the creative juices drip from your sampler Rub yourself in the sap of this giant beast and break through the event horizon of music production
The sample pack is a free (203MB) download at Legowelt.
Vintage synth tech tutorial
How to install the HxC floppy drive emulator on an E-MU Emax 1
The SD HxC Floppy Emulator can be buy on the Lotharek page. I use the Rev-F Black version. All works of your own risc!
all sounds in the tutorial: E-MU Emax SE sample library