Vintage synthesizer single sound demo by RetroSound
Oberheim Matrix-1000 Analog Synthesizer from the year 1987
The small Oberheim with the big sound! Very underrated analog synthesizer module from Oberheim with six voices, two DCOs per voice, 24 dB low pass filder and matrix modulation like the big brother Matrix-12 and Xpander.
the demo shows self-programmed and factory sounds.
more info: http://www.retrosound.de
About the synth:
The analog Matrix 1000 is essentially 1,000 Matrix 6 patches in a single-space compact rackmount MIDI module. It has the same synth architecture as the Matrix 6. Each of its 6 voices have two DCO's (digitally controlled analog oscillator), a low pass filter, 2 VCA's, 3 envelope gens, 2 LFO's, and 2 ramp gens. The sounds are plentiful and good enough, however sounds can only be edited via MIDI, so you'll need an external MIDI editor (such as MOTU's Unisyn) or Access' Matrix Programmer to edit parameters. You can also load sounds from the Matrix 6 via SysEx or software.
The Matrix 1000 provides an excellent source of pads, textures and ambient sounds. It has 195 "keyboard" sounds, 118 "strings", 130 "woodwinds & perc", 239 "synthesizer", 119 "bass", 74 "lead" and 125 "effects". For the price, there is no better way to find genuine analog Oberheim Matrix sounds in a compact and very in-expensive rack module that is loaded with more sounds than you'll ever need! The older versions of the Matrix 1000 have a black front-panel. The newer models in the '90′s have a cream colored face-plate.
Playing the Korg DS-8 without any additional effects or eq. All you hear is coming straight out of the Korg DS-8.
"The Korg DS-8 employs 4 operator FM synthesis from Yamaha – but on the DS-8 you have sliders to tweak a sounds a bit. A pity, that it's not possible to save the sounds you have edited with the sliders. You have to edit the sounds in the normal edit mode.
On the DS-8 you have to deal with terminology from analog synths, not with "operators". It also has an useful effect processor with great delay and modulation effects. The little brother of the DS-8, the Korg 707 does not have this effect processor, which is a big minus.
In the video I show you the kind of sounds, which are the best on the Korg DS-8 in my opinion – mostly beautiful, relaxing pads. A lot of other sounds are also possible, but many of them are quite ugly, so I let them out….

"
Synthesizer demo of the vintage synthesizer Korg DW-8000 from 1985.
The Korg DW-8000 is a expanded version of the DW-6000. It is 8 voice polyphonic, has digital waveforms and analog resonant filters. Velocity sensitive keyboard. It has a built in digital delay and a really good arpeggiator, which can be synced via MIDI.
Additional info: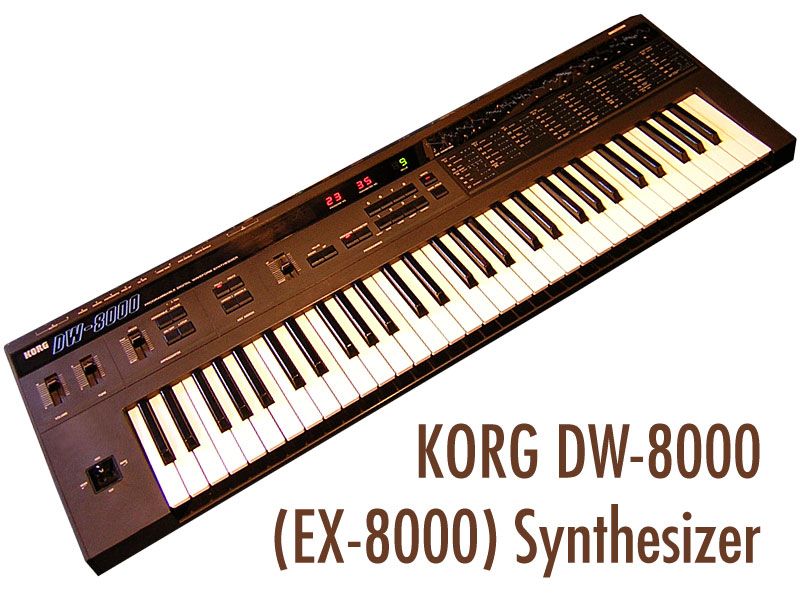 The Korg DW-8000 synthesizer was released to the buying public in late 1985 along with the cheaper model Korg DW-6000 synthesizer. The DW-8000 was an eight note polyphonic hybrid digital-analog synthesizer instrument. By the time of its launch Korg had already begun a common trend in 80s synthesizer design of using numerical parameter access as with the Korg Poly-800 eschewing the heavily laden control panels of earlier designs.
A more unusual feature of the instrument for the time was the use of sampled waveforms as the basic building block of sounds, and the inclusion of a digital delay effect. This latter feature was one significant factor in the relative success of the DW-8000 compared DW-6000 released the same year.
Given a well-programmed machine, what are the highlights that might be expected? Basses are probably one of the DW8000′s strongest suits. The low end is generally thick and powerful and sits under a mix with confidence. Chunky mid-range sequence sounds are also particularly appealing, especially given a tweak of the data slider to modulate the filter as it plays. Lead patches are capable of both aggression and subtlety, as required. There are certain characteristically 'nasal' lead sounds that I have never managed to recreate on any other synth — a kind of 'oboe on acid' for want of a better description. Autobend adds a certain slurring to note attacks that is inspiring to fool around with.

The DW8000 is very much a synth, not a sample playback device, so don't expect the acoustic piano waveform to render anything much like a Steinway! The waveforms are essentially raw material to be mangled by the synthesis engine. Pad sounds are thick and rich, but never seem to sit in a mix particularly well in my experience. String sounds are also warm and powerful, but just don't seem to cut it when other sounds are around. I mention these points not as damning aspects of the machine, but as a reminder that no synth will be all things to all players. Utilise a device to exploit its strengths, forgive it its weaknesses, and it will pay you back accordingly.
Vintage synthesizer demo by RetroSound.de
Roland SH-101 and TR-606
FX: EHX Small Stone phase shifter
no delay and reverb added!
I deleted the video last year with some others but my good friend from down-under Michael missed it.

he said: "Thank you Marko for introducing me to the world of analog synthesizers, this was the first tech demo I heard from you and to this day it still makes my ears bleed more than a virgin on prom night!"


here is it in higher audio resolution.
more info: http://www.retrosound.de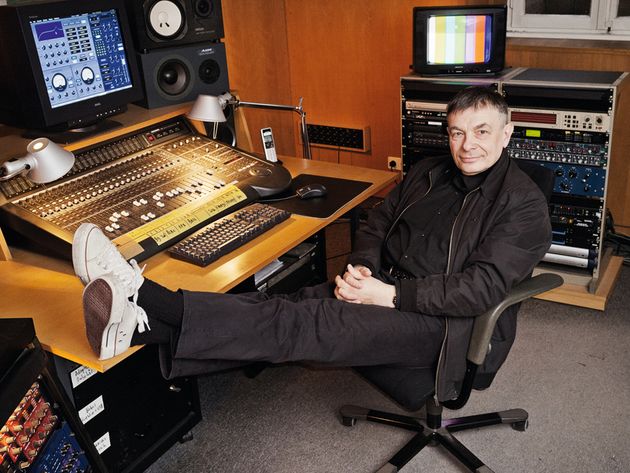 Here's a new interview with Karl Bartos where he discusses everything from vintage machines to his latest album:
Never meet your heroes, or so the old maxim goes, but FM is delighted to report that our recent encounter with bona fide Electronic music legend Karl Bartos put paid to the notion that meeting one's heroes is inevitably doomed to end in disappointment. In the flesh, Bartos is a charming, erudite man with a philosophical take on Electronic music that reflects itself in the pristine synthesized contours of the music contained on his latest LP, Off The Record.
From his time as a member of seminal German Electro Pop purveyors Kraftwerk, through his consequent Electrik Music project and collaborations with Bernard Sumner and Johnny Marr on their Electronic albums, Bartos has been a key figure in the synthesised music story. Off The Record, released in March, saw Bartos revisit his 'secret acoustic diary' of musical sketches and ideas built up during his Kraftwerk days and fashion them into an album that manages to simultaneously sound contemporary and timeless. With trademark vocoded vocals to the fore and his keen ear for a digital melody line still intact, we met with Bartos for a whistle-stop tour of the gear he employs to such stellar effect in his ergonomic Hamburg nerve centre.
How did you set about the Herculean task of trawling through your digital media archive to begin creating Off The Record?
"Well, I'm over it now but it was a hell of a job! There were tons of cassettes, 1/4″ tapes and various other stuff. I moved my archive when we went from Düsseldorf to Hamburg and there was boxes and boxes of it and various rooms full of it along with old synthesizers. I always avoided going through the archive to put things in order until Gunther from Bureau B [Bartos' German record label] said, 'Karl, do you have any old recordings?' I refused initially but finally gave in… I'd always wanted to do it, and knew I had to, but it took me several weeks and the sound quality was rotten with many tapes broken. Eventually, I managed to get most of it into the computer. I saw that everything was dated 1977, 1978, etc, and I thought, 'That's a diary. An acoustic diary.' So I made it a concept. You do that kind of thing but usually just inside your brain – you refer to the things you've done before. It's the way we organise our brains. I also had to write about the concept and where the songs came from."
Were you quite meticulous about correctly marking or naming ideas back in the days when you were building your archive?
"You do what you do. I'd come up with a name, 'Neon Piano' or whatever, and I'd sometimes write the date. Sometimes not. Most cassettes had a name or a date on them. I also found a lot of stuff on Zip and Jaz drives but even some of those were damaged or didn't work. Between all the different media I pretty much managed to retrieve everything eventually, though."
Were there a lot of nice surprises?
"It was all such a surprise and funny to hear a song I'd done without a trace of emotion sitting beside something like Computer World [Kraftwerk, 1981]. It made me feel a little sentimental at times. Once I had them in order, it was easy for me to collate and collage them."
Your first computer set-up was the IBM XT running Voyetra Plus sequencing software. That must have felt like going supersonic after using tape?
"It was a real revelation. We were recording Electric Café [Kraftwerk, 1986] at Kling Klang [the band's private studio originally located in Düsseldorf, Germany], then we took it over to Right Track Studio in New York where François Kevorkian and Fred Maher introduced me to the Voyetra Plus software he had running on a laptop.
The full interview from Music Radar can be found here >>
MODULAR SYNTH MC-4 LINN LM-2 ULTSOUND DS-4
The Roland MC-4 MicroComposer was an early microprocessor-based music sequencer released by the Roland Corporation. It could be programmed using the ten key numeric keyboard or a synthesizer keyboard using the keyboards control voltage and gate outputs. It was released in 1981 with a list price of US$3,295 (¥430,000 JPY) and was the successor to the MC-8, which in 1977 was the first microprocessor-based digital sequencer.
This sequencer was released before the advent of MIDI, and viewed by some composers to have more accurate timing. The MC-4 has an output patchbay to the right of the control panel, allowing you to patch the MC-4 to a synthesizer using 3.5mm patch cords. There are four channels of outputs containing CV-1, CV-2, Gate and MPX (multiplex) to control four separate synthesizers.To the left of the output patchbay there are two switches and a control knob. The control knob alters the tempo of the sequencer. The first switch is for cycle mode (which allows the programmed sequence to repeat continuously until the sequencer is stopped), the second switch is for sync control. The MC-4 can be synced to other Roland equipment such as a drum machine or another MC-4 MicroComposer (offering eight separate channels of sequencing).
Vintage sampler demo by RetroSound
The Emax from the year 1986 is the follower of the Emulator II. A 12 bit sampler with analog filters (SSM 2047). The sound is vintage, organic and really cool. The next generation the Emax II has unfortunately digital filters and the sound is very different to the Emax. Depeche Mode used the Emax in the studio and at the 101 tour.
more info: http://www.retrosound.de
Vintage synthesizer demo track by RetroSound
"Analog Days"
all synthesizer sounds: Roland Juno-106 Analog Synthesizer (1984)
drums: Roland TR-707
recording: multi-tracking without midi
fx: a bit reverb
more info: http://www.retrosound.de
Info about the synth:
The Juno-106 is a very common and widely used analog polysynth. It continues to be one of the most popular analog synths due to its great sound and easy programmability. It was the next major incarnation of the Juno-series, following the Juno-60. While it has virtually the same synth engine as the Juno-60, the 106 added extensive MIDI control making it one of Roland's first MIDI-equipped synthesizers. There was also increased patch memory storage, up to 128 patches instead of the 56 patches available in the Juno-60. However, the Juno-60 is often said to have a slight sonic edge over the more advanced 106. The 60 had the ability to modulate oscillator pulse from its envelope and has a "punchier" sound quality.
The Juno-106 is a six-voice polyphonic and programable analog synth with one digitally controlled oscillator (DCO) per voice. While classic monophonic synths used two or three oscillators to create a fatter sound, the Juno-106 uses built-in Chorus to fatten up its sound to dramatic effect. The nature of its DCO meant it was stable and always in perfect tune but still warm and analog. There is an excellent 24dB/oct analog lowpass filter with plenty of resonance and self-oscillating possibilities and a non-resonant highpass filter. The programable pitch/mod bender can be assigned to control the DCO pitch, VCF cutoff, and LFO amount all at once or individually.
The Juno-106 was the first MIDI equipped Juno and its implementation is quite good. There are 16 MIDI channels available and MIDI SysEx data can be transmitted/received from all the sliders and buttons for total remote control and sequencing capability. A switch on the back of the keyboard, next to the MIDI ports allows the user to switch between three types of MIDI modes: Keyboard and Hold data only; Keyboard, Hold, Bender, Patch selection data; or All data (including SysEx). Most users simply set it to MIDI Function mode 3 and forget it.
This synth is incredibly straightforward and very powerful. It's SH-series derived panel layout is easy to understand and very hands-on. Use it to generate lush pads, filter sweeps, and funky bass lines and leads. The Juno-106 is an awesome learning tool for anyone new to analog synthesis, as well as an electronic musician's dream for its warm analog sounds coupled with modern features like MIDI and memory – all at a very reasonable price. And still the Juno-106 has an even cheaper alter-ego in the form of the HS-60 – a hobbyist version with built-in speakers.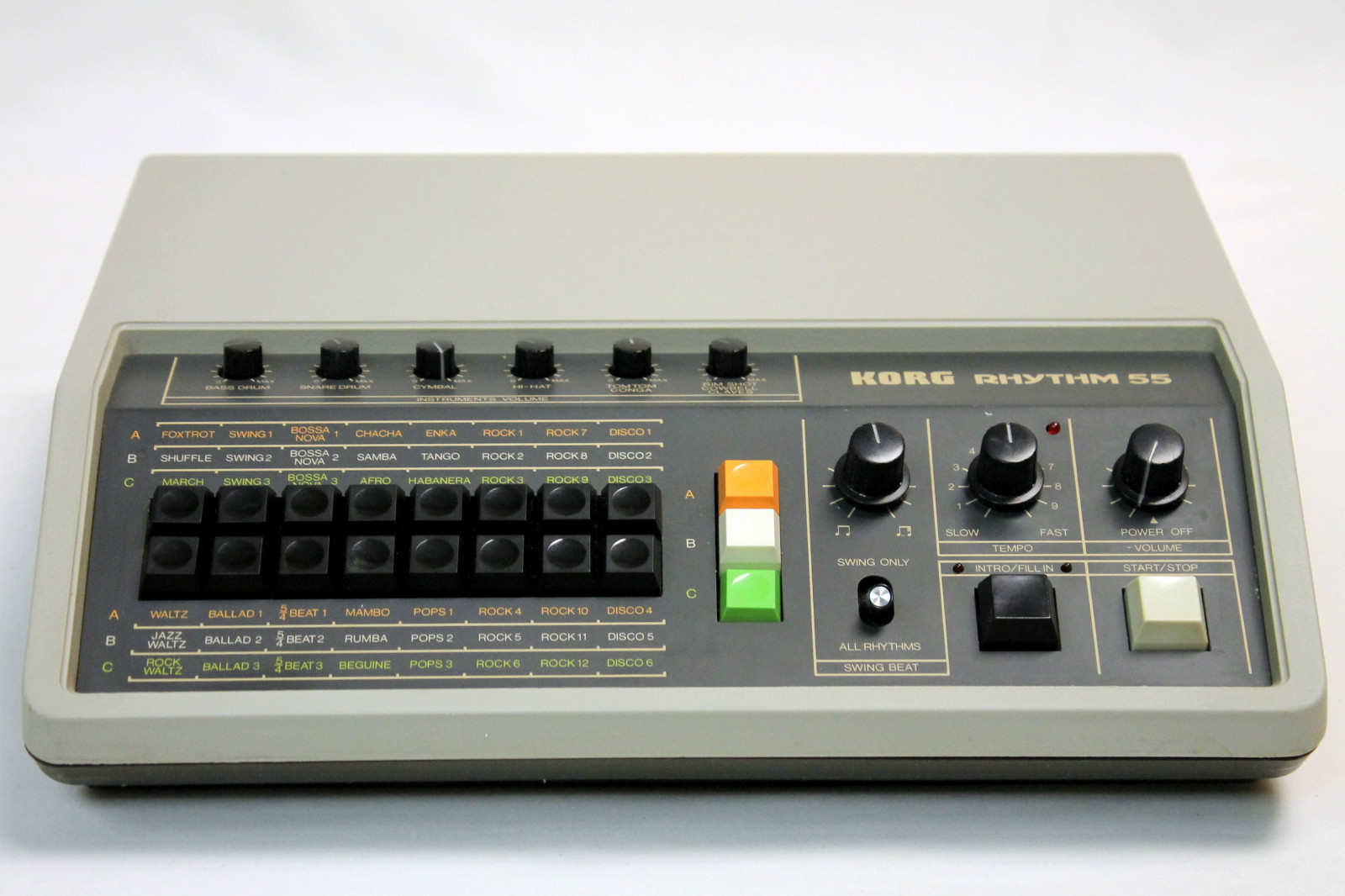 The KR55 was, for its time (1979), an advanced preset rhythm drum machine with up to 96 preset rhythm patterns! These patterns cover the whole gamut of presets (Waltz, Samba, Rhumba, Bossa Nova, Tango, Slow Rock, Swing, Rock, etc.). The KR55 also featured a "swing beat" control to add a variation to the groove. Each drum sound's level can be individually adjusted for each pattern. It can also be externally controlled via footswitch jack for the Start/Stop and Intro/Fill switches.
The Korg Rhythm 55 (KR-55) is a non programmable analog rhythm box from 1979. The KR-55 and its little brother KR-33 were the successors of the Korg Minipops series. Same knobs as on the MS/PS-series. The sound of the hi hats is more complex – similar to those on the Roland TR-808/606.
The KR-55 has some special features: a TRIG OUT jack including several triggering modes, SHUFFLE function and volume faders for the most drum sounds.
The rhythms are not mixable like on earlier Korg rhythm boxes (Minipops series). TEMPO and VOLUME controls. It was used by Jean-Michel Jarre (Magnetic Fields) and Depeche Mode (Speak and Spell) among others. It has a very characteristic sound – it sounds fantastic!
In the MooG for Love
Animation film tribute to Legend of Electronic music KLAUS SCHULZE.
Directed by James L. Frachon
These "cut-outs" are faithful counterparts paperboard kits * of some mythical synthezisers which make me dream since ages (I'm almost vintage too !).
I'm still dreaming…