A quick demo of one of 'SynthMania's' "vintage sampler" setups in his studio.
"The E-mu Emulator II is a classic '80s machine, and one of my favorite samplers. With a Macintosh SE and a Macintosh Classic running Sound Designer. Rhythms by LinnDrum. The effects are Lexicon model 200 reverb and AMS DMX15-80S delay. Tracked on a 1984 Soundcraft Series 1600 24ch. mixing console."
Vintage synthesizer demo track featuring the classic Yamaha DX7
all synthesizer sounds: YAMAHA DX7 II FD FM-Synthesizer (1987)
recording: multi-tracking without midi
fx: reverb and delay
The demo shows typical and not so typical FM sounds. a bit PPG and Fairlight like.
"I like this synth a lot! Yamaha should built a DX7 III with realtime controller like the old PSS FM keyboards, with internal arpeggiator, step sequencer and a fx unit with reverb and delay and chorus. this would be fantastic."
Original music featuring ARP2600, Moog Voyager, Mellotron, D6 Clavinet, Nord Electro 3 and Fender Rhodes
The Jupiter-6 is an incredible analog synth. All of the Jupiters have a sound that was unlike any other synthesizer and the Jup 6 is no exception. This sound is due in part to classic analog Roland technology in its filters, modulation capabilities and a thick cluster of 12 analog oscillators at 2 per voice. Easy and intuitive programming via front panel sliders, knobs and buttons for all your tweaking needs.
The Jup 6 is a scaled down version of the Jup 8 in terms of programming and polyphony. However the Jup 6 has some major improvements of its own such as newly added MIDI control and better tuning stability! While the Jup 6 does have MIDI, the implementation is very rudimentary and hard to control. The Jup 6 was one of the very first (along with the Sequential Prophet 600) synths to use the then new MIDI protocol, and the implementation on the Jup 6 is far from complete.
Synthcom Systems, Inc. offers the Europa firmware upgrade for the Jupiter-6 which gives it an up-to-date and comprehensive MIDI implementation. All parameters are controllable via Continuous Controller or SysEx. Europa also features an extensive arpeggiator which will sync to MIDI clock with programmable clock divisors and rhythms, and has about 50 more playback variations than the JP-6's original Up, Down, Up/Down, and Down/Up. A Europacized Jupiter-6 is a thoroughly modern synth with a classic sound.
The Jupiter-6 is an excellent for ambient drones, pads, blips, buzzes and leads.
Video details:
What kind of music gear do you have?
" musictrack gear " is now ready to open !!
http://gear.musictrack.jp/news
DEMO by Katsunori UJIIE.
Vintage synthesizer demo track by RetroSound
"Electroplankton"
all synthesizer sounds: PPG wave 2.2 Synthesizer (1982)
I use the internal arpeggiator for the main sequence.
recording: multi-tracking without midi
fx: reverb and delay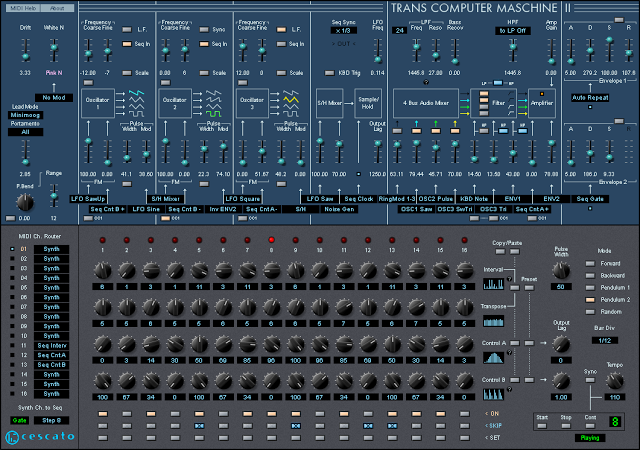 Trans Computer Maschine is a semi-modular Vintage Lead Synthesizer + Pattern Sequencer. Modeled after two legendary mono synths and a custom analog sequencer from Germany.
3 Multi-Oscillators with Sawtooth, Triangle, Sawtooth-Triangle and variable Pulse shapes.
Color adjustable Noise Generator.
3 mode Ring Modulator.
Advanced Sample/Hold.
Selectable 2/4-pole resonant LP Filter with auto-oscillation.
HP Filter with bus selection.
2 exponential Envelope Generators offering 3 operation modes.
Unique Sequencer features like 'skip' and 'set' can be played live from MIDI keyboard.
Inter-patch Sequencer pattern 'Copy/Paste' feature.
Fully MIDI controllable.
Fully VST automatable.
– Added 'Drift' control for subtle analogue detuning adjustment.
– Added 'Noise Colour' modulation from multiple sources.
– Added routing to use 'S/H Mixer' as OSC3 'Minimoog modulator'.
– Extended Envelopes 'Attack' range to 200µs.
– Fixed/added Oscillators self-modulation via 'S/H Mixer'.
– Improved Amplifier featuring light distortion with clipping indicator.
– Remodelled Low Pass Filter feat. 3 modes with resonance 'Bass Recover'.
– Remodelled Oscillators feat. accurate upper harmonics and isolated phase.
– Remodelled Ring Modulator featuring true Odyssey behaviour.
http://cescato.net/T-C-M-II.htm
Playing the Multimoog with reverb effects from a Lexicon MPX-500 and delay effects from a Roland DEP-5.
The Multimoog is a highly versatile analog monophonic synthesizer. It is basically an extended version of the Micromoog, which came out 3 years before. It features a ribbon controller and a touch sensitive keyboard. It has many interesting modulation routings and has a powerful, analog sound.
The Multimoog has 2 VCOs and a suboscillator. The filter can be modulated by the oscillator B in different ways. It has oscillator sync, noise generator, sample & hold, mixable oscillator waveforms, pulse width modulation, the 24 dB Moog filter and two envelopes. It has all interfacing you would expect from a good monophonic synth: CV / Gate IN and OUT, EXTERNAL SIGNAL IN, VCF IN. You can even play a Moog modular system from the Micromoog keyboard.
Vintage gear demo of "70s Stringensemble Trilogy"
0.08 – 1.23 Roland VP-330 Vocoder Plus (1979)
1.24 – 2.32 Crumar Performer (1979)
2.33 – 3.53 Logan String Melody II (1979)
Used the special functions (human voices, brass filter, lfo, tone colour, chorus…) on the stringmachines.
bass: Moog Taurus 1 basspedal (1976)
drums: Keio Minipops Junior (1972)
recording: multitrack without midi
fx: a bit reverb and delay
Vintage synthesizer demo track by RetroSound
"Back In 1972″
all synthesizer sounds: ARP Odyssey Mk3 analog synthesizer
recording: multi-tracking without midi
fx: a bit reverb and delay
He used the internal LFO with the sample/hold modul for triggering the sequence. for the sounds: FM, Osc-Sync and Ringmodulator.
Demo from the Korg Delta Vintage analog synthesizer/string machine.
Korg's Delta is an analog semi-poly synth/string machine, basically a slimmed down version of the Korg Trident. Though limited in the range of sounds compared with other synths of the same genre, the sheer quality of the sound from this little beastie really does make it something of a marvel. It can be found used for cheap and is worth it for the retro synth strings and fat bass synth tones.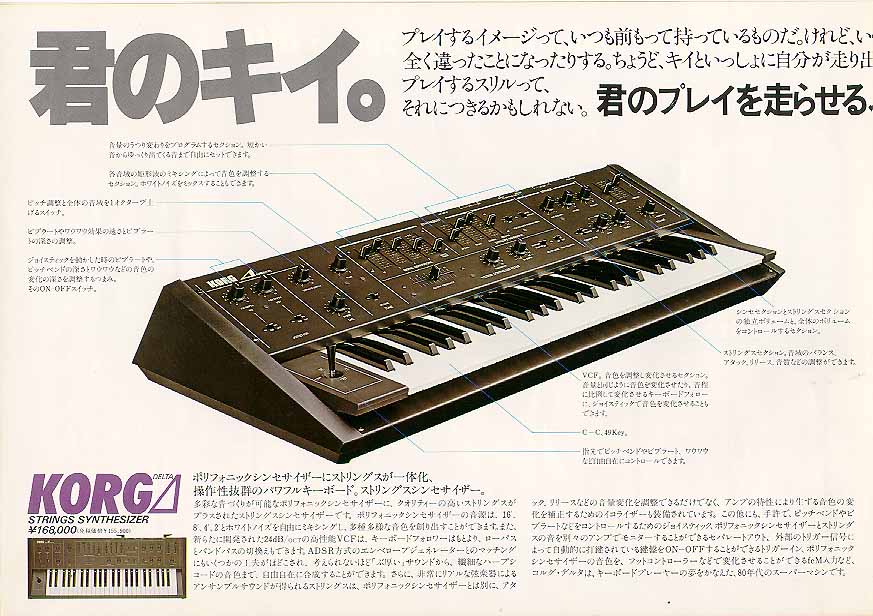 The synth is split into two sections, Strings and Synth, for which there are separate audio outputs along with a combined output for headphones or mixing. Each section has its own controls. The String section has two pitch sliders (16′ and 8′) along with two tone controls (Bass and Treble) and variable Attack and Release controls to modify the sound. The Synth section has four pitch sliders (16′, 8′, 4′ and 2′). There is also a white noise generator along with a very effective 24dB/oct low pass filter (high pass and band pass options are included too) and full ADSR controls. The synth has no memory storage or MIDI, however it does has voltage control and gate ins and outs.
The string sounds are very basic but with its separate outputs and when mixed together with the polysynth you do get that classic 'layered' sound which is useful enough on this synth; and it's fully polyphonic, so you wont be running out of notes! There is a handy joystick to the left of the 49-note keyboard for pitch bending and modulation capabilities. The construction is solid and heavy partly due to the implementation of a wooden base but also because it was designed for heavy usage on the road. Added bonuses: noise modulation, stereo out (strings/synth split), and the ability to combine synth and strings or turn off oscillators in the mixer section.