The Klark-Teknik DN27A 1/3rd octave graphic equaliser is the successor of the widely acclaimed DN27. It is a totally professional unit which combines the ease of use and reliability of its predecessor with many new features and improvements, to give uncompromising performance and maximum possible flexibility.
Considerable experience in the field of equalization coupled with a philosophy of continual research and development, has enabled the realisation of a product which meets the design criterion; simply the best.
Use of the highest quality materials and components is maintained throughout: Precision, ground air-gap ferrite cores and custom-wound coils are combined to produce the inductors required in each filter; the faders are oil-damped for smooth, positive operation.
The construction is completely dependable and robust, every unit being thoroughly tested both electronically and subjectively before leaving the factory.
More vintage flavors:
Waldorf Pulse 2 +++ Vintage Treats +++ Klark-Teknik DN27 +++ Urei Model 537
Taking a closer look at the vintage synth Roland D-70, video details below:
I played the Roland D-70 without any additional effects or eq. All you hear is coming straight out of the Roland D-70.
The fully digital Roland D-70 employs a LA (Linear Arithmetic) sound engine. It contains samples which can be filtered with lowpass/bandpass/highpass filters. The oscillators can be modulated via DLM (differential loop modulation). This can produce weird sounds, like heard in the video. A pity, that the JD-800 does not have this feature. It also has a multi effect processor built in (reverb, chorus, delay…). It has TONE PALLETE sliders, which help a lot to tweak the sounds.
In my opinion, the D-70 is more a "live performance synth" than a studio synthesizer. That's the reason why a rack version never appeared.
The D-70 is very complex. But not exactly the synthesis engine – rather the performance functions: splits, MIDI functions, controller maps, master keyboard functions and that sort of things…. but I must admit, sometimes it sounds beautiful.
It was used by Michael Cretu (Enigma, Sandra).
From the album: "Ghuna X Plays the Philicorda"
http://ghunax.bandcamp.com/album/ghun…
The Philicorda is a 1960s transistor based organ that has found favour with producers in recent times ; one was used on the album '19' by Adele by producer Jim Abiss. The instrument has a built in spring reverb, vibrato and 5 switchable stops. There is also an extra 'voxchord' setting, which splits the lower half of the keyboard into single-key chords, for left hand accompaniment. It has a thick, smooth sound that can give just the right atmosphere to certain productions.
The baby brother of the Jupiter-8. Still a pretty great machine, with an awesome arpeggiator and the cool Jupiter sound.
Italo-Disco style live improvisation with JP-6, TR-707, SH-101. Leveraging the power of the JP-6's sweet sounding multi-mode filter
Roland Jupiter-6 = BPF pad, portamento brass
Roland TR-707 = rhythm
Roland SH-101 = sequenced synth bass
The Roland Jupiter-6 (JP-6) is a synthesizer manufactured by the Roland Corporation introduced in January 1983 as a less expensive alternative to the Roland Jupiter-8. The Jupiter-6 is widely considered a workhorse among polyphonic analog synthesizers, capable of producing a wide variety of sounds, such as ambient drones, pads, lead synthesizer lines, and techy blips and buzzes. It is renowned for its reliability and easy, but sophisticated programmability.
The JP-6 has 12 analog oscillators (2 per voice), and is bitimbral, allowing its keyboard to be "split" into two sounds – one with 4 voices, and one with the remaining 2 voices (either "Split 4/2″ or "Split 2/4″ mode). "Whole Mode" is also available, dedicating all 6 voices to single (monotimbral) sound across the entire keyboard.
The JP-6 was among the first electronic instruments (alongside the Roland JX-3P and the Sequential Circuits Prophet-600) to feature MIDI, then a brand new technology. Sequential CEO Dave Smith demonstrated MIDI by connecting the Prophet to a Jupiter-6 during the January, 1983 Winter NAMM Show.
Europa, a popular firmware replacement available from 'Synthcom Systems' adds modern enhancements to the instrument's MIDI implementation, user interface and arpeggiator, turning the Jupiter 6 into a contemporaneously adaptable machine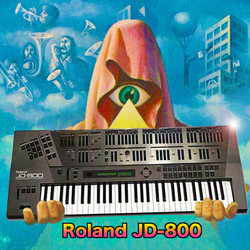 Legowelt has released a free sample pack featuring 350 samples from the 1992 JD-800 flagship synthesizer from Roland.
The JD-800 is Roland's answer to half a decade of hard-to-program synthesizers. Covered in sliders that act as dedicated editors just like a classic analog synth, the JD-800 is an extremely programmable and hands-on digital synthesizer. It is also an interesting and great sounding digital synth with incredible flexibility and control. Internal ROM based waveforms are combined to build your sounds. The sounds are based on Roland's D-50, but updated for the nineties with multimode filters – uncommon but welcome at the time.
Colossal Juicy Thick Basses, bizarre unearthly pads, uncanny strings, mystifying effects, entrancing chords and lots lots more all ready for u to use in your sampler, DAW, tracker, workstation, MPC, Octatrack or whatever u use Let the creative juices drip from your sampler Rub yourself in the sap of this giant beast and break through the event horizon of music production
The sample pack is a free (203MB) download at Legowelt.
Vintage synth tech tutorial
How to install the HxC floppy drive emulator on an E-MU Emax 1
The SD HxC Floppy Emulator can be buy on the Lotharek page. I use the Rev-F Black version. All works of your own risc!
all sounds in the tutorial: E-MU Emax SE sample library
Some old-school Electronica with classic machines. Played and edited live (with errors!)
The beauty of analog synthesizers.
A quick demo of one of 'SynthMania's' "vintage sampler" setups in his studio.
"The E-mu Emulator II is a classic '80s machine, and one of my favorite samplers. With a Macintosh SE and a Macintosh Classic running Sound Designer. Rhythms by LinnDrum. The effects are Lexicon model 200 reverb and AMS DMX15-80S delay. Tracked on a 1984 Soundcraft Series 1600 24ch. mixing console."
Vintage synthesizer demo track featuring the classic Yamaha DX7
all synthesizer sounds: YAMAHA DX7 II FD FM-Synthesizer (1987)
recording: multi-tracking without midi
fx: reverb and delay
The demo shows typical and not so typical FM sounds. a bit PPG and Fairlight like.
"I like this synth a lot! Yamaha should built a DX7 III with realtime controller like the old PSS FM keyboards, with internal arpeggiator, step sequencer and a fx unit with reverb and delay and chorus. this would be fantastic."