Background info:
My main camera is out of order so the droid will have to do for now. This is a selections of hand-held videos I created while experimenting with Ableton Live Suite effects and The Moog Guitar. Learn more at www.experimentalsynth.com
http://www.ikmultimedia.com/slash for more information
Watch Slash use the official Slash app, AmpliTube Slash and walk you through the features while talking about how he used iRig while writing songs for his latest album "Apocalyptic Love"
Take it from Slash himself who said: "AmpliTube iRig comes in really handy for on-the-go practicing, recording, or just jamming on different ideas — even if it's on the bus — it's right with me all the time", Slash adds, "I'll do some tweaks on the Marshall's, but there are also different effects that are available including distortion, chorus, auto wah and more." IK Multimedia is proud to announce AmpliTube® Slash, the official Slash apps and software that let you play, practice and record with Slash's signature pedals and amplifiers on the iPhone®, iPod touch®, iPad® and Mac®/PC. All versions of AmpliTube Slash feature models of the signature gear used by Slash in the studio and for his live performances. Now users can rock with models of the legendary Marshall® amplifiers used by Slash together with his signature guitar pedals. Also included is a comprehensive collection of Slash's guitar tone settings provided as starting points for tone tweaking or playing along.
Available for iPad: http://www.ikmultimedia.com.com/products/slashipad
Also available for iPhone / iPod touch: http://www.ikmultimedia.com/products/slashiphone
Also available for Mac/PC: http://www.ikmultimedia.com/products/slashcs/
Additionally AmpliTube Slash provides a fully integrated multi-track recording studio for capturing ideas quickly and easily or producing entire songs and compositions (via in-app purchase on iOS versions). A robust song player section gives users the ability to play along with songs or backing tracks by importing them directly from their device library or computer.
AmpliTube 2.5 is a major upgrade for AmpliTube, the leading guitar amp and FX app for iPhone, iPod touch, and iPad. Together with many new features, it now also includes a NEW Recorder/Mixer.
* We have separated the recorder and mixer section for improved ease of use
* In the recorder module, you can now loop your songs (or sections of a song) with ease. Just set your IN and OUT points, then enable the loop feature by clicking the loop button.
* Now you can set the tempo of your song right from the recorder section by tapping the BPM button or entering a value.
* You can also enable the metronome, and — if you like — set it to Visual mode
* In the new Mixer section, all of your critical mixing controls are on one screen: the FX assignment, the REVERB send, PAN, VOLUME, MUTE-SOLO… and the track ARM and SELECT buttons.
* AmpliTube 2.5 also has a new audio "copy & paste" feature. Now you can copy and paste audio materials between AmpliTube and other apps like GarageBand, or simply Copy and Paste tracks from one to another within AmpliTube.
* Just select the track you want to copy, …tap COPY, select the destination track and tap PASTE.
* If you want to copy/paste your entire bounced song, go to the projects list, ..select the song, …and tap COPY. Now your song is on your clipboard and ready to be pasted into a single track in AmpliTube, or into other apps like GarageBand!
Commodore 64 expert Jeri Ellsworth wowed visitors to the Bay Area Maker Faire with her Commodore 64 Bass Guitar. Details are limited on the C64 Bass Guitar, but Ellsworth noted via Twitter that it uses the SID chip and is based on an FPGA – a re-implementation of the Commodore-64 computer using reconfigurable logic chips.
"Jeri Ellsworth (born 1974) is an American entrepreneur and self-taught computer chip designer. She is best known for creating a Commodore 64 emulator within a joystick, in 2004, called Commodore 30-in-1 Direct to TV. That "computer in a joystick" could run 30 video games from the early 1980s, and was very popular during the 2004 Christmas season, at peak selling over 70,000 units in a single day via the QVC shopping channel.Ellsworth currently lives in Oregon."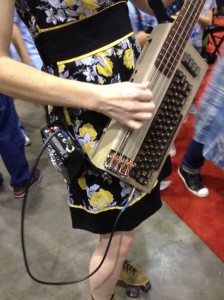 More info on the video below:
A brief collection of 3 improvised soundscapes and patches on CSGrain for iPad with my guitar and an Ebow. Don't expect superb playing skills as the guitar is not my main instrument. Also sorry for the ground noise and artifacts, this was recorded on the fly. The audio chain is: guitar to Lexicon Omega to iPad, then processed by csGrain and the audio output goes back to the Omega and this to Sonar on the PC thru the EMU 1820m.
I've included the camcorder mic sound on the last patch (from minute 5:03 to 6:30 ) because I loved the sound generated by the collision of strings with the ebow while vibrating and found it fitting pretty well with the soundscape. I hope you like it.
Propellerhead's product specialist James Bernard follows up our guitar amp combinator video by showing you how you can build a great sounding bass amp combinator in Reason too. By gaining individual control over the bass' low and high frequencies, James can apply unique compression and EQ to the tone and take the bass sound from a dull thud to a crunchy punchy monster.
Link to this bass combinator patch:
http://www.propellerheads.se/stuff/bass-amp-rig.zip
The AmpDock harnesses the massive processing power of iPad, allowing you to unleash your ultimate guitar tone. Building upon the design and technology of the widely acclaimed Alesis iO Dock, the AmpDock is the world's first device for guitarists that enables tonal shaping through iPad's processor. The AmpDock fully encloses your iPad or iPad 2 in a rugged and portable device made especially for guitarists and bassists. Whether you're in the studio or on the stage, the AmpDock helps you create "the sound in your head" with real controls and professional inputs and outputs that work with virtually any app, as well as your amp and pedal setup.
The AmpDock houses your iPad or iPad 2 in a durable enclosure that features a locking door to fully integrate your iPad and protect it on all sides. The AmpDock's professional inputs and outputs include a 1/4″ high-impedance guitar input and an XLR-1/4″ combo input for connecting a microphone, a second guitar or another instrument. The AmpDock also includes 1/4″ outputs with Guitar/Mic and Ground Lift switches, so you can connect to your guitar amp or go straight into a PA. For use with software MIDI applications on your Mac or PC, the AmpDock also includes a USB MIDI port. A headphone output with volume control is also onboard, so you can practice and experiment with your apps at any time, day or night.
The AmpDock also comes with a rugged pedalboard controller, which enables you to control volume and other continuous controls, bypass, program changes, and other parameters. You can use the AmpDock with or without its pedalboard controller, and MIDI connections enable you to use the AmpDock with other pedal controllers and MIDI hardware.
The superdelay is on the "tape" setting the entire time. No other effects are applied. The Vintage Modified superdelay is based on a superdelay with some modifications to the tape modes. The Vintage setting  has some added modulation and the Old mode has had some high end rolled off a bit with the same modulation and some grit added to reproduce the sound of worn heads and dirty tape on your tape delay. The Vintage Modified Superdelay still has all the rest of the features and delays as the original.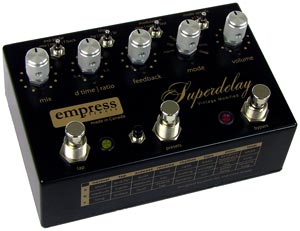 Hardware:
Korg MS-20
Empress Effects Vintage Modified Superdelay
Live audio reactive visual mixed with my vvvv based software CLONEMIXER.
music : Joker – Tron
An interactive art piece consisting of a grid of 96 guitar effects pedals that are wired together, as well as a guitar and an amplifier. As people step on the different pedals they activate various effects, which multiply over one another, creating a dynamic sonic experience.
davidbyrne.com/art/guitar_pedals
In this clip Jay Stapley is setting up the DMA1 to work with the USB foot controller (pedal board); in this instance it is being used for looping (guitar). Follow us http://www.facebook.com/DarkMatterAudio or on Twitter @darkmatteraudio to keep abreast of updates.
And here are the details:
http://www.xewton.com Music Studio offers a complete music production environment for the iPad/iPhone/iPod touch with features and a sound quality previously only known to desktop applications and expensive audio hardware.
It combines a piano keyboard, 65+60 studio-quality instruments with sustain, a fully fledged 127-track sequencer with audio tracks, extensive note editing, reverb, real-time effects, microphone recording and much more on a user-friendly interface.
Try the free Lite version!