REFORMAT THE PLANET is a feature length documentary which delves into the movement known as chip tunes, a vibrant underground scene based around creating new, original music using obsolete video game hardware. Familiar devices such as the Nintendo Game Boy and Nintendo Entertainment System are pushed in new directions with startling results.
Using New York as a microcosm for a larger global movement, "Reformat the Planet" maps out the genesis of the first annual Blip Festival, a four day celebration of over 30 international artists exploring the untapped potential of low-bit video game consoles. With floor-stomping rhythms and fist-waving melodies, trailblazers of the chip tune idiom descend upon Manhattan to pen a new chapter in the history of electronic music.
The trailer features music by Nullsleep ("Salvation for a Broken Heart", "On Target"), Martin Galway ("The Neverending Story"), and Random ("Micawber's Moan"), all composed on classic video game consoles.
…and by the looks of the cover we might expect some glitch and chip tunes in there, hehe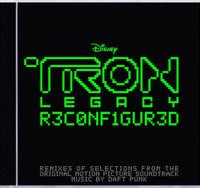 It's been announced that an album of remixes of Daft Punk's Tron: Legacy soundtrack is to be released on 4 April. Tron: Legacy R3CONFIGUR3D features contributions from the likes of Moby, Photek, Paul Oakenfold and The Glitch Mob.
The full tracklisting is as follows:
01. The Glitch Mob – Derezzed
02. M83 vs. Big Black Delta – Fall
03. The Crystal Method – The Grid/Game Has Changed
04. Teddybears – Adagio for Tron
05. Ki:Theory – The Son of Flynn
06. Paul Oakenfold – C.L.U.
07. Moby – The Son of Flynn
08. Boys Noize – End of Line (Boys Noize Remix)
09. Kaskade – Rinzler
10. Com Truise – Enron Part II
11. Photek – End of Line
12. The Japanese Popstars – Arena
13. Avicii – Derezzed
14. Pretty Lights – Solar Sailor
15 Sander Kleinenberg – Tron Legacy (End Titles)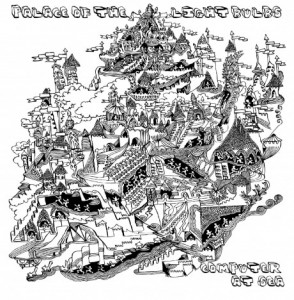 Seemingly forever in the making, Computer At Sea's EP Palace of the Lightbulbs is finally available in digital format on bandcamp.
With the exception of one bass line, every sound on the recording is from a circuit bent instrument, hand made synth, chiptune hardware, or other found electronics. The album will be released in the physical world on white vinyl some time in late April with a small east coast tour to follow in the spring/early summer.
For more info and download instructions check out: www.computeratsea.com
Via GLF
* WARNING LOUD NOISE INTRO!* Normal after that.
Who made the first chip tune? Yellow Magic Orchestra must one of the first at least, including arcade game music into their song Firecracker in 1979. Also other tracks on their debut album includes computer game references. In those dayes you didn't have like SIDstations and the likes so they used their Moog Modular to emulate all the noise.
Pretty amazing computer graphics in the video to. And it's made in 1979. Enjoy!
http://www.portablefilmfestival.com – 8-bit animated clip for Aussie electronic producer Aeriae's track 'Amay' from the album 'Hold R1.' Characters and props were animated with Scott Anderson's 8-bit software 'Fantavision' running on an emulated Apple II computer. Distributed by Tubemogul.
Runxt Life is pixels and bleeps and iOS meets Ableton. Full on music nerd fun. Available in the App Store now: click here
"Runxt Life is a generative music application created for the iOS® platform based on the cellular automaton theory "Conway's Game of Life" by John Horton Conway." – Firma 103
For more info: runxt.be
The 'game' is a zero-player game, meaning that its evolution is determined by its initial state, requiring no further input from humans. One interacts with the Game of Life by creating an initial configuration and observing how it evolves.
You can draw single cells or a predefined pattern stamp on a two dimensional grid. This pattern will evolve according to the rules of "Conway's Game of Life" after you press 'play' or 'step forward'. Five different colors each represent a different sound or channel.
Runxt Life uses the output of the grid, affected by a few parameters, to either generate sounds or send midi notes to your computer with the help of the Runxt Life – OSC to MIDI application. In this application you can configure which color is sent to which midi channel.
If you thought chip music was something for Commodore 64 and Nintendos think again. Here we see Suzanne Ciani in the makings of the music and sounds for the Xenon pinball game. Apparently the 80s speaker was thinking using female voices in a pinball game was revolutionary.
Here's Xenon in action:
Chip frenzy

29. Dezember 2010, Staatstheater Stuttgart in der Box: http://noobz.cc/ zu Gast bei http://uwe-schenk-trifft.de/
Via NOOBZcc
I nearly forgot some friday fun: