Many of you have asked how we do what we do, so now we're starting a series to explain the inner workings of our tech for those of you who wish to make chiptune and/or program controllers too!
Forthcoming Tutorials:
-Little Sound DJ (gameboy) programming
-MidiNES (nintendo) programming and usage
-rarer chips programming and usage (Commodore 64, Atari 2600)
-Chipsounds (plugin) programming and usage
-How to hook up videogame controllers as music controllers
-Recording and Mixing with Bill and Stanley
And possibly more! We'll try to do one every week or two from here on out!
unfiltered nullsleep.
"Wave Function Collapse"
Nullsleep  is an American electronic musician and computer artist currently residing in New York City. In 1999 he co-founded the low-bit art collective 8bitpeoples, and has served as its lead director since its inception. Throughout the early 21st century he has worked to elevate chiptune music to a more reputable status, in spite of its perception as sometimes kitschy or retro. He is best known for his romantic, high-energy Game Boy pop songs
This is a random melody generator with very basic control, simply flick a switch and the current random 8 step melody will latch on and playback indefinitely. To change up the notes simply reverse the switch and during the period of silence the internal CPU will come up with another mind bending chip tone melody. Powered by a 12F675 PIC microcontroller and a 3Volt coin cell battery this electronic effect is super compact and simple to assemble.
"New product soon to be available through getlofi.com/shop"
Using the 259e for C64 style music. Full length audio at soundcloud.com/7thdansound/bitsandbuchla
The Buchla 259e:
Popular demand does work occasionally – we've resurrected and renamed the original 259e Complex Waveform Generator. The new 259e is practically identical to the original, and is replete with all of the original digital waveshaping, aliasing noise, and foldover frequencies. However, we've added new self-modifying, screeching, snarling responses that reflect weird internal origins. Hence the name "twisted".
Otherwise similar to the 261e Complex Waveform Generator, with voltage-controlled modulation of pitch, amplitude, and timbre, both hard and soft synchronization, and pitch tracking.
In conjunction with the model 225e MIDI Manager, the 259e's pitches respond to internally routed MIDI messages. Up to four 259's can peacefully co-exist in a single system, each with its private MIDI channel.
As in all 200e series modules, the settings of the 259e's pots and switches can be memorized as a part of a preset configuration. Provided you have a 225e or a 206e in your system.
AfroDJMac is a persistent man who made a promise to post something every week and so far he's keeping that promise. Nintendo Entertainment System is the sound source for this cartoon for New York based AfroDJMac's "Yea Yea Yea." This animation was created for the Nintendo EP, an album made up of songs created with an NES.
The Nintendo EP is a collection of songs I've made over the years, using my Nintendo Entertainment System as a sound source.  Some of these songs have since seen many different incarnations, such as the surf rock take that was Psycho Rainbow, but these are the original versions.  Sometimes you are inspired to make music because of thoughts, feelings, other songs you like, etc. These songs were inspired by the sound of the Nintendo.  Those familiar timbres are what really got these tracks off the ground, and from there the other aspects of songwriting were applied.  You'll hear guitars, basses, and drums, but I don't think these songs would have come to life without our little grey 8-bit friend.  Please feel free to download the EP and show your friends, put it on playlists, add to your blog, and give it to your uncle Otis who happens to have major connections in the music industry
REFORMAT THE PLANET is a feature length documentary which delves into the movement known as chip tunes, a vibrant underground scene based around creating new, original music using obsolete video game hardware. Familiar devices such as the Nintendo Game Boy and Nintendo Entertainment System are pushed in new directions with startling results.
Using New York as a microcosm for a larger global movement, "Reformat the Planet" maps out the genesis of the first annual Blip Festival, a four day celebration of over 30 international artists exploring the untapped potential of low-bit video game consoles. With floor-stomping rhythms and fist-waving melodies, trailblazers of the chip tune idiom descend upon Manhattan to pen a new chapter in the history of electronic music.
The trailer features music by Nullsleep ("Salvation for a Broken Heart", "On Target"), Martin Galway ("The Neverending Story"), and Random ("Micawber's Moan"), all composed on classic video game consoles.
…and by the looks of the cover we might expect some glitch and chip tunes in there, hehe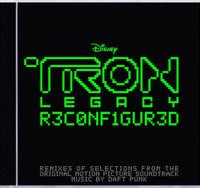 It's been announced that an album of remixes of Daft Punk's Tron: Legacy soundtrack is to be released on 4 April. Tron: Legacy R3CONFIGUR3D features contributions from the likes of Moby, Photek, Paul Oakenfold and The Glitch Mob.
The full tracklisting is as follows:
01. The Glitch Mob – Derezzed
02. M83 vs. Big Black Delta – Fall
03. The Crystal Method – The Grid/Game Has Changed
04. Teddybears – Adagio for Tron
05. Ki:Theory – The Son of Flynn
06. Paul Oakenfold – C.L.U.
07. Moby – The Son of Flynn
08. Boys Noize – End of Line (Boys Noize Remix)
09. Kaskade – Rinzler
10. Com Truise – Enron Part II
11. Photek – End of Line
12. The Japanese Popstars – Arena
13. Avicii – Derezzed
14. Pretty Lights – Solar Sailor
15 Sander Kleinenberg – Tron Legacy (End Titles)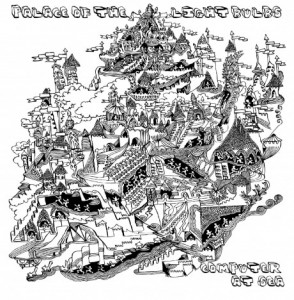 Seemingly forever in the making, Computer At Sea's EP Palace of the Lightbulbs is finally available in digital format on bandcamp.
With the exception of one bass line, every sound on the recording is from a circuit bent instrument, hand made synth, chiptune hardware, or other found electronics. The album will be released in the physical world on white vinyl some time in late April with a small east coast tour to follow in the spring/early summer.
For more info and download instructions check out: www.computeratsea.com
Via GLF
* WARNING LOUD NOISE INTRO!* Normal after that.
Who made the first chip tune? Yellow Magic Orchestra must one of the first at least, including arcade game music into their song Firecracker in 1979. Also other tracks on their debut album includes computer game references. In those dayes you didn't have like SIDstations and the likes so they used their Moog Modular to emulate all the noise.
Pretty amazing computer graphics in the video to. And it's made in 1979. Enjoy!