Youtube alias peahix has uploaded this DM cover of Big Muff, details below:
I've had several skeptics weigh in on my various Depeche Mode covers done all on my Yamaha CS01II synth, so I thought I'd make a screen-cap video showing the Cubase session for my rendition of "Big Muff." Here's the mastered version I posted previously: http://www.youtube.com/watch?v=5IiZlvr7fXs
In this version, you can see all my parts, and I solo all the different bits throughout so you can hear how it all comes together. Note that for several sounds there are actually two different tracks that play together to form a composite sound. The CS01II is a pretty limited synth, and in order to more accurately achieve certain sounds, I had to split things into their component parts. The channels that remain muted throughout are just the MIDI parts, which aren't outputting to anything here, since each MIDI track was recorded one at a time via the CS01II to an audio track. Anyway, hopefully this is useful or interesting to someone!!
Yamaha CSo1 II:
The CS01 is a very old but classic analog monosynth from Yamaha. Although originally designed for use by novice musicians or first time synth-buyers, the CS01 has been recognized by today's electronic musicians as one fat little bass machine with simple controls. In a nutshell, the CS01 is simple to use and edit but still has some great features for any situation. It's tiny and portable, it has baby-sized keys and it can run on batteries, and there is a built-in amplifier and speaker which is quite fun.
As for sounds and synthesizing, the CS01 is the perfect monosynth for bubbly and growling bass! It features a very nice 12dB resonant VCF filter. In addition to the oscillators' sine and square type waveforms there is PWM and noise. There are also LFO controls, glissando (like portamento), a typical ADSR envelope generator, pitch & mod wheels and even a breath controller input. A CS01 mkII (pictured below) was later released by Yamaha soon after the original. It featured an improved 24dB resonant VCF (filter) with adjustable slider control over resonance instead of switchable on/off resonance as found on the original. The CS01 mkII is also identifiable by its black case with green letters.

Big budget promo video for Andy Hagerty's cover of the Kraftwerk classic 'Neon Lights'. Rumours that it was directed by JJ Abrams have not been confirmed, but Industrial Light and Magic were definitely not responsible for the effects!

Buy this cover version from iTunes at the link below.
https://itunes.apple.com/gb/album/my-electronic-heart/id547453702
Robots, Daleks, Knightrider, and a Ghost from PacMan. What is there not to like about this video!!

Technical details:
Shake the Disease (Martin Gore demo) cover.
"I noticed he recorded it mainly with a Yamaha DX7. In fact, he used six cartridge preset sounds (that I switched live). So I decided to recreate it. None of the backtrack sounds were recorded with MIDI or other clock resources."
All sounds (*unless stated): Yamaha DX7.
Bassline synth: Roland Promars MRS-2
Drumbox: Boss DR55 (sampled)
Backtrack recorded on a Revox B77 MkII.
Composed by Martin L. Gore
Background description:
www.atomosynth.com
Hello this is my cover of Daft punk derezzed, using the AtomoSynth Krakken analog synthesizer for the lead (great for knob tweaking !!), a MkorgXL for the sub bass and Motif for the 909 drums, all sequenced by midi and recorded in Cubase in one take…
Out now for the US market is the Tangerine Dream album "Under Cover" via Cleopatra Records. The 14-track collection features founding Tangerine Dream member Edgar Froese and the band re-imagining songs from David Bowie, The Beatles, The Eagles, Chris Isaak, Pink Floyd, Kraftwerk, the Goo Goo Dolls, Leonard Cohen, Depeche Mode, and more.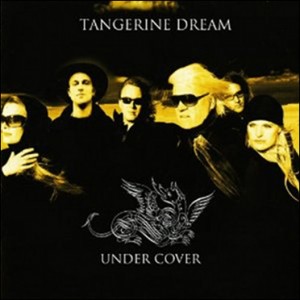 If you want to hear what to expect, you can already check out "Space Oddity".
Each member of the band selected the tracks that resonated the best with them. Froese chose "Everybody Hurts," Space Oddity," and "Heroes" on which he played synth, mellotron, and provided vocals. Percussionist/drummer Iris Camaa selected "Wicked Game," "Hotel California," and "Iris." Flutist and singer Linda Spa chose "The Model," "Suzanne," and "Forever Young." Thorsten Quaeschning, main vocalist and synth/guitar player, chose "Cry Little Sister," "Precious," and "Hallelujah." Guitarist Bernhard Beibl elected to cover "Norwegian Wood" and "Wish You Were Here."
"Under Cover" track list:
Cry Little Sister (Gerard McMann)
Everybody Hurts (REM)
Precious (Depeche Mode)
Space Oddity (David Bowie)
The Model (Kraftwerk)
Wicked Game (Chris Isaak)
Hotel California (The Eagles)
Suzanne (Leonard Cohen)
Heroes (David Bowie)
Forever Young (Alphaville)
Iris (Goo Goo Dolls)
Norwegian Wood (The Beatles)
Hallelujah (Leonard Cohen)
Wish You Were Here (Pink Floyd)
You can order the album on Amazon USA, Amazon UK and Amazon DE.
Via SL
More Kraftwerk tunes coming your way, here's a new cover of Spacelab by 'organfairy', details below:
After discovering that there is a vocoder effect in the multitrack part of CoolEdit pro I have thought about how I could use it. And then a couple of months ago someone suggested to me that I should play something by Kraftwerk.
And now I have added these two factors together and played the classic track "Spacelab" that was originally recorded back in 1978 on the album Man Machine.
Apart from the vocoder software and the old Telefunken microphone I use Yamaha HE-8 and Technics SX-C600 organs, Roland SH-2000, Korg Poly 800, and Roland JX-8P synthesizers, and finally the little Wersi M.A.X.1 module for the rhythm.
Most of the sounds are only treated with some reverb or echo. But I had to speed up the sequence in the beginning in post production because that was the only way I could do that particular sound.
And sorry about the goofy face. I am not used to singing on camera but I wanted to show that it is really me that sings – allthough in a modulated fashion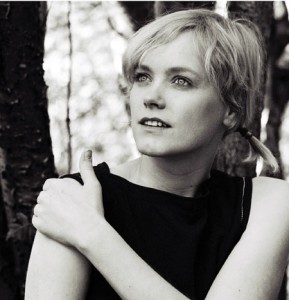 A while back Twitter followers of Vince Clarke could read that he had started a collaboration with the 36-year old Norwegian singer Ane Brun. The collaboration resulted in a cover of the Depeche Mode song "Fly On The Windscreen". The song is included in the the trailer for the newest book, "The Blessed", by Tonya Hurley, the New York Times best-selling author of the ghostgirl series.  It's not the first time she tackles an electropop song. In the past she also covered Alphaville's "Biog in Japan".
In case you wonder who Ane Brun is, she was born and raised in a rather musical family and is the daughter of Jazz singer and pianist Inger Johanne Brunvoll. Since 2003 she has recorded eight albums, six of which are studio albums (including a collection of duets) and one live DVD. She has lived in Stockholm, Sweden since 2001, where she writes, records and runs her own label Balloon Ranger Recordings. Ane also featured as one of the guests on Peter Gabriel's 2011 studio album "New Blood", singing on the re-recorded version of "Don't Give Up", recorded in 2010. She was subsequently invited to perform with him as support act and back-up singer on the "New Blood" tour throughout 2010.
Via SLmag
Background information:
This is not intended as a 1-to-1 reproduction of Jean Michel Jarre's famous classic. It is more like my shot at it using the instruments that I have.
It's funny that just because JMJ used an Eminent U310 and later an Elka X-705 then these exact organ models sells for astronomical prices while most other organs can be bought for peanuts.
So therefore I have used Elka X-30 and Technics SX-C600 to play most of the arrangement. I don't have a MiniPops 7 drum machine so I used a Rhythm Ace. One thing I did to make it more authentic was that I manually added the quijada sound to the rhythm. I synthesized it on my Roland JX-8P because I felt that it was vital for the mood of the melody. The sequence that runs through the first part was programmed on the little Korg Poly 800 and most of the sound effects was made on my Roland SH-2000. Finally I added the sound of my homebuild zimbelstern because I hadn't got a clue on how to make the huithuithuithuithuit sounds of the EMS synthesizer that I assume Jarre used.
For once I had the sheet music. I found it at the public library – you know, the house with books made of real paper in it. But it's not easy when the composer doesn't follow his own notes on the recording he made!
I haven't added many effects efter the sounds were recorded. Just some panning, reverb, and echo.
In this cover The Pain Machinery takes on The Klinik's classic song Hours + Hours – take it way >>
You may also want to check out TPM's latest release: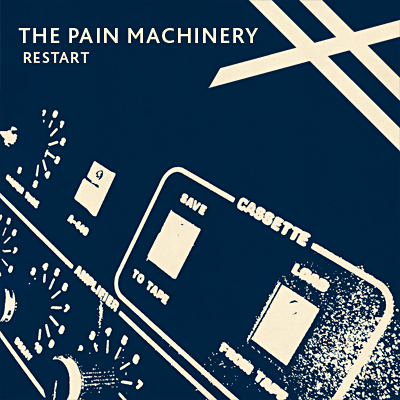 The Pain Machinery and Complete Control Productions proudly present the new
TPM album Restart. More potent than ever before, the sound takes influences from
classic UK synth punk, Chicago acid house and Belgian industrial disco,
combining them with a futuristic groove. Featuring guest appearances from //TENSE//
among others. This is music both for the mind and for the (darkest) dancefloors.
Audio/video teasers are available here. View the press release here.
The vinyl edition of Restart is limited to 300 copies (the first 100 on clear blue vinyl).
A download coupon for the digital version of the album is included.
Track list (vinyl edition):
A1. Liquid Silver A2. Kick A3. Outside A4. Wired
B1. Running Red B2. There Will Be Blood B3. Damage B4. Like Ice (Vinyl mix)
Track list (digital edition):
01. Liquid Silver 02. Kick 03. Outside 04. Wired
05. Running Red 06. There Will Be Blood 07. Damage
08. Like Ice (Digi mix) 09. Running Red (Bonus Beats)
Available 29 June on LP, Cassette and Digital formats. Buy here (vinyl),
here (digital) or from various other outlets.
First cover using the Roland Promars analog synthesizer. Tubeway Army used to use Minimoog for the lead part. The Promars has two VCO's (and a sub oscillator) even thought it is more limited than the Moog.
This is a cover based on the live version.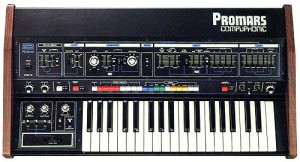 The ProMars CompuPhonic is essentially a classic, monophonic version of the Jupiter 4. It has 10 preset sounds (not too great) and 10 user programmable preset patches. The preset sounds include Bass, String, Clavi, Piano, Voice, Trombone, Sax, Trumpet, Synth I and Synth II. A very standard and well laid out set of knobs, sliders and edit controls give you the power to create some really cool sounds.
There are two individual VCO oscillators that can be de-tuned, a nice VCF (filter) with its own ADSR, a typical VCA envelope section, a nice LFO and a pitch/mod wheel that can effect the LFO, VCF or VCA. It even has a noise generator.
The Promars Compuphonic makes a unique alternative to other Roland SH-type synths since, although it has very SH-type controls and layout, its sound and preset capabilities are more like the famous Jupiter synths and at a fraction of the cost. Nice wood casing and Vintage appeal.
Gear used.
Upper: Roland Promars MRS-2
Mid: Roland JP8000
Lower (Midied to the JP): Kurzweil PC1x
Backtrack recorded on Pro Tools.
Original song composed by Gary Numan