OMD's old classic gets a remake på Hannah
Enjoy!
Perhaps one of the best unknown covers of Kraftwerk's 1977 classic Europe Endless by Italian maestro Laso67. https://www.youtube.com/user/laso67
Steve Strange parody – Some scenes from Visage's videos re-en-visage-d, very clever. "Imitation is the greatest form of flattery" (even when it's 'dressed up') – remade scenes have come from Visage/Fade to Grey …Visage/Visage……any more spotted let me know
Hardrock Striker – Underpass. – john foxx cover
No copyright infringement intended.
It's not quite like the original, neither is not intentend to be.
Sequenced parts sequenced on Cubase 5 then audio mixdown passed to Roland SP-404
Main sounds played:
Sampled parts: Initial intro part using free samples to recreate an ambience
Brass lead: Yamaha AN1x
Lead: Roland V-Synth V2
Strings: Akai Miniak
Lead vocal + keyboard played part: Shure Mic, Kurzweil PC3 triggering Korg Microkorg vocoder
Enjoy the Silence (Depeche Mode Cover) with Arturia Minibrute, NI Maschine Mikro MK2, Korg Kaoss Pad 3
After the release of their first single called "Moïra" (available now on iTunes, Amazon USA, Amazon UK or Amazon DE) Ad Inferna releases a new track on the 28th of December, namely a cover of the Jean-Michel Jarre instrumental "Equinoxe 4". For the occasion singer Alina Dunaevskaya joined the band as guest vocalist. The track will be available on YouTube only for the moment (and of course on their album "im mortelle").
The french electro act Ad Inferna will return with their 6th album on the 7th of January on DSM Music. The CD version is available for preorder on Poponaut & Infrarot webshops.
www.adinferna.com
www.facebook.com/adinfernaband
Youtube alias peahix has uploaded this DM cover of Big Muff, details below:
I've had several skeptics weigh in on my various Depeche Mode covers done all on my Yamaha CS01II synth, so I thought I'd make a screen-cap video showing the Cubase session for my rendition of "Big Muff." Here's the mastered version I posted previously: http://www.youtube.com/watch?v=5IiZlvr7fXs
In this version, you can see all my parts, and I solo all the different bits throughout so you can hear how it all comes together. Note that for several sounds there are actually two different tracks that play together to form a composite sound. The CS01II is a pretty limited synth, and in order to more accurately achieve certain sounds, I had to split things into their component parts. The channels that remain muted throughout are just the MIDI parts, which aren't outputting to anything here, since each MIDI track was recorded one at a time via the CS01II to an audio track. Anyway, hopefully this is useful or interesting to someone!!
Yamaha CSo1 II:
The CS01 is a very old but classic analog monosynth from Yamaha. Although originally designed for use by novice musicians or first time synth-buyers, the CS01 has been recognized by today's electronic musicians as one fat little bass machine with simple controls. In a nutshell, the CS01 is simple to use and edit but still has some great features for any situation. It's tiny and portable, it has baby-sized keys and it can run on batteries, and there is a built-in amplifier and speaker which is quite fun.
As for sounds and synthesizing, the CS01 is the perfect monosynth for bubbly and growling bass! It features a very nice 12dB resonant VCF filter. In addition to the oscillators' sine and square type waveforms there is PWM and noise. There are also LFO controls, glissando (like portamento), a typical ADSR envelope generator, pitch & mod wheels and even a breath controller input. A CS01 mkII (pictured below) was later released by Yamaha soon after the original. It featured an improved 24dB resonant VCF (filter) with adjustable slider control over resonance instead of switchable on/off resonance as found on the original. The CS01 mkII is also identifiable by its black case with green letters.

Big budget promo video for Andy Hagerty's cover of the Kraftwerk classic 'Neon Lights'. Rumours that it was directed by JJ Abrams have not been confirmed, but Industrial Light and Magic were definitely not responsible for the effects!

Buy this cover version from iTunes at the link below.
https://itunes.apple.com/gb/album/my-electronic-heart/id547453702
Robots, Daleks, Knightrider, and a Ghost from PacMan. What is there not to like about this video!!

Technical details:
Shake the Disease (Martin Gore demo) cover.
"I noticed he recorded it mainly with a Yamaha DX7. In fact, he used six cartridge preset sounds (that I switched live). So I decided to recreate it. None of the backtrack sounds were recorded with MIDI or other clock resources."
All sounds (*unless stated): Yamaha DX7.
Bassline synth: Roland Promars MRS-2
Drumbox: Boss DR55 (sampled)
Backtrack recorded on a Revox B77 MkII.
Composed by Martin L. Gore
Background description:
www.atomosynth.com
Hello this is my cover of Daft punk derezzed, using the AtomoSynth Krakken analog synthesizer for the lead (great for knob tweaking !!), a MkorgXL for the sub bass and Motif for the 909 drums, all sequenced by midi and recorded in Cubase in one take…
Out now for the US market is the Tangerine Dream album "Under Cover" via Cleopatra Records. The 14-track collection features founding Tangerine Dream member Edgar Froese and the band re-imagining songs from David Bowie, The Beatles, The Eagles, Chris Isaak, Pink Floyd, Kraftwerk, the Goo Goo Dolls, Leonard Cohen, Depeche Mode, and more.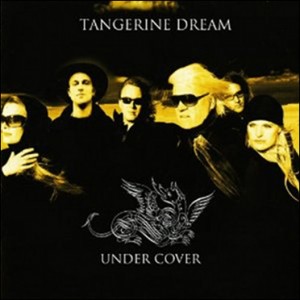 If you want to hear what to expect, you can already check out "Space Oddity".
Each member of the band selected the tracks that resonated the best with them. Froese chose "Everybody Hurts," Space Oddity," and "Heroes" on which he played synth, mellotron, and provided vocals. Percussionist/drummer Iris Camaa selected "Wicked Game," "Hotel California," and "Iris." Flutist and singer Linda Spa chose "The Model," "Suzanne," and "Forever Young." Thorsten Quaeschning, main vocalist and synth/guitar player, chose "Cry Little Sister," "Precious," and "Hallelujah." Guitarist Bernhard Beibl elected to cover "Norwegian Wood" and "Wish You Were Here."
"Under Cover" track list:
Cry Little Sister (Gerard McMann)
Everybody Hurts (REM)
Precious (Depeche Mode)
Space Oddity (David Bowie)
The Model (Kraftwerk)
Wicked Game (Chris Isaak)
Hotel California (The Eagles)
Suzanne (Leonard Cohen)
Heroes (David Bowie)
Forever Young (Alphaville)
Iris (Goo Goo Dolls)
Norwegian Wood (The Beatles)
Hallelujah (Leonard Cohen)
Wish You Were Here (Pink Floyd)
You can order the album on Amazon USA, Amazon UK and Amazon DE.
Via SL