First cover using the Roland Promars analog synthesizer. Tubeway Army used to use Minimoog for the lead part. The Promars has two VCO's (and a sub oscillator) even thought it is more limited than the Moog.
This is a cover based on the live version.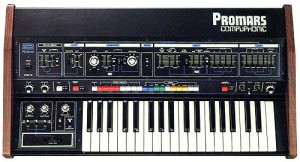 The ProMars CompuPhonic is essentially a classic, monophonic version of the Jupiter 4. It has 10 preset sounds (not too great) and 10 user programmable preset patches. The preset sounds include Bass, String, Clavi, Piano, Voice, Trombone, Sax, Trumpet, Synth I and Synth II. A very standard and well laid out set of knobs, sliders and edit controls give you the power to create some really cool sounds.
There are two individual VCO oscillators that can be de-tuned, a nice VCF (filter) with its own ADSR, a typical VCA envelope section, a nice LFO and a pitch/mod wheel that can effect the LFO, VCF or VCA. It even has a noise generator.
The Promars Compuphonic makes a unique alternative to other Roland SH-type synths since, although it has very SH-type controls and layout, its sound and preset capabilities are more like the famous Jupiter synths and at a fraction of the cost. Nice wood casing and Vintage appeal.
Gear used.
Upper: Roland Promars MRS-2
Mid: Roland JP8000
Lower (Midied to the JP): Kurzweil PC1x
Backtrack recorded on Pro Tools.
Original song composed by Gary Numan
Nice Kraftwerk cover featuring the OTO Bisquit:
oto biscuit+electribe emx (only waveshaper fx)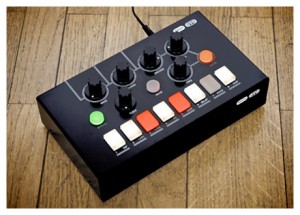 Add depth, texture and organic behavior to synths, basslines, drum machines and virtual instruments from computers with BISCUIT !
Using true 8-bit converters, digital processing and analog resonant filters, Biscuit opens up a wide range of sounds from harsh distortion, digital and aliasing artifacts to warm and fat 8-bit sounds.
Producers, deejays, musicians and sound lovers can use BISCUIT to extend their sound creation possibilties.
A cover of warm leatherette by the normal put together on a teenage op1.
"Warm Leatherette" was released as the B-side to "T.V.O.D.", the only single by Miller's musical project The Normal. It was the very first release on his Mute Records label, and an early example of the then-burgeoning industrial music genre. The lyrics of the song reference J.G. Ballard's controversial 1973 novel Crash.
Miller plays a series of sawtooth waves on a $150 Korg 700S synthesizer. It was recorded in his apartment using 2 ReVox B-77 tape machines. With 'Mute 1′ written on it, it sold thirty thousand copies
And here's the original version:
"O.K HERES A PUZZLE, THE NORMAL,ROBERT RENTAL BECOMES DANIEL MILLER.
THERE WAS NO VID FOR THIS SONG,SO I MADE ONE UP FROM A LIVE CLIP FROM WHEN DANIEL MILLER GIGGED WITH ROBERT RENTAL AS THE NORMAL,THIS WAS THE ONLY SINGLE FROM THE NORMALSO ENJOY."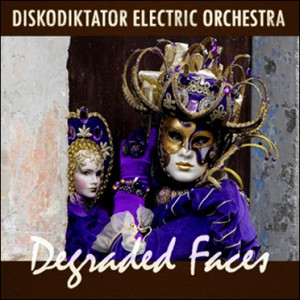 Diskodiktator's Johan Billing has returned from the silent part of the world with a new musical project. Johan Billing did a full cover of the debut album from S.P.O.C.K last year. This summer it's all about the first album by Elegant Machinery.
Billings vehicle for this project is again Diskodiktator Electric Orchestra with whom he is currently working on "Degraded Faces" bringing you 10 tracks of Elegant Machinery covers as you've never heard them before.
Listen to it here:
Synth spotting featuring a Duran Duran classic:
This is but a small part of the "process" in making my next Cover. It is a bit long, made a mistake so had to start again. A few more tracks (guitar) to record, then in a few weeks I'll upload.
2 Electronic covers of songs by the band U2, arranged and performed by Gil Assayas. The songs are "Pride (In the Name of Love)" and "Vertigo".
Background information:
In the studio working on a cover of Kraftwerk's "The Robots," which will be featured on the forthcoming Of Love and Robots EP. This (almost) all modular EP features covers of classics by Kraftwerk, Gary Numan / Tubeway Army, Giorgio Moroder, and more.
Sui Sibi Se Se – Of Love and Robots EP. Music for your self.
Enjoy

http://youtu.be/SmyLHs9FoKw
BEWARE: Scott Weiland Performs "But Not Tonight" on Jimmy Kimmel Live

Stone Temple Pilots, often abbreviated to STP, is an American rock band from San Diego, California that consists of Scott Weiland (lead vocals), brothers Robert DeLeo (bass guitar, vocals) and Dean DeLeo (guitar), and Eric Kretz (drums, percussion). The band's early hard rock, grunge-reminiscent style of music found them immediate success in 1992 with the release of their debut album "Core". Further releases from the band have shown a variety of influences, and as such the band is considered to transcend the genre barrier.
Download this track at: http://snd.sc/iyLd2s
In this video:
The Yamaha CS01II is the first real synthesizer I ever owned. I got it when I was about 14 years old, back in 1985 or so. I noticed that I could get reasonable approximations of most of the sounds from Depeche Mode's "Speak & Spell" album with it, but at the time I didn't have the means to make decent multi-track cover versions, even after I got a 4-track.
Recently I was studying the Depeche Mode 5.1 surround mixes, and realized that I could clearly hear all the distinct parts of alot of the songs, so I decided to throw together some renditions using just my trusty old Yamaha CS01II as the sole sound source (including the drums), just to see how close I could get to the originals using very limited means.
The actual musical arrangement is about 100% accurate. The sounds themselves are of course only approximations, and most of them don't have the same level of timbral detail as the ARP originals. I sequenced the whole thing in Cubase via a Kenton Pro Solo going into the custom CV/Gate inputs on my CS01II, recording each monophonic line in one at a time. Cubase provided the reverb and EQ, otherwise it's all CS01II. I've deliberately been quite pure about this process- other than the reverb/delay/EQ, there's no manipulation of the sounds going on here. This is, for me, mostly a technical exercise, so it wouldn't make much sense to process the sounds very much, as that would only take it further away from the native sound of the CS01II.
I don't really consider these to be "covers" as such- if I were covering these tunes, I'd do something creative with them as opposed to just mimicing them as closely as possible. I don't have any desire to "cover" these songs in that sense. At any rate, this project has been a good exercise in close listening and mixing for me, so I see that as the main reward for my efforts.