New video featuring the still quite hard to get Arturia MiniBrute, here's what the author has to say about it:
"Attack of "DJ FINGERS" ! WOOoooOO *laughs* OK… If you can't watch this with a sense of humor then just stop the video now. This is a work of fiction, it never happened in real life so no hating on how bad it is. Just messing around within the first 30minutes of me opening up the new Arturia Minibrute. Gotta say it's lots of fun. Looking forward to exploring it a LOT more. Expect some better videos soon. There are some fun parts though in here. Youtube tells me there's sync issues, sorry for that. Not going to fix, just going to upload more videos. This is also my first jam with the fat controller. Still learning it's ins and outs.
I'll tell you that off the bat it has arpeggiator issues. Be warned."
Follow it here:
Facebook : http://www.facebook.com/Project.Dataline
Soundcloud : http://www.soundcloud.com/dataline
Download music : http://www.dataline.bandcamp.com
Rheyne in a nice session featuring lots of nice controllers, synths and pads, enjoy
Live looping improv jam using analog keyboards, USB controllers, and iOS devices. iPads are running Animoog, Lemur, and SoundPrism Pro. SP Pro is triggering NI's Massive through an iConnectMIDI. A DJ TechTools MIDI Fighter 3D is controlling loopers, drums, and a monophonic synth. Its rotation is mapped to filters and vibrato. Normally my drums are played on an Akai MPD26, but wanted to get used to the MF3D for a portable live rig. An Akai APC20 and Novation Launchpad are controlling the recording and playback of loops in Ableton Live. The DSI MoPho, Fender Rhodes, and Moog Prodigy are all running through a PreSonus 1818VSL connected to a Macbook Pro. All loops are recorded live.

Download or stream the audio at SoundCloud: http://snd.sc/LP21G9
A little improve with two vintage synths. The MS-20 is also run through an mf-104z and mf-103 moogerfoogers.
Hardware:
Korg MS-20
ARP Odyssey MK 2
Moogerfooger MF-104z Analog Delay
Moogerfooger MF-103 Phaser
Software:
Valhalla DSP Room
PSP Vintage Warmer 2
Using Percussa's AudioCubes & Improvisor to Create Glitch Effects
My Colorado based electronic music friend Mark Mosher, sent me this nice improvisation that he has made on the Tone2 Saurus synth:
"It's gorgeous. Checkout this improv vid I made with Saurus. http://www.youtube.com/watch?v=-scMPERoIlQ"
About the video:
This is single patch improvisation recorded in one pass with no edits using Tone2's virtual Synthesizer Saurus. A single instance of Saurus is used with no other effects or editing other than what is built-into the synth. I'm starting with a factory patch in the "Lead" bank called "1970s Soloist H". I only touch the computer once during the performance in the middle to turn up the gain in the mod matrix so that LFO modulates pitch.
Prior to recording I mapped all sorts of parameters to my Novation Remote SL MK II Keyboard.
– XY map to Filter and Rez
– Bank 1 of the top 8 knobs are mapped to filter parameters and OSC Balance
– Bank 2 of top 8 knobs are mapped to effects parameters
– Bottom row 8 knobs are MIDI mapped to Oscillator noise type AM/FM, LFO Speed, Glide rate
– The first 4 sliders map to the volume ADSR
– The next 4 sliders map to filter ADSR
I used my projector to paint my wall with Saurus to the knob movement you see on the wall is in real-time and corresponds to my controller movement.
Mark Mosher
Electronic Music Artist, Boulder CO
Synthesist, Composer, Performer
http://www.MarkMosherMusic.com
From our original post on the Saurus: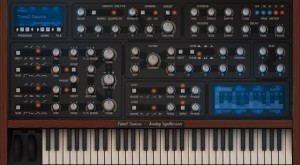 Tone2 has released a new software synthesizer for Mac & Windows, Saurus.
According to Tone2, Saurus is 'not just another synthesizer with character, but one that truly represents the analog sound.'
Here's what they have to say about it:
We carefully measured and modeled the circuits of many classic performance synthesizers, including even single capacitors and resistors to provide an extremely accurate analog model, faithfully capturing the spirit and character of these old machines. All without placing heavy demands on your CPU or budget.
Highlights:
True Analog Modelling Technology
High-end sound quality
Low CPU and high reliability
Easy-to-use interface
'Unique sounds which no other synthesizer can create'
Huge sonic range
Flexibility, expandability
Ships with 563 presets from 21 sound designers
Features:
Covers all important aspects of traditional analog synths
Mono, Legato & Polyphonic modes employing analog voice management
Two Syncable Oscillators and two Sub Oscillators
Not just standard waveforms but also a large number of exotic ones
Pulse Width Modulation and Oscillator Sync applicable to every waveform
Oscillator Drift, Phase and Noise Modulation controls
Noise FM, AM and Ring Modulation for Oscillators
Analog filter with self-oscillation, nonlinearity, 6 filter types, FM and feedback
LFOs and modulation capable of running at audio-rate
Arpeggiator with extensive configuration possibilities
Flexible Modulation Matrix with new features, including a filter
Programmable gate
4x Stereo Unison modes with spread and panning control
Analog modeled Distortion and Tube amp
Optional Psycho-Acoustic processing
High-end quality Effects
Tone2 Saurus is available now for US $119. See the Tone2 site for details, audio samples and a demo version.
Here's a nice new video from Cranda11, check it out:
Having a bit of improv with some new kit. The bassline is done with the original MeeBlip; there are four two-measure MIDI clips in Ableton, and I'm randomly switching amongst them using follow actions. All drum and percussion sounds were created on a Yamaha TX81Z, then imported to and edited in the Maschine software.
Gear used: MeeBlip, MeeBlipSE, Native Instruments Maschine Mikro, SammichFM, DSI TETR4, Eventide Space, Eventide TimeFactor. Recorded with Ableton Live in one pass of live improv.
http://youtu.be/4u8JL22hsD4
A short improvisation featuring HP and BK sine wave generators, prepared ambient recording, ring modulators, tape echo and a dash of reverb.
Here's a nice improvisation for Animoog, Moogerfoogers and Piano in C minor.
Shared by experimentalsynth
Just a quick note:
Moogerfoogers are a direct descendent of the original modular Moog synthesizers. Housed in a rugged steel and hardwood enclosure, the Moogerfooger's timeless good looks, versatility, and exceptional sound quality is designed to be equally at home on stage or in the studio. Their expansive functionality combined with warm, analog sound come from their state-of-the-art all-analog circuitry, designed and built under Bob Moog's personal direction. Musical, flexible, playable, and durable Moogerfoogers are the secret weapons of top players and producers everywhere.
A short improv on Animoog, with an SH-5, Reaktor, and Pro-One acting as the backup band.