An improvised live looping jam with analog keyboards, USB controllers, iOS devices, and Ableton Live. All loops are recorded live.
Equipment:
Oxygen 49 controlling Sunrizer on an iPad via an iConnectMIDI,
Akai MPD26 controlling Kontakt,
Akai APC20,
DSI MoPho keyboard,
DJ TechTools MIDI Fighter 3D in "MF3D Launcher" mode,
Novation Launchpad,
Moog Prodigy,
Fender Rhodes with an MXR Wylde Overdrive,
Lemur on an iTouch and 2x iPads,
PreSonus 1818VSL,
Macbook Pro running Ableton Live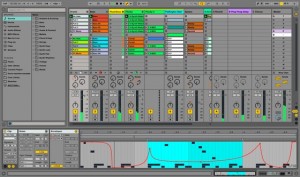 Ableton has announced two groundbreaking new music-making products: Live 9, the music creation software with inspiring new possibilities, and Push – Ableton's first hardware instrument for Live.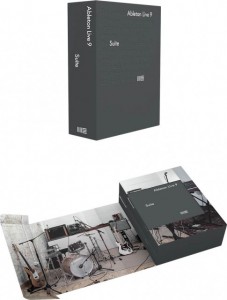 The upgrade to version 9 greatly expands the creative possibilities of Ableton's popular Live software.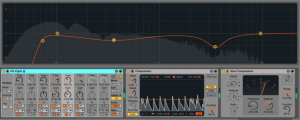 Changes in Live 9
Session automation: In Session View, automation can now be recorded in real time directly within clips. Automation can move together with clips between Arrangement and Session View.
Find sounds fast: Live's new browser puts all instruments, effects, samples, and plug-ins in one easy-to-navigate view. Drag and drop folders from anywhere on your computer, search as you type and navigate from the keyboard to find everything quickly.
Discover new sounds: Live comes with a large selection (3,500 in the Suite edition) of production-ready sounds, which were carefully crafted with the help of over 40 artists, sound designers and engineers. All sounds feature Macro controls for fast access to their most meaningful, musical parameters.
Get your sound right: Live's studio effects have all been reworked for even better sound and usability. The Glue Compressor is a new effect – an authentic model of a legendary 1980s console bus compressor. EQ Eight has an audition mode for isolating frequencies and an expandable spectrum display. The Gate and Compressor effects feature a Gain Reduction view which shows changes in signal level over time.
Extract music from samples: Live's new Harmony, Melody and Drums to MIDI tools extract natural-feeling MIDI directly from the favorite parts of your music collection. You can also sing, tap a rhythm, play any solo instrument, then use Melody or Drums to MIDI to turn your recordings into MIDI clips that you can edit and reuse with any sound.
Edit the details: Transpose, reverse and stretch MIDI notes or warp clip automation and add curves to automation envelopes. New tools and an improved workflow allow fast and flexible editing of musical ideas.
Max for Live – now in Suite: The Suite edition of Live 9 comes with Max for Live and its many unique instruments, effects and tools. Max for Live itself includes 24 new devices such as a convolution reverb, new drum synthesizer instruments, MIDI echo as well as reworked versions of classics such as Step Sequencer and Buffer Shuffler 2.
Ableton Live 9 will be available in the first quarter of 2013. Prices start at $99 USD/79 EUR (Live 9 Intro download version), $449 USD/349 EUR (Live 9 Standard download version) and $749 USD/599 EUR (Live 9 Suite download version). Upgrades to Live 9 Standard / Live 9 Suite vary in price depending on the Ableton products you already own.
With Push, Ableton presents a new hardware instrument designed to solve an old problem: how to make a song from scratch.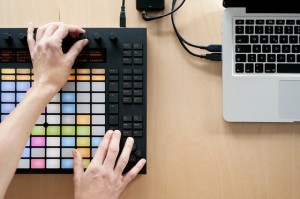 Push provides direct, hands-on control of melody and harmony, beats, sounds and structure, powered by Ableton Live running on your computer. High-quality, dynamic pads, buttons, encoders and display combined with an innovative workflow allow you to play and compose musical ideas without the need to look at or touch your computer, and more importantly, without interrupting the musical flow.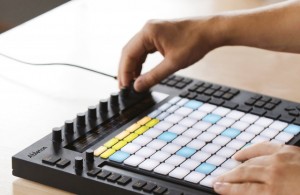 Push features
Play and sequence beats: Push's 64 velocity- and pressure-sensitive multi-color pads can be used to play, step sequence, and navigate within rhythm patterns – all at the same time. The 11 touch-sensitive endless encoders can control device parameters, adjust velocity, nudge timing and more.
Play melodies and chords in a new way: Push "folds" a keyboard's worth of notes into its 64 pads, with different pad colors showing the key center and other notes in the key. This allows you to play in every key using the same finger patterns, move between keys at the touch of a button, and explore new harmonies and phrases.
Improvise with song structure: Push expands the scope of creation with its unique workflow. Using just a few buttons to trigger clips, overdub notes, move between song materials and variations lets Ableton Live itself become an intuitively playable instrument.
Move smoothly from creation to arrangement: Push offers both the inspiring instrument to start creating music, and the full-featured software to finish off a track. Everything created with Push is laid out in Ableton Live on your computer – ready for fine-tuning, arrangement and export.
Includes Ableton Live 9: Push includes Ableton Live 9 Intro and works with any edition of Ableton Live 9 (Intro, Standard, Suite). All the included instruments, effects and sounds, as well as your own libraries, are ready to be played, tweaked, and personalized.
Designed by Ableton, built by Akai Professional: Utilizing Akai Pro's long-standing expertise in the field of pad controllers, Push features 64 pressure and velocity-sensitive RGB (multi-colored) pads with an adaptive layout and a touch strip with 24 LEDs for pitch bending or navigating through a Drum Rack. The 11 touch-sensitive encoders and LCD display adapt dynamically to control and show active parameters.
Fits inside a backpack alongside a laptop: Push is 370 mm / 14.57 inches wide, 293 mm / 11.54 inches deep and is 46 mm / 1.81 inches in height (including encoders) and weighs 2990g / 6.59 pounds. Backside connections are a USB port, power adaptor input and two assignable footswitch inputs. (Push is USB-powered, the brightness of the display and LEDs can be increased by using the included power supply).
Push cover: An optional steel cover doubles as a sturdy, angled stand for performance.
Push will be available in the first quarter of 2013 for $599 USD/499 EUR. Push includes Ableton Live 9 Intro and works with any edition of Ableton Live 9 (Intro, Standard, Suite). Bundle upgrade discounts will be available for owners of previous versions of Live.
More info here >>
DJ Zinkus speaks about his own vision of EDM Live performance at events and makes live performance demo of personally designed music control panel on iPad (Lemur).
www.djzinkus.com
Dance music duo Orbital is one of techno's most celebrated and accomplished partnerships. They pack a punch and we hear songs from their new album, Wonky, when these Brits invade KCRW studios on Morning Becomes Eclectic. Watch / Listen to the full session here: http://www.kcrw.com/music/programs/mb/mb120924orbital
visit Mr.Y on facebook: http://www.facebook.com/thisisMrY
Here it is, a mini mix of all original music, recorded live in one take. Nothing was prerecorded and no samples were used. Everything is played and looped live using a korg kaoss pad, a microkorg, a moog synthesizer, and some beatboxing. Three cameras were used to get a better view of what I am doing at a live show. Hope you all enjoy!
Techno live set utilizing
-Korg Electribe S
-Korg Monotron
-Nanoloop
-Echopark
-TR-626 (MIDI and sync-trigger master)
Gameboy and Electribe (not the Monotron filter LFO) are synchronized via MIDI or trigger pulses from the TR-626 sync master. The Delay is synced manually by tapping.
—————————————————————–
https://sites.google.com/site/synthaquarium/
Excerpt from the show at Norbergfestival 2012 held in Norberg, Sweden on July 27th with audio in quadraphonic surround.
Buchla Boys are David Sabel and Niklas Sjösvärd, and they're performing on a 1980's 5-panel Serge and a 18-size Buchla 200e, both belonging to the Lindblad Studios at the Academy of Music and Drama in Gothenburg. Filmed by Palle Dahlstedt.
Music video improvisation on a Yamaha SY85 with Korg Kaoss Pad (mini-KP) effects. Using the HOLD button on the Koass this is another way of connecting music gear together rather simply. If there is interest I might show how to connect the devices together and recording the audio. In this case I record to a Zoom H2n.
This is the introductory tutorial for Loopy, the live-looper for iOS: Recording the first track, count-in, tempo and clock length controls and track-twisting.
Product description:
This is a looper that'll come out to play, but get down to work when you want to get serious.  While other music creation apps tend to be either powerful but difficult to learn, or easy to use but limited in features, Loopy doesn't compromise. Loopy offers a sleek, expressive, instantly understandable interface that beginners can start using effectively straight away. It's fun, right from the start. More advanced users, however, will not be disappointed by Loopy's rich feature set, with extra features many other loopers just don't have. Plus, a sophisticated interactive tutorial system lets users discover Loopy's more advanced features at their own pace.
RECORD & LAYER
– Six, nine, or twelve beautifully rendered circular loops, with simple yet powerful controls.
– Count-in, count-out and record chaining lets you keep your hands free to play an instrument.
– MIDI control, to control Loopy via foot pedal or other controller.
– Overdub, to build beautiful, complex soundscapes from many layers.
– Support for tracks of any multiple or fraction of a beat, for flexible and expressive looping.
– Sophisticated audio or visual metronome to keep you in time – no matter what time signature you choose.
– Perfectly synchronized, low latency audio engine.
IMPORT & CONSTRUCT
– Import loops from your computer via iTunes, with support for AIFF, WAV, MP3, M4A, CAF and more.
– Bring in audio from many other audio apps with integrated audio copy and paste.
– Imported loops are automatically fit to your beat, no matter what tempo.
MANIPULATE & TWEAK
– Full stereo audio, with pan controls for each track to create custom stereoscapes.
– Fix up timing by twisting tracks around to line up the beat, or make funky sound effects with dynamic time shifting.
– Drag a track onto another track to merge tracks, and clear up a space.
– Live, dynamic tempo adjustment to speed up or slow down your creations, without altering the pitch.
– MIDI clock sync, to play in time with other MIDI-capable devices or apps.
PERFORM & SHARE
– Record whole performances with in-app session recording facilities.
– Upload performances or single loops straight to SoundCloud, and post to Twitter or Facebook.
– Email audio clips.
– Share audio with many other audio apps with audio copy and paste.
– Transfer loops or performances to your computer via iTunes.

Steinberg has announced the immediate availability of Nuendo Live, a new version of Nuendo, designed specifically for multitrack recording live performances.
Nuendo Live offers a single-window user interface, designed to let you focus on recording. Transport control, marker insertion and recording options can be accessed with just one click. And a convenient Record Panel gives you an instant overview of all relevant parameters. Other highlights include on-the-fly session setup, a 60-second pre-record buffer and auto-save functionality.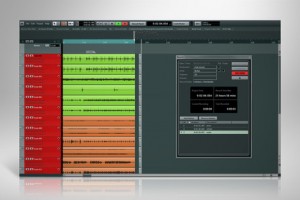 Features:
Advanced live recording system featuring a straightforward single-window operation, a record panel, a pre-record buffer and more
Seamless integration with Yamaha CL-series consoles for controlling essential Nuendo Live functions straight from the live console
State-of-the-art recording quality based on Steinberg's award-winning audio engine with up to 192 kHz lets your production stand apart from the competition
Nuendo Live Record Panel shows all essential session information at once — creating confidence in demanding live situations
Advanced Session Management with auto-naming of recorded files, multiple folder creation, easy-to-use marker track, auto-save and notepad
Zero setup time thanks to automatic track creation function that make Nuendo Live record-ready in less than a minute
24+ hours recording time thanks to EBU-compliant RIFF 64 broadcast wave format in standard recording mode
Virtual Sound Check allows for easy use of previous recordings for sound check, including marker recall and 1:1 output
Deliver with confidence due to standardized rendering formats and Nuendo
Editing on the road: Nuendo Live includes essential editing functions, making it possible to create a rough edit of the recordings right after the show
Nuendo Live is available now for US $329.