This me like

I Feel for You To…
http://www.youtube.com/watch?v=0JlPP8MuL0s
"How the track was put together:

The original Chakakhan version is extremely over produced, so it took me a while to get the same sort of result.

The machine drums at the start, which keeps on running throughout the whole track, was originally done using a DMX, Linn and TR808. All these can now perfectly be recreated inside Reel Machines by XLN-Audio.
I wasn't really pleased with Reel Machines initially, but having given it a second chance it's rather convincing and pleasant to work with.
After the rap intro Addictive Drums kick in, to put another layer of drums ontop and to give it a live feel, which I do with all my tracks.
My aim is always to find the middle between the original recording and a live feel.

I could have left Melle Mel rap out, unless I had the original isolated track, but no one has that luxury, so I did it myself.
Only then I realized how difficult that rap was. Not having an American accent and of course Melle's deeper voice makes it somewhat sound silly, but it's effective enough (I hope?).

A lot of Prophet-5 and Jupiter-8 was used, especially all the brass sounds.
The harmonica was another difficult thing to replicate.
I used a sample from my TR-Rack.
The Minimoog is completely unprocessed."
Shared by Geeljasjes
VELVET VOYAGE – "MacBeth M5N (& Friends)_4″ – Performed live 5. Jan. 2011 by Bruno Ender Lee.
MacBeth M5N & Doepfer MAQ-Sequencer, Moog Little Phatty Stage II, ARP Odyssey, Roland Juno-60, Roland JP-8000, Analogue Solutions Vostok, Korg Delta, Korg DS-8, Prophet 2000, Technics KN 3000, Absynth
Shared by synthypnosis
This time an 80s clubstyle track, with new Korg Polysix and SCI Prophet VS. More to follow
Korg Electribe S mkII: TR808, Oberheim DMX, Linndrum sounds
SCI Pro One: bass, claps, stabs
Korg Polysix: rhodes, strings
Sequential Prophet VS: arps, strings
Minikorg 700S: lead
Crumar Performer: layered strings
Boss SE70: fx, vocoder
John Travolta's great SNF performance copyright Paramount 1977. I felt it fitted best. In case of any complaints by copyright holders, just contact me directly and the video will be replaced.
Nice crisp sounds from the Prophet

A short demonstration of the project-5 (prophet-5) Controller. Special designed for Gunnar´s Messiah VST Instrument.
more Info and pics at :
http://www.synth-project.de/Project-5…
Arturia Analog Laboratory is a new software synth that offers 3500 "legendary classic synthesizer sounds', along with the ability to edit each of them in depth.
Main Features:
3500 synthesizer sounds selected from the Arturia Classic Synths (minimoog-V, Moog modular V, CS-80V, Prophet-V, ARP2600 V and Jupiter-8V).
Full screen preset editing (for owners of Arturia Classic Analog recreations only): Analog Laboratory allows opening any other Arturia Classic Synth plugin for in depth patch edition in a separate window. It is also possible to assign any of the 4 key parameters of the Laboratory to one knob of choice inside the favourite software synthesizer.
Scene mode: It allows to:

Combine 2 synthesizer sounds over a MIDI keyboard in either split, layer or multi configuration.
Assign melodic phrases based on advanced arpeggiation thanks to the library of 200 melodies organized by genres.
Trigger Drum loops from the pads thanks to a library of 350 Rex files.

Organize Presets view by Name, Instrument, Type, CPU usage, Favorites, or User Preset.
Fast filter the presets to meet requirements: by Instrument, Type and Characteristics
Midi Learn Controllers: 1 clickable encoder, 10 encoders, 8 sliders, 11 switches, 1 modulation wheel, 1 pitch bend wheel.
Arturia Analog Laboratory is expected to be released November 25th. MSRP: $299/Eur269
http://www.youtube.com/watch?v=58HcrkNcDD4&feature=player_embedded
In this refill (sound bank), which is compatible with Reason 4 and Reason 5, the user gets access to over 8,000 individual files, such as brand new samples of both digital and analog synthesizers, the entire Fairlight CMI IIx factory library (used with kind permission from Fairlight in Australia) as carefully sampled, re-sampled, edited and looped by Bitley, as well as each single drum sound from basically all (worthwile) drum machines ever made. The new refill contains over 1,000 individual NNXT patches and over 450 (that is four hundred and fifty) combinator patches.
The refill also contains brand new signature patches. It also collects and includes all previous Bitley refills, such as The Prophet (Prophet 5), DaBeat, Orlando JX-10, Patrick Fridh's D-50 ReFill and DeLight. Brand new material includes multi samples taken from a mint condition Roland Jupiter 4 synthesizer. All in all, this sets to provide the entire range of sounds necessary for each and every one interested in having ALL important synthesizer and drum sounds from the entire 1980s; it's all here. From the Yamaha DX7 bass sound as used by Howard Jones to multiple variations of Fairlight's Sararr patch as used by Tears For Fears, Art Of Noise and many others. Not forgetting each and every drum sound that made Prince famous.
Content: About 1,970 separate Reason patches for all instruments, including Dr Rex / OctoRex, Subtractor, Malström, Thor, NN19, NNXT, Combinator, ReDrum. Over 2,5 Gb of raw sample data; 1,2 Gb when packed into the refill. About 40 demo songs and examples. Each patch categorized and easily found through clever placement in the refill. The total development time of this refill has been over 14 months.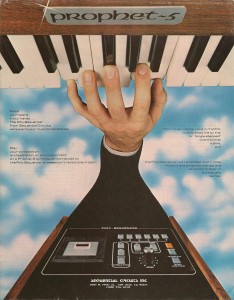 Retro synth continues to tease us with old posters of rare synth gems

Analog Player includes no less than 1,000 classic Arturia synthesizer sounds made from the company's flagship software synthesizers (Minimoog V, Prophet V, ARP 2600 V, Jupiter 8V, and many others) that re-create the sounds and the look of classic hardware synthesizers. According to the maker, Analog Player's straightforward editing functions give access to the most essential parameters, making sound design both easy and fun. In addition, its smart preset manager helps you find the sounds you want quickly, without having to waste time scrolling through endless menus.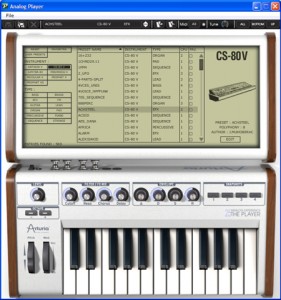 The new release is fully compatible with major plugin formats (VST, Audio Units, and RTAS) and hosts on Mac OS X and Windows XP / Vista / 7. Analog Player not only integrates into all the major hosts and sequencers, but it can also be used in standalone mode and be controlled by a remote external MIDI keyboard with keys, knobs and faders, allowing you to make changes via a simple twist of a knob.
Artura Analog Player's main features:
1,000 synthesizer sounds selected from the Arturia Classic Synths (Minimoog V, Moog Modular V, CS-80V, ARP 2600 V, Prophet V, Prophet VS, and Jupiter-8V)
Smart preset manager allows you to fast filter the presets to your requirements, by instrument and by type (Bass, Pads, Leads, and so forth)
Organize Presets view by Name, Instrument, Type, CPU usage, Favorites, or User Presets
Straightforward editing with the most essential parameters for personalizing presets: Cutoff and Resonance, Chorus and Delay mix, ADSR envelope
Full compatibility with major formats and hosts on Mac OS X and Windows XP / Vista / 7 (VST, Audio Units, and RTAS)
4 Snapshots buttons let you store up to 4 snapshots for sound comparisons, variations, and more
Integrated as a plugin within your sequencer or plays as a standalone software synthesizer
Optimize your screen space — choose to view the Preset Manager only, the Keyboard only, or both at the same time
Set to Control with your external MIDI keyboard
Save and recall presets
VST 2.4 / Cubase 5 ready
Analog Player is now available as a downloadable product for $99 (MSRP) from the Arturia online store. For more details, please visit arturia.com.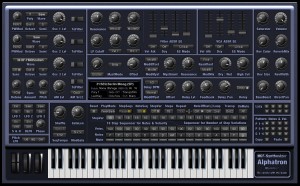 Alphatron is not just a simple VA synthesizer instead in using a 3rd oscillator with digital waves it does offer a lot more variation. Thus it can do analogstyle sounds reminding of the old Moog and Prophet days but also merge this with the digital realm in various ways to achieve sounds beyond.

Another big highlight of Alphatron is the versatile step sequencer with 8 + 4 pattern slots which can be selected at realtime for instant pattern switching.
Plus Step Variation which is in fact aonther 16 step sequencer to set different number of steps to be played in succession. Two alternating semitone offsets can be set e.g. for each 2nd, 3rd or 4th loop.

Main features (based on Pro version):
1 VA Oscillator with up to 6 poly waves for Saw, Ramp, Sine, Tri, and Pulse
1 VA Oscillator with single waves as above plus white and pink noise, Sync slave
1 Sample Osccillator with fairly typical digital waves with different hamonic content, Sync master
1 Amplitude Modulation with dedicated output
1 24 dB resonant Low Pass filter with dedicated ADSR EG, 4 mixable mod sources
1 VCA EG
Note: Both EG have 3 modes: exponential, reverse exponential, and linear; and optional control for Attack and Decay by velocity
1 Booster or Enciter selectable
1 Mystify with three selctable types (Brite, Soft, Dark)
1 bpm synced Delay with adjustable Offset controlled manually or by modsource, Pan
1 Bass Boost
1 Pan for undelayed signal
1 small Reverb for adding some nice flavour
1 Saturator
1 main Volume
3 x LFO, 1 x Duo LFO (with two waves and phase control for 2nd wave), 1 x S&H
1 Pitch LFO with option to speed up or down the LFO speed
16 Step Seqencer with Shuffle for notes and velocity plus mute buttons for each step.
incl 8 pattern slots per patch and 4 global pattern slots for instant changes
3 Wheels
Aftertouch as selectable modsource
8 Lazy buttons
8 GUI variants selectable
128 patches
FM music has started some video posts where selected people shares their love for different synths
Morgan Page gives FM the lowdown on why he loves the Prophet '08 so much.
Morgan Page takes you through why he loves the Moog Voyager.
Kieran Hebden talks about his love of the Yamaha Tenori-On and how it was used in his new album