http://youtu.be/RXhIPpRD9cs
Synthesizer modifications (keyboard replacement / aftertouch / card reader as a HD replacement) in the synthesizer studio of Martin Höwner. Music played by Martin and Dietmar Höwner Steinhauer on Prophet V, Oberheim OB-X, PPG 2.3 and Memorymoog.
More info below:
DSI Prophet '08 Module: Advanced Sequence
Audio & video by Arjen Schat
I bought the Prophet '08 Module back in 2008 but never really used the internal step sequencer to its full potential. In this video I use three layered sequences which were all composed using the internal step sequencers. The first sequence modulates the pitch of oscillator 1 in layer A, the second sequence modulates the pitch of oscillator 2, also in layer A. The third sequence modulates the pitch of both oscillators in layer B.
I use key step triggers to trigger the different steps of the sequences and alternate between three different notes with yet another sequence coming from my DAW (Renoise). These notes transpose the pitch of the sequences at their respective steps and create intricate polyrhythms due to the different lenghts of the internal sequences and the key step trigger sequence from Renoise.
The notes in the trigger sequence are also transposed a few times to keep things sonically interesting.
The audio is routed through a Moog MF-104Z BBD delay, a Maxon AD999 BBD delay and T-Rex Room-mate reverb.
http://www.youtube.com/watch?v=RjqVO-oKEpc
we are planning a music-project with only analog synthesizers from the wonderful synth-collection of martin forrest. he owns more than 140 instruments from every synthesizer generation und they are all in perfect condition! You find all the legends from moog, ARP and oberheim over sequential circuits to PPG, EMU, Roland and Yamaha and all the Samplers of Akai, Emu and Roland.
Shared by Keyboardscool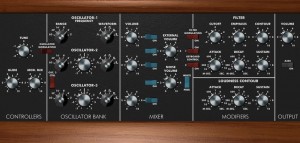 Roberson Audio has updated their site and released updated versions of three free virtual analog instruments for Windows:
RA Mowg – The Roberson Audio Synthesizers interpretation of the MiniMoog Model D synthesizer.
Oddly-Free – The Roberson Audio Synthesizers interpretation of the Arp Odyssey Mk. II synthesizer.
Prophanity - The Roberson Audio Synthesizers interpretation of the Sequential Circuits Prophet 5 synthesizer.
Oddy-Free and Prophanity have been bumped up to version 1.4, and RA Mowg has been updated to version 1.2. The main changes to all have been the filter implementation so that these instruments have a bigger sound to them without being untrue to the original instruments.
About:
Roberson Audio Synthesizers is the premier provider of vintage synth emulations as well as specialty request plugins.
Named after Chris Roberson, the lead designer of said instruments, Roberson Audio Synthesizers aims to build the best possible VST effects and instruments for the Windows PC platform.
Roberson Audio specializes in mimicking analog synth technology, but also builds model-based synths, and is open to specific commissioned requests if feasible.
Chris can be reached for questions about his synths and products, as well as questions pertaining to commissioning specific plugs, at blu_gruv@lycos.com
Spammers WILL be flagged as such and consequently ignored.
Let Roberson Audio Synthesizers fulfill all your VST needs!
"Annus Mirabilis 1983″ MARK JENKINS guesting with The Land of Yrx, Shrewsbury open air 1983. Mark Jenkins (Sequential Prophet 600 & Pro One), David Gate (keyboards, drum machine and MC), Rob Andrews (Bass), guests Ray Gordon (flute), Steve Collins (guitar), drunk audience (shouting). Video by Nick Elborough.
For this improvisation I think we'd been listening to Gong, Can, early Ash Ra Tempel, Guru Guru, Cluster and very early Kraftwerk…
The synthesizer sounds used were also used in my set at the first UK Electronica Festival also in 1983, from which there's no video. This piece is also otherwise unreleased, but I have similar music from around that period on my CD "Analog Archives" available worldwide through Amazon.co.uk and on the CDR "Live Archives" available through www.markjenkins.co
This me like

I Feel for You To…
http://www.youtube.com/watch?v=0JlPP8MuL0s
"How the track was put together:

The original Chakakhan version is extremely over produced, so it took me a while to get the same sort of result.

The machine drums at the start, which keeps on running throughout the whole track, was originally done using a DMX, Linn and TR808. All these can now perfectly be recreated inside Reel Machines by XLN-Audio.
I wasn't really pleased with Reel Machines initially, but having given it a second chance it's rather convincing and pleasant to work with.
After the rap intro Addictive Drums kick in, to put another layer of drums ontop and to give it a live feel, which I do with all my tracks.
My aim is always to find the middle between the original recording and a live feel.

I could have left Melle Mel rap out, unless I had the original isolated track, but no one has that luxury, so I did it myself.
Only then I realized how difficult that rap was. Not having an American accent and of course Melle's deeper voice makes it somewhat sound silly, but it's effective enough (I hope?).

A lot of Prophet-5 and Jupiter-8 was used, especially all the brass sounds.
The harmonica was another difficult thing to replicate.
I used a sample from my TR-Rack.
The Minimoog is completely unprocessed."
Shared by Geeljasjes
VELVET VOYAGE – "MacBeth M5N (& Friends)_4″ – Performed live 5. Jan. 2011 by Bruno Ender Lee.
MacBeth M5N & Doepfer MAQ-Sequencer, Moog Little Phatty Stage II, ARP Odyssey, Roland Juno-60, Roland JP-8000, Analogue Solutions Vostok, Korg Delta, Korg DS-8, Prophet 2000, Technics KN 3000, Absynth
Shared by synthypnosis
This time an 80s clubstyle track, with new Korg Polysix and SCI Prophet VS. More to follow
Korg Electribe S mkII: TR808, Oberheim DMX, Linndrum sounds
SCI Pro One: bass, claps, stabs
Korg Polysix: rhodes, strings
Sequential Prophet VS: arps, strings
Minikorg 700S: lead
Crumar Performer: layered strings
Boss SE70: fx, vocoder
John Travolta's great SNF performance copyright Paramount 1977. I felt it fitted best. In case of any complaints by copyright holders, just contact me directly and the video will be replaced.
Nice crisp sounds from the Prophet

A short demonstration of the project-5 (prophet-5) Controller. Special designed for Gunnar´s Messiah VST Instrument.
more Info and pics at :
http://www.synth-project.de/Project-5…
Arturia Analog Laboratory is a new software synth that offers 3500 "legendary classic synthesizer sounds', along with the ability to edit each of them in depth.
Main Features:
3500 synthesizer sounds selected from the Arturia Classic Synths (minimoog-V, Moog modular V, CS-80V, Prophet-V, ARP2600 V and Jupiter-8V).
Full screen preset editing (for owners of Arturia Classic Analog recreations only): Analog Laboratory allows opening any other Arturia Classic Synth plugin for in depth patch edition in a separate window. It is also possible to assign any of the 4 key parameters of the Laboratory to one knob of choice inside the favourite software synthesizer.
Scene mode: It allows to:

Combine 2 synthesizer sounds over a MIDI keyboard in either split, layer or multi configuration.
Assign melodic phrases based on advanced arpeggiation thanks to the library of 200 melodies organized by genres.
Trigger Drum loops from the pads thanks to a library of 350 Rex files.

Organize Presets view by Name, Instrument, Type, CPU usage, Favorites, or User Preset.
Fast filter the presets to meet requirements: by Instrument, Type and Characteristics
Midi Learn Controllers: 1 clickable encoder, 10 encoders, 8 sliders, 11 switches, 1 modulation wheel, 1 pitch bend wheel.
Arturia Analog Laboratory is expected to be released November 25th. MSRP: $299/Eur269