More info: http://bit.ly/12pRSK6
In this video tutorial, DJ Kiva explores the creative possibilities of midi sync and audio routing between Dave Smith Instruments' Tempest drum instrument and Ableton Live.
The Dave Smith Instruments Tempest is an analog drum machine that was created by two of the top minds in the industry: Dave Smith and Roger Linn. Together they have developed an instrument that takes the traditional drum machine into new realms of sound and control. While exploring the instrument in our studios, Dubspot Ableton instructor DJ Kiva recorded this tutorial in which he syncs the Tempest with Ableton Live and records the Tempest's multiple outputs as individual audio tracks in Ableton. To finish off the session Kiva plays back the recorded parts and adds his own custom delays through send channels in Ableton Live.
Fan of Teenage Engineering's OP1 – then check this one out from AfroDJMac
Free Ableton Pack Download @ http://bit.ly/freesynth77
Tutorial on how to create drum fills and variations, plus two free Ableton Live Racks. The OP-1 Drum Rack was made with the synthesizer engines on Teenage Engineering's OP-1, and the effect rack is designed for easy drum fills and changes.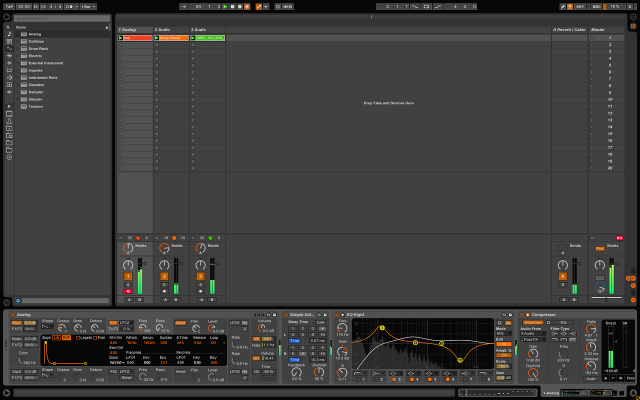 Ableton has released Live 9.0.4 – and Disco lives.
Here are the details:
9.0.4 Release Notes:
Bugfixes:
VST / AU plug-in devices could be inactive after loading a Live set containing a large number of plug-ins (regression in Live 9.0.3).
The "grab_control" function which allows to gain control over a control surface's button matrix via Max for Live would not work anymore (regression in Live 9.0.3).
Fixed a bug which could cause the File Manager window to reopen after launching Live.
9.0.3 Release Notes:
Improvements and feature changes:
Added a new skin: "Disco".
Added a new option to the "Record/Warp/Launch" preferences pane: "Start Transport with Record". If activated, the transport will start immediately when clicking on the Session- or Arrangement-Record buttons. If deactivated, it prepares for recording as in Live 8, so you have to launch a clip in Session View or click the 'Play' button. You can hold down the Shift modifier key when clicking on the record buttons to invert the behavior temporarily.
When recording automation on top of an existing automation envelope, and quickly clicking on different positions in parameters like sliders, X/Y pads, etc., Live now records a latching automation envelope instead of jumping back to the previous value.
The Compressor device does not clip input signals at +20 dB anymore.
Added control surface support for Novation Launchkey series.
Added control surface support for M-Audio Axiom Air Mini 32.
Added a user satisfaction survey. After several hours of usage, Live will ask you to rate the software on the next startup. You can submit a star rating or simply dismiss the survey.
Updated manual, lessons and translations.
Bugfixes:
The Trial version of Live 9.0.2 could hang on startup.
Live would not work as a ReWire slave on Windows.
The performance of the Ableton Index process has been improved, especially on OS X.
The Ableton Index process would sometimes not scan all folders after adding them to the sidebar.
The Ableton Index process could block the GUI during saving and exporting of Live sets, presets or clips.
Scanning folders containing a huge amount of files could take longer than necessary.
The Browser would not update its content pane after a change in the file system if the selection was somewhere outside of the Browser.
Expanding the Audio Unit folder in the browser's "Plug-ins" label could be slow for users which have a lot of library content installed.
Live would not save a clip self-contained after dragging it to the Browser and confirming the name of the new clip by clicking anywhere outside of the Browser.
The Session Record button would not turn off if the recording was aborted, e.g. by stopping or deleting the currently recording clip, disarming a track, etc.
Under certain conditions, MIDI notes would not get recorded into a clip slot after deleting a previous clip.
Overdubbing into MIDI clips could unnecessarily bloat the undo history file.
Fixed a graphical glitch which could occur in the representation of the filter curve in EQ Eight's Frequency Display.
Several MIDI control surfaces would not correctly shut down after quitting Live, e.g. motorfaders on the Mackie Control would not return to zero, Axiom Pro devices would not exit Hypercontrol mode, etc.
The "Project Mix IO" control surface would not work.
The channel strip buttons on the Mackie Control XT would not work.
Fixed a bug where the key navigation in track headers would not work properly when certain control surfaces are selected.
When using control surface scripts, the blue hand would sometimes not map to any device, e.g. after creating a device and then deleting it by using undo.
Live could sometimes crash on quit in case a faulty MIDI remote script throws an exception in the Python console.
Fixed a crash which could occur in Live Intro when right-clicking on a drum rack chain.
Changes for Push:
Using the touch strip to change banks in drum racks now requires to pick up the current value, to avoid changing banks accidentally while playing.
Fixed incorrect intervals in the Locrian scale.
The velocity curve setting would reset to the default value when opening a new Live set.
Changing the pad sensitivity settings could be slow if a drum rack was in focus.
Updating the LCD display could be slow when switching between Drum and Note mode.
The Push LCD could remain blank and no mode would be selected after holding the 'Browse' mode button.
Fixed a bug where 'Browse' mode would be exited after swapping a Max for Live instrument.
Tracks created by dragging an instrument would sometimes not be automatically armed if Push is connected.
The "Arm Exclusive" preference would not be respected when Push was connected.
Fixed a bug where recording wouldn't work properly if the default clip launch mode was set to 'Toggle' mode.
Fixed a crash which could occur when using the 'Quantize' function.
Fixed a crash which could occur when using Push to delete a device whilst recording automation for this device with the mouse.
Elektron Analog Four + Arturia Minibrute + NI Maschine Mikro Mk2
Recorded into Ableton Live 9
Background video description:
Using the QMVS-48 S-Trig cable from Synthesizers.com for the Gate ( with a Mono 1/4 to mono 1/8 adapter since the minibrute uses minijacks) and a ad infinitum cable for the pitch to control a 1976 MiniMoog. Works pretty well and sequences well from Ableton.
Being able to use hardware with a DAW opens things up.
also the sequence at the end is a NIN bassline from SIN. I did not adjust for for latency.
Any comments or something i missed or are totally ignorant about please let me know
In this tutorial, Ableton Certified Trainer Michael Hatsis a.k.a. !banginclude, shows how to make dance music leads in Ableton Live 9 using Live's built-in synth instrument Analog. These kinds of synth leads are useful for many different types of club music from dutch house and moombahton to trap and beyond. In a step-by-step process, Hatsis explains and demonstrates how to shape and transform the basic preset/default sound of Analog into an effective and customizable dance music lead that you can control and tweak to your liking.
A mellow house/techno track created in Ableton Live using MASCHINE and REAKTOR's Metaphysical Function, Gaugear, and MONARK.
Background details below:
Get the full track @ https://itunes.apple.com/us/album/not…
OR share on your social networks and I'll send you the track. (Message me for details)
Multi Band Effects allow you to only add an effect to certain frequency ranges. Learn how to do it in Ableton Live in this short video tutorial.
Visit AfroDJMac's site for more stuff like this, including Live Instrument downloads, tutorials and music! http://www.afrodjmac.com
AfroDJMac
http://www.facebook.com/afrodjmac
http://www.twitter.com/afrodjmac
http://www.afrodjmac.tumblr.com
Watch as Joris Voorn explains how he uses Ableton Live's automation on the envelope shaper to edit and rework stock samples and loops into something custom and unique.