In this series, we demonstrate how to efficiently and painlessly create sample chains, to be used in the Elektron Octatrack, or any other sampler. This video focuses on creating a very simple chain with 8 similar sounding samples.
Meyer Musicmedia has announced the release of a reworked Analog EDM Ableton Live expansion pack.
The previous Analog Trance & Electro preset pack are now included in the new Analog EDM Expansion.

You get more than 256 new fresh analog add-on sounds for Ableton Live 9. They're especially for modern electronic dance music. The presets are carefully selected, so you will get cutting edge sounds.
The Analog EDM expansion is available to purchase for $39 USD.
The Ableton Live Electro pack is also reworked and ready for Live 9. This pack is also priced at $39 USD.
ProdMod is a new Ableton instrument library with sounds derived from a customized Moog Prodigy. The Prodigy that was sampled has got a breakout connection with a handmade patchbay attached to it. This allows to interrupt and split the synth's internal wirings and therefore offers much more sonic possibilities that go far beyond the off-the-shelf version.
ProdMod Live Pack contains 30 multi-sample instruments in Abletons Live's Rack format that transfer the sound of this vintage mono synth into today's music production environments.
The library delivers diversified material as the source for fat basslines, lively synth and keyboard sounds, warm pads or idiosyncratic oddities.
specifications
Format: Ableton Live Pack, Live 8/9
Instruments: 30
Samples: 497
Disk space: 200 MB
ProdMod Live Pack is available to purchase as download for 9.00 Euro.
In this video one uses a TC-Helicon VoiceWorks, VirSyn HarmonyVoice app, Ableton Live and abunch of Moog and other synth gear to create an interesting vocal performance environment. Analog Control Voltage step sequencing created by Ableton Live and a Moog Multi-Pedal ad an interesting rhythmic dimension.
Learn more at www.experimentalsynth.com
Jam session in Ableton Live, details below:
This is a quick demo track I set up while testing my software editors as VSTs inside Ableton Live. It goes on a bit long cause I was having fun – but you clearly don't need to watch the video in its entirety to get the idea

Create vinyl record scratches and learn about Ableton's various Delay Plug in's modes.
Download the AfroDJMac Vinyl Scratcher Rack for free @ http://bit.ly/freesynth91
Ableton made it official yesterday, with the release of a "public beta" update to Ableton Live 9, which brings dual monitor support, and a new melodic step sequencer, among other improvements:
Live 9.1 introduces support for two windows, including the option to place the windows on different monitors.
For Push owners, Live 9.1 introduces a brand new melodic step sequencer.
Improved rendering: If you're working at a high sample rate (such as 96 kHz), you can now downsample to lower sample rates (such as 44.1 kHz) with no loss in quality. Also, rendering now uses multiple cores, which can result in much faster exports.
The Live 9.1 update is available in public beta and is free for owners of Ableton Live 9.
With Push it's simple to move between keys with the touch of a button. Explore new harmonies and phrases across 64 velocity and pressure-sensitive pads. Push's hands-on step sequencer allows you to enter notes manually or play them in, and now you can edit automation with step-by-step accuracy.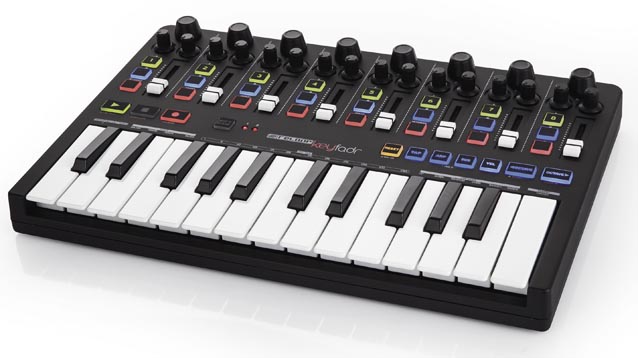 Reloop will disclose new studio products at the BPM Show. Reloop Keyfadr and Keypad are especially designed and optimized DAW controllers for Ableton Live 9. The Reloop Studio Keyfadr combines some of the most useful control functions for music production into a compact and versatile DAW controller for producers and performers using Ableton.
Aside from its extremely compact dimensions, which make the controller fit comfortably into almost any laptop bag, the Keyfadr offers users a variety of intuitive possibilities; from being a control station for studio projects through to being a creative tool for a live gig.
The Keyfadr is made up of 25 velocity-sensitive keys, 8 faders, 16 rotary knobs and 8 endless encoders with push function, making this USB MIDI controller an indispensable creative tool. A unique highlight of the Keyfadr is its ability to help create complex compositions on the fly. The internal arpeggiator can build vivid sequences with flexible quantization possibilities that give subtle nuance to your sound, whilst the chord mode can punch out different combinations at the strike of a single key. Scale mode helps you hit the right key every time by playing the correct tones matched to the chosen scale.
Ableton Live Lite 9 comes included with Keyfadr, and the controller is ready to plug-and-play once the software is installed; getting you set-up and running in seconds, without having to make your own complicated mappings. Creating a live performance is easy with Keyfadr, as Ableton's live clip view can be set to control all major clip and navigation commands using only the Keyfadr surface. Pressing 'shift' at any time allows you to set up a second scene, making it easy to switch between performance modes.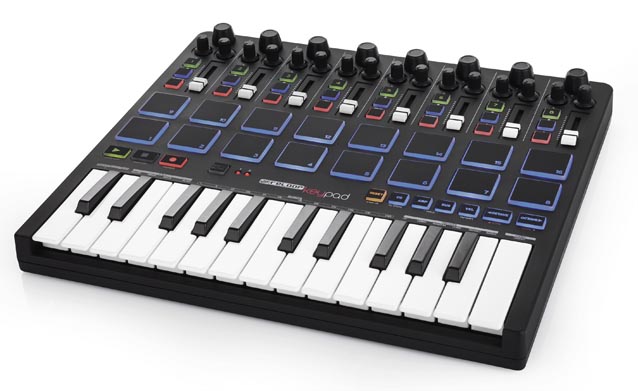 The Keypad is made up of 25 velocity-sensitive keys, 8 faders, 16 rotary knobs and 8 endless encoders with push function, making this USB MIDI controller an indispensable creative tool.
Features
– Combines the most useful functions for music production into one device
– Keyboard: 25 mini keys with 9 playable octaves
– Control section: 8 Channel faders with endless encoders (pan), including 2 control
– knobs, (send/return) and three backlit function buttons (mute, solo, rec)
– Full integration and easy plug and play for Ableton Live 9
– DAW transport controls (play, stop, rec, scene up/down, play/ stop clips, overdub, set marker, marker left/right, cycle, tap, metronome)
– On board appregiator with multiple modes and internal/external midi clock
– Chord feature: Easily play the most common chords in this versatile mode
– Scale mode: Choose from four different scales and always hit the right key
– Shift button for second layer control and choose between two performance scenes
– Fully USB powered controller requires no external power source
– Other midi mappings available as download
– Ableton Live 9 Lite included (value upgrade opportunity)
KEYPAD additional
– Drum pads: 16 velocity sensitive trigger pads with backlit LEDs
The Point Blank modular synth is based on the legendary EMS VCS3. The VCS3 was built in London in the late '60s and there were a number of subsequent models of varying sizes. It was a popular synth and used by the Radiophonic Workshop (the ring modulator was used to process the sound of the daleks) through to Pink Floyd.

It's a great synth to generate sounds and jam around with and the interface was really well thought out, featuring an innovative matrix which is still a neat way to patch the different synth sections together. It features three oscillators, a noise generator, a ring modulator, a couple of filter sections, audio input, envelope generator, spring reverb and an assignable joystick control – if you really wanted you could even hook up a keyboard!

The Point Blank modular synth is a simpler interface, but still offers three oscillators and noise generator, a filter section, ring modulator and X/Y controller. Unlike the VCS3, it's possible to store your settings, and trigger the sounds easily (and in tune!) from a MIDI source. We've also included a slide control to emulate the smooth sweeps you could sometimes achieve with the original synth.
The modular synth is a free download for Point Blank Facebook fans.
This time the Dancing Bear is sequencing the Tinysizer!
Tinysizer ANYWARE-INSTRUMENTS ANALOG MODULAR MINI SYNTHESIZER is a fantastic complete mini analog modular synthesizer system.
The MFB Tanzbär analogue drum-computer has a tight step-sequencer and 16 instruments.
Recorded in Ableton Live – no additional effects.