SoundIron has introduced Ambius 2: Systematik – a flexible and adaptive sample based atmospheric synth, details below:
We wanted a broad collection of richly nuanced flavors with the ability to freely layer, blend and reshape a wide mix of percussive, tonal and textural elements into custom multi-layered dynamic and evolving instruments. We wanted a unified and powerful interface to combine detailed performance and tone shaping controls with a wide pallet of experimental and environmental convolution effects. We wanted a built-in tempo-locking step-sequenced filter and LFO engine that could be adapted to just about any other GUI control parameter on the fly without missing a beat. Ambius 2 is all of that and much more.
Here's a video introduction to Ambius 2:
A detailed walk-through video and tutorial of Soundiron's new Ambius 2: Systematik library. This cutting-edge hybrid synthetic/organic lead, pad, texture and ambience design library is built on powerful new adaptive groove-building tools and inspiring performance shaping features that you won't find anywhere else. Create and tweak your own multi-layered instrument concepts with nearly 5GB of freely mixable content and dozens of unique presets, each with nearly limitless creative potential.
http://www.soundiron.com/instruments/ambiences/ambius2/
Diego Stocco has released another sound design video work, the meditative Transformed Rain.
Here's what he has to say about it:
Few days ago I was working on a new instrument and needed to pick up some tools from my work table outside. It was a rainy day.
While I was sorting through the tools, I started hearing a faint tonal rhythm that reminded me of ethnic percussions and wondered where it was coming from. It was the rain hitting a metallic trash bin that I had left upside down in front of the working table.
I stopped for a moment and focused my attention on the sound.
Besides the percussive noise of the rain, I started hearing some overtones, so I got inspired to create a piece by expanding the tonal resonances present within that sound. No additional instruments or samples. I hope you'll enjoy it!
Cwejman MX4S is where all of the panning is coming from for each of the 4 channels. The Harvestman Piston Honda is making the static style noise on Channel 4: WMD Synchrodyne is making the semi step filter sound with help from the Harvestman Double Andore on Channel 3: The other strange drone sound is stacked audio out from the Wogglebug on Channel 2: And the Make Noise Phonogene is on channel 1. On the Phonogene I just hit some random notes with my Teenage Engineering OP-1 and recorded in a random off time loop and threw in some random slices.
An Abstract Electronic solo piece sequenced in 5/4. The Phobos (aka Analogue Solutions) Red Square Semi modular mono synth is choosing most of the tones through it's Sample and Hold circuit. Rhythmically driven with 10 step sequencer modulating LFO frequency clock speed in steps which is sent to the S&H modulating the the cut off freq and pitch. Note values are all contained or tied within subdivisions of an eigth note (16ths, eighth note triplets, 32nds, eighth note quintuplets, and some faster) in 5/4 time. Notes that hold or sustain always begins on an eigth note value in 5/4 time, whether or not if it's carried over the barline. The midi clock is never interupted, but counting bars isn't the intent here, without any intentional bar markers, it opens up the minds perception of the quintuplet family of notes in contrast to space. Rather than having an obvious 5/4 structure, the mind defaults to 4/4 perception, thus making the eigth notes perceived as permutations of eighth note quintuplets, becoming the perceived base note being subdivided.
a 4 step sequencer modulates pulse width at times. playing SD-1 keyboard strictly as a midi controller. No overdubs, one live performance,with some Lexicon MX300 spring reverb added.
Scene: Year 7800, Location: In the sands of Massachusetts, in an area formally known as technology highway. Explorers discover remnents of circuit boards and believe it to be a lost language or art.
Note: Circuit boards shown are not of the Red Square's internal boards.
Background information and tutorial settings below:
This is a MicroKorg tutorial showing how to make the synth lead sound from my "Sunday Synth Jam" Video: http://www.youtube.com/watch?v=pp8620beSxY If you have questions or comments, go ahead and post them below!

Thanks for watching!
____SETTINGS:____
Initialize the sound on the MicroKorg by pressing SHIFT + 3 and then 3 again.
Pitch: 0 – 0 – 10 – 5 – /
Osc1: SIN – 0 – 0 – / – /
Osc2: SQU – SYC – 12 – 0 – /
Mixer: 127 – 54 – 0 – / – /
Filter: 12.L – 61 – 84 – 15 – 19
Filter EG: 0 – 0 – 33 – 31 – ON
AMP EG: 0 – 77 – 64 – 107 – ON
LFO 2: SIN – OFF – OFF – 12 – /
Patch 1: LFO.2 – CUT – 10 – / – /
Patch 2: LFO.2 – 2.TN – 10 – / – /
Mod FX: ENS – 50 – 99 – / – /
Delay: L-R – ON – 1.4 – 50 – /
Press SHIFT + WRITE and then WRITE again to save the sound to the current slot.
'Eldancer' has uploaded this nice video featuring Buchla and Eurorack. Its a nice ambient bitpop/electro pop tune with cool sci-fi ingredients
Scape
Available now for iPad
http://www.generativemusic.com
Scape makes music that thinks for itself. From Brian Eno and Peter Chilvers, creators of Bloom, Scape is a new form of album which offers users deep access to its musical elements. These can be endlessly recombined to behave intelligently: reacting to each other, changing mood together, making new sonic spaces.
Can machines create original music? Scape is our answer to that question: it employs some of the sounds, processes and compositional rules that we have been using for many years and applies them in fresh combinations, to create new music. Scape makes music that thinks for itself.
– Brian Eno, Peter Chilvers
Includes 15 original scapes
Scapes can be saved into a gallery and added to a playlist
Plays in background of other apps (excluding iPad 1)
Generates random scapes
Scapes can be shared by email
Supports AirPlay and Retina display
Headphones or external speakers recommended
Brian Eno
Synthesiser, found sound, bells, bass guitar, strategies, images, art direction
Peter Chilvers
Synthesiser, chapman stick, structures, probability networks, additional images, software design
Live Ambient Improv – Angstrom's Looper VST w/ Waldorf Blofeld, Roland XV-5050, Roland Alpha Juno 1, Roland HS-60, MicroKorg, and Arturia Minibrute.
"The audio and video isn't totally in sync – my camera doesn't have an audio in, and without a beat, it's hard to sync up. It's close enough for ambient though."
Background info:
It has been a while since I uploaded my last video for obvious and sometimes not so obvious reasons. But last night this dreamy piece came up and I want to share it with you.
The music is dedicated to my beloved girlfriend Anne. On 9/11 we celebrated our second anniversary together. She means everything to me and I hope we can live together for a very long time.
The piece starts with two 8 step sequences from rows 1 and 2 of the Synthesizers.com Q960 sequencer. The 2 rows are manually alternated using the Q962 sequential switch. Row 3 of the Q960 sequencer modulates the Ian Fritz 5Pulser. After that the Nord Wave comes in and then an 8 step sequence from row 2 on the Doepfer MAQ16/3 driving the self build Modular. The Pipe Organ preset from the Korg PE-1000 is used to play the chords. The solo is performed on the Nord Lead 1. Anne used my iPhone 4 to film this video.
You can download/see/hear the video and music from my website.
Bluezone Corporation has announced Tripod Invasion, a sound library featuring 200+ unique stereo drones and Sci-Fi sound effects.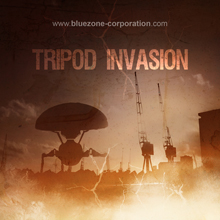 Bluezone Corporation releases Tripod Invasion, a newly designed sound library containing 200+ unique stereo drones and Sci-Fi sound effects, produced as 24 bit / 44.1 kHz wav files. These pro sound effects, drones and mechanical textures offer unlimited usability for numerous audio professional needs. Ideal for sound design for TV, Big Screen and Video Game audio projects.
In this new downloadable sound library you will find high quality underground atmospheres, crashes and impacts, noise FX, risers and downshifters, transition and a large choice of alien rumbles, synthetic roars and deep organic ambient soundscapes. All audio elements are perfect for the needs of scoring, temp tracks, trailers, songs and of course background music. Like all Bluezone Corporation sound libraries, this pack is royalty-free and does not require any additional costs or permissions – it's 100% ready to be used in your commercial productions. This sample pack is also suitable for style such as: Breaks, Dubstep, Ambient, Psy Trance, Techno, Drum and Bass and much more.