Moog Moogerfooger Cluster Flux MF-108M, with feedback at maximum, can be "played" from MIDI Notes On/Off. In this video, the sound source is, as usual, the Acidlab.de MIAMI Analog Drum Machine; the frequency/time of MF-108M is played with Novation SL25 MkII MIDI master keyboard.
Shooted with an iPhone, audio in glorious mono.
The clock frequency of Moog Moogerfooger MF-104M analog BBD delay can be severely down scaled from external MIDI control. So, you can use the MF-104M as a grunge/glitch/hack/drone machine on every audio source. On this (dirty and short and easy) video bits, MF-104M is munching the Acidlab MIAMI analog drum machine.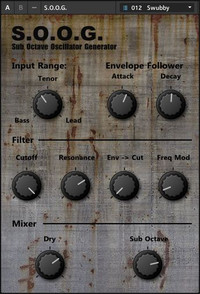 Icebreaker Audio has announced the release of S.O.O.G. (Sub Octave Oscillator Generator), a free analogue style octaver effect for Native Instruments Reaktor 5.8.
The effect produces a fuzzy version of the input signal, by generating a modulated square wave one octave below the tracked pitch. This fuzzy octave can then be filtered to smooth out the tone, or to create synth style sounds.

The effect works best on monophonic instruments with strong fundamental frequencies like bass guitars or clear vocals.
The ensemble is a free download from Icebreaker Audio.
"In this video you can hear the fusion of the two worlds:
Digital vs Analog
Thanks to the latest update of ReBirth can be synchronized via midi
I love both analog as digital …"
Sonic takes a look at the new 8 voice virtual analog synthesizer – the result of a collaboration between Studio Logic and Waldorf. What makes it rather unusual is the fact that rather than have few knobs and a lot of menus, it has a large format classic synthesizer panel with one knob per function
Details on the Sledge:
For many synthesizer enthusiasts, it is the particular interaction of the sound engine and user interface that makes a great instrument. A quick look at Sledge shows you the generous set of controls available to interact directly with the sound engine.  When you touch the knobs and switches of the front panel, you will instantly be aware of the meticulous attention to detail our engineers have refined, during many decades building the best electronic keyboards.
You will experience the logical set-up of the synthesizer modules, mirroring the signal flow of a classic analogue synthesizer.  But what really distinguishes any synthesizer is its sound.  Fortunately, our friends at Waldorf Music have happily shared their experience and know-how on this crucial part of the Sledge Synthesizer.
So we implanted the DSP heart of the latest Waldorf modelling technology into Sledge. The result: enough power to put the foundations of your studio seriously at risk!  And plenty of detail, to create the richest analogue pads you could ever want.  Besides the classic analogue synthesizer waveforms, you will find a complete set of Wavetables, derived directly from the mother of all digital synthesizers, the PPG Wave.
The sum of three fat oscillators, plus a Noise generator, are fed into Sledge's powerful multimode filter with selectable 24 / 12 dB slope.  The highly recognizable Waldorf filter algorithms enable a wide variety of sounds, from smooth to harsh, from fat to distinct, from pure HiFi to badass brutal. Ultra-fast, accurate envelope generators deliver ballsy punch.  Two LFOs plus 1 extra Wheel-LFO are on board to offer huge, yet easy to understand, modulation capabilities.  And two built-in Effect units deliver sophisticated synthesizer effects, such as Chorus, Phaser and Flanger, as well as a rich Reverb or an analogue style Delay.
And the best part – if you are familiar with the operation of a classic analogue synthesizer, you won't have to spend any of your precious time reading the manual.  There are no double or multiple functions on any of the knobs or pushbuttons.  All synthesizer parameters are clearly and ergonomically arranged in front of your eyes and directly accessible under your fingertips.  This makes sound design a blast, and takes you back to the pure user experience which you'll soon realise you've been missing.
Specifications:
• 32 Pots
• 3 chicken head rotary switches (7 positions)
• 1 rotary encoder with push function
• 2 x 16 digits backlit LCD
• High Quality Pitch and Mod Wheel
• up to 256 Sounds
• fast and efficient sound selection via numeric keypad
• 2 fast LFOs per voice, each with adjustable Speed and Depth
• 1 extra modulation routing for Mod Wheel, with adjustable Speed and Depth
- Shape: Sawtooth, Rectangular, Triangle, Sine, Sample & Hold, Ramp
- Destination: Osc 1, Osc2, Ocs3, PWM / Wave / FM, Volume, Filter Cutoff
• 8 Voices polyphony
• Monophonic mode with single or multiple trigger
• 3 Oscillators per voice
- Range from 64′ to 1′ each
- Shapes: Sawtooth, Square, Triangle, Sine, Pulse (with Pulse Width Modulation)
- Oscillator 1 with 66 Original PPG Wavetables
• Frequency Modulation of sine and triangle
• Oscillator Hardsync (Osc 2 to Osc 3)
• Noise Generator with selectable white and pink noise
• Mixer with Volume and On/Off switch for each Oscillator and Noise
• 1 Multi Mode Filter per voice
- 24 / 12dB
- Lowpass
- Highpass
- Bandpass
- Resonance up to Self-Oscillation and beyond
- Adjustable Keytrack and Drive
• 2 fast Envelopes per voice (filter / amplifier)
• Powerful Arpeggiator
- Latch mode
- syncable to MIDI Clock
- Direction Up, Down, Alternate
- Range up to 10 Octaves
• 2 simultaneuous Effects
- Effect 1: Chorus / Phaser / Flanger
- Effect 2: Reverb / Delay
• sturdy, lightweight enclosure (less than 10 KG)
• high quality, 5 octaves Fatar TP 9 keyboard
A voyage into the heart of the Crumar Performer from the year 1979.
Exploration by Marko Ettlich (RetroSound)
fully polyphonic multi keyboard made in Italia
one oscillator for brass (square wave) and two oscillatos for the strings (8′ and 16′)
one LFO with delay length, rate and depth
analog low-pass with resonance for brass and 3-band equalizer for strings
49 keys
used by Duran Duran and more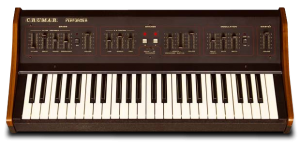 The Performer is a polyphonic analog Strings and Brass machine produced at the end of the 1970′s by the Italian synth company. It is slightly compact with just 49 keys. But it is fully polyphonic – you can play all 49 notes simultaneously! Programming is simple and clearly laid-out with just 15 sliders and a few buttons. A solid black chassis and wood end-cheeks round out this classic and often overlooked string machine.
The Performer is best remembered for its Strings. A simple 3-band equalizer with high, mid and low sliders can be used to give the strings shimmering sparkle or moody dark timbres. The Strings section uses two oscillators per voice with 8′ and 16′ settings. Simple Attack and Sustain sliders give you some control of your string's envelope settings.
The Brass section is less exciting. It uses a single oscillator with just a square wave to generate a weak Brass sound. It has a low-pass VCF filter with resonance, but it too is pretty weak. Simple Attack and Decay sliders control its limited envelope settings too.
The LFO is pretty nice, with delay length, rate and depth control. It can modulate both Brass and String sections and can be routed either to the VCF or pitch. There are three outputs on the back: main output, brass output and signal output (for external processing) as well as CV and Gate connections.
Here we have a demo from the Roland MKS 70. It's also known as the rackmount version of the JX-10. The bassdrum was made with the Jupiter 4. As always a multitrack recording + effects.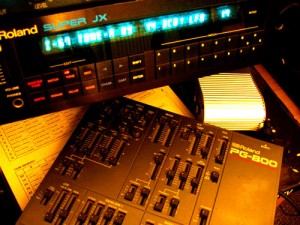 The MKS-70 is an identical rackmount version of the JX-10 synthesizer. Released in 1985 it combines two individual JX-8P synth engines for an outstanding warm and analog sound which is used in many modern studios all over the world. It comes with onboard effects like Chorus and Delay and offers a wider range of programming using the optional PG-800 Programmer. This programmer is highly recommended for those who will be programming unique sounds since editing from the rack-face itself is cumbersome and tedious. The MKS-70 has a "chase-play" function which allows programmable delayed repeats of voices from either of its tone modules. The chorus is either off, slow or fast.
An EMS VCS mkII was recently in for service at The Analog Lab in NYC. The joystick was repaired, VCO2 was brought back into cal, and the unit had a general cleaning/tuneup.
The VCS3 (nicknamed the Putney) is an analog monosynth housed in a distinctive angled wooden case, a truly classic synth. EMS (Electronic Music Studios) was created in England back in 1969. The VCS3 was one of their first synths and it is still a great, unique, funky little unit! Pictured above is the Mark I model. Pictured is another unit with the small wood-cased DK2 voltage-control keyboard required to play the VCS3.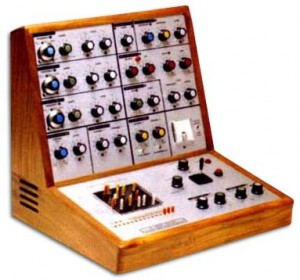 It has three oscillators, and a unique matrix-based patch system. Instead of patch wires, the VCS3 uses a patchbay grid in which the synth components are laid out, and signal routing is accomplished by placing small pins into the appropriate slots. The VCS3 was, in actuality, a modular type synthesizer reduced down to an extremely portable size.
It generates familiar sci-fi sounds (Dr. Who) and other truly analog sounds. Unfortunately, the oscillators tend to drift out of tune. There's a Noise Generator, 2 Input Amplifiers, 1 Ring Modulator, 1 Voltage Controlled Low Pass Filter (VCF), 1 Trapezoid Envelope Generator, Joy-Stick Controller, Voltage Controlled Spring Reverb unit and 2 Stereo Output Amplifiers.
Additonally, the VCS3 was also sold in a plastic breif-case and called the Synthi A. The major Synthi 100 system was based on three VCS3′s strung together. Some ultra-rare commercially unavailable synths EMS made include the VCS4 in 1969 which was basically 2 VCS3′s plus a keyboard. And the Synthi Keyboard 1 of 1970 was just a VCS3 with a mini 29-note keyboard.
http://www.synthrotek.com
A demo of the synthrotek Ring Modulator:
http://www.synthrotek.com/store/-c-42.html
and a micromoog plus a yamaha cs-5 which are both being controlled by our 8-step analog sequencer:
http://www.synthrotek.com/store/-c-48.html?osCsid=ae58d877df51546a0cbe405a364…
New demo from Mutable Instruments featuring the Anushri, details below:
Another Anushri demo… Recording a pattern, tweaking the synth section, then playing with the drum section. My egg-laying, shrimp-eating, electro-sensitive friend typus keeps my fingers away from the dangerous filter mode and fuzz controls.
Mutable Instruments Anushri – a cheerful analog synth (that doesn't suck at drums too)
Now available in Mutable Instruments online store.
Analog synthesis
Analog VCO with saw and pulse waveforms, freely mixable.
Optional automatic VCO calibration in software for those who don't like messing with trimmers.
-1 or -2 octaves sub-oscillator.
Auxiliary square oscillator (DCO) with accurate digital tuning. Can be mixed in the audio path, used as a FM modulator or as a sync master for the VCO (yes, it means "ewwwwwwiowwww" and "wongwong").
12dB/octave multimode filter, with smooth self-oscillation.
Post-filter overdrive/fuzz circuit.
Linear VCA.
Modulation sources
1 main ADSR envelope routable to pitch, pulse width, cutoff frequency.
1 simple 1-parameter envelope (morphing through various stages, including the shape of the main ADSR, and a rigid "GATE" style envelope) routed to VCA.
Velocity routed to either cutoff frequency or VCA gain.
1 LFO routable to pitch, pulse-width and cutoff frequency ; with 8 waveforms (triangle, square, ascending and descending ramps, S&H, bernouilli process, piecewise linear random process aka "autodubstep", noise).
1 triangle LFO for vibrato and/or growl.
Arpeggiator and sequencer
Arpeggiator with 4 modes (up, down, up&down, random) ; 1 to 2 octaves ; 6 patterns.
SH-101-style note sequencer with step by step recording, up to 128 notes. Easy recording of pauses, ties, and glides.
Tempo set by internal clock with shuffle, external MIDI clock or external 6/12/24 ppqn trigger.
Drum machine
Algorithmic drum pattern generator using an innovative "pattern sculpting" approach – allowing a large combination of drum patterns to be sculpted from 5 knobs.
Digital sound generation of BD / SD / HH with tone control.
Drum sounds can be freely triggered from an external sequencer using MIDI channel 10.
Interface
10 pots and 4 switches for hands-on access to synthesis parameters.
10 "software-pots" for editing modulations / arpeggiator / drum machine settings.
3 dedicated navigation buttons ("modulations", "arpeggiator / keyboard", "drum machine").
3 dedicated sequencer buttons ("record", "play", "hold / rest").
In/out
VCO CV in/out (Note: manual VCO calibration is required for accurate 1V/Oct I/O).
VCF CV in.
VCA CV in.
PWM CV in.
Gate signal in/out (5V level for output).
24, 12 or 6 ppqn clock signal in/out (5V level for output).
Front panel external audio in.
External Audio in.
Drum machine individual out (inserting a jack there removes it from the main mix).
Audio out.
MIDI in/out (thru + arpeggiator and sequencer notes).
CC control over modulations and some of the digitally controlled synthesis parameters. Some parameters like filter resonance cannot be CC-controlled.
"Eurorackable"
Remove main audio in / out and solder corresponding minijacks on PCB
Remove LT1054 and solder 2×5 power connector
Route MIDI in/out to front panel (if you want…). And that's it!
Availability
DIY product (full kit)
Price < 200€ / kit
Available < November 4 2012
Another Acidlab Autobot little jam with the Korg electribe ER-1 mkII by Isotroposphere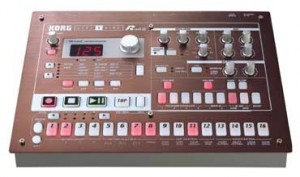 "Korg has created the ultimate analog beat machine. Simply by tweaking the knobs on the ELECTRIBE R, you have unlimited control over all the elements that make up the sounds – like pitch, modulation depth, waveform shape and much more. Drop these sounds into the built-in sequencer and you've got unique rhythms with your own creative signature. And with the ELECTRIBE R, you can hear every change you make as it happens, allowing you to mold the groove on the fly."
"The built-in step sequencer's 16 pad keys make it easy for you to produce rhythms from the sounds you create. Each pad keys lights up so you can easily see what rhythm a part is programmed to play. Plus, you can play in beats in real-time using the 12 trigger pads. Four of the pads are assignable to any analog modeling sound you come up with, two are reserved for controlling sounds accessed through the audio input, and the other four permanently control the indispensable PCM sounds. So you can tailor your own custom "kits" to fit each musical situation."
"To add even more life to your patterns you can record the real-time movement of any of the ELECTRIBE R's oscillator, amp or effect parameters as a Motion Sequence. This lets you change your sounds as your groove progresses in a way that more traditional drum machines just can't match! Plus, every sound or rhythm you create can be stored as a pattern that includes your knob movements. And you can save up to 256 1 to 4-bar patterns in internal memory."
"The ELECTRIBE R can also be controlled from an external sequencer, keyboard, or sampler to function as an analog sound rhythm tone generator, or set up to control or be controlled by other hardware or computer-based sequencers."