Dangerously close to the original sounds
– You all know what I mean…me like
METROLAND – 'Mind The Gap' 2CD Label: Alfa Matrix
The album 'Mind The Gap' – OUT NOW !
http://www.alfa-matrix.com/shop_comments.php?id=2197_0_8_0_C
http://www.alfa-matrix.com/shop_comments.php?id=2198_0_8_0_C
http://www.alfa-matrix.com/bio-metroland.php
And here are the background details:
Using the minibrute as test subject. Programmer is feeding pitch and filter cutoff cv. Pitch cv is being run through a quantimator
A brief, stereotypical vocoder demo featuring the amazing Sennheiser VSM 201 Vocoder with an EML POLYBOX. These were both units that were in for repair at The Analog Lab in NYC. The tone generator is routed through the EML where it is divided into user selected pitches/chords. The chords remain static, but the pitch shifts with the change of the frequency of the tone generator.
Sennheiser Vocoder VSM201
made in 1978
this is a luxury 20bands vocoder
fully analogue
of course only the "creme de la creme" used THIS, because it is really not cheap.. Kraftwerk!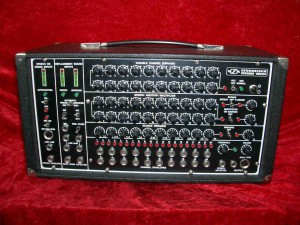 The vocoder was first a military device to encode speech signals
www.theanaloglab.com
Version 1.1 has arrived! They've added even MORE features to Magellan – the Professional Analog Modeling Synthesizer for the iPad! Our demo here shows off new 1.1 features including WIST capabilities, LFO BPM Sync, MIDI Out for the Arp and Sequencer, INIT preset, and more!
Check out our website for more info: http://www.yonac.com
Magellan on iTunes: http://itunes.apple.com/us/app/magellan/id544119998?mt=8
All sounds including drums and vocal are from KarmaFX. No external FX used except light limiting on the master. KarmaFX Synth Modular is an advanced and highly flexible Simulated Analog Modular Synthesizer and Effect Unit. Its amazing visual- and highly intuitive user interface lets you modulate just about any knob or slider by any control signal – making the soundscape possibilities almost endless. The internal high-frequency digital simulation of analog voltage levels produces a sound quality that rivals even expensive hardware synthesizers. A comprehensive User's Manual and tons of bundled patches make it easy to get started producing your own unique sounds.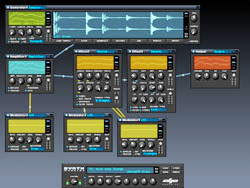 KarmaFX Synth Modular: Advanced Simulated Analog Modular Synthesizer and Effect Unit.
Full Modular patching of synth Components and Controls.
Internal high-frequency digital simulation of analog voltage levels.
Oscillator with phase, Detune and Pulsewidth that generates standard synth waveforms.
Dual Oscillator with Detune, Hardsync and Ring modulation.
Sampler, 16/24/32 bit Mono/Stereo multi sample player that imports WAV/SF2/SFZ files.
Multisample editing with Key/Velocity-ranges and Loop-Points.
Additive and Pad module with waveform and Harmonic Magnitude/Phase editors.
User defined waveforms and built-in presets of up to 1024 harmonics.
2/4 Pole Multimode Filters with Cutoff, Resonance (LP, HP, BP and BS filtertypes),
SVF, Zolzer, Moog, 303like, Formant, Comb, Allpass, Parametric and Shelving Filters.
10-band digital and 31-band simulated analog Graphic Equalizers.
Amplifier and Stereo module with Panning, Volume and Velocity control.
Two channel Mixer with Ring modulation and Bit operations.
Delay, Reverb, Phaser, Chorus/Flange, Pitchshift, BitShuffler and Distortion effects.
Soft-knee Compressor with Peak/RMS detection and optional Sidechain.
10 Octave/12 Note Pitch control with Detune, Portamento and Pitchbend support.
Controllers for Frequency Modulation (FM) and fast frequency sweeps.
Up to 16 channel Unison controller with Detune and Stereo pan spread.
32 step, 4 octave Pattern controller with Hold, Loop, Legato and Arpeggiator.
Bipolar/Unipolar LFO with Tempo Sync, HFO with FM option.
ADSR and Multipoint Envelopes with Linear, Exponential, Hermite and Cubic curves.
Step Sequencer, Envelope follower, Sample & Hold and Decay modules.
Output module with Panning, DC removal, Volume and Clip control.
Noise generator, filtered Pink, White and Brown Noise with Frequency Sync control.
Input generator so synth can function as an Insert effect.
Full stereo support (selected modules can run in mono to save CPU cycles).
Patches are built up of Generators, Filters, Amplifiers, Controllers, Effects and Modulators.
Up to 49 simultaneously running modules (8 modules per group and 1 output module).
Instant visual feedback on all controls. Frequency, Time/Amplitude, Modulation, etc.
Optionally see knobs and sliders animate as they are modulated.
Choose between Mono, Legato, or up to 16-voice true Polyphony.
MIDI modulator modules for MIDI Controller, Velocity, Aftertouch and Pitchbend input.
128 user-assignable Automation controls with MIDI Learn.
Fully skinnable GUI: Optional skins are bundled with the installation.
7 banks of pre-made KarmaFX patches + userbanks. (More than 1300+ patches total).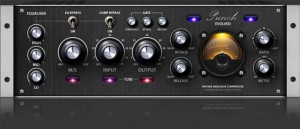 Minimal System Instruments releases Punch Evolved compressor VST for Windows
The original Punch compressor is one of Minimal System's most popular and respected plug-ins and is an up-to-date version of one of the all time classic analogue compression and limiting processors, the 1176AE. They say that the new Punch Evolved plug-in takes this even further with a completely redesigned engine and the addition of new sound shaping features such as Mid/Side processing, EQ, and Gate sections.
Features:
Ultra-fast attack time.
Unique Analogue Modelled characteristics.
FET Gain Reduction Emulation.
Input & Output Gain Adjustment Knobs with adjustable Attack and Release Settings.
An array of ratio's including 2:1, 4:1, and 8:1 perfect for compression duties – but there is also the 20:1 ratio designed for full limiting applications.
Mid/Side Processing.
Gate with controls for Threshold, Attack, and Release.
EQ with controls for Low/Mid/High.
Custom Output Transformer Emulation design.
Full automation capabilities.
Flexible VU metering options.
LED Visual Feedback.
Professionally designed GUI.
Fantastic Presets produced by Movie Iga and Kendal Osborne.
Based on the 1176AE Limiting Amplifier Compressor.
Fantastic on drums!
Pricing and Availability:
£19.99
Solid as a rock – AfroDJMac on track with yet another Live session, check it out:
Learn how to use Ableton's Frequency Shifter plug in to add some Analog style pitch imperfections to your instruments or entire tracks. Can be used to add tremendous amounts of character to your sound!
Full Post here: http://bit.ly/2mintip12
This 2 Minute Ableton Live Tip will show you how you can use the frequency shifter to introduce some subtle pitch movement, that emulates the characteristics of a more analog signal path. I've written about this before, but Digital music can be so perfectly in tune, which is not how acoustic instruments or analog synthesizers actually behave in the real world. Real instruments are almost never have perfect intonation, and a group of instruments can almost never be perfectly in tune with each other. Analog tape will also introduce some subtle pitch movement. Most of this stuff is more or less unnoticeable, but it does affect the overall sound and feel of the music. Enter Ableton's Frequency Shifter Plugin. This gem can be used to create those slight imperfections on individual instruments or entire tracks.
In this demonstration Mickey Delp of Delptronics walks us through some of the features of his new analog drum machine design the LDB-1 aka Little Drummer Boy. Also featured is Moog's Chorus/Flanger/Delay the Cluster Flux adding some nice modulated warps and phasing qualities.
You can find the Little Drummer Boy here:
http://www.switchedonaustin.com/products/delptronics-ldb-1-analog-drum-machine
Also the Moog ClusterFlux available here:
http://www.switchedonaustin.com/products/moog-moogerfooger-mf-108-clusterflux
For more information on the LDB-1, Kits, and more of Mickey's designs please visit:
www.delptronics.com
Short teaser of a new step sequencer called Hexter, below are the details.
Sequencer Specs/Features:
16 Steps each with Pitch & Velocity, On / Off switches
Active Step LEDs (Dim)
Clock LED (Bright)
TEST step with Scrubbing (While Stopped)
Scrubbing/Nudging while playing and 'Test' button triggers step overriding step switch
Internal Clock
External MIDI Clock Sync – With Variable Resolution
MIDI Notes output
MIDI Channel Selection
NOTE Features: (Midi only not not on-board oscillator)
Transpose – UP / DOWN & '+1′
Chord – Type Selection, momentary or latching
TIME Features:
Adjustable Sequence Length, momentary or latching
Reverse Sequence Order
Variable Swing
Variable 'Active Step' Pattern Shuffler and play toggle
Playhead Step Jitter – 1 to 5 playheads and variable time between them ('Root note only')
EFFECTS:
Variable Delay – independent delayed note repeat at half velocity (Root note only, No chord)
Variable Beat Repeat
Tempo, RUN, STOP LEDs
Internal 9v battery or USB Power
Internal Oscillator and speaker
Not to forget the…….
EUCLIDEAN RHYTHM MODE
seqSQUARED is a do it yourself ("DIY") kit and eurorack assembled module for analog modular synthesis. It will be available shortly in multiple package options:
- Fully assembled and tested Eurorack module
- Eurorack kit (for DIY)
- Universal kit (for DIY)
- Bare PCB + Microcontroller (for DIY)
It takes up to four sequencers' CV and Gate as input and allows you to arrange them into larger patterns up to 32 steps in length. It generates patterns much the same way you would in Fruity Loops or other software, except with analog hardware.
It is a perfect companion to an array of hexinverter.net sympleSEQs!
It works very similarly to the many sequential switches available on the market today, like the Doepfer A-151 or Fonitronik switch, except that it is programmable. Meaning, you can program arbitrary patterns of sequences to make musical arrangements, not just go A, B, C, D, repeat, like with most sequential switches.
This module is meant to FEEL analog. It uses potentiometers and 5mm LEDs, NOT LCDs or menu-driven editing. Because of this analog user interface, it is quite fast and painless to program once you have used it for a few minutes.
Once everything has settled down after pre-orders are shipped, kits and modules will be available in hexinverter.net's online shop as well, at: