More info: http://bit.ly/12pRSK6
In this video tutorial, DJ Kiva explores the creative possibilities of midi sync and audio routing between Dave Smith Instruments' Tempest drum instrument and Ableton Live.
The Dave Smith Instruments Tempest is an analog drum machine that was created by two of the top minds in the industry: Dave Smith and Roger Linn. Together they have developed an instrument that takes the traditional drum machine into new realms of sound and control. While exploring the instrument in our studios, Dubspot Ableton instructor DJ Kiva recorded this tutorial in which he syncs the Tempest with Ableton Live and records the Tempest's multiple outputs as individual audio tracks in Ableton. To finish off the session Kiva plays back the recorded parts and adds his own custom delays through send channels in Ableton Live.
Background information about this project can be found here >>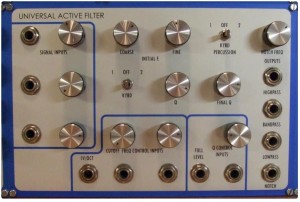 Exclusively Analogue has announced status on shipping synth modules and some new modules.
These modules are currently available to order:
The Universal Active Filter is a faithful reproduction of the Emu module.
The VCO Range Switch module allows instant octave shifting of any 1Volt/octave VCO. 3 individual VCOs can be controlled by this unit and. although designed for the Emu system. it can be fitted to any modular provided there is a suitable Power Supply.
The Pot Pourri module is their take on the Emu Pot Pourri module and includes 2 Low Frequency Oscillators, 2 Analogue Inverters, a basic Noise Source, and a Sample and Hold (S&H).
Upcoming modules include:
The 2340 Voltage Controlled Lag Processor performs a rate-limiting function on its input; it introduces a linear or exponential slide in the output voltage if the input voltage changes faster than a certain rate. Typically it is used to process control voltages?for example, it can give voltage controlled portamento when its input is a keyboard control voltage and it can turn a gate into a voltage controlled attack/release transient generator.
The 2430 Ring Modulator is a balanced modulator for electronic music. The module has two inputs, modulation and carrier, which are identical for high signal levels. The output is the algebraic product of the input voltages: Vout = Vmod x Vcar ÷ 5 when the input attenuators are fully clockwise and the coupling switches are in the DC position. AC coupling will level-shift the corresponding input so it effectively centers around zero volts. This can have a striking effect on the output signal, due to the inherent non-linearity of balanced modulation.
AERO is djgalactic's first track on Dave Smith Tempest: Experimental music with live jam on this analog drum machine of Dave Smith and Roger Linn.
"I will be working on new music with this new machine, especially for drum and poly synth sounds . So there will be more to come and still a lot to learn from this analog drum machine…."
Background video description:
Just for fun the Pittsburgh Analog Delay in feedback (see my previous video) through the RS-390 Echo
Nanoloop (1st version for Nintendo Gameboy) + modified Korg Monotron, both synced by a Roland TR-626. Nanoloop is triggered by the rimshot pattern of the 626. The sawtooth LFO (low frequency oscillator) of the Monotron is triggered by syncuino (http://chemiker1981.blogspot.com/) and the cutoff frequency of the Monotron analog filter is controlled by a sequence generated by Syncuino.
Patching an Anyware Tinysizer to play sound effects by itself. This is not "music". It sounds kind of like old computers fighting under water. Pew pew pew! There is a lot of re-triggering and frequency modulation happening, all based on the three LFOs, which also act as VCA envelopes.
Gear used in this video:
Anyware Tinysizer – Analog Modular Synthesizer
Filmed with a Canon Rebel t2i (550D).
Background video description:
Hello ! My name is Frederic Gerchambeau. I have made this movie and this music. The music has been made using a Doepfer analog modular system. Enjoy !
I am a (proud !) member of the french association PWM (Patch Work Music) :
http://patch-work-music.blogspot.com/
Crumar Nerve Centre 15 is an analogue drum machine that was build into a number of Crumar's organs from the mid 1970′s.
"I took this particular specimen out of an old defective organ some years ago (and made a video of it) and now the time has come to find out how it works so that I can use it for something.
One very special thing with this drum machine is that there is a separate row of selector switches for the auto-accompaniment so that you can pick and chose independantly – in other words it is possible to combine for instance the samba rhythm with waltz bass and arpeggio (not that it would sound very good but it is possible). I wonder why so few organ companies came up with that idea. It makes the auto-band much more flexible and it only costs an extra row of switches.
The music in something I made on Yamaha HE-8 and Technics SX-C600 organs, Roland SH-2000 synthesizer and TR-66 Rhythm Arranger drum machine, and the little Casio CZ-101 phase distortion synthesizer."