Alba Ecstasy has released a new 'analog' style patch library for the Korg MicroKorg.
Here's what he has to say about the Analog MicroKorg sound library:
It's time to improve your MicroKorg!
96 ANALOG style presets by Alba Ecstasy, containing powerful & phat basses, rhythms , leads, arps, pads.
MicroKorg is not an analog synth – but now, it can sound like one!
Pure Analog sequence & sound, CV 1 and Gate 1 from the Urzwerg controls the VCOs of the Micro Zwerg. LFO 2's frequency is modulated by CV3 and later GATE3 from the Microzwerg. Headphones are recommended ;).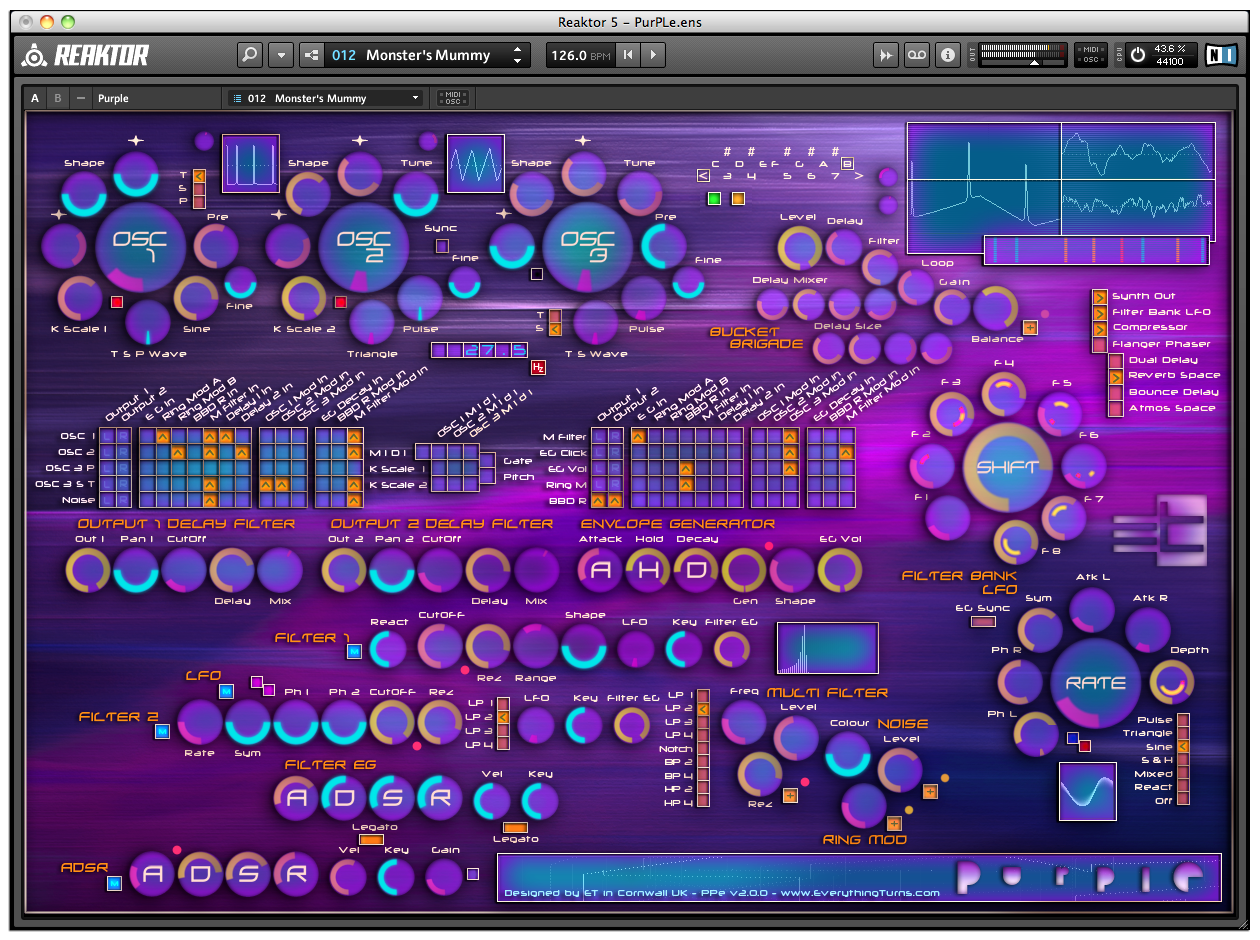 EverythingTurns has released PurPLe, a "Radiophonic Modular Analog Synthesiser – Sci-Fi Effect Generator" for Native Instruments Reaktor.
PurPLe takes its inspiration from the early days of synthesis and is dedicated to the pioneers of the sound effects departments that terrorised the audiences of the science fiction silver screen.

PurPLe's sound is generated by free running multi-wave oscillators, each delivering a diverse waveform that can twist and warp almost as if it's alive.

The key to this sonic arsenal is the Modulation Matrix Patch Bay, allowing the component parts of the synth to interact with each other. The Matrix opens up endless possibilities of frequency modulation and interaction by tapping into, chaining and merging the signal path. The more you explore the more possibilities you will discover.
PurPLE for Reaktor is available to purchase for £14 GBP. Requires Reaktor full version 5.8+.
Meyer Musicmedia has announced the release of a reworked Analog EDM Ableton Live expansion pack.
The previous Analog Trance & Electro preset pack are now included in the new Analog EDM Expansion.

You get more than 256 new fresh analog add-on sounds for Ableton Live 9. They're especially for modern electronic dance music. The presets are carefully selected, so you will get cutting edge sounds.
The Analog EDM expansion is available to purchase for $39 USD.
The Ableton Live Electro pack is also reworked and ready for Live 9. This pack is also priced at $39 USD.
Testing sounds (stock and non stock), modulations, filters and general ooomphh on Korg's virtual analog synthesizer.
Recorded in 24bit/48Khz uncompressed wave – enjoy!
Details about the Korg R3:
Occupying the middle ground in Korg's MMT lineup between the flagship Radias and the ultra-portable microKorg XL, the R3 delivers sophisticated virtual analog power in a compact yet sturdy package. Its 37 full-sized, velocity-sensitive keys and four assignable knobs make it a lightweight yet flexible performance instrument for shaping classic modeled sounds with a synthesis engine in the spirit of the MS2000.
The R3 is marketed as a "Synthesizer/Vocoder", and the included gooseneck mic lets you take full advantage of its 16-band vocoding capabilities right out of the box. Simply enter Vocoder mode for access to all of the vocoder's variables that work with an internal or external carrier signal. It also lets you record up to sixteen 7.5-second Formant Motion sequences, allowing you to play saved phrases—albeit at a fixed tempo—through the vocoder without external input. Whether you're looking to channel the spirits of sci-fi robots, make a guitar do backing vocals or are in need of some unconventional choral accompaniment, the R3's pro-grade vocoder earns its place in both the mix and the title.
Each of the 128 editable patches can contain up to two timbres, sharing the somewhat meager polyphony between them. These can be layered or divided across the keyboard and can be assigned to individual MIDI channels. Each of these two timbres contain all the capabilities listed, so despite being well suited for mono and lead styles it's possible to get surprisingly complex, evolving pads which belie its 8-note polyphony. This is best displayed when using each timbre's modulation sequence, which lets you record a variable's knob changes and can yield complex changes in a single key press. There's also a 6-mode arpeggiator with a toggle button and latch control to further animate the sound.
Every timbre consists of two LFOs, two oscillators, a wave-shaper with sub-oscillator options, two insert effects, and three envelope generators for filter, amp, and one for assignment using the Virtual Patch system. This feature lets you define up to six additional routings, giving the unit a fitting touch of modular dynamics which can add subtle dynamics or make sounds spiral off into mayhem. Unfortunately the routings are limited, but most of the logical sources and destinations are included. The two oscillators cover a wide range of traditional analog waveforms with some useful extras (osc1 includes 64 DWGS preset waveforms and the vowel-like Formant wave) and allow a number of interactions between them: ring mod, VPM and unison, among others. External signals can also be processed through the filters, gates and effects. All of this is wrapped up with one master effect and a variable 2-band EQ with some other fine-tuning mods to polish the finished sound.
All of this programming demands an intuitive interface, and although it involves some menu-diving, this is handled by selecting the category with a rotary encoder and then editing individual variables with the 4 main pots. Though it isn't "per-knob" editing, each pot is encircled by a slick-looking LED halo which shows the value regardless of the knob's current position. Each knob also has its own small LCD screen which can show the variable or its value by hitting the shift key. This combination along with the Original Value light takes much of the drudgery and guesswork out of building your own patches, but it's recommended to load up the included software editor since some sub-variable and effects tweaks can seem cryptic at first.
Overall, the R3 is a fun, good quality, affordable synth for anyone who enjoys sculpting sounds using traditional subtractive synthesis, and offers enough complex features and character to earn its place in the mix. Great to program and built with portability in mind, the R3 has what it takes to rock the stage!
Introduction to AS-16 Analog Sequencer for Reason
Features:
16 CV channels with separate CV outputs
Skip, Jump and Pad features for each channel
Unipolar, Bipolar and Note output modes
Common musical scales, with selectable root note via UI or MIDI
Octave and range controls when in Note mode
Normal, One Shot and Random modes
Selectable slide
Pattern reverse and bounce modes
Synchronise with sequencer, external clock or free run
Swing control
Audio envelope and chopping facility
CV add and multiply
Chaining of devices for unlimited channels
Pricing and Availability:
€ 25.00
Available in the Propellerhead shop.

The Therevox ET-4.1 is an analog continuous pitch instrument inspired by the interface of the rare Ondes Martenot.
Each oscillator has six different waveforms, including the classic sine wave of the Electro-Theremin and the Ondes Martenot's unique octiviant and white noise settings. Each oscillator can be tuned separately, or synched to create intervals or interesting harmonics. Oscillator 2 can also be set to a consistent note or used as an LFO to modulate the filter. The internal low-pass filter with variable cutoff frequency is used to shape the sound and this can also be controlled with an external expression pedal or CV source.
Details and Specifications
Two independent temperature compensated analog oscillators with sync function
Six octave positions for each oscillator covering C0 to C8
Six waveforms (sine, triangle, rectified sine/octiviant, 50% pulse, 30% pulse, 10% pulse (white noise on Osc 2)
Adjustable ring with metal reinforced wire
Replaceable reference keyboard with alternatives available (ex: lapsteel, specific scales, microtonal)
Dual wooden pressure-sensitive intensity keys with approx. 3/4″ travel
Low-pass filter with adjustable cutoff frequency (can be controlled by expression pedal or external CV)
Internal spring reverb with dry+wet mix control
"Silent" tuner output, switchable between oscillators
Line-level (+3db) output with volume control
Control Voltage (CV) outputs for ring position (1V/octave) and both intensity keys (0 – 10V)
16VAC power input
Dimensions: 30 x 11 x 4″
Includes: Printed manual, power supply (110-120V and 220-240V Available) and extension cable.
Made in Canada
The Therevox ET-4.1 is priced at US $1475.
ProAudio creates a short track while exploring the features of the new Novation Bass Station II. Check out this video demonstrating the flexibility and mobility of this affordable digitally controlled analog monophonic synthesizer.
From Novations Website:
"Bass Station II is an analogue mono-synth based on the classic original Bass Station but re-worked for the 21st century. It has two filters, two oscillators plus a third sub-oscillator, patch save and a fully analogue effects section. Add a step sequencer, arpeggiator, full sized keys and a powerful modulation section and you have the makings of a synth that is built for bass, but capable of so much more."
Joseph Colmenero shows you a fast and easy way to create your own custom drum sounds using the Novation Bass Station II analog synthesizer.
Making the wobble bass sound effect is as easy as 1-2-3. This is an unnecessarily long video tutorial showing how its done.
Short demonstration of the Jomox Xbase 999 analog drum synthesizer. All sounds are generated by the Xbase 999. Kickdrum, Snaredrum, Low Tom, and High Tom are true analog. Hi Hats, Clap, Rim Shot, Crash, and Ride are digital and can have different 8 bit samples assigned to them.
MFB's Tanzbär drum-computer offers fourteen analogue percussion instruments as well as a synthesizer for bass- and melodic voices.
Its integrated step-sequencer allows flashlight-programming and storage of up to 144 patterns. All parameters can be recorded per step! Because of its ability to control and call up all functions on the fly, while the unit is running, Tanzbär is ideally suited for live performances.
Tanzbär features
Analogue drum-computer with tight step-sequencer and 16 instruments.
Immediate control, integration of MIDI and CV/Gate.
Different step-lengths per instrument.
Programmable accent- and pitch-bend-functions.
144 patterns with A/B-variations, fill-function to chain various patterns.
3 CV- and 2 Gate channels.
Roll- and flam-recording.
Individual and global swing-quantization.
Recording of control-value per step.
12 individual outputs, stereo output.
MIDI- and clock-sync, MIDI-dump.
Microshift-function via MIDI (future update).
Metal chassis with wood side panels.
Tanzbär is available to purchase for MSRP 840 EUR.