ProAudio creates a short track while exploring the features of the new Novation Bass Station II. Check out this video demonstrating the flexibility and mobility of this affordable digitally controlled analog monophonic synthesizer.
From Novations Website:
"Bass Station II is an analogue mono-synth based on the classic original Bass Station but re-worked for the 21st century. It has two filters, two oscillators plus a third sub-oscillator, patch save and a fully analogue effects section. Add a step sequencer, arpeggiator, full sized keys and a powerful modulation section and you have the makings of a synth that is built for bass, but capable of so much more."
Joseph Colmenero shows you a fast and easy way to create your own custom drum sounds using the Novation Bass Station II analog synthesizer.
Making the wobble bass sound effect is as easy as 1-2-3. This is an unnecessarily long video tutorial showing how its done.
Short demonstration of the Jomox Xbase 999 analog drum synthesizer. All sounds are generated by the Xbase 999. Kickdrum, Snaredrum, Low Tom, and High Tom are true analog. Hi Hats, Clap, Rim Shot, Crash, and Ride are digital and can have different 8 bit samples assigned to them.
MFB's Tanzbär drum-computer offers fourteen analogue percussion instruments as well as a synthesizer for bass- and melodic voices.
Its integrated step-sequencer allows flashlight-programming and storage of up to 144 patterns. All parameters can be recorded per step! Because of its ability to control and call up all functions on the fly, while the unit is running, Tanzbär is ideally suited for live performances.
Tanzbär features
Analogue drum-computer with tight step-sequencer and 16 instruments.
Immediate control, integration of MIDI and CV/Gate.
Different step-lengths per instrument.
Programmable accent- and pitch-bend-functions.
144 patterns with A/B-variations, fill-function to chain various patterns.
3 CV- and 2 Gate channels.
Roll- and flam-recording.
Individual and global swing-quantization.
Recording of control-value per step.
12 individual outputs, stereo output.
MIDI- and clock-sync, MIDI-dump.
Microshift-function via MIDI (future update).
Metal chassis with wood side panels.
Tanzbär is available to purchase for MSRP 840 EUR.
New TBS-X16 analog sequencer prototype
16 step analog C.V.sequencer
Splits into 2 fully independent 8 step C.V. sequencers.
Also a 16 step gate squencer with 16 individual gates and a 16 step bus.
The KOMA BD101 is a complex (short) Analog Delay & Amplitude Modulation unit that can be used for filtering and treating audio signals; the very short delay time closes every "standard" application, but opens a whole landscape of sonic crushing and underclocking distortion. Pretty Wild. The IR sensor is very sensible to strong lights for shooting; so, on this video, its sensibility is not so strong than in the real life.
KOMA BD101 amplitude modulating Doepfer Dark Energy; Dark Time retriggers synth eg and BD101 is AMing signal for a rhythmic interaction; short delay and underclocking of BBD as usual.
The short BBD into BD101 is modulated with LFO triangle/square wave out from Doepfer Dark Energy. A lot of harmonics and – when underclocking takes act – a lot of severe audio changes. Not a standard delay, but a complex sound sculpting machine.
Silent Way Voice Controller, part of the Silent Way plug-in suite, will soon be available as a Rack Extension for Propellerhead Reason. Silent Way offers deep control over analog synthesizers direct from your DAW.
For more information on Silent Way, see
http://www.expert-sleepers.co.uk/sile…
Silent Way is a suite of plug-ins designed for use with analogue synthesisers, and especially as part of a modular analogue synthesiser system. The plug-ins produce no sound themselves, nor do they process sound – rather, they generate signals to be used as control voltages (CVs), which can be patched into the control inputs of oscillators, filters, VCAs etc. of an analogue system. Also, with the addition of the CV Input plug-in, it is possible to bring CVs from the synth into the computer, for recording or processing.
There are currently eighteen plug-ins in the Silent Way suite – Silent Way AC Encoder, Silent Way CV Input, Silent Way CV To MIDI, Silent Way CV To OSC , Silent Way DC, Silent Way ES-4 Controller, Silent Way ES-5 Controller, Silent Way ESX-4CV Combiner, Silent Way Follower, Silent Way Learner, Silent Way LFO, Silent Way Quantizer, Silent Way SMUX, Silent Way Soundplane, Silent Way Step LFO, Silent Way Sync , Silent Way Trigger and Silent Way Voice Controller. These are described in more detail below. It is anticipated that more plug-ins will be added to the suite in the future – watch the website for product announcements.
Patch details below:
the patch
snazzy fx ardcore running dual lfo sketch
triggers the two MFB seq 02 sequencers
both are running in AB mode 32 steps each
MFB OSC-02 Triple VCO is sequenced and modulated by
MFB seq 02 and Maths
MFB OSC-02 Triple VCO ing mod out is sent to the filter of monotron e
Maths
with black front panel white knobs
is patched into function
with black front panel and monotribe knobs
function is being fed by the monotron e LFO
EOC is sent to the filter cv of monotron-e
all audio outputs are mixed with MFB drum 99 mixer
this is sent to the alesis io dock input
a little KORG iELECTRIBE is added
this is all on channel 1
Ableton live 8 win7 64bit with hp Compaq L2105tm touchscreen
channel 2
midi input from korg ms20 legacy and DOEPFER A192 CVM 16
Max for Live
QM synth
channel 3
sonic charge microtonic
audio damage big sequence
More info: http://bit.ly/12pRSK6
In this video tutorial, DJ Kiva explores the creative possibilities of midi sync and audio routing between Dave Smith Instruments' Tempest drum instrument and Ableton Live.
The Dave Smith Instruments Tempest is an analog drum machine that was created by two of the top minds in the industry: Dave Smith and Roger Linn. Together they have developed an instrument that takes the traditional drum machine into new realms of sound and control. While exploring the instrument in our studios, Dubspot Ableton instructor DJ Kiva recorded this tutorial in which he syncs the Tempest with Ableton Live and records the Tempest's multiple outputs as individual audio tracks in Ableton. To finish off the session Kiva plays back the recorded parts and adds his own custom delays through send channels in Ableton Live.
Background information about this project can be found here >>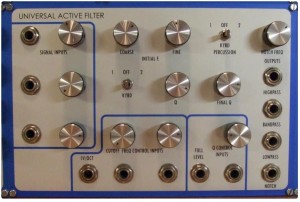 Exclusively Analogue has announced status on shipping synth modules and some new modules.
These modules are currently available to order:
The Universal Active Filter is a faithful reproduction of the Emu module.
The VCO Range Switch module allows instant octave shifting of any 1Volt/octave VCO. 3 individual VCOs can be controlled by this unit and. although designed for the Emu system. it can be fitted to any modular provided there is a suitable Power Supply.
The Pot Pourri module is their take on the Emu Pot Pourri module and includes 2 Low Frequency Oscillators, 2 Analogue Inverters, a basic Noise Source, and a Sample and Hold (S&H).
Upcoming modules include:
The 2340 Voltage Controlled Lag Processor performs a rate-limiting function on its input; it introduces a linear or exponential slide in the output voltage if the input voltage changes faster than a certain rate. Typically it is used to process control voltages?for example, it can give voltage controlled portamento when its input is a keyboard control voltage and it can turn a gate into a voltage controlled attack/release transient generator.
The 2430 Ring Modulator is a balanced modulator for electronic music. The module has two inputs, modulation and carrier, which are identical for high signal levels. The output is the algebraic product of the input voltages: Vout = Vmod x Vcar ÷ 5 when the input attenuators are fully clockwise and the coupling switches are in the DC position. AC coupling will level-shift the corresponding input so it effectively centers around zero volts. This can have a striking effect on the output signal, due to the inherent non-linearity of balanced modulation.