Music iPhone/iPad app demo of Wobbl Dubstep imachine. 9 pre assigned bass wobbles and 6 loops.
Turn on a loop and wobble! Very simple and hopefully a future update will add more variation. Importing loops would be good too!

Download the app from the itunes store:
http://itunes.apple.com/app/wobbl-dubstep-imachine/id501749933?mt=8
Background information:
If you want to experiment with the project i showed in the video, you can download it from here: http://xssracademy.com/en/video/how-to-make-dnb-dubstep-kick.html
If you want me to do tutorials on topics that interest you, please leave your requests on our Facebook page: http://www.facebook.com/xssrmusicacademy
You can easily identify a track from a rookie musician. They don't have that punch to their drums. The kick and snare are too soft in the overall mix, and they are almost inaudible. When i started to produce, i was looking for a long time for the secret to "making fat drums".
Today I will tell you the way to make punchy kick. We'll look at how to layer the kick drum and then how to process it with compressor and EQ.
First of all, let's talk about the layering. In sound layering, we take the best part from every component sound until we are completely satisfied with our overall sound.
Today we look at layering as if it's a bunch of flowers you might give to your girlfriends.
As I mentioned earlier, we are now layering a kick drum. To do this we need several different one shot kick samples. In every kick i use here there is something i want to hear in the resultant sound. In one of them I liked the attack of the kick, in another the body of the kick drum, in a third, the bass tail. You will need to collect the parts you like to make the resulting kick.
All one shot samples I put in Drumrack – my favourite drum machine.
Let's listen to the samples I chose.
Once the samples are selected, we only need the part of the sample that we like. So we cut everything except these parts.
– In Kick1 I liked the attack. So i leave only the attack of the kick.
– In Kick2 I removed the attack.
-
 In Kick3 i remove the attack and remove the bass a little bit and cleaned the tail.
-
 Kick4 i leave unchanged.
Sunsine Audio has released Animation Vol 1, a set of 130 presets for Moog's Animoog IOS synth.
Dubstep basses, modulation mayhem, chiptune keys, ambient voyages, hard leads and dirty funk characterize this set of 130 presets for the award winning Animoog ios synth. Compatible with both IPad and IPhone versions. The cheapest, most diverse and usable set available. Recharge your Moog and find out why this synth is creating such a stir!
*Requires Animoog synthesizer for IPad or IPhone*
130 .preset files
Includes easy installation instructions.
Pricing and Availability:
$4.99
More information:
Loopmasters has introduced Dubstep Massive, a sound library by Industrial Strength Records.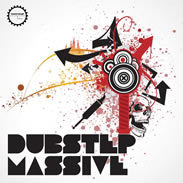 It's time for the Brooklyn sound collective to get dark and dirty with a hot source of fresh loops and patches for any modern Dubstep producer. Dubstep Massive features Bot Audio Loops and NI Massive Presets — it's like having two packs in one.
This monster pack is loaded with tight drum loops, heavy baselines, and downright infectious synth melodies — All keyed and tempo-matched in 24-bit, 44.1kHz Acid Wav and Apple Loops.
With a mind-blowing set of 90 hard-hitting NI Massive patches, you'll get Womps, Risers, Sub Drops, Chainsaws, Wobbles, Wubs and Talking bass sounds. We even included a handful of string and pad patches for Logic ES2 – Just listen for em in the Patch Demo!
Dubstep Massive is available to purchase for £23.95 GBP. The Massive patches are also sold separately for £14.95 GBP.
Full Zip Contains:
12 6Blocc Promo Samples
116 Bass Loops and Samples
07 Drop Riffs
262 Drum Samples and Loops
104 Effects Samples and Loops
12 ISR WAV Bonus files
74 Melodic Samples and Loops
06 Organ Donar Samples
123 REX2 Drum Loops
08 Soroka Flexi Track samples
05 The Swell Flexi Track Samples
57 Vocal Loops and Samples
04 Womps
443 Apple Loops
2 Battery Kits
2 EXS24 Kits
2 Maschine Kits
15 Kontakt Kits
5 Logic ES2 Kits
56 Masive Patches
21 Bonus ISR Patches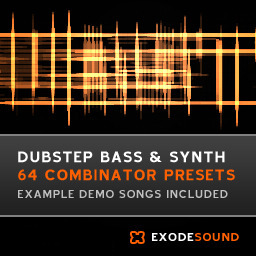 A new Steelberry Clones review featuring eXode's latest Reason Refill "Dubstep Bass & Synth" for the Propellerhead Reason DAW. The Refill consists of 64 carefully crafted Combinator patches, in about a 50/50 split between bass sounds and synth lead sounds. Dubstep is a genre of electronic dance music that originated inthe UK. Its overall characteristics sound has been described as "tightly coiled productions with overwhelming bass lines and reverberant drum patterns, clipped samples, and occasional vocals". I believe this definition is quite critical when reviewing eXode's Refill since it is very much tailored to work smoothly and be easily incorporated into Dubstep productions.
When we walk through the different Combinator presets the first thing that strikes us is the crispness of the sound; all CMBs uses all the right effects, including several of the new additions in the latest R6 release, such as the Echo; and the tight feeling you get when listening both in headphones and speakers. The Dubstep bass synth sounds stand out us the most creative part of eXode's Refill, several of the bass sounds – often coupled with arpeggio effects – gnerate their own little sound universe. Robotic sounds, synthetic noise, paired with that characteristic and often evil sounding bass commonly heard in Dubstep productions. The Dubstep bass sounds are truly a treat for anyone doing Dubstep and as we mentioned in the beginning these hard, noisy bass sounds do incorporate that tight level of intensity that we would look for if we would make a track in this genre, not saying that you cannot use them elsewhere.
The Synth section is overall good and will fit many electronic tracks, however they do somewhat lack that creativity that eXode has become renown for. They are all high quality tailored and easy to configure and adapt to suit your needs, whether it be lead sounds or simply flavoring the overall mix. Something that would be a good complement to this section of the Refill would be if eXode actually also could include some of his effect settings in a separate folder, like an mixing and mastering effects folder. Since a good portion of the strength in eXode's Refills is his work on the overall sound quality and tight use of dynamics.
Below are a couple of sound examples from the Refill, both from the bass section and the synth section.
Overall verdict then: Definitely a very tight and powerful Dubstep Refill and as eXode puts it himself:
"These sounds are sick, brutal, raw and in your face!"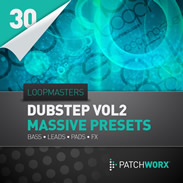 Loopmasters has released presents Dubstep Synths Vol.2 – Massive Presets by Re-Zone, a new title in the Patchworx series of soundsets.
Re-Zone tracks have been released on Toolroom Records, Black Hole Recordings, 1605, Baroque, Be Yourself Music, BugEyed, Unreleased Digital, Perfecto, Stereo Productions, Whoop, Kinky Vinyl and more.Re-Zone is continually supported by: Pete Tong, Carl Cox, Mark Knight, Roger Sanchez, Axwell, Tiesto, Sasha, Laurent Garnier, and Nick Warren.

The 64 Massive Dubstep Patches included in this pack are comprised of 28 Basses, 4 SFX, 21 Leads and 11 Pads. Included are Vocalised Leads, Hypnotic FX, Epic Pads, Evil Growls, and Sequenced Dubstep Basses.
The soundset is available to purchase for £14.95 GBP.
No external plugins? No problem. Here's how to mimic the "LFO'd everything" sound popular in all the big synth plugins with Operator.
More information below:
http://bandesnaci.com/
This is a live controllerism routine. No loops, no pre-recorded patterns, just buttons, samples and a little practice.
The track is called "Waking Up" and it's the first of my productions to be sampled and chopped into little bits and one shots for the purpose of live performance.

Time again for a review here at Steelberry Clones – this time we have taken a closer look at Nucleus SoundLabs' new Reason Refill called Celluloide Beats.
To begin with Celluloide Beats consists of around 50 (x8) or so Combinator patches and associated sounds recreated as REX-files. Due to the way they are built they may easily be run in anything from 60/70 BPMs up to 270 > or so BPMs – it will still sound great. To get an overview of what you are getting I would loosely categorize it as multi-sampled drums, beats and percussions into a massively unique and powerful mix of rhythms and sounds that would easily fit into dubstep, electro, house, techno type music, but I would not limit it to that since there are several intriguing ambient type sounds with a real sci-fi / cinematic approach to them.
A good thing with the CMBs are that they are very easy to work with, partly because each CMB is more or less a full mix in itself with limited need for further mixing and mastering, and partly because they are using fairly common rhythms meaning that the tempo and the sequenced beats are not overly experimental. Each Combinator patch in a Celluloid Beats contains 8 loops – 1 original loop and 7 creative loop remixes. This is achieved, according to Nucleus, by using the Slice Edit Mode on Dr. OctoRex to change filtering, decay, volume and more on a per-step basis for each loop. Going farther than that, unique FX are added to each patch which are used to effect specific loop slices – so each slice in a loop can have a different distortion, filtering or delay. The resulting loop remixes sound incredibly complex, but they certainly aren't complicated to use.
To purchase the product use the link below:
Click here to view more details
Some cool sounds in this one

Expand your Animoog! 64 new presets for Animoog covering a broad range of genres from Ambient to Dubstep. Smooth ambient pads, wobbly basses, subtle drones, rhythmic sequences and organic sound effects such as a true budgie tweet, the hypnotic song of whales and the natural purr of a cat.
Luftrum 8 is compatible with both the iPhone and iPad version of Animoog. Included is an easy install instruction, describing how to get the sounds onto your device. All presets are nicely sorted with LUF initials to separate them from the factory presets.
Watch in HD for best quality! More information on luftrum.com