Whatever you do today – you must listen to this machine – awesome sounds !!!!
EKG Teaser!

…from Medic Modules
CV Out, Gate Out, Clock In, Clock Thru, Reset In.
Each step also has a unique Function control. Each step can be turned off, skipped, repeated or set as a reset point.
Proper video coming soon…
more info: http://www.medicmodules.com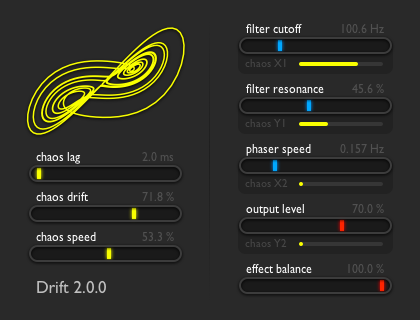 Sinevibes has released version 2.0 of its Drift chaos modulator plugin. It is designed to be a simple but flexible tool that can enrich static sounds with random yet organic motion, create chaotic filter and phaser effects, or add never-repeating, stereoscopic pulsations.
Inside Drift run two instances of the Lorenz attractor algorithm, which is a two-dimensional wave typically used for airflow modelling. Each of the four resulting outputs is separately used as a modulation source.
With the featured four-pole resonant low-pass filter and barberpole phaser the user can create many different stereo chaos effects which are designed to remain organic and natural regardless of the type of the source sound.
Price: $19. The update is free for existing owners.
Silent Way Voice Controller, part of the Silent Way plug-in suite, will soon be available as a Rack Extension for Propellerhead Reason. Silent Way offers deep control over analog synthesizers direct from your DAW.
For more information on Silent Way, see
http://www.expert-sleepers.co.uk/sile…
Silent Way is a suite of plug-ins designed for use with analogue synthesisers, and especially as part of a modular analogue synthesiser system. The plug-ins produce no sound themselves, nor do they process sound – rather, they generate signals to be used as control voltages (CVs), which can be patched into the control inputs of oscillators, filters, VCAs etc. of an analogue system. Also, with the addition of the CV Input plug-in, it is possible to bring CVs from the synth into the computer, for recording or processing.
There are currently eighteen plug-ins in the Silent Way suite – Silent Way AC Encoder, Silent Way CV Input, Silent Way CV To MIDI, Silent Way CV To OSC , Silent Way DC, Silent Way ES-4 Controller, Silent Way ES-5 Controller, Silent Way ESX-4CV Combiner, Silent Way Follower, Silent Way Learner, Silent Way LFO, Silent Way Quantizer, Silent Way SMUX, Silent Way Soundplane, Silent Way Step LFO, Silent Way Sync , Silent Way Trigger and Silent Way Voice Controller. These are described in more detail below. It is anticipated that more plug-ins will be added to the suite in the future – watch the website for product announcements.
Subatomic Software has announced the release of Audulus 2.1 for iPad and Mac. This update to the modular music processing app adds support for JACK on iPad, as well as five new nodes for both iPad and Mac versions.
JACK for iOS is a free app that allows JACK-compatible apps such as Audulus to be connected in any way, with the only restriction being CPU power.
"JACK is a mature, powerful inter-app audio system," explains Audulus developer W. Taylor Holliday. "It's great to see it ported to iOS."
Audulus 2.1 introduces the Poly Pack, an In-App-Purchase upgrade consisting of four new nodes which facilitate stereo and quadraphonic processing of audio input. Audulus nodes can process multiple channels of audio.
"Previously, the only way to generate a polyphonic signal in Audulus was via the Keyboard node in Poly Mode," explains Holliday. "Now, you can do polyphonic processing of audio input. You can even use the QuadToMono node to apply separate processing chains to each voice of a synth."
"I'm not aware of another app on iOS that gives you this fine-grained control of multi-channel processing," adds Holliday.
Version 2.1 also adds a phasor node (not to be confused with the phaser effect), which outputs a phase angle suitable for driving custom oscillators.
Audulus development is user-driven, and these new features were requested by users on the Audulus forum.
Audulus for iPad is available on the App Store for $9.99, 30% off for the remainder of June to celebrate JACK support.
Audulus for Mac is available on the Mac App Store for $29.99.
Steady State Fate GND CTRL ( Ground Control)
GND CTRL features seven gain presets for bridging a wide range of signal and control voltages for your audio and video systems. GND CTRL also provides these commonly used utility functions:
Attenuator, Inverter, Multiple, full scale DC Bias and Bipolar Clipping Indicator.
Last but not least, GND CTRL is a dual mode OLED Voltage Meter! The Voltmeter can display AC voltages as a needle/bar display or DC and AC voltages numerically. The voltmeter is normaled to the CV processor so you can measure your changes with instant feedback.
Additionally, a dedicated voltmeter input is available for non-destructive voltage metering on the fly.
Look for GND CTRL at your favorite shops in April 2013!
Two DIY expander modules for the RLS from Music Thing Modular. Pulses produces seven pulse outputs, related to the master clock and controlled by the main module. Voltages (with the faders) is an eight step sequencer where multiple steps can be active at once, creating very unpredictable patterns.
Patch details:
One pulse output is pulsing the white noise from the RLS module through a QMMG low pass gate, creating the kick drum sound at the start.
The two outputs (normal and inverted) from the voltages module are going into a A156 quantizer, then into two sizes of a DPO oscillator. Each time the note changes, the sine wave outputs are gated through the QMMG.
One more output from the pulse module is triggering the FM bus on the DPO, causing the bleeps and bloops.
u-he founder, Urs Heckmann explains his new synth, Bazille. After four years in the alpha stage, the Modular FM, phase distortion and fractal resonance synth is now in beta testing and should be available in the summer priced at $149.
A mid-mourning experiment, connecting a Nintendo Game Boy (running Nanoloop) and a Casio VL-Tone to an analogue modular system. Digital+Analogue Joy.
The recording is 100% live, with some basic mastering.
Playing around to get some ideas for the Save Icebreaker Audio Campaign: indiegogo.com/projects/save-icebreaker-audio
Full technical spec:
Recorded and Mastered in Sonar via Audio Kontrol 1
Game Boy bought at Berlin flea market running Nanoloop
Game Boy stereo signal split and routed into Diode Filter+Waveshaper, and a Spring Reverb.
Casio VL-Tone mixed into the VCA, VCF, and external input of the A-111-5 (Dark Energy Module)
The VFX Key Mapper works in conjunction with the Patcher modular insert plugin.
http://www.image-line.com/documents/n…
Icebreaker Audio has introduced Bitrate, a semi-modular, digital drum machine for Native Instruments Reaktor 5.
Offering a variety of sound generation styles, all based on digital synthesis from the late 80s and early 90s, BitRate is a gritty device with a retro heart of silicone.
Bitrate features
5 drum slots into which you can load any one of 13 different sound modules.
4 main sound engine types, each based on a different style of lo-fi digital sound generation.
A built-in sequencer with 2 modulation sequences per drum.
Automatic tempo-synchronization when used in a host.
EQ, Compressor, and Speaker Simulator master effects.
BitRate is available for the introductory price of £15 GBP until March 31st, 2013 (regular £25 GBP). Requires Reaktor 5.8 or higher.