August 8, 2013 · Posted in
Uncategorized
·
Comments Off

on Modular & Minimoog Combination Demo
A classic combination explored, details below:
This was one of the first times I'd played the Modular/Mini combination together. Getting the CV and triggers set up took a little doing. I even had to build an interface circuit for the S-trig connection before I could get it all to work properly.
July 23, 2013 · Posted in
Uncategorized
·
Comments Off

on Sub Phatty | Modular Control
Suit & Tie Guy of STG Sound Labs brought his modular synthesizer by the Moog Sound Lab and controlled four of our Sub Phatty Analog Synthesizers with his labyrinth of analog modules.
July 21, 2013 · Posted in
Uncategorized
·
Comments Off

on ADO (Excerpt ll) – Micro Modular Ensemble
Ado- piece by Maria Horn, played by the Micro Modular Ensemble
The Micro Modular Ensemble is an ensemble built around a small piece of legacy hardware called: The Micro Modular synthesizer.
Inside the red box anything can happen. All of the basic building blocks for synthesis are made available to the user.
The red box has been a trusted companion for Noise and New Music makers for over a decade.
The Micro Modular ensemble have chosen to rely solely on the little red box for it's focusing paradigm both in terms of timbre and control.
Maria Horn, Daniel Karlsson, David Granström, Magnus Bunnskog – The Micro Modular Ensemble
July 18, 2013 · Posted in
Uncategorized
·
Comments Off

on AteOhAte Mutant TR-808 Cowbell DIY project — Demo
The AteOhAte Mutant Cowbell is a DIY (do it yourself) TR-808 Cowbell module based on the analogue circuit in Roland's famous drum machine. The circuit has been adapted for use in a modular synthesizer, and, while being able to create the same sounds featured on the 808, can also create other sounds thanks to the modified tunable oscillators and voltage control over the cowbell's pitch.
You can build one yourself at home (along with many other x0x-based drum modules) once PCBs are available from me at hexinverter.net
I will be releasing the AteOhAte Mutant HiHats at the same time as this project.
Receive an email when PCBs are available by signing up for the mailing list here: http://eepurl.com/pDf_5
Visit the Muffwiggler forum thread for updates on the project: http://www.muffwiggler.com/forum/view…
July 5, 2013 · Posted in
Uncategorized
·
Comments Off

on Sonic Logic Version 1.2 sneak preview – MIDI Broadcast mapping to Ableton Live.
Sneak preview from Sonic Logic version 1.2
The MIDI broadcast button allows you to map controls in your DAW easier and faster.
Download Sonic Logic for iPad here: https://itunes.apple.com/us/app/sonic…
App description below:
Sonic Logic is a modular MIDI controller allowing you to edit and control MIDI controller setups from your iPad.
Control Ableton Live, Logic Pro, Cubase, Protools, Traktor, and other popular DAWs right from your iPad.
Sonic Logic uses CoreMIDI to send MIDI signals so you can even hook it up to hardware synths using and iPad to MIDI cable.
Edit on your iPad! Super easy interface to create, edit, control, manipulate, assign MIDI controllers and notes live, using touch gestures. (No external editor needed).
Add Buttons, switches, toggle buttons, XY pads, sliders and text objects.
Their look and feel is meant to emulate real life controls, with real feedback.
* Create your MIDI controller easily from your iPad.
* Edit component's color, size, MIDI channel and controller number.
* Time advancing gestures for buttons, create a timed MIDI transition from 0 to 127 with just a press of a button.
* Control everything with multi touch.
* Snap to middle feature on sliders.
* Built in, editable templates.
* iCloud support, always stay synced with all your setups on any device.
* Low latency.
June 19, 2013 · Posted in
Uncategorized
·
Comments Off

on Medic Modules EKG (Elektro Kardio Gramm) Unique 8 Step Analogue Sequencer
Whatever you do today – you must listen to this machine – awesome sounds !!!!
EKG Teaser!

…from Medic Modules
CV Out, Gate Out, Clock In, Clock Thru, Reset In.
Each step also has a unique Function control. Each step can be turned off, skipped, repeated or set as a reset point.
Proper video coming soon…
more info: http://www.medicmodules.com
June 10, 2013 · Posted in
Uncategorized
·
Comments Off

on Drift chaos modulator plugin – now in version 2.0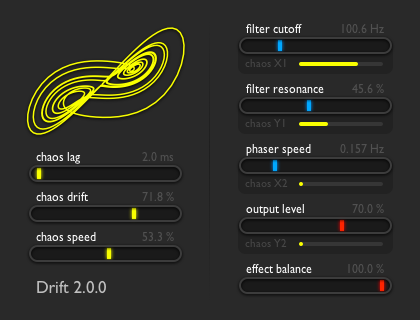 Sinevibes has released version 2.0 of its Drift chaos modulator plugin. It is designed to be a simple but flexible tool that can enrich static sounds with random yet organic motion, create chaotic filter and phaser effects, or add never-repeating, stereoscopic pulsations.
Inside Drift run two instances of the Lorenz attractor algorithm, which is a two-dimensional wave typically used for airflow modelling. Each of the four resulting outputs is separately used as a modulation source.
With the featured four-pole resonant low-pass filter and barberpole phaser the user can create many different stereo chaos effects which are designed to remain organic and natural regardless of the type of the source sound.
Price: $19. The update is free for existing owners.
June 8, 2013 · Posted in
Uncategorized
·
Comments Off

on Silent Way Rack Extension Teaser
Silent Way Voice Controller, part of the Silent Way plug-in suite, will soon be available as a Rack Extension for Propellerhead Reason. Silent Way offers deep control over analog synthesizers direct from your DAW.
For more information on Silent Way, see
http://www.expert-sleepers.co.uk/sile…
Silent Way is a suite of plug-ins designed for use with analogue synthesisers, and especially as part of a modular analogue synthesiser system. The plug-ins produce no sound themselves, nor do they process sound – rather, they generate signals to be used as control voltages (CVs), which can be patched into the control inputs of oscillators, filters, VCAs etc. of an analogue system. Also, with the addition of the CV Input plug-in, it is possible to bring CVs from the synth into the computer, for recording or processing.
There are currently eighteen plug-ins in the Silent Way suite – Silent Way AC Encoder, Silent Way CV Input, Silent Way CV To MIDI, Silent Way CV To OSC , Silent Way DC, Silent Way ES-4 Controller, Silent Way ES-5 Controller, Silent Way ESX-4CV Combiner, Silent Way Follower, Silent Way Learner, Silent Way LFO, Silent Way Quantizer, Silent Way SMUX, Silent Way Soundplane, Silent Way Step LFO, Silent Way Sync , Silent Way Trigger and Silent Way Voice Controller. These are described in more detail below. It is anticipated that more plug-ins will be added to the suite in the future – watch the website for product announcements.
June 5, 2013 · Posted in
Uncategorized
·
Comments Off

on Audulus 2.1 is here
Subatomic Software has announced the release of Audulus 2.1 for iPad and Mac. This update to the modular music processing app adds support for JACK on iPad, as well as five new nodes for both iPad and Mac versions.
JACK for iOS is a free app that allows JACK-compatible apps such as Audulus to be connected in any way, with the only restriction being CPU power.
"JACK is a mature, powerful inter-app audio system," explains Audulus developer W. Taylor Holliday. "It's great to see it ported to iOS."
Audulus 2.1 introduces the Poly Pack, an In-App-Purchase upgrade consisting of four new nodes which facilitate stereo and quadraphonic processing of audio input. Audulus nodes can process multiple channels of audio.
"Previously, the only way to generate a polyphonic signal in Audulus was via the Keyboard node in Poly Mode," explains Holliday. "Now, you can do polyphonic processing of audio input. You can even use the QuadToMono node to apply separate processing chains to each voice of a synth."
"I'm not aware of another app on iOS that gives you this fine-grained control of multi-channel processing," adds Holliday.
Version 2.1 also adds a phasor node (not to be confused with the phaser effect), which outputs a phase angle suitable for driving custom oscillators.
Audulus development is user-driven, and these new features were requested by users on the Audulus forum.
Audulus for iPad is available on the App Store for $9.99, 30% off for the remainder of June to celebrate JACK support.
Audulus for Mac is available on the Mac App Store for $29.99.
May 5, 2013 · Posted in
Uncategorized
·
Comments Off

on Steady State Fate GND CTRL
Steady State Fate GND CTRL ( Ground Control)
GND CTRL features seven gain presets for bridging a wide range of signal and control voltages for your audio and video systems. GND CTRL also provides these commonly used utility functions:
Attenuator, Inverter, Multiple, full scale DC Bias and Bipolar Clipping Indicator.
Last but not least, GND CTRL is a dual mode OLED Voltage Meter! The Voltmeter can display AC voltages as a needle/bar display or DC and AC voltages numerically. The voltmeter is normaled to the CV processor so you can measure your changes with instant feedback.
Additionally, a dedicated voltmeter input is available for non-destructive voltage metering on the fly.
Look for GND CTRL at your favorite shops in April 2013!