Sunday synth morning focusing on the KONG drum machine in Reason 5. Using MIDI and an AKAI MPK I tried to see how you could experiment around with the KONG as a means of generating more experimental sounds. All in all 5 different KONGs are used in this song, paired with additional Combinators and one Dr OctoRex for adding more punch. The video is merely a live shoot in order for you to get a feel for the basic set up in creating this type song and which filters and effects are used.
The song is called "Sisters", I might do a more robotic version of it at a later stage, we'll see
More Steelberry Clones tunes can be found here:
http://soundcloud.com/stereoklang-produktion/sets/steelberry-clones
Saturday morning synth music with robotic voices – original tune from SBC, enjoy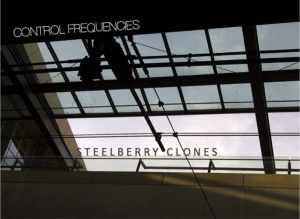 Steelberry Clones – Control frequencies by Stereoklang Produktion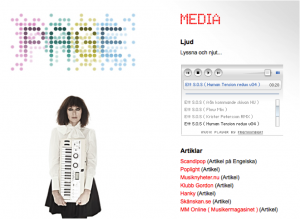 Some time back I was asked by Eddie from swedish synthpop act Page to make a remix/redux of there new hit song "Ett SOS" (reads basically "An SOS"), now finally the song that we made has been officially published on Page´s homepage and of course you can listen to it here as well:
SOS Human Tension redux v04 by Steelberry Clones
Below is the original version as heard on swedish TV a couple of months ago:
Read all about what Page is up to here >>
Listen and download  the new album from Steelberry Clones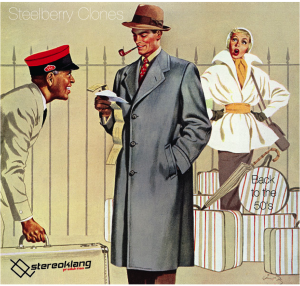 Chopping up and being brutal on those old classic 50′s songs this is a new take on electrofying
So if you enjoy synthpop, bit tunes, 8bit, and electro you will love these up tempo songs
Not since Silicon Teens in the mid 80's any serious attempts has been made to electrify the old classics. Telex made a Rock around the clock version as well, but the 1950's library is far larger than that. The foundations of rock music are in rock and roll, which originated in the United States during the late 1940s and early 1950s, and quickly spread to much of the rest of the world. Its immediate origins lay in a mixing together of various popular musical genres of the time, including rhythm and blues, gospel music, and country and western. In 1951, Cleveland, Ohio disc jockey Alan Freed began playing rhythm and blues music for a multi-racial audience, and is credited with first using the phrase "rock and roll" to describe the music.
There is much debate as to what should be considered the first rock and roll record. One leading contender is "Rocket 88″ by Jackie Brenston and his Delta Cats, recorded by Sam Phillips for Sun Records in 1951. Four years later, Bill Haley's "Rock Around the Clock" (1955) became the first rock and roll song to top Billboard magazine's main sales and airplay charts, and opened the door worldwide for this new wave of popular culture.
Steelberry Clones is now available for all Spotify users

If Spotify did not open the requested resource, please click on the link above.
You can close this window.
Don't have Spotify? – Find out more…
[youtube=http://www.youtube.com/watch?v=wSZ7vnEMTPo]
[youtube=http://www.youtube.com/watch?v=891CCpval6Q]
Enjoy and have a great weekend!


Hi all
Two good announcements:
1. This blog has now passed 100.000 unique vistors
2. A brand new Steelberry Clones album is out – Dig'it.
For those of you familiar with us would most liekly describe it as pure electro ambient synthpop. Make sure to check it out on iTunes and hopefully you will enjoy it enough to sponsor it.
Cheers Ola
It's the song Kickflip in a remix version, enjoy
[youtube=http://www.youtube.com/watch?v=avKnFKmW0PA]
C=iao