July 17, 2012 · Posted in
Uncategorized
·
Comments Off

on Akai EIE Pro Hi Resolution Audio Interface
The handsome big brother of the EIE – this adds 96kHz 24-bit audio to the USB audio interface. It also has a built in USB hub and MIDI too
June 11, 2012 · Posted in
Uncategorized
·
Comments Off

on Announced today: Polar – old school harmonizer coming to Reason 6.5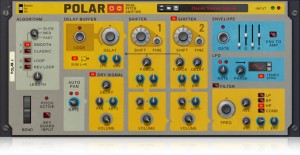 Propellerhead today announced Polar, a new Rack Extension audio effect to be available at the launch of the next versions Reason and Reason Essentials later this month.
Polar is an old school harmonizer and pitch-shifter effect with a host of modern tricks up its sleeves. Designed for classic harmonizing, stereo widening, and real-time pitch shifting, Polar also invites users to experiment with buffer looping and audio freezing to create otherworldly effects.
Consisting of selectable dual pitch-shifters with classic, smooth and looping algorithms, Polar is created for singers, producers, guitarists and remixers looking for transparent pitch-shifting as well as creative ways of turning bland recordings into wide, evolving soundscapes. The built-in LFOs, auto-panning, envelope and buffer lock provide further sound sculpting possibilities, while delay and feedback turns single-note recordings into arpeggios.
For more information about Rack Extensions, Polar, and to listen to audio examples, visit www.propellerheads.se/go/74B1DC9D
Pricing and availability
Polar will be released simultaneously with version 6.5 of Reason and version 1.5 of Reason Essentials Q2 2012, at a price of USD $69/EUR €55. Polar will be available for purchase in the Propellerhead Shop.
June 9, 2012 · Posted in
Uncategorized
·
Comments Off

on Octatrack tutorial – The audio editor and loop slicing
The audio editor is a powerful sample editing tool. This video introduces some of the available operations and also demonstrates how to slice a loop.
April 20, 2012 · Posted in
Uncategorized
·
Comments Off

on Audio demo of the new Subsonic Labs Wolfram VST and Audio Units plugin.
Subsonic Labs has released Wolfram, which they describe as an advanced sound manipulation device. Nice retro video BTW 😀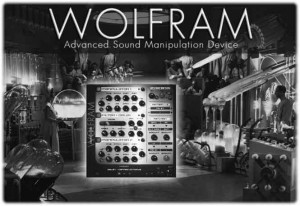 "This is the device for you who aren't satisfied with the few options on your average plugin. You wish to take that extra step, to twist that extra knob in order to achieve instant sound processing gratification – Now you can…We took your average plugin, doubled the voltage, drilled (virtual) holes for essential buttons and rewired it beyond recognition.Smoking hot from our Subsonic Laboratories, it can be the subtle, ear tingling touch of Dr. Jekyll…But Wolfram is equally capable being the frequency devastating abomination of Mr. Hyde. All this with a light touch on the well polished user panel.
Get that vintage vibe with a modern twist – Delays, pitch shifting, distortion, chorusing, phasing, panning, filtering, cabinet emulation and all strange combinations in between. Do you need Wolfram today? Well, you will ask yourself why you didn't buy it yesterday!"
April 13, 2012 · Posted in
Uncategorized
·
Comments Off

on Reactive – new upcoming AudioUnit plugin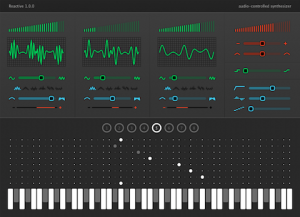 Sinevibes has introduced Reactive, its upcoming AudioUnit plugin developed to turn any audio into melodic material.
Unlike conventional keyboard-controlled synthesizers, Reactive detects the input signal's dynamic envelope and transforms it into pitch information via a note matrix that has eight switchable patterns. The envelope and pitch are then used to drive three distinct synthesizer engines – waveshape modeling, phase modulation, and subtractive with ring modulation – allowing you to come up with interesting motion sounds, from pulsating drones and melodic strums to fat basses and weird glitch lines. Like all Sinevibes products, Reactive will be simple and fun to use, with a color-coded interface and fast response.
Reactive features
Use any sound source's dynamics to generate new melodies.
Instantly transform vocal beat-boxing or simple microphone tapping into bass and synth lines, glitches, and noises.
Turn rhythmic audio material into interesting strumming or arpeggiating synthesizer sounds.
Reactive will be available late April or early May 2012, and can be pre-ordered now for $19 USD (regular $29 USD). Customers who purchase the Sinevibes Complete AudioUnit pack starting from today will receive Reactive free of charge. Reactive will come as a 32/64 bit AudioUnit plugin for OS X 10.5 or later.
March 27, 2012 · Posted in
Uncategorized
·
Comments Off

on Sinevibes's Sequential updated to 1.3.0 – Working in realtime
http://youtu.be/wsOf7JyaI80
See how quickly you can modify a drum loop using Sequential's effect matrix. More about Sequential AudioUnit plugin: http://www.sinevibes.com/sequential/
Sinevibes has announced a major update for Sequential, an AudioUnit plugin for creating rhythmic effect patterns. They tell us that new features make it an even more capable and fun tool for re-processing beat loops, creating complex motion textures, and spicing up tracks with unique transitions, breaks and glitches.
Sequential 1.3.0 brings the following improvements:
New effects: phase modulation sine oscillator, glitch triangle oscillator and shot noise generator.
Re-calibrated input envelope follower parameters for faster reaction time and smoother shape.
Alternating color shades in effect matrix.
New preset patches.
Pricing and Availability:
Sequential 1.3.0 is immediately available for $29 as a 32/64-bit AudioUnit plugin for OS X. The update is free to all existing users. New customers can also purchase it as part of the Sinevibes Complete AudioUnit pack with a 50% discount.
More information:
March 5, 2012 · Posted in
Uncategorized
·
Comments Off

on Klanghelm – free audio compressor for Mac & WIndows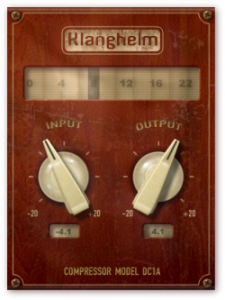 Klanghelm has released a free audio compressor for Mac & WIndows, DC1A.
Here's what the developer has to say about it:
DC1A is the little brother of the compression monster DC8C. I've taken one of my favourite settings from DC8C and tried to make it work in a two control context. Soundwise it's comparable to the PUNCH mode in DC8C. It's kind of a mixture of classic opto and FET designs.
I've always wanted to do a compressor with just an input and output knob, a compressor that just works: gentle, faithful, from almost invisible, smooth leveling to heavy pumping with a nice crunchy saturation and punchy enough to treat drums with.
DC1A looks like a one trick pony. But don't get fooled by lack of further controls. You may be suprised on how many different material this little thing works. DC1A is heavily program dependent, so is the saturation.
DC1A is available now as a free download for both Mac & WIndows (VST/AU).
February 28, 2012 · Posted in
Uncategorized
·
Comments Off

on DODECAUDION – new audiovisual controller
DODECAUDION
a project by panGenerator / HEDOCO product.
pangenerator.com
hedoco.com
Dodecaudion is a spatial audiovisual controller based on such technologies as infrared distance sensors, arduino, bluetooth, processing and osc.
Most of the sound in this video was recorded live and edited/postproduced later on.
(you'll find live and uncut performance played during hackdays here: blip.tv/hackdays/dodecaudion-koncert-5556815 – please mind that sound setup and recording weren't optimal though )
The project is in alpha phase right now but should be ready for production in following months and will be available via HEDOCO online shop.
Dodecaudion is totally opensourced:
MIT license – source code.
Creative Commons (CC BY-NC-SA) – form design, PCB layout & everything else.
You'll find source code, CAD documentation and PCB schematics on github ( please note however that they still need some cleanup, we'll post an update soon ).
github.com/panGenerator/dodecaudion
The heart of Dodecaudion is an Arduino and open source software. The Arduino collects data from all the Dodecaudion sensors and sends them to a computer.
Dodecaudion connects via Blutooth to computers. Messages are translated and retransmitted via OSC (software for Mac OSX and Windows available for download).
Included:
Arduino Uno,
Dodecaudion Shield rev. 2.0,
Alluminium and polymer composites housing,
Power source (230 V for EU continental outlets)
USB cable (not neccesary for normal operation but handy for tinkering with microprocessor code)
It's available now and priced at 5,000 PLN, which translates into around US $1,600.
February 24, 2012 · Posted in
Uncategorized
·
Comments Off

on Closer look at Cableguys' VolumeShaper 3
VolumeShaper is a plugin for shaping and automating the levels of any audio signal. From signature pumping effects to extreme gating, from tempo-synced stutter to precise sample-shaping, VolumeShaper provides a wealth of creative musical effects with a visual approach to volume. For Mac and Windows, as VST, AU or RTAS plugin.
New in version 3: A precise oscilloscope for helpful visual control, plus an option to trigger the LFO via MIDI notes.
http://www.cableguys.de/volume-shaper.html
Music by Pangea Dub Force: http://www.pangeadubforce.com
February 19, 2012 · Posted in
Uncategorized
·
Comments Off

on The One – new Windows audio effect designed for simplicity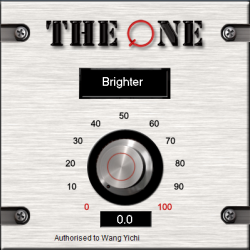 Sound Magic has introduced The One– a new effect for Windows described as "the easiest and the most convenient way for musicians to process their recordings."
The One features several options to choose from and only a single knob to implement them – that's it. There's no confusing technical terminology. You choose your goal and spin the single dial to get the desired result.
Here's what Sound Magic has to say about The One:
At first glance, it might seem that this is some lightweight tone control or simply some cobbled together processors. But behind this simple knob are years of research from many pro engineers, taking some complex algorithms and effects chains and putting them at your fingertips.
Sound Magic has summed up thousands of individual mixing pathways, modeled them, developed several universal algorithms, then translated them into the language of musician. You won't find any complicated technical terms when using The One. Instead, Sound Magic has used words like "wetter", "brighter", "stronger" and so on.
There's nothing lightweight or cobbled together here either. This is cutting edge programming utilizing artificial intelligence to make controlling the cleanest digital processors available as simple and as intuitive as possible.
Here are some of the things that The One can do for your recordings:
Wetter: Move your recording from a dry sound to a larger space, adding both depth and atmosphere to it. Change your recording from a single point sound to a full 3D space.
Stronger: Here The One uses an artificial intelligence compressor which adds more power to your recording, strengthening it, and emphasizing its imaging and details.
Brighter: This adds brightness to your treble – intelligently. It is perfect for brightening your tracks and allows them to cut through a mix.
Thicker: The One includes a bass booster that easily and quickly adds bottom to your music. Enhance your bass instruments and thicken them in the mix.
Crystallizer: Choose this option, spin the single dial and make your recordings sound sharper and crisper. It will also enhance the impact of the sound, giving your recordings a professionally recorded sound.
Features:
One Knob to control ALL
Internal 64Bit Floating Point Precision
Different plug-in version to fit for usage on Mono and Surround
Up to 32Bit/384KHz resolution
The one is priced at 69 EUR and is available now.