http://youtu.be/wsOf7JyaI80
See how quickly you can modify a drum loop using Sequential's effect matrix. More about Sequential AudioUnit plugin: http://www.sinevibes.com/sequential/
Sinevibes has announced a major update for Sequential, an AudioUnit plugin for creating rhythmic effect patterns. They tell us that new features make it an even more capable and fun tool for re-processing beat loops, creating complex motion textures, and spicing up tracks with unique transitions, breaks and glitches.
Sequential 1.3.0 brings the following improvements:
New effects: phase modulation sine oscillator, glitch triangle oscillator and shot noise generator.
Re-calibrated input envelope follower parameters for faster reaction time and smoother shape.
Alternating color shades in effect matrix.
New preset patches.
Pricing and Availability:
Sequential 1.3.0 is immediately available for $29 as a 32/64-bit AudioUnit plugin for OS X. The update is free to all existing users. New customers can also purchase it as part of the Sinevibes Complete AudioUnit pack with a 50% discount.
More information: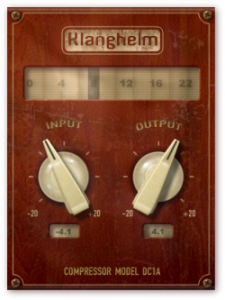 Klanghelm has released a free audio compressor for Mac & WIndows, DC1A.
Here's what the developer has to say about it:
DC1A is the little brother of the compression monster DC8C. I've taken one of my favourite settings from DC8C and tried to make it work in a two control context. Soundwise it's comparable to the PUNCH mode in DC8C. It's kind of a mixture of classic opto and FET designs.
I've always wanted to do a compressor with just an input and output knob, a compressor that just works: gentle, faithful, from almost invisible, smooth leveling to heavy pumping with a nice crunchy saturation and punchy enough to treat drums with.
DC1A looks like a one trick pony. But don't get fooled by lack of further controls. You may be suprised on how many different material this little thing works. DC1A is heavily program dependent, so is the saturation.
DC1A is available now as a free download for both Mac & WIndows (VST/AU).
DODECAUDION
a project by panGenerator / HEDOCO product.
pangenerator.com
hedoco.com
Dodecaudion is a spatial audiovisual controller based on such technologies as infrared distance sensors, arduino, bluetooth, processing and osc.
Most of the sound in this video was recorded live and edited/postproduced later on.
(you'll find live and uncut performance played during hackdays here: blip.tv/hackdays/dodecaudion-koncert-5556815 – please mind that sound setup and recording weren't optimal though )
The project is in alpha phase right now but should be ready for production in following months and will be available via HEDOCO online shop.
Dodecaudion is totally opensourced:
MIT license – source code.
Creative Commons (CC BY-NC-SA) – form design, PCB layout & everything else.
You'll find source code, CAD documentation and PCB schematics on github ( please note however that they still need some cleanup, we'll post an update soon ).
github.com/panGenerator/dodecaudion
The heart of Dodecaudion is an Arduino and open source software. The Arduino collects data from all the Dodecaudion sensors and sends them to a computer.
Dodecaudion connects via Blutooth to computers. Messages are translated and retransmitted via OSC (software for Mac OSX and Windows available for download).
Included:
Arduino Uno,
Dodecaudion Shield rev. 2.0,
Alluminium and polymer composites housing,
Power source (230 V for EU continental outlets)
USB cable (not neccesary for normal operation but handy for tinkering with microprocessor code)
It's available now and priced at 5,000 PLN, which translates into around US $1,600.
VolumeShaper is a plugin for shaping and automating the levels of any audio signal. From signature pumping effects to extreme gating, from tempo-synced stutter to precise sample-shaping, VolumeShaper provides a wealth of creative musical effects with a visual approach to volume. For Mac and Windows, as VST, AU or RTAS plugin.
New in version 3: A precise oscilloscope for helpful visual control, plus an option to trigger the LFO via MIDI notes.
http://www.cableguys.de/volume-shaper.html
Music by Pangea Dub Force: http://www.pangeadubforce.com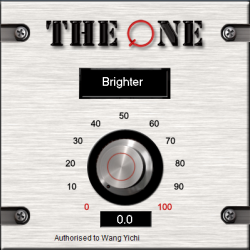 Sound Magic has introduced The One– a new effect for Windows described as "the easiest and the most convenient way for musicians to process their recordings."
The One features several options to choose from and only a single knob to implement them – that's it. There's no confusing technical terminology. You choose your goal and spin the single dial to get the desired result.
Here's what Sound Magic has to say about The One:
At first glance, it might seem that this is some lightweight tone control or simply some cobbled together processors. But behind this simple knob are years of research from many pro engineers, taking some complex algorithms and effects chains and putting them at your fingertips.
Sound Magic has summed up thousands of individual mixing pathways, modeled them, developed several universal algorithms, then translated them into the language of musician. You won't find any complicated technical terms when using The One. Instead, Sound Magic has used words like "wetter", "brighter", "stronger" and so on.
There's nothing lightweight or cobbled together here either. This is cutting edge programming utilizing artificial intelligence to make controlling the cleanest digital processors available as simple and as intuitive as possible.
Here are some of the things that The One can do for your recordings:
Wetter: Move your recording from a dry sound to a larger space, adding both depth and atmosphere to it. Change your recording from a single point sound to a full 3D space.
Stronger: Here The One uses an artificial intelligence compressor which adds more power to your recording, strengthening it, and emphasizing its imaging and details.
Brighter: This adds brightness to your treble – intelligently. It is perfect for brightening your tracks and allows them to cut through a mix.
Thicker: The One includes a bass booster that easily and quickly adds bottom to your music. Enhance your bass instruments and thicken them in the mix.
Crystallizer: Choose this option, spin the single dial and make your recordings sound sharper and crisper. It will also enhance the impact of the sound, giving your recordings a professionally recorded sound.
Features:
One Knob to control ALL
Internal 64Bit Floating Point Precision
Different plug-in version to fit for usage on Mono and Surround
Up to 32Bit/384KHz resolution
The one is priced at 69 EUR and is available now.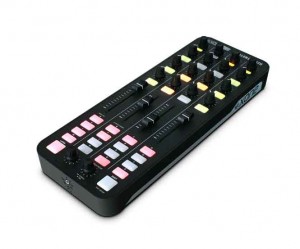 Allen & Heath has introduced the Xone:K2, a MIDI controller and audio interface with a 4-channel internal soundcard, configurable MIDI surface with tri-colour LED illumination, USB bus power, and incorporating A&H's proprietary X:LINK to connect with other Xone equipment.
The K2 is designed to work with all MIDI-enabled DAW applications and interface with popular DJ software packages, such as Ableton, Traktor Pro and Serato Scratch Live. It has 52 physical controls – including 12 analogue and 6 endless rotary encoders with push switch, 4 linear faders, and 30 back lit performances switches – providing up to 171 MIDI control commands across 3 layers. The K2′s MIDI interface can be configured by the user, so the unit can be left in 'Open Architecture (Latching Layers off) Mode' or set to 'Latching Layers Mode'.
K2 has an internal 4-channel high quality soundcard, that can operate at 44.1 and 48kHz, and all channels run from the PC to the unit, configured to provide 2 stereo channels, one for headphones one for master out L and R, allowing headphone cueing without interrupting the master out. There is also a dedicated 3.5mm headphone jack, and a master out on RCA phono connectors.
It is possible to link two K2 units together to double the control area using Allen & Heath's proprietary X:LINK protocol. X:LINK uses a standard RJ45 connector and distributes power and data, which means two units can be connected to your DAW using only one USB port.
Xone:K2 is constructed with a strong plastic base and steel front panel employing A&H's nutted pot construction to be both lightweight and hard-wearing. Finally, the K2 comes with a carry case that doubles as a stand for ease of use for travelling DJs.
Pricing and Availability:
SRP: £199 ex VAT
Availability: Jan '12
More information: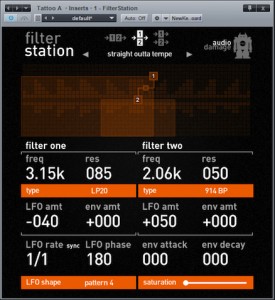 A preview of Audio Damage Filterstation– a new audio filter effect for Mac & Windows.
Here's what he has to say about Filterstation:
It is a pair of filters that can be configured as serial, parallel stereo, and true stereo (one filter for each side).
Each filter can be one of 12 types, including our usual 2P, 3P, and 4P models, the bandpass filter that 914 Fixed Filter Bank is made up of, the original 4P LP from FilterPod (our first product, and the first filter we coded), a monster face-melting MS20 LP and HP that Adam built a month or so ago, and a VCA type.
The latter is useful if you'd like to do a filter-vibrato thing like some amps and electric pianos do (notably the Fender Vibrolux, but many others as well). It can also be used for rhythm gating and rudimentary panning. (Nothing near as sophisticated as Panstation, of course.)
The LFO has the usual suspects, and four rhythm patterns.
Audio demo below.
Phosphor to Filterstation by Chris Randall. Uploaded with Studio One
As to release date and pricing, Randall says, "I don't have a time-frame for release, and we haven't settled on a price. But 'soon' and 'not much' are both perfectly acceptable answers for both those questions."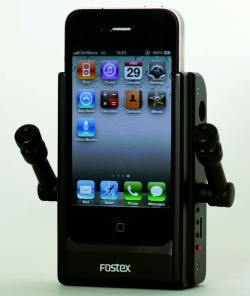 Your iPhone clearly looks like a tiny robot dressed up in this new audio interface. Fostex has announced a new audio interface for the iPhone 4, the AR-4i, designed to improve the quality of recordings made with the iPhone.
Features:
3 microphone inputs with plug-in power for vertical or horizontal use.
Input level control and EQ can be done using the dedicated App.
2 x cardioid plug-in microphones come as standard.
Third-party microphones can be used.
LED Level Meter for input level monitoring.
Microphone gain control.
Headphone jack for input monitoring.
2 x AAA batteries for more than 10 hours operation.
External power can be fed via USB.
Ergonomic design for secure holding.
Screw hole provided for optional camera gears such as tripod, grip etc.
Pricing and availability are to be announced.
via Fostex, Palm Sounds
This tutorial walks the brand new Live user through the necessary & basic steps of setting up and connecting your Audio Interface to use with Ableton Live.
Part 1 of a new series featuring Ableton's lead clinician Huston Singletary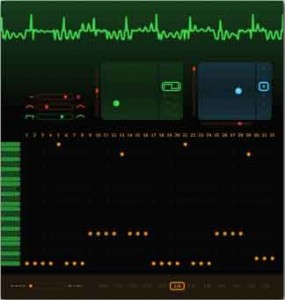 Sinevibes has announced a major update to it's Frequency AudioUnit plug-in, which they tell us vastly increases the creative possibilities of this hybrid synthesizer. The new version 1.1.0 includes the following improvements and new features:
Completely redesigned user interface with enhanced controls
Increased note sequencer length to 32 steps
New triangle, saw and square oscillator waveforms
Oscillator balance modulation by envelope follower
More prominent sound of the waveshaper
Increased XY pad control depth of the waveshaper model #3
New preset patches
Pricing and Availability:
Frequency version 1.1.0 is immediately available as a download for $49, and it's a free update for all existing users. Frequency requires Mac OS 10.5 or later running on 32/64 bit Intel or PowerPC.
More information: