Google Play Store – https://play.google.com/store/apps/de…
iTunes – https://itunes.apple.com/au/app/fl-st…
Info – http://www.image-line.com/documents/f…
FL Studio Mobile is now available for Android and iOS. Use it on any smart-phone or tablet running Android or iOS
A Google/Asus Nexus 7 was used in this video
FL Studio Mobile HD allows you to create and save complete multi-track music projects on your iPad, iPhone and iPod Touch. You can even load the FL Studio Mobile projects into the 'FL Studio Desktop PC' version* and take them to the next level.
If it's a beat on the step sequencer, a melody on the piano roll or a full song on the playlist, FL Studio Mobile has you covered. Never lose that idea again. Get it down and happening wherever you are.
FEATURES
• 133 high quality instruments, drum kits & sliced-loop beats
• In-app shop with 7 sample packs (250 instruments/kits), 2 of them are free
• All instruments have FL Studio desktop counterparts for FL Studio desktop import and extension
• Step sequencer for fast percussion programming and sliced-loop reworking
• Configurable virtual piano-keyboard
• Drum pads
• Audio tracks: audio recording (with monitoring), iPod library import, wav/mp3/aac import, AudioCopy & AudioPaste
• Wave editor: cut, trim, normalize, reverse, insert silence, fade in/out (3 curves)
• Record up to 24 channels simultaneously with CoreAudio (class compliant) hardware
• Background audio playback and recording
• Browser with preview button and logical sorting into Instruments, Synths, Drum kits & Loops
• Sampling: custom kits and instruments can be created from wav/mp3 files, AudioPaste, .zip and .instr files (created with FL Studio desktop)
• Pan, volume, release and attack time configurable per instrument
• Pitch bend via accelerometer
• Low-latency, iOS-optimized, high quality, battery-friendly audio engine
• Drum loops and sliced loops ready to start your project with a cool beat
• Effects include Limiter, Reverb, Delay, EQ, Amp simulator & Filter to enhance your mix.
• 99 track sequencer and intuitive editing options
• Per-track mute, solo, effect bus, pan and volume adjustment
• Edit at the level of tracks, bars or down to individual notes
• Piano roll editor for manual entry of note & chord sequence data or detailed editing of recorded performances
• Unlimited undo and redo for all editable screens
• Metronome with tempo & time-signature settings
• Intuitive positioning of screens with the slide gesture and resize with the pinch gesture
• Save and load your songs, export to WAV and AAC
• MIDI file import/export
• SoundCloud and Dropbox upload
• Email export, AudioCopy, iTunes file sharing and an integrated WiFi server
• Audiobus support (input & output)
• In-app user manual
• Retina Display graphics
• Compatible with: CoreMIDI (MIDI in and out), Virtual MIDI, Line 6 MIDI Mobilizer I & II, Akai SynthStation 25, iRig, iRig Mic, iRig MIDI, Yamaha i-MX1, Apogee Jam, Blue Mikey, Alesis IO Dock, iConnectMIDI, Line 6 Mobile Keys, Line 6 Mobile In, Tascam iU2 and many more.
Visit www.flstudiomobile.com for video tutorials, demos and access to the FL Studio Mobile community. For sales support email flstudiomobile@image-line.com.
This is a Nexus 7 running Android 4.2.2. Android 2.3 will be the minimum Android version supported.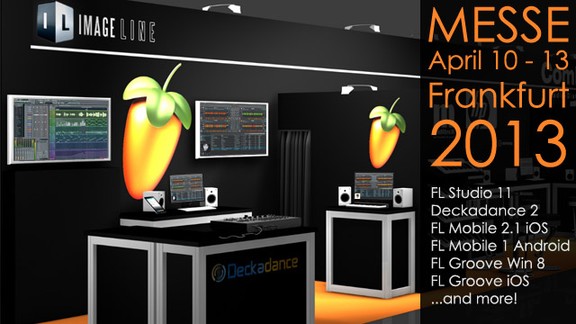 Image-Line has announced that it will showcase version 11 of its FL Studio music production software at the upcoming Musikmesse.
We are excited to announce that Image-Line will be at Musikmesse April 10-13, 2013. See us at Image-Line Booth E50, 5.1

Featured products include:

FL Studio 11
Deckadance 2
FL Studio Mobile 2.1 (iOS)
FL Studio Mobile 1.0 (Android)
FL Groove (Windows 8 and iPad)

Also meet nucleon from the FL Studio forums & Sacco, winner of the FL Studio Performance mode competition (demonstrating in the ComLine booth nextdoor).
The VFX Key Mapper works in conjunction with the Patcher modular insert plugin.
http://www.image-line.com/documents/n…
More about Sacco here – http://www.youtube.com/user/Spyrofunk
and here – https://soundcloud.com/sacco-vanzetti-duo
Tutorial on how to use Cubasis with GarageBand and FL Studio instuments. Take the best from all your app.
Download Cubasis from AppStore – goo.gl/Zq89a
Read iPad DAW's Overview – goo.gl/ZMmis
Find more on ipadmusic.com
Additional information can be found via the links below:
Download Link – http://support.image-line.com/redirect/performance_drumloopmasher
Don't forget the FLaunchpad competition – http://www.image-line.com/documents/news.php?entry_id=1355190084&title=wi…
Toby has produced & remixed over 100 songs and is known for his punchy synths, pulsing arpeggios and searing lead sounds. The Synth Essentials pack is perfect to give any project a modern edge.
Info – http://www.image-line.com/documents/toby_emerson_synth_essentials.html
Get the project here – http://goo.gl/s9hFG a detailed tutorial here – http://www.youtube.com/watch?v=4oueAwfdMUo
The Fruity Envelope Controller allows you to link any target, plugin or FL Studio, to a range of envelopes that can be triggered from a MIDI keyboard or other controller. Perfect for live performance based automation or those cases where a plugin doesn't have enough of its own internal controllers.
More info here – http://www.image-line.com/documents/news.php?entry_id=1348098765&title=fl…
Features include:
Audio tracks – Import WAV/MP3/AAC/AudioPaste & iPod library.
Wave editor – Cut, trim, normalize, reverse, fade in/out
Multi-tracking – Up to 8 track simultaneous recording
FL Studio Mobile HD – Now a Universal App
iPad retina display – Supported
Dropbox – Export to Dropbox. Import from Dropbox App.
Library – Amped Guitar & Bass pack in the shop
ZIP – Export improved to include all custom instruments, audio recordings and the project
NOTE: To load an FL Mobile 2 projects in FL Studio for Windows you will need FL Studio 10.8 or higher. In addition to use the Amped expansion you will need to delete the existing FL Mobile Samples folder, from the Shared Data folder (C:\Program Files\Image-Line\Shared\Data\FL Mobile Samples) then re-download it from the content library.
Where's ANDROID will it EVER happen?! Yes. see here…
http://www.youtube.com/watch?v=6kPX5xTPRKU&feature=plcp