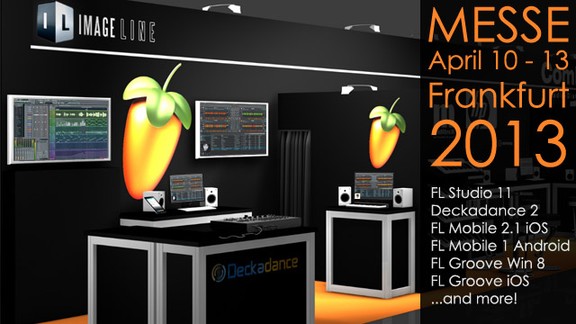 Image-Line has announced that it will showcase version 11 of its FL Studio music production software at the upcoming Musikmesse.
We are excited to announce that Image-Line will be at Musikmesse April 10-13, 2013. See us at Image-Line Booth E50, 5.1

Featured products include:

FL Studio 11
Deckadance 2
FL Studio Mobile 2.1 (iOS)
FL Studio Mobile 1.0 (Android)
FL Groove (Windows 8 and iPad)

Also meet nucleon from the FL Studio forums & Sacco, winner of the FL Studio Performance mode competition (demonstrating in the ComLine booth nextdoor).
The VFX Key Mapper works in conjunction with the Patcher modular insert plugin.
http://www.image-line.com/documents/n…
More about Sacco here – http://www.youtube.com/user/Spyrofunk
and here – https://soundcloud.com/sacco-vanzetti-duo
Tutorial on how to use Cubasis with GarageBand and FL Studio instuments. Take the best from all your app.
Download Cubasis from AppStore – goo.gl/Zq89a
Read iPad DAW's Overview – goo.gl/ZMmis
Find more on ipadmusic.com
Additional information can be found via the links below:
Download Link – http://support.image-line.com/redirect/performance_drumloopmasher
Don't forget the FLaunchpad competition – http://www.image-line.com/documents/news.php?entry_id=1355190084&title=wi…
Toby has produced & remixed over 100 songs and is known for his punchy synths, pulsing arpeggios and searing lead sounds. The Synth Essentials pack is perfect to give any project a modern edge.
Info – http://www.image-line.com/documents/toby_emerson_synth_essentials.html
Get the project here – http://goo.gl/s9hFG a detailed tutorial here – http://www.youtube.com/watch?v=4oueAwfdMUo
The Fruity Envelope Controller allows you to link any target, plugin or FL Studio, to a range of envelopes that can be triggered from a MIDI keyboard or other controller. Perfect for live performance based automation or those cases where a plugin doesn't have enough of its own internal controllers.
More info here – http://www.image-line.com/documents/news.php?entry_id=1348098765&title=fl…
Features include:
Audio tracks – Import WAV/MP3/AAC/AudioPaste & iPod library.
Wave editor – Cut, trim, normalize, reverse, fade in/out
Multi-tracking – Up to 8 track simultaneous recording
FL Studio Mobile HD – Now a Universal App
iPad retina display – Supported
Dropbox – Export to Dropbox. Import from Dropbox App.
Library – Amped Guitar & Bass pack in the shop
ZIP – Export improved to include all custom instruments, audio recordings and the project
NOTE: To load an FL Mobile 2 projects in FL Studio for Windows you will need FL Studio 10.8 or higher. In addition to use the Amped expansion you will need to delete the existing FL Mobile Samples folder, from the Shared Data folder (C:\Program Files\Image-Line\Shared\Data\FL Mobile Samples) then re-download it from the content library.
Where's ANDROID will it EVER happen?! Yes. see here…
http://www.youtube.com/watch?v=6kPX5xTPRKU&feature=plcp
A quick first impression video of FL Studio v2.0 featuring audio tracks, Dropbox file management, and Virtual MIDI. If you're already familiar with Xewton's Music Studio, this demo will look pretty familiar…
TB Midi Stuff 2 template for FL Studio 10 (beta).
More info : www.ipadtouches.com
For performance mode, normal mode and controls.
"TB Midi Stuff is a much cheaper App than Lemur.
Version 2 has a lot of new features, so I was able to port my FL Lemur template for Lemur to TB Midi Stuff 2."
With the template you can "jam" your music and samples in performance mode in Fl Studio 10.8 beta. Pages for controlling FL Studio in normal mode and for controlling with XY pads, sliders and knobs are present in the template.