"Hello this is the Koe mini modular, this time making some percussive and weird sounds.
KOE synth voice and KONEKO midi to CV eurorack modules."
"Hello, this is the Koe desktop mini modular from AtomoSynth, showing some bass and lead sounds.
Koe synth voice eurorack module and Koneko midi to CV interface module. UMX61 midi controller."
Background info:
This is the KOE module, it is japanese for "voice" because it is a complete synth voice in just one affordable module, it is 28 HP width and needs +/- 12V power.
Main features:
One VCO with square and ramp wavefoms with depth and tune controls, tune control is a ten turn potentiometer which allows you easily set octave, tune and fine tune with
just one knob.
Noise sourse, it can be set to affect the VCO frequency or it can be mixed with the VCO and audio input.
One LFO with square and triangle waveforms is can be set to affect the VCO frequency or the Filter cut off, it also features an output jack.
High pass and Low pass vactrol based filter with cutoff and resonance/peak control, it also features an input jack to control the cut off frequency.
Two Envelope generators: EG1 with decay control which is set to affect the cut off frequency of the filter and EG2 with attack and release controls, set to affect the volume, it has an output jack and input jack for the incoming gate signal.
Also it features an audio input, it allows process any axternal audio signal with the filter and envelopes.
'Making of' a new sound library of springs – check here for more info:
hissandaroar.com/sd010-springs

MeldaProduction tell us that MNoiseGenerator is a simple noise generator. It can be used as a testing generator for analyses or, thanks to the integrated modulators, for some creative effects.
Features
4 global modulators – in each instance you can have up to 4 fully-featured modulators that can modulate any set of parameters including other modulators! In this way you can make the sound move in time, be less static and more interesting. Each modulator works as LFO, follower, midi/audio triggered ADSR envelopes, a pitch detector or even a combination.
M/S, single channel, up to 8 channels surround processing – our plugins can handle not only mono and stereo signals, but also mono/stereo encoding, separate channels and encodings, and up to 8 channels of surround audio, which makes them ideal for audio production for movies, games etc.
Extremely advanced and easy-to-use user interface – our products are always designed to enhance the workflow. You can easily change all values, fine-tune each control in multiple ways. Easy orientation in a standardized GUI, textual editing and smooth visualization with almost unlimited zooming are standard in all of our plugins. Moreover our plugins are the world first (and still the only ones), which support resizable and stylable GUI's.
MIDI controllers with MIDI learn – you can map any parameter to any MIDI controller or MIDI keyboard and control it realtime or record and automate it.
Very fast, optimized for SSE and SSE2 processors.
Global preset management and online preset exchange – using a title button you can save your settings (which are shared on the computer) so you can easily access these in other songs. Moreover all plugins can automatically share your presets and download presets of other users from our servers (if this feature is enabled). We are building a community and you can be a part of it!
Fully automatable.
Pricing and Availability:
Free download.
More information:
http://youtu.be/A7SR3JOszV0
Remco Sound FX Machine 1979
Panzer Party-Erwin Rommel Wants Your Quarters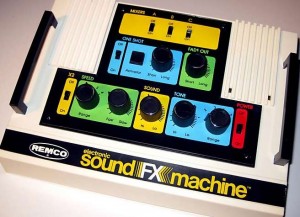 The Remco Electronic Sound FX machine was based on the Texas Instruments SN76477 analog sound effects chip. This little late-1970s integrated circuit generated square and noise waves that could be modulated to create all manner of bleeps, bloops, buzzes and auditory insanity. It's perhaps most famous as the sound chip used in the arcade version of Space Invaders.
Several toy makers seized on its simple design and $3 price tag, but Remco went a step further by using it to create a bizarre battery-powered sound effects machine capable of generating an enormous range of parent-repellent sounds. The booklet includes pages of strange patch settings.
LinPlug – well known for outstanding software synthesizers like Albino, MorpOx and Octopus – have released their 1st FX plug in: relectro
If you're looking for a new kind of beat/sound mangler you really should check out the manual or the description on their site. It sounds completely different than one would imagine. If you like hardcore, noise, glitch, power electronics, idm… this is a neat tool too kick the crap outa your ol' drum loops!
There's a demo (Mac and Windows): http://www.linplug.com/Instruments/relectro/relectro.htm
Experimental noise/drone/fx generator
Purchase it for 10€ here >>
Technical info:
4 sine oscillators +
tone cut filter + soft clipper saturation +
grainer unit (granular processing) +
fx unit with 17 different effects +
automizable X-Y controller for fx +
high-quality reverb.
AfroDJMac here, bringing you another Free Ableton Live Rack. This one is an entire Live Set that I use to play virtual synthesizers live. In the video, I explain how I have set up 7 different synths (all included in download) as well as my OP-1 by Teenage Engineering for live performances. The synths are routed through a multi effects rack, which I control with an Akai MPK49 and Keith McMillen SoftStep. Everything is explained and can be customized to your own personal set up. Designed to be extremely versatile and change quickly from an extremely wide array of sounds. Enjoy!
Background info:
Last fall, I got a call from my friend Chris P Cauley asking if I could fill in on the bass guitar for his band, The Chris P Cauley Collective, at a gig at the Patchogue Theatre here on Long Island.  We managed to squeeze in a rehearsal and the show went well.   Later that night he asked me if I wanted to set up my computer and play some synthesizers in his band.  It definitely took me by surprise because I've never played synths in a band, and to this day, don't play the keyboard well enough to ethically call myself a keyboard player!  But, I excepted the challenge and have been doing it since.  My set up has evolved like crazy, equipment has been changed and added, settings have been tweaked for weeks to only be thrown out in favor of some other crazy idea.  Even as recent as last night things have been changing.  But right now I have figured something out that works well for me and the role I am trying to fill in Chris' music…
For this weeks Free Ableton Live Rack, I am sharing my CPC set and going through the details of how I use it.  I am always amazed at how many different ways people use Live, but I haven't really seen too much information online about how to use Ableton simply as a synth workstation (trust me I looked!).  So, I guess this one is most appropriately handled in a video walkthrough and your own experimentation.  In the video I discuss routing inside Live, "Dummy" tracks, setting up midi controllers, building effect racks, sending multiple synths through the same effects, morphing synths, using external synths (my beloved Teenage Engineerings OP-1)… So, download the Live Set and use it to play live, load your own sounds, or the effects rack that is inside.
Hologram Room – vol.1 by usoproject
Hologram Room is the first bundle of the abstract Sound Design Collection produced by sound designers and composers Matteo Milani and Federico Placidi (aka U.S.O. Project).
The two gigabytes of "ready to use" original sound elements are designed to help sweetening and enhancing a sound production. The whole library is organized in eight main folders: Active Drones, Alarms, Blips, Buttons, Communications, Ignitions, Telemetries, Transitions. It provides a selection of out of this world drones and ambiences, futuristic sound effects and electronic tools.
The sound designers have been spending hours composing, editing, mixing these categories in Symbolic Sound Corporation Kyma and Avid Pro Tools. All of the audio files have been embedded with metadata for detailed and accurate searches in a asset management software.
A note about the mastering: the library has not been peak normalized, but loudness normalized, based on the recommendation by the European Broadcast Union. What does it mean? During the audition of the samples, they will have the same loudness level when played through monitors.
This work has been made possible by the aid of LevelOne, a program developed by Grimm Audio.EBU TECHNICAL provides all kinds of information about the EBU R128 loudness recommendation. The official R128 documents and guidelines can be found online, as well as introduction papers and videos.
Here is what is included in Hologram Room – vol.1:Folders:Active Drones (81 items)Alarms (26 items)Blips (52 items)Buttons (62 items)Communications (18 items)Ignitions (34 items)Telemetries (35 items)Transitions (123 items)Tab-delimited file (.txt)Excel spreadsheet (.xls)License Agreement (.pdf)Artwork (.jpg)
Audio Format: Broadcast Wave Files (.wav) Sample Rate: 48 kHz Bit Depth: 24-bit Size: 1.87 GB Download size is 1.66 GB (compressed .zip archive)
Price: $ 25
Bugaboo is in the process of building a massive synth and here's a status update. 5 days into building my mega synth with little sleep and lots of coffee. Just tested the FX section which is working well after a few rounds of debugging. The large wooden case in the background is what it will all be housed in. Lots more work to do!
Alive Machine has released Knife Kit and Tunnel Kit two free sound fx sample kits.
Two new sample kits are available for download at AliveMachine.com. Each kit is based on a series of field recordings which were transformed into a range of synthetic SFX.
Knife Kit features
25 individual sounds in 16-bit, 44.1k wav format.
Wide range of metallic percussive, electrical, and drone timbres.
Includes both original field recordings and processed sounds.
Tunnel Kit features
58 individual sounds in 16-bit, 44.1k wav format.
Unique tunnel percussion kit including 26 sounds.
Two impulse responses for recreating the tunnel reverb.
Both kits are available as a free download from Alive Machine.
More information: Alive Machine