This weeks free Ableton Live rack from AfroDJMac:
This is an effects rack I use on my master channels in Ableton Live. Very useful and practical!
Free Download @http://bit.ly/freesynth46
Every week I release a Free Ableton Live Pack! @ http://www.afrodjmac.com
Quick demo showing how octatrack effects can greatly alter a simple drum beat.
The drum beat comes from the machinedrum and is unchanged the whole time. The machinedrum is fed into the octatrack and goes through a "thru" machine and "neighbor" machine to achieve 4 effects: Lo-Fi, Plate Reverb, Filter, Compressor.
No other effects applied.
Hardware:
Elektron Octatrack
Elektron Machinedrum MK 2 UW+
Sonokinetic has released Vivace, a sound library for Kontakt and Kontakt Player featuring cinematic orchestral fx and textures.
Vivace features tempo-synced tonal cues, each recorded in all 12 keys utilising our ITM (Intelligent tempo mapping) system so that every sample is automatically integrated perfectly into any arrangement. The pressure of tight deadlines always interferes with the creative process so we believe Vivace is an essential tool to keep orchestrating craftsmanship high in production schedules with tight deadlines and on demand client expectations.
Vivace is a dedicated performance sampling library that continues building the Sonokinetic legacy in original one-of-a-kind sampling tools for professional composers and sound designers. A vast collection with over 16,000 samples (32,000 total combination of 16 and 24 bit) propels this impressive library to new heights.
Vivace features
9 channels available, of which 8 to mix: Pre-mixed 'Tutti' channel, 3 Mic position channels and 5 cue group channels. Mix each Vivace cue specifically to your taste. Set global variations or for each individual cue.
Up to 3 additional multiple recordings of some motifs, available as variations.
FX at your fingertips. Configure 4 band EQ and in-built reverb to match your other libraries.
Samples recorded in the same environment as Sonokinetic 'Tutti' allowing seamless integration.
Assign your favourite cues to keyswitches.
19 patches in total with multiple cues within each patch.
33922 samples: 2x sample pool (16 & 24 bit) (full version sample pool 27,56 GB content: 16bit: 9,41GB & 24bit: 18,15 GB).
Royalty and copyright free content license. (English & German).
Vivace Reference manual (pdf).
Artwork : "Vivace" dvd cover. Designed by Pavel Fuksa.
Programming : "Vivace" Kontakt script and instruments by Son Thomsen.
Vivace is available to purchase for 199.90 EUR.
Cluster Sound has announced FX Drooms, a massive collection of FX layered percussion kits specifically designed for Ableton Live and for a wide range of electronic music styles.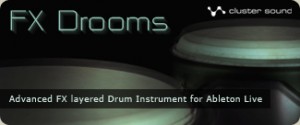 This Live Ready Instrument provides 5400 WAV samples, 312 percussion clips and 312 instrument racks organized into 13 categories : Congas, Bongos, Djembe, Metals, Woods, Toms, Mixed, Ethnics, Snares, Kicks, Shakers, Low Percs and Clanks.
Sample FX Layering : In FX Drooms, each of the dry percussion samples has been processed with 24 esoteric reverb and sound effect templates obtained by stressing DSP, hardware and convolution sources. Thanks to our Sample FX Layering technique you will be able to mix these external effect signals to the dry samples and manage them via dedicated controls : FX Amount, Decay Time, Pre Delay, Low Cut, Hi Cut, Pitch, Shaper, OSC Volume.
Mixed with the solid dry sources, the included FX templates give the library a distinctive glommy psycho (acoustic) athmosphere characterized by incredible hi end and definition. In addition to the dry percussions and the Sample FX Layers the included instruments implement also several sound-specific send effects created by using Ableton Live plugins.
FX Drooms
Live Clips
Live Instruments
Live Ready Pack
WAV
Specification:
5400 WAV samples
312 Percussion Clips
312 Percussion Racks
24 Sample FX Layers
FX Drooms is available to purchase for 24.95 EUR.
http://nonorder.wordpress.com/
Monolite is a new experimental noise/drone/fx Ensemble for Native Instruments Reaktor.
Technical info: 4 sine oscillators + tone cut filter + grainer unit (granular processing) + fx unit with 17 different effects + automizable X-Y controller for fx + high-quality reverb. Low CPU-usage
Note: The ensemble works best with Reaktor 5.6.2
Loopmasters has released Dark Scapes, a collection of dark and menacing sounds for Propellerhead Reason.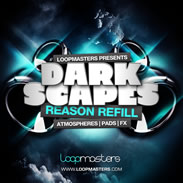 Aimed at Producers who make Cinematic, Atmospheric styles of music for TV and Film (think Horror, Drama and Sci-Fi) plus cutting edge musicians looking to mix up dark influences and moody soundbytes within their musical scores.
Utilising the full collection of awesome sound sculpting instruments and effects within the Reason 6 environment, Dark Scapes is a unique library fusing organic sounds with cutting edge technology to provide the user with limitless combinations of sounds at your fingertips. Included with this Refill are no less than 312 Combinator Instruments which utilise instruments including Malstrom, Thor, Subtractor, Kong, NNXT, which are combined with the effects including Compressors, Reverbs, Gates, Delays, Flangers, Chorus and much more. Dark Scapes for Reason 5 or higher is available to purchase for £19.95 GBP.
More information: Loopmasters / Dark Scapes
Patches In Detail:
63 Atmosphere and Drones
40 Pads
103 Fx
25 Leads
15 Real World Sounds
3 Kong Kits
62 Bonus Sounds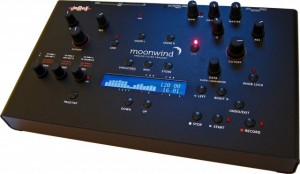 Boutique synthmaker Jomox introduced the Moonwind Analog Filter Tracker.
The Moonwind Analog Filter Tracker is a true analog stereo filter, with built-in step sequencer, an FX chip, 2 LFOs and envelope modulation. Everything is storable and controllable via MIDI.
MoonWind AcidMoon by Sonicyogi
"Hello this is the Koe mini modular, this time making some percussive and weird sounds.
KOE synth voice and KONEKO midi to CV eurorack modules."
"Hello, this is the Koe desktop mini modular from AtomoSynth, showing some bass and lead sounds.
Koe synth voice eurorack module and Koneko midi to CV interface module. UMX61 midi controller."
Background info:
This is the KOE module, it is japanese for "voice" because it is a complete synth voice in just one affordable module, it is 28 HP width and needs +/- 12V power.
Main features:
One VCO with square and ramp wavefoms with depth and tune controls, tune control is a ten turn potentiometer which allows you easily set octave, tune and fine tune with
just one knob.
Noise sourse, it can be set to affect the VCO frequency or it can be mixed with the VCO and audio input.
One LFO with square and triangle waveforms is can be set to affect the VCO frequency or the Filter cut off, it also features an output jack.
High pass and Low pass vactrol based filter with cutoff and resonance/peak control, it also features an input jack to control the cut off frequency.
Two Envelope generators: EG1 with decay control which is set to affect the cut off frequency of the filter and EG2 with attack and release controls, set to affect the volume, it has an output jack and input jack for the incoming gate signal.
Also it features an audio input, it allows process any axternal audio signal with the filter and envelopes.
'Making of' a new sound library of springs – check here for more info:
hissandaroar.com/sd010-springs

MeldaProduction tell us that MNoiseGenerator is a simple noise generator. It can be used as a testing generator for analyses or, thanks to the integrated modulators, for some creative effects.
Features
4 global modulators – in each instance you can have up to 4 fully-featured modulators that can modulate any set of parameters including other modulators! In this way you can make the sound move in time, be less static and more interesting. Each modulator works as LFO, follower, midi/audio triggered ADSR envelopes, a pitch detector or even a combination.
M/S, single channel, up to 8 channels surround processing – our plugins can handle not only mono and stereo signals, but also mono/stereo encoding, separate channels and encodings, and up to 8 channels of surround audio, which makes them ideal for audio production for movies, games etc.
Extremely advanced and easy-to-use user interface – our products are always designed to enhance the workflow. You can easily change all values, fine-tune each control in multiple ways. Easy orientation in a standardized GUI, textual editing and smooth visualization with almost unlimited zooming are standard in all of our plugins. Moreover our plugins are the world first (and still the only ones), which support resizable and stylable GUI's.
MIDI controllers with MIDI learn – you can map any parameter to any MIDI controller or MIDI keyboard and control it realtime or record and automate it.
Very fast, optimized for SSE and SSE2 processors.
Global preset management and online preset exchange – using a title button you can save your settings (which are shared on the computer) so you can easily access these in other songs. Moreover all plugins can automatically share your presets and download presets of other users from our servers (if this feature is enabled). We are building a community and you can be a part of it!
Fully automatable.
Pricing and Availability:
Free download.
More information: