June 16, 2012 · Posted in
Uncategorized
·
Comments Off

on AlexB Releases "Tape and Saturators FX Pro": Nebula Library of Four Hardware Tape Emulators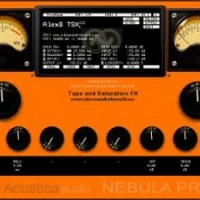 The European software developer Alessandro Boschi aka AlexB has released "Tape and Saturators FX Pro," his latest library for the Nebula VST plugin.
Nebula, from Acustica Audio, uses libraries sampled to extremely high specifications to emulate different types of vintage gear, including equalizers, filters, microphones, preamps, compressors, reverb and generic time-variant processors.
The prices are 20.00 EUR for the library, or $25.09 USD at today's exchange rates, and 65,00 EUR special "Welcome" price for the TSX library bundle, or $81.54 USD at today's exchange rates.
In short, the newest release from AlexB includes:
. 4 units sampled: ANM, DTE, FTS, MWT
. 38 differents programs at 7K and 5K
. Clean and Driven programs
. Real "Saturation" and "Warmth" controls
. Internal HPF SideChain for the compressors
. Special skin
. Over 1GB library programs
. Available as single library or as discounted bundle
More from AlexB, as he tells it:
"A collection of the best hardware tape emulators FX.
ANM
The ANM Tape Simulator is the first product that uses the analog process for modeling complex analog circuitry entirely in the analog domain Unlike digital plug-ins or processor-based outboard gear. The result is a faithful recreation of the original response, without using the original analog hardware. The circuit has been improved and a custom dard has installed.
DTE
DTE is a homemade unit that simulates a vintage tube tape machine with a mastering tube compressor and a tube saturator stage built in. Class A design, real tape and head circuitry digitally controlled.
FTS
It's a modern digitally controlled analog device that offers many of the "musical non-linearities" exhibited by the older tube, class A discrete, and magnetic tape mediums. The unit has several compressor "types" with fixed attacks and releases. The unis has been enhanced for better sound characteristics.
MWT (Modern White Tape FX)
The MWT provides a remarkable simulation of true tape sound through the inclusion of genuine tape drive circuitry. This emulation circuit provides the nostalgic rounding and compression usually only achieved by the use of tape. This typically offsets the harshness often found in digital recordings. The unit has been enhanced in the DC and audio path with top grade audio components.
The programs:
Carefully sampled @96kHz and @44.1kHz in a professional recording studio with hi-quality audio and digital cables and master grade converters with audio levels perfectly matched and calibrated. They are precisely programmed without normalizing or other destructive digital processing. The programs don't sound processed, harsh or digital as most plugins do, but instead sound like a natural extension of the original audio, gluing your tracks in the mix with an analog vibe.
Free demo available.
Programs characteristics and details in the user manual: http://www.alessandroboschi.eu/alexb/doc/Tape_and_Saturators_FX_Manual.pdf"
June 7, 2012 · Posted in
Uncategorized
·
Comments Off

on TONSTURM 07 | The Sound Of Water
New library released by TONSTURM, The Sound of Water.
With this soundpack you get a vast variety of deep, splashing, bubbling and bursting water sound effects recorded during extensive field recording sessions above and under the surface of water. The underwater sound effects of this library were captured with the mind blowing, high quality underwater stereo recording rig from Sonar Surround.

With TONSTURM 07 | The Sound Of Water you get 140 Soundfiles in Stereo, 24 Bit, 192 kHz. Over 4 GB of Data (@ 192 kHz) plus extra pitched down versions of the high resolution underwater recordings for convenience (additional 2,47 GB).
TONSTURM 07 is available for $99 (192kHz) or $84 (96kHz)

Hear water like you´ve never heard before!
The recordings for this soundpack took place at three different locations: Two beautiful lakes and one outdoor swimming pool. We recorded above and under the surface of water and used all kind of props to perform and capture characterful, deeply bubbling and bursting water sound effects.

For the underwater recordings we rented the high quality, mind blowing underwater stereo recording rig from Sonar Surround. These microphones are able to capture a huge frequency range between "5Hz to 85 kHz"! and their "enormous sensitivity and the resulting signal to noise ratio offer a usable dynamic range of more than 100dB. Thus, even the smallest grain of sand movement can be recorded without disturbing noise floor."
(Quoted from: http://www.ambient.de/produkte/ambient-recording/unterwasser/hydrophone.html)
May 9, 2012 · Posted in
Uncategorized
·
Comments Off

on Resonance Sound releases Sounds of Revolution – Clicks & FX Vol.1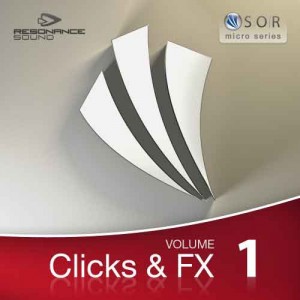 Resonance Sound has announced the release of Clicks & FX Vol.1, a new micro series package by Sounds of Revolution.
"You know the story: Your next track is almost ready and you`re searching for that one sample to throw your mix into new dimensions to get the crowds pumping, but your current library of sounds lack enthusiasm?! This is where this sample pack comes into play! Clicks & FX Vol. 1 will spice up any electronic music production instantly and effortlessly. Being part of SOR`s Micro Series, this selection of contemporary elements delivers loops and single sounds that will enhance your production instantly while matching seamlessly. Add sounds like trendy clicks or exceptional FX-samples to sharpen up your tracks and make them more inspiring."
All 75 click-loops have been produced at 127 BPM and Resonance Sound says that, with 354 loop elements (fragments, ready to be effectively triggered from your sampler to create animated effects) and FX-sounds, Clicks & FX Vol. 1 makes the ideal solution for up-to date Minimal, Techno and Tech House tracks.
Formats: 235 MB (599 files) sample pack, 24-bit Wavs (180 MB/504 files), REX Loops (Stylus RMX ready), EXS24 und Kontakt 4 Patches.
Pricing and Availability:
13.36 Euro + VAT
More information:
February 21, 2012 · Posted in
Uncategorized
·
Comments Off

on Ableton Live – Master FX
This weeks free Ableton Live rack from AfroDJMac:
This is an effects rack I use on my master channels in Ableton Live. Very useful and practical!
Free Download @http://bit.ly/freesynth46
Every week I release a Free Ableton Live Pack! @ http://www.afrodjmac.com
February 20, 2012 · Posted in
Uncategorized
·
Comments Off

on Elektron Machinedrum + Octatrack = OT FX
Quick demo showing how octatrack effects can greatly alter a simple drum beat.
The drum beat comes from the machinedrum and is unchanged the whole time. The machinedrum is fed into the octatrack and goes through a "thru" machine and "neighbor" machine to achieve 4 effects: Lo-Fi, Plate Reverb, Filter, Compressor.
No other effects applied.
Hardware:
Elektron Octatrack
Elektron Machinedrum MK 2 UW+
February 16, 2012 · Posted in
Uncategorized
·
Comments Off

on Vivace – new sound library for Kontakt and Kontakt Player
Sonokinetic has released Vivace, a sound library for Kontakt and Kontakt Player featuring cinematic orchestral fx and textures.
Vivace features tempo-synced tonal cues, each recorded in all 12 keys utilising our ITM (Intelligent tempo mapping) system so that every sample is automatically integrated perfectly into any arrangement. The pressure of tight deadlines always interferes with the creative process so we believe Vivace is an essential tool to keep orchestrating craftsmanship high in production schedules with tight deadlines and on demand client expectations.
Vivace is a dedicated performance sampling library that continues building the Sonokinetic legacy in original one-of-a-kind sampling tools for professional composers and sound designers. A vast collection with over 16,000 samples (32,000 total combination of 16 and 24 bit) propels this impressive library to new heights.
Vivace features
9 channels available, of which 8 to mix: Pre-mixed 'Tutti' channel, 3 Mic position channels and 5 cue group channels. Mix each Vivace cue specifically to your taste. Set global variations or for each individual cue.
Up to 3 additional multiple recordings of some motifs, available as variations.
FX at your fingertips. Configure 4 band EQ and in-built reverb to match your other libraries.
Samples recorded in the same environment as Sonokinetic 'Tutti' allowing seamless integration.
Assign your favourite cues to keyswitches.
19 patches in total with multiple cues within each patch.
33922 samples: 2x sample pool (16 & 24 bit) (full version sample pool 27,56 GB content: 16bit: 9,41GB & 24bit: 18,15 GB).
Royalty and copyright free content license. (English & German).
Vivace Reference manual (pdf).
Artwork : "Vivace" dvd cover. Designed by Pavel Fuksa.
Programming : "Vivace" Kontakt script and instruments by Son Thomsen.
Vivace is available to purchase for 199.90 EUR.
February 10, 2012 · Posted in
Uncategorized
·
Comments Off

on FX Drooms for Ableton Live
Cluster Sound has announced FX Drooms, a massive collection of FX layered percussion kits specifically designed for Ableton Live and for a wide range of electronic music styles.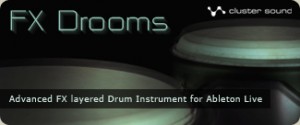 This Live Ready Instrument provides 5400 WAV samples, 312 percussion clips and 312 instrument racks organized into 13 categories : Congas, Bongos, Djembe, Metals, Woods, Toms, Mixed, Ethnics, Snares, Kicks, Shakers, Low Percs and Clanks.
Sample FX Layering : In FX Drooms, each of the dry percussion samples has been processed with 24 esoteric reverb and sound effect templates obtained by stressing DSP, hardware and convolution sources. Thanks to our Sample FX Layering technique you will be able to mix these external effect signals to the dry samples and manage them via dedicated controls : FX Amount, Decay Time, Pre Delay, Low Cut, Hi Cut, Pitch, Shaper, OSC Volume.
Mixed with the solid dry sources, the included FX templates give the library a distinctive glommy psycho (acoustic) athmosphere characterized by incredible hi end and definition. In addition to the dry percussions and the Sample FX Layers the included instruments implement also several sound-specific send effects created by using Ableton Live plugins.
FX Drooms
Live Clips
Live Instruments
Live Ready Pack
WAV
Specification:
5400 WAV samples
312 Percussion Clips
312 Percussion Racks
24 Sample FX Layers
FX Drooms is available to purchase for 24.95 EUR.
February 6, 2012 · Posted in
Uncategorized
·
Comments Off

on Reaktor Monolite 1.0.5
http://nonorder.wordpress.com/
Monolite is a new experimental noise/drone/fx Ensemble for Native Instruments Reaktor.
Technical info: 4 sine oscillators + tone cut filter + grainer unit (granular processing) + fx unit with 17 different effects + automizable X-Y controller for fx + high-quality reverb. Low CPU-usage
Note: The ensemble works best with Reaktor 5.6.2
February 2, 2012 · Posted in
Uncategorized
·
Comments Off

on Loopmasters releases Dark Scapes Reason ReFill
Loopmasters has released Dark Scapes, a collection of dark and menacing sounds for Propellerhead Reason.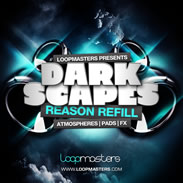 Aimed at Producers who make Cinematic, Atmospheric styles of music for TV and Film (think Horror, Drama and Sci-Fi) plus cutting edge musicians looking to mix up dark influences and moody soundbytes within their musical scores.
Utilising the full collection of awesome sound sculpting instruments and effects within the Reason 6 environment, Dark Scapes is a unique library fusing organic sounds with cutting edge technology to provide the user with limitless combinations of sounds at your fingertips. Included with this Refill are no less than 312 Combinator Instruments which utilise instruments including Malstrom, Thor, Subtractor, Kong, NNXT, which are combined with the effects including Compressors, Reverbs, Gates, Delays, Flangers, Chorus and much more. Dark Scapes for Reason 5 or higher is available to purchase for £19.95 GBP.
More information: Loopmasters / Dark Scapes
Patches In Detail:
63 Atmosphere and Drones
40 Pads
103 Fx
25 Leads
15 Real World Sounds
3 Kong Kits
62 Bonus Sounds
January 21, 2012 · Posted in
Uncategorized
·
Comments Off

on Check out the Moonwind Analog Filter Tracker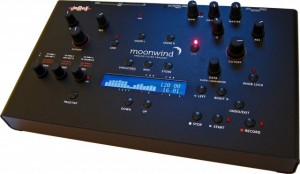 Boutique synthmaker Jomox introduced the Moonwind Analog Filter Tracker.
The Moonwind Analog Filter Tracker is a true analog stereo filter, with built-in step sequencer, an FX chip, 2 LFOs and envelope modulation. Everything is storable and controllable via MIDI.
MoonWind AcidMoon by Sonicyogi