August 8, 2012 · Posted in
Uncategorized
·
Comments Off

on Synth artist Solvent meets the Make Noise Phonogene
Here's what Solvent has to say about the video:
Hi my name is Solvent and I make electronic music. Here is a rather indulgent video of my first experiment with the Make Noise Phonogene module. Actually, indulgent as this may be, I liked this enough to press record. I used a square wave LFO to chop the splices evenly, and the SH-101 krbrd is choosing the splices via the "Organize" Cv-in. End-of-splice ("EOS") triggers a TipTipAudio BD808 kick drum, running through the Doepfer A-189-1 Bit Modifier. Phonogene loop is processed through a Pittsburgh Modular Filter + Midiverb reverb. The source of the sample was some lame YouTube film trailer about space.
July 2, 2012 · Posted in
Uncategorized
·
Comments Off

on New synth video called "analog_techno_improvisation"
Just the name of the video make you wanna check it out 😉
It performed with this friend. ———- roland tr909 tr808 tb303 sh101 sre555 moog minimoog analogue solution vostok ems vcs3 korg sq10 sherman filterbank2 and more

————————————————-
analog_techno_improvisation 2
http://youtu.be/MiVaIc3F8go
————————————————-
analog_techno_improvisation 3
http://youtu.be/dCKMVOnIpQo
————————————————-
June 17, 2012 · Posted in
Uncategorized
·
Comments Off

on Pure Analog with the Oberheim OBXa + Roland SH-101
Background details:
I made this track in the mid 80's with the Oberheim OBXa on a 4-track analog tape recorder Tascam 144.
Everything was played by hand, without a sequencer or MIDI.
The remastering is made with SONAR 8.0
This piece was also featured on our national radio called BRT-2 in 1987 in a special program "maneuvers in het donker" for home made electronic synthesizer music
May 8, 2012 · Posted in
Uncategorized
·
Comments Off

on Slow Electronica with SH-101, TR-909, W-30
A slower, relaxing electronic ditty featuring:
TR-909: "Balearic-style", relaxed electronic beat
SH-101: smooth, "Moog-like" synth bass
W-30: custom-made Syn Vox / Piano split patch
September 28, 2011 · Posted in
Uncategorized
·
Comments Off

on An improvisation in a Valerie Dore / Italo Disco style
An improvisation in a Valerie Dore / Italo Disco style circa 1984. Featuring the Orchestrator, Juno-60, LinnDrum and SH-101
Crumar Orchestrator: string machine
Roland SH-101: bass
Roland Juno-60: synth strings
Linn LinnDrum: drum machine
Reverb: built-in Roland M-10DX digital mixer
Delay on Linn claps: Boss DD-3 digital delay pedal
Hardware feature – Crumar Orchestrator: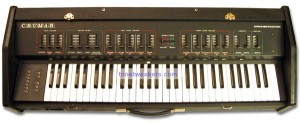 In 1977, Crumar introduced the Orchestrator (called the Multiman-S in Europe), a fully polyphonic orchestral string machine. It has five basic sounds: Brass, Piano, Clavichord, Cello and Violin. The keyboard is split in the middle allowing you to play one combination of instruments with the left hand, and another combination with the right.
All five sounds are available at all times, you simply adjust how much volume you want of each sound. Feature just a single instrument, or create your own orchestral ensemble—you are the Orchestrator! With the keyboard being split, there are five separate instrument volume sliders for the left hand (lower split) and another five for the right hand (upper split).
There is also a sixth sound: Bass. The Bass sound has its own volume slider as well, but it is assigned to only the bottom 27 notes of the keyboard. It is also not the greatest of Bass sounds either, and can sometimes muddy the sound.
There is a filter section but only for the Brass. It uses some pretty old-fashioned terminology: 'Emphasis' for resonance and 'Contour' for cutoff. There are also Attack and Decay controls for the filter. There is another filter for the Cello and Violin string sounds called 'Timbre' which can adjust between a 'Mellow' to 'Bright' sound—basically it's a highpass filter. There is a 'Vibrato' effect section, basically the LFO, with 'Speed' and 'Depth' controls. The only global envelope control is a 'Sustain' length slider.
The Orchestrator's best sounds are its Brass (probably because it is the sound with the VCF filter) and the Strings. In fact the Strings sound very similar to the famous ARP Solina. Unfortunately there are no built-in Ensemble effects to really sweeten them up…but that's what outboard gear is for!
Like most synthesizers of its time, the Orchestrator was built with the performing musician in mind. It is its own flight-case! Its casing is very tough and durable, it has a handle and a cover/lid to keep it protected during transport. And if it looks heavy, it is! Additional options for the Orchestrator included an organ-like 13-note (G-G) Foot Pedal Board, Sustain Pedal, and a Foot Expression Pedal controller for the filter cutoff. There are no CV/Gate options, just connectors for the external pedal controllers.
About section via VSE
July 13, 2011 · Posted in
Uncategorized
·
Comments Off

on Roland SH-101 and CR-8000
The CR-8000 produces classic electronic drum sounds that hint back to the famous CR-78 and TR-808 drum machines. But none of these sounds are editable and there is only one mono audio output making this machine less of a studio-piece of gear and more of a collector's item. Aside from these limitations it, like other CompuRhythms, has a series of preset patterns in many different styles as well as programmable patterns with 8 storage patches. While the CR-8000 is usually sampled for today's applications, the thing about the CR-8000 that cannot be captured by sampling the sounds is the swing/groove feel which has its own control knob. The intervals between beats are variable, but also the timbre changes.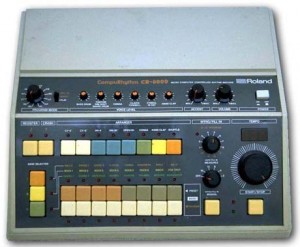 In this video:
Short (minimalistic) demo made only with SH-101 and CR-8000. Delay was provided by Boss DE-200. I should note that i modified my CR-8000 with individual outputs. Therefore, your CR-8000 might not sound like this, as each channel was separately EQ-ed (on a Soundcraft desk). No compression was used.
July 10, 2011 · Posted in
Uncategorized
·
Comments Off

on Pulsator – analog synths, sequencers & drum machines
Music composition based around old skool sequencing programming combined with some edgy synth sounds. Featuring Jomox Xbase09 drums, SH101 & Pro-one sequences, Juno & JP8 arpeggiators, JP6 lead, Prodigy bassnotes, plus other bits & pieces.
The XBase-09 is serious about emulating the Roland TR-909. Like the 909, it is an analog drum machine, and it sounds just like the 909, and more! It offers the same types of analog controls that the TR-808 and TR-909 did such as tuning, level, decay, snap, etc. However it provides more of these controls for more sounds than the originals ever did and has MIDI implementation and Patch memory making the XBase-09 a much more versatile machine than those originals.
Kick and snare are true analog, not emulation and not sampled. The Hihats, cymbal, ride, rimshot, claps and noise sounds are samples but are still quite tweakable. All your edited sounds can be stored into the 100 patches of memory. Use the built-in LFOs to modulate the Bass drum pitch, Snare Tune, Snare Snap, Snare Noise Tune, HiHat Tune or LFO 2.
The XBase-09's built-in sequencer is also more advanced yet faithful to the style of its mentors. Step or Real-Time programming just like it's done on the 909 and 808! However, on the XBase, any edits to the sounds will also be stored with the pattern or song! This really liven's up your beats and allows you freedom and control to do things not easily possible on the original beat boxes! There's also an extensive Shuffle mode. Of course the XBase-09 is also happy as a simple drum tone module, with all editable controls accessible using MIDI. The controls also send MIDI data when tweaked so you can record real-time edits into your external sequencer.
March 3, 2011 · Posted in
Uncategorized
·
Comments Off

on Just a pure SH101 treat
All sounds made with the SH-101
October 30, 2010 · Posted in
Uncategorized
·
Comments Off

on Some serious analog tweaking
For all you arthouse experimentalists! The no drum machine synth jam. Bioni Samp joined us for some analogue tweaking, "Tha Dance of the Pumpkins". Playing are Korg MS-20 & SQ 10, Yamaha CS50, Roland TB 303 & SH 101. Enjoy!
October 1, 2007 · Posted in
Electronic Music
·
Comments Off

on Oberheim Matrix-12
Spent an hour in one of my fav synthshops this week and played around with an old favorite of mine the Oberheim Matrix-12 – had almost forgotten how nice it sounds – can´t remember right now which group it was that was using it the most, could have been OMD but I am not sure. Below is a video clip featuring an Oberheim OBX (couldn´t find a clip of the M-12) paired with an TR 606 and an SH 101, me like

[youtube=http://www.youtube.com/watch?v=Gl8hKDM5FA0]
About the Matrix-12
The Matrix-12, truly one of the "Monsters" of programmable analog synthesizers. It is basically two complete Oberheim Xpanders hooked up to a velocity-sensitive (including release velocity), pressure-sensitive (there were some early Matrix-12s that did not have pressure-sensitivity), 5-octave, 61-note (C-C) keyboard. With 24 oscillators (two VCOs per voice) it can be set up as a 12-part monophonic or a 6-part polyphonic multi-timbral synth. The front panel is exactly like the Xpander, except for one button that switches between voices 1-6 and 7-12.