The annual mini festival electriXmas (Malmö, Sweden, December 18) has announced the first three live acts: Covenant, Page and Ashbury Heights.
COVENANT LIGHTBRINGER FEAT. NECRO FACILITY
Like Milton's protagonist, Covenant refuses to yield and persistently continues to bring the light in spite of all odds. Another shade of pale, the Morning Star is rising once again. With the new EP "Lightbringer" Covenant takes one step back and two steps forward.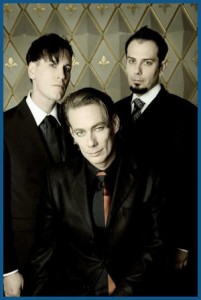 The title track is the fruit of an inspiring collaboration with fellow Swedish band Necro Facility and the result is undeniably Covenant but with a new flavor. A groovy, grinding and driven floor filler with a melody that can't be exorcised once you've heard it. It comes in versions respectively designed by band members Eskil Simonsson, Daniel Myer and Joakim Montelius each using his own particular sonic foundry and magic and a stunning Radio Version by Oscar Holter of Necro Facility. Covenant never sounded this pure.
In addition the EP also contains the previously unreleased tracks "The Beauty and the Grace", written by Daniel Myer, and "Never Seems to End" by Eskil Simonsson and Joakim Montelius.
The "Lightbringer EP" is undeniable evidence of the synergistic Covenant maxim "we are more than the sum of our parts". The light is very bright indeed!

New release schedule of Synthetic Symphony. Included in the planning are new and long awaited releases from Die Krupps, Covenant, Funker Vogt and Skinny Puppy. First is Die Krupps with no less than 4 releases. Out on August 23 is the "Beyond" MCD which is their first all new material since their 1997 album "Paradise Now". Next is the yet untitled album which will be out on September 27. The release will be available in two different editions. Next is the re-release of the band's 1981 debut "Stahlwerksinfonie" holding a bonus CD. Also out on November 22 is the re-release of "The Final Option + The Final Remixes" 2CD (1993) including exclusive bonus-material.
On 26th June 2010 the most stunning electro festival of the year is going to conquer the German Capital Berlin. The E-tropolis Festival comprises a wide range of different electronic styles in a unique, electrifying event, featuring classic EBM, harsh Industrial- & Cyberelectro, Synth-Pop- and alternative dance acts in one pulsating stream of synthetic music.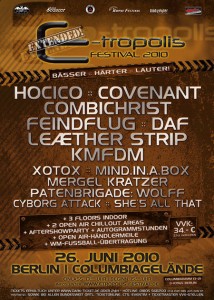 Tickets for the E-tropolis Festival 2010 are on pre-sale now! Original tickets, as well as the most popular 5+1 group tickets are exclusively available at the Amphi Ticketshop under: https://ssl.webpack.de/synotec-newmedia.de/amphishop/welcome.html . You can also buy festival tickets online on www.dark-ticket.de, by phone on +49 (0)1805- 568200 (0,14 /min. from German fixed network), and at all nationwide CTS/EVENTIM, Kartenhaus and Ticket-Online box offices.
Hi all
Time to sum up the past ten years and list the 20 best / most important electronic, electro, EBM and synth albums that has been released. This is of course a tricky quest and will most likely create some debate. Numerous of good albums has been released and I have certainly not listened to all of them, but still someone needs to make a statement :-). The albums are listed in order of importance, but may not be absolute, in the sense that – if they are rated as number 6, they could easily be argued to have place number 7 instead etc, but still…
Number 1:
Kraftwerk – Tour de france soundtrack
Number 2:
The Knife – Silent Shout
Number 3:
Goldfrapp – Black Cherry
Number 4:
Covenant – Skyshaper
Number 5:
Colder – Again
Number 7:
Daft Punk – Discovery
Number 8:
Felix! – Kittenz and thee glitz
Number 9:
Welle: Erdball – Die wunderwelt der technik
Number 10:
Suicide – American supreme
Number 11:
DAF – Fünfzehn neue D.A.F-Lieder
Number 12:
VNV Nation – Futureperfect
Number 13:
Röyksopp – Melody A.M.
Number 14:
Rammstein – Mutter
Number 15:
Vive la fete – Republique populaire
Number 16:
And One – Agressor
Number 17:
Jeans Team – Musik von oben
Number 18:
Recloose – Cardiology
Number 19:
Melotron – Sternenstaub
Number 20/21:
Télépopmusik – Genetic world
System – Self organizing
Coming up on SPV (these release dates are not final):
WELLE:ERDBALL – Operation Zeitsturm DVD+CD out feb./march: Announced for ages – the movie by/featuring Welle:Erdball plus exclusive CD!
COVENANT – Modern Ruin CD/2CD out feb./march: 4 years after "Skyshaper" and 3 years after their last official release "In Transit", Covenant return with an all new full-length album. There will also be a limited 2CD edition.
DIE KRUPPS – New album CD/CDL out march/april: Legendary German electro-pioneers DIE KRUPPS announce an all new album for spring 2010. Available in two different editions.
SKINNY PUPPY – New album CD/CDL out march/april: Skinny Puppy return with their follow-up to "Mythmaker" towards march/april next year. Also their album should be available in two different editions.
FUNKER VOGT – New album CD/CDL out march/april: also Funker Vogt announce a new album, following their "Warzone" Live-double CD and double-DVD.

And there is some good news coming in from SPV. With Sony Music Entertainment Germany backing up the Hanover-based independent music company SPV, Sony Music had already started distributing a large part of SPV's repertoire on the latter's behalf starting October 1, 2009. They now also announced approximate release dates for several of their more famous electro signings. More details of these releases after the jump!
The extensive partnership with Sony will have a duration of several years and includes an option for Sony Music to buy SPV in the end. The partnership was the only way of maintaining the company's business operations up until the present day. SPV has been in business for 25 years. Up until its insolvency, it had over 80 employees and generated sales of more than €80 million ($113.7 million) a year.
In May 2009 the German label SPV had sent out a message to its business partners saying that they had to initiate insolvency proceedings.
Stereoklang has put together a page dedicated to synthpop nostalgica. The page will be filled over time with things like; what synthesizers did Kraftwerk use in this or this video/gig etc.
In the mean time check out some of the uploaded synthpop wallpapers that has been gathered around the web and if you have any of those orginal artists you would like to submit we are more than welcome to upload them as well, e.g. YMO, Logic System, Yazoo, Welle:Erdball, JM Jarre etc
The name for Covenant's upcoming album is now set: "Modern Ruin".
There is still no exact date for the release, but it will be sometime during 2009, according to their homepage.
You can hear some demos on their MySpace.
The indie-festival Re:Publik arranged by Stockholm University has emerged with Tinitus in a two days festival, May 23-24, held at Stockholm University Campus. The festival is free of charge and the first day is reserved for indie bands and the second for electronic bands. The line-up May 24 is:
Covenant
Fixmer/ McCarthy
Spetsnaz
Grendel
Elenette
Dupont Oldskool Reunion
Restricted Area
System
The Pain Machinery
Youthanasia
Covenant were centimeters from quitting. But now the recharged band aims at version 2, with a new line-up (Daniel Myer), studio, sound and album. A new song was preimiered at Das Boot and the album recordings start in February.
But is this new talent enough to keep the group going, here you can find out more about his background in Architect and Haujob
architect is a hybrid of minimalistic drum'n'bass and smooth ambient soundscapes explored by the electronic mastermind daniel meyer.
like an architect who built up his constructions in different layers and channels, also daniel is working with this method by using only sampling tools. he's constructing abstract sonic buildings which seem to be peculiar transparent – like concrete frames without any surfaces in a pleasant familiarity. the cold polyrhythmic drumcodes are bet into a melted ambience of safety and grace. it's the warm timbre of this ambient drum'n bass recording which creates its own unique sonic profile.
Read the full story about Covenant here >>