ElectroBeats is a very intuitive beat making application conceived in collaboration with worldwide renowned and most demanded producer David Guetta.
Right away, you'll create great sounding beats thanks to a powerful real-time approach and an impressive sound library.
ElectroBeats by David Guetta features
Realtime workflow experience with sixteen pads and five different modes: Pad, Pitch, Velocity, Erase, Mute/Solo.
Exclusive and electro oriented sound library, with hundreds of samples including Bass Drum, Snare, Clap, Rimshot, Cymbal, Hi-Hat, Open Hi-Hats, Acoustic Percussion, Electronic Percussion, FX, Bass, Chords, Leads, Instruments, Vox…
Two sound generators : sample playback and synthesis oscillator.
Dozens of ready to use drum and construction kits.
Hundreds of patterns to use with the drum kits..
Note Repeat in multiple resolutions..
Dynamically change the quantize/repeat resolution while recording : the key to build beats very fast..
Default quantization for instant gratification.
Save and share your tracks using iTunes.
Bounce song in Wav format.
Multitrack export for use in sequencers like Logic™, Live™, ProTools™, Cubase™ and many more..
Tap Tempo.
Realtime previews (pattern, kits and sounds).
Convenient undo with snapshots support.
Embedded help in English, French, Spanish and Japanese.
More info at www.uvi.net
DirectEMX is a VST editor for the Korg Electribe MX. You can use it in a VST compatible host like Cubase, Live or FL Studio.
More info at: www.directsynth.com
Features:
Full parameters control and automation from a VST host software (5 Synth parts and 9 drum parts).
Interface specially designed for the EMX.
Total recall: The whole state of the EMX is saved in the DAW project and can be loaded back.
System-Exclusive dumps: Get all the patterns of your EMX in the DirectEMX interface, then modify and reverse-engineer existing patches easily.
DirectEMX is available now for PC (VST) for 25 EUR. A demo version is also available.
C64 doing time stretching, sort of vocoder stuff, delay, etc. at the same time. of course LoFi, but it works with 8Bit, 1MHz..
Brief tutorial from Steinberg on track arrangements
Let's say you have prepared a number of audio files that form the base of a typical pop song, with introduction, verse, chorus and bridge. Now you want to arrange these files. The first step is to create an Arranger track. On the Arranger track, you define specific sections of the project by creating arranger events.
This is absolutely awesome, computerized version of an old classic singer song writer
Production: Cubase64
Group: Mahoney (Pex Tufvesson)
#4) X2010 DemoCompo) Cubase64 / Mahoney (8.305 pts)
This is just totally extreme what you're capable to do with a C-64 +6581r4!

Steinberg has released version 5.5 of Cubase / Cubase Studio, a free update of its music production systems featuring new mixing features, new video engine, instrument updates, workflow improvements and optimized performance for multi-core processors.
The 5.5 update ensures an improved low-latency performance on systems with four or more CPU cores, while the included version increments of two Cubase 5 features, LoopMash and the REVerence convolution reverb, reduce CPU usage considerably. The native x64 version of Cubase and Cubase Studio features an enhanced VST Bridge to improve compatibility with the majority of bridged 32-bit VST2.4 plug-ins within a native 64-bit production environment.

Enhancements for both mixing and video work have been realized with additional automation functionality in the automation panel as well as expanding the Quick Control system to Group, FX, Input and Output channels. An entirely new video engine offers full HD support in Cubase 5.5 as well as scalable performance and video playback capability via FireWire for the PC platform.

Version 5.5 also introduces enhancements to the range of onboard beat production, witnessing refinements in hitpoint detection within the Sample Editor, the introduction of a local timeline for the AudioWarp definition mode plus extended Export/Import functionality for Groove Agent ONE including 19 exclusive new drum kits made up of over 800 finest vintage drum machine samples.

To further speed up workflow in the Cubase environment, the MediaBay interface has been redesigned to provide improved usability, with an integrated virtual keyboard and memo recorder. On top of the many small enhancements, the Channel Batch Export tool has been improved, and the Infoline and the toolbars of all editors have been consolidated for improved legibility and faster access.

Cubase 5.5 complements Cubase 5 and Cubase Studio 5 to the fullest, delivering performance optimization, additional features and useful enhancements throughout.
The 5.5 update is now available to download from the Steinberg website at www.steinberg.net.
More Information: Steinberg / Cubase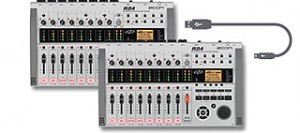 The R24 digital multitrack recorder adds a sampler/drum machine, eight additional recording tracks and six channels of phantom power to the company's R16. The R24 offers 24-track playback and 8-track simultaneous recording, an audio interface, a control surface and a drum pad sampler.
The R24's new sampler function comprises 24 built-in voices that can be triggered using eight pads and three bank keys to assign sounds to each track and create loops. Also, the unit's drum machine and its 400 rhythm patterns can be used to create original backing beats or output a metronome for tempo control. As a bonus feature, exclusive loops by Grammy Award–winner Peter Erskine are included.
The R24 records on SD memory cards and supports cards up to 32 GB for more than 100 track hours of recording. More than 100 built-in studio and mastering effects can be used to enhance recordings.
In addition, the R24's USB audio interface allows users to record tracks to any Mac or PC and use the system's control surface capabilities to manage the functions of most DAW software programs, most notably the included Cubase LE 5.
Cubase 5.5 and Cubase Studio 5.5 are value updates including many smaller and bigger enhancements to the application as well as introducing several great new features that come absolutely free for all registered Cubase 5 and Cubase Studio 5 users.
Optimized performance
The Cubase audio engine has been tweaked for an even better low-latency performance on systems with four or more CPU cores. Updated versions of LoopMash* and REVerence* reduce CPU demand for these plug-ins. The native x64 version of Cubase 5.5 now features an improved VST Bridge that boasts higher performance and dramatically enhanced compatibility with the majority of bridged 32-bit VST2.4 plug-ins.
More mixing and video
The automation panel has been given a smart facelift, and now sports additional automation functionality such as the new Fill modes. For even more convenient access to all required track, mixing and plug-in parameters, the Quick Control system has been expanded to Group, FX, Input and Output channels, while the setup of VST Connections has been simplified. A new Open GL accelerated video engine with full HD support*, scalable performance and the ability to play out videos via FireWire on Windows round out this much
Bigger beats
The Cubase Sample Editor has witnessed significant refinements when it comes to reworking with beat-laden loops, including a new sensitive hitpoint-detection algorithm and the introduction of a local timeline for the AudioWarp definition mode. Groove Agent ONE boasts extended Export/Import functionality, visual adjusting of sample start- and end point and 19 brand-new and exclusive drum kits made up of over 800 finest vintage drum machine samples. LoopMash* has been updated with track-dedicated level meters and volume controls plus a new global similarity threshold slider for controlling the overall density of a loop construct.
Workflow consolidation
The MediaBay interface has been redesigned to provide improved usability besides simply looking pretty neat. It now also comes with an integrated virtual keyboard and memo recorder to quickly record preview phrases. The Channel Batch Export provides user-definable file naming options and includes a non-modal audio export window which remains open for adjusting settings whenever required. Both the Infoline and the toolbars have been cleaned up and consolidated for improved legibility and faster access. The scrubbing function features a much smoother and acoustically accurate feedback for precision editing.
Found an interesting post/article called the Sequencer wars, where the author had used Google trends over the past years to analyze which sequencers are gaining or loosing in market share. The result is shown in the graph below.
And the result shows that Ableton continues to grow as the most popular system going forward.
Losers:

Cubase started from a high in early 2004 and has seemingly experienced a steady decline ever since apart from a few short-lived spikes; most notably in late 2004 when the news graph shows that Steinberg announced an update to Cubase SX 3.0.1

(I initially thought this result was quite odd so I performed other searches based around the [Cubase ] search-word to see if there was a correlation… and there is! The search trends for Cubase SX and VST pretty much match the same downward trend as above.)

Cakewalk shows an even more dramatic fall. It starts from a higher spike than Cubase at the start of 2004, but ends lower than it did in the last quarter of 2006!

(Still a bit sceptical, I ran another for Cakewalk SONAR Although there's been a more volatile ride, ithe graph shows a similar start and end-point as above.)

Winners:

Ableton on average, has experienced a steady rise in search volume all through the timeline, reflecting its new-kid-on-the-block rise into the mind-share of electronic musicians.

Flatlining:

Pro Tools does end at a slightly lower point than when the resultset began, but the trend-line itself is pretty much even when you look at the spikes it has seen. However, 2006 shows a fairly strong downward trend that is seemingly breaking-away from the rest of the line!
Read the full article here and some of the "conclusions" >>
Thanks to The Whippingpost for sharing
After introducing the Cubase iC remote control application for your iPhone or iPod Touch at this years NAMM show, you now can get your version as a free download from the Apple iTunes App Store
Cubase iC transforms your iPhone and your iPod touch into a powerful remote control for Cubase 5 and Cubase Studio 5. Whether you are using Cubase in the studio or on stage, Cubase iC gives you fast and precise control of essential functions from anywhere within your Wi-Fi network's range. Cubase iC gives you access to basic transport functions, allows you to monitor playback position and control the unique Arranger Track.
Application possibilities of Cubase iC:
Recording
Cubase iC is of great assistance to musicians recording in a rehearsal room or home studio. With it, basic functions for recording different takes and parts are controlled via your iPhone or iPod Touch without using your computer each time.
Producing
Producers can access the essential transport functions from all over the studio. This comes in handy when recording and mixing and during listening sessions with musicians and clients.
Performing
Cubase iC controls the Arranger Track, making it also an ultra-cool live tool. Now you can start and stop the different sections of the song while playing live.