August 6, 2010 · Posted in
Uncategorized
·
Comments Off

on Das Ich goes macarbre

Out on Danse Macabre in the next few weeks is the first new album from Das Ich since "Cabaret" (2006). It will be the first all new material since the limited "Kannibale" EP from 2008. "Koma" comes in a 'Manga'-styled concept, combining cultural influences from the Far East with Das Ich's mixture of classic- and electronic sounds.
"Koma" will also be released as a collector's edition boxset (strictly limited to 500 copies only) which has undergone a Manga styled design as well. The boxset contains an extensive MangaComic-book, the CD, an exclusive T-Shirt, button and sticker.
July 10, 2010 · Posted in
Uncategorized
·
Comments Off

on New material from Rotersand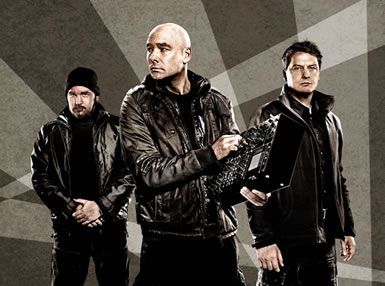 Germany's Rotersand announces a new nine track EP which will clock in at nearly one hour. The title track "Waiting to Be Born" is taken from the album "Randon Is Resistance" and appears in a reworked and a full version alongside remixes and exclusive tracks, among them a cover of Peter Murphy's "A Strange Kind of Love". The release date is September 28.
July 9, 2010 · Posted in
Uncategorized
·
Comments Off

on Project Pitchfork presents the "Beholder" video
Project Pitchfork presents the "Beholder" video, taken from their upcoming release "Continuum Ride". The album will be released on July 27th and comes straight after the 6 track "Remixed" EP. To be released on Trisol the album will be available in a standard and limited edition issue. The standard 12-track version comes as a 6-panel digipak with a 28 pages booklet. The limited version on the other hand holds a hardcover paperback book next to a double CD and DVD.
November 6, 2009 · Posted in
Electronic Music
·
Comments Off

on I:Scintilla release EP
Well I am not sure I am blogging about this on the fact that I:Scintilla has released an new EP or if I have been seduced by the promo pics

Industrial rock group I:Scintilla will release a new EP, Prey on You, December 4 on Alfa Matrix. The new EP features remixes from Die Warzau, Sebastian R. Komor, C/A/T, Cylab and Studio-X.
http://www.youtube.com/watch?v=exnTrHxSggQ
I:Scintilla performing "Machine Vision" live at DNA Lounge in San Francisco on October 7, 2008. Courtesy of Noisescape.tv
September 28, 2009 · Posted in
Electronic Music
·
Comments Off

on Assemblage 23 to tour Europe, release album and single
Electronic act Assemblage 23 has announced European tour dates for February 2010 in support of the new album, Compass, and its accompanying single, Spark, which will be released September 25 in Europe on Accession Records and is already available in North America. Assemblage will perform in Germany, the United Kingdom, France, Russia, and other countries. Assemblage 23 founder Tom Shear has also made announcements to promoters seeking booking for North American shows. Follow the links for details.
March 24, 2009 · Posted in
Electronic Music
·
Comments Off

on Review of PLP's latest EBM Industrial loop release
PLP has been kind enough to send me one of their latest loop releases for review. It's called Industrial EBM, which I thought was very appropriate considering what this blog is all about; electro, EBM, synth music type stuff.
And I must say that one of the hardest things to find in loop universe is good, fat EBM bass loops – it really seems like everyone keeps these to themselves. PLP has actually thrown in a couple of high class EBM loops that I wouldn't mind using in my songs, but greedy as I am, I of course want more of the same

Overall impression is that this loop library is a very good start for anyone who wants to dive deeper into the industrial/EBM scene; several nice intro sounds and drum samples are available. I am especially fond of those that give that metallic feeling to the beat; good metallic sounding beats are fairly hard to get by. They have also added an entire section of midi-files that might trigger your creativity, although they do not take you all the way, which is not the intention either of course.
Apart from wanting more bass loops (as I always do) I think this loop release is good value for money, but (there always has to be a but) I would down prioritize on the one shot drum samples for the next release, since the market is totally swamped by one shot drum sounds and special FX sounds and very easy to come by.
I am very much looking forward to the next release in this field there are too few and PLP has shown us the way.
November 26, 2008 · Posted in
Electronic Music
·
Comments Off

on Noise and more electronic noise
Elusive Austrians Steinklang Industries are back in a big way with no less than 4 new releases spewing forth. The first is a biggun, an ode to the Japan noise scene called "Japanoise of Death II". Like the name suggests, this is the second iteration of the regional noise compilation and features notables like Guilty Connector, Dissecting Table, Incapactiants and a wack more of both grizzled and fresh faces. Making things more interesting is a special laser etched metal box edition which combines both editions of the comp (the original was only available as a limited vinyl or CDR).
Continuing with Japan, we then have HIROSHI HASEGAWA's "Ascension No.999". This one is a CD with a run of 500 that combines "experimental cut-up noise, over droning sound-walls" with "screaming high frequency manipulations" during its 50 minutes. If that doesn't do it for you (or you still have cash left) "Rotten sarkoma" is the title of CDR from SCRELOMA which combines two of the best things in this mean old world: "harsh noises and heavy Power Electronics". You can expect "concrete or sublime rhythms" recorded in analogue with a runtime of 61 min.
[youtube=http://www.youtube.com/watch?v=RS61mFM4D9M]
Finally, a week from now seminal release hog Dissecting Table gets yet another notch in his belt with "Early studio works 1986/87″, a CD collating earlier material from his first LP and 7" plus 5 previously unreleased tracks. The disc comes wrapped in an A3 sized poster and lands on April 17. MP3s have been posted for these releases so suck up some bandwidth already.
More info here >> info@steinklang-records.at.
Thanks to moron for the info
March 20, 2008 · Posted in
Electronic Music
·
Comments Off

on Empire State Human ♥ Kraftwerk = True ? read more >>
February 29, 2008 · Posted in
Electronic Music
·
Comments Off

on My new EBM bass favourite VST :-D
Also used by Nitzer Ebb this VST really does the job
EGOkILLER uses a double-dose Phase Distortion Oscillator in place of the standard oscillator/filter set-up. It is a very powerful form of synthesis first seen in Casio's CZ synths in the '80's. The PD Oscillators have a very full sound that gives this synth great character. It is designed for EBM/Industrial music but is versatile enough to be used anywhere.
EGOkILLERversion2 is the first of the Version 2 synths. Like the original it is based on a single Phase Distortion Oscillator. The new version features a dual High Pass – Low Pass filter set-up with resonance, as well as graphical envelopes for both modulation and VCA. The LFO is new and extra flexibility has been added to modulation routings. It also includes really fat Unison and an enhanced overdrive.
And make sure to look out for the new one, scheduled to be released soon

GODkILLERversion2 is a versatile V/A synth, laid out in a similar manner to EGOkILLERv2. It improves on the original with two oscillators with sync and Hard Sync. The mixable Low-pass and Band Reject Filters are carried over from the original. It also has two graphical ADSR envelopes and a comprehensive LFO featuring 16 different waveforms. Overdrive and LFO destinations can be controlled by a Modulation Wheel on a MIDI keyboard controller.
More on EGOkILLER and FREE download >>