Time's are changing – recently DJs had a pretty nice travel set, a couple of USBs and some DJ decks, now deadmau5 shows perhaps the future of DJ-ing on stage.
Deadmau5's new live touchscreen setup @ Veld Music festival.
This tutorial looks at the basics of sequencer programming in TC-11. Starting with a non-pitched patch, we insert a sequencer to quantize the frequency to note values. Two approaches are taken: building a specific scale, and using the Add parameter to quickly fly through a note scale.
TC-11 is a programmable modular synthesizer on the iPad, controlled by multi-touch and device motion controllers. All synthesis parameters can be controlled by these two sources, which allows the user to create countless unique patch configurations.
TC-11 does not use on-screen objects like knobs or buttons for synthesis control. Instead, your touches are the controllers. Distances, angles, rotation, speeds, and timings created by the touches are used to push synthesis parameters in real-time. TC-11 opens up every inch of the screen for performance. Plus, the iPad's device motion capabilities can be used as controllers. The accelerometer, gyroscope and compass can be assigned to synthesis parameters to turn your iPad into a expressive motion-controlled synth.
http://youtu.be/qkko4fBwHmY
For more information, visit www.bitshapesoftware.com or follow @BitShapeSoft on Twitter.
Intuitive synthesizer using four multitouch points on the screen and the accelerometer to give a large amount of control over a sine wave output.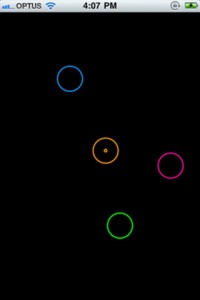 Controls
——-
Orange – Volume and Pitch (radius control pitch range)
Pink – Ramp speed and note length
Blue – Delay Length and Pitch (hold down for delay)
Green – Delay Filter and Feedback
Accelerometer controls pitch and wave shape.
Pad app for controlling symbolic sound corporation's Kyma sound design software for Mac. http://ipadloops.com/kyma-controller-app-for-ipad/
Kyma Control is the Swiss-army-knife of controllers for the Kyma Sound Design Workstation, providing four of the most popular Kyma controller-modes in one, wireless multi-touch package: a bi-directional mirror of Kyma's Virtual Control Surface, a multi-touch pen/tablet controller, a standard and a Tonnetz keyboard, accelerometer controls, and compass heading for using direction as a control.

For use in the studio, on stage, in the lab, at home, or in classroom, Kyma Control frees you from having to sit in front of your laptop; put yourself inside the sound field and perform your Sounds in an expressive, intuitive manner using your hands and gestures.

What's New in Version 1.1.1

This version adds support for two dimensional faders, and buttons and switches with distinct on and off labels. The standard and Tonnetz keyboards are now on separate tabs, the keyboard range indicator now includes keyboard rounding mode selector, and the Volume control faders are now longer. This version is compatible with iOS 5.

FEATURES

• Auto-mapping, bi-directional multi-touch mirroring of Kyma's Virtual Control Surface (VCS)
• Pen/tablet surface tracking as many as 11 fingers with color trails to help you track finger position
• A keyboard for sending !KeyDown and either continuous or discrete values for !KeyPitch & !KeyTimbre
• A Tonnetz pitch-space with configurable vertical and horizontal intervals
• Pitches can be rounded to equal tempered pitch, rounded only on !KeyDown and continuously variable after that, or, in Strum-mode, triggered when your finger passes by the key
• Trigger or control Sounds with the iPad's accelerometer measurements in the X, Y, Z directions, as well as controls corresponding with Pitch, Roll and Yaw
• Compass heading from the iPad's magnetometer tells you which way the iPad is pointing so you can use it for panning and other controls

REQUIREMENTS

• iPad
• Symbolic Sound Kyma X.77 (or newer) with Paca(rana) Sound Computation Engine
• WiFi connection to network accessible to the Paca(rana)

KymaControl is available for $14.99
Pasto is a multi-touch 32 step sequencer suite built in Ableton, TouchOSC and OSCulator.
more info, audio examples and downloads:
http://abelflaubert.com.ar
ControlAble is a multitouch controller for Ableton Live. ControlAbles display includes track names, clip names, clip colours, clip playing status, mixer controls, device rack controls, tempo, and transport controls. All controls are mapped automatically so no more need for midi assign.
ControlAble is written in python using the Kivy framework. More information on Kivy can be found here: http://kivy.org/
More information & free download of ControlAble will be available Wednesday 28th March on http://www.multitouchmusic.com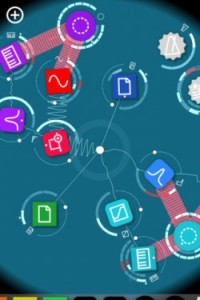 Reactable Systems has announced an updated to Reactable Mobile, introducing a new social networking feature, Reactable Community.
Here's what's new in Reactable 2.0
Direct access to Reactable Community
Save and View Performances
Direct table upload
Table Meta data
Brand new menus
Reactable is a performance oriented synthesizer that combines modular synthesis, sampling, digital audio effects and DJing with multitouch control.
Reactable Mobile is $9.99 in the App Store.
The Miselu "neiro" is a portable, net-enabled social music device with a musical keyboard and a wide multi-touch display, and a variety of musical apps and cloud services.
This mobile companion invites users to perform, create, learn, discover and share — from anyplace they go. Social is integral to the Miselu "neiro" and permeates through all applications. The open platform environment will also enable developers and users to build their own custom apps and solutions.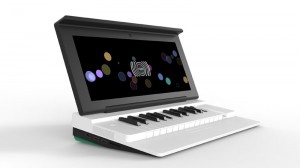 Yamaha is providing the upcoming "neiro" with the Yamaha AudioEngine (TM) Series Sound Chip NSX-1. This powerful synthesizer engine delivers a quality that almost matches the sound of real musical instruments. The DSP chip offers a larger variety of sound effects such as reverb, chorus and EQs that create a rich sound experience.
More info at miselu.com
Music: "Ken Ishii presents Metropolitan Harmonic Formulas – After The Rainstorm (feat. Jazztronik) (Yogurt & Koyas Remix)" from Sublime Records
http://youtu.be/dcpiY1Rske8
Emulator Modular Intro
Emulator Modular is the most flexible multi-touch software available to music producers and professional DJ's.
– Convert your multi-touch device into a powerful MIDI controller.
– Build your dream interface in just minutes
– Emulator includes a complete list of objects so you can custom design your own multi-touch interface with buttons, sliders, circular knobs, jog wheels and many more.
– Share your custom templates with the Emulator community and benefit from templates and experience of our other users.
– Work at any resolution!
– Add multi-touch capability to your preferred DJ, VJ or Music Production software.
Enjoy

Improv jam using Lemur on an iPad 2, with analog keyboards and USB controllers connected to Ableton Live. Lemur is wirelessly controlling effects on NI's Massive (synth played on the M-Audio Oxygen 25) and NI's Kontakt (drums played on the Akai MPD26). The bass is on a Moog Prodigy, and the lead is a DSI MoPho. All loops are recorded live, nothing is pre-recorded.
About Lemur:
Lemur – the legendary multitouch MIDI/OSC controller returns. All these major artists can't be wrong: Daft Punk. Björk. Nine Inch Nails, Deadmau5. M.I.A., Justice, Hot Chip, Ryuichi Sakamoto, Orbital, Richie Hawtin, The Glitch Mob, Matthew Herbert, Joris Voorn, Stephan Bodzin, Modeselektor, Alva Noto, Richard Devine, Gui Boratto, … you?
Rock solid standard
Major stadium-touring acts use Lemur on stage. The original hardware version was introduced to the public in 2004 and Lemur software now benefits from nearly 10 years of development. These are just two of the reasons Lemur is the name cited when talking about multitouch control.
Control anything
Lemur is a professional iOS controller app that doesn't cut any corners. It lets you control anything, any way you want. Total flexibility means it can go as deep as you need it to. Lemur can control DJ software, live electronic music performance software, studio production software (DAWs), VJ software, visual synthesis software, stage lighting and more. In fact, any software or hardware that can be controlled by MIDI/OSC can be controlled by Lemur.
A controller unequalled
Lemur has often been imitated but never equalled. The physics engine, which can make faders and balls bounce, is entirely unique: allowing anything from a slight organic feel to absolutely chaotic modulations. Lemur goes deep: it comes with more than twice as many objects as comparable apps. Options for adjusting the look and feel of objects are vast, and connection to your gear is simple.
User Library
Access templates from top artists and the Lemur community. Some of these are actual templates used on stage, others are pure studio or creative tools. Share your own or simply browse the library and download whatever suits your needs.
SPECIFICATIONS
– Objects
Fader; Multislider, Range; Multiball; Knob; RingArea; Switches; Pads; Custom Button; Container; Breakpoint; Leds; LemurMenu; Monitor; SignalScope; SurfaceLCD; Text
– Physics
Hated physics at school? Now you'll love it! The behaviour of many Lemur objects can be affected by powerful and easy to use physical models which can make your controller bounce, rebound and oscillate. Make your controller come alive.
– Scripting
There's absolutely no need to dive into scripting if you don't want to. But if you're the type who likes to get their hands dirty then there's a powerful scripting engine inside Lemur. Harnessing this power will allow you to build extremely dynamic templates.
– Editor
The Lemur editor, is a cross-platform (OS X/Windows) interface builder. It allows you to create new Lemur templates or edit existing ones. The drag & drop interface makes it easy to use. It allows you to create anything from the simplest set of faders to the most complex groovebox with no hassle.
– Connectivity
Simply connect your iPad/iPhone to your laptop over Wi-Fi and make the connection! Lemur also supports CoreMIDI allowing you to use hardware interfaces such as Alesis' iO Dock or the iConnectMIDI or class-compliant USB MIDI interfaces (with a camera connection kit). You can even control up to 8 computers from one iPad with Lemur!