December 19, 2010 · Posted in
Uncategorized
·
Comments Off

on Stereoklang talks to synthmaster Daniel Myer, with Covenant and Recoil
Covenant performed at this year's ElectriXmas and we had a quick talk with Daniel Myer about music, gear and iPads. Watch the video below

More stuff on Daniel below:
Architect is joining Recoil for the US tour after some shows together in Europe.
Architect is the creation of German mastermind Daniel Myer. In 1993 he founded the legendary electro-industrial/EBM project Haujobb. Since then he has made a name for himself within the electronic scene and initiated many other projects such as HMB, Newt and Destroid.
Since 2007, he has been a permanent member of the renowned Swedish EBM band Covenant. Created in 1998, Architect and can be easily described as the most fascinating of Daniel's projects. Focusing primarily on minimal techno, powerfully distorted sequences and razor-sharp breakbeats, he manages to create a unique hybrid of electronica with smooth ambient soundscapes, rendering the results suitable for both listening and dancing.
December 9, 2010 · Posted in
Uncategorized
·
Comments Off

on Choc – freeware synthesizer instrument for Windows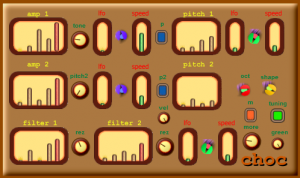 Spacedad has released Choc, a freeware synthesizer instrument for Windows.
an experimental synth with internal pitch-tracking oscillators.
a free present just in time for xmas.enjoy!
Choc for Windows PC (VST) is available as a free download.
March 5, 2010 · Posted in
Electronic Music
·
Comments Off

on String theory – new free VST from Ugo
String Theory is a flexible, delay based physical modeling synth which is capable of a wide range of plucked strings, atmospheric pads and ambiences, and unique hybrid synth sounds.
String Theory also offers dual phrase arpeggiators. Each arp has its own speed, gate, and octave controls; which allows for complex patterns.
Features:
Physical Modeling Plucked Strings.
Delay based Oscillators.
Detune.
Pitch LFO.
Amp Envelope with 2 attacks.
Tremolo.
BP+BR Filter.
LP Filter with envelope and LFO.
HP Filter with envelope and LFO.
Dual Metal Module.
Dual Delay with MIDI sync and Pan.
Dual Phrase Arpeggiator.
MIDI CC support.
173 patches by: Ugo, Tim Conrardy, Matthew DeMeritt (Geeseaplenty), Mark Stolk (Mystahr).
March 4, 2010 · Posted in
Electronic Music
·
Comments Off

on New free effect-plug from B.Serrano
B. Serrano has released Nibiru 2 – an extended 4 band resonator effect plug-in for Windows.
Features:
4 parallel multimode filters (LP, HP, BP, Notch, Peak) with resonance and spread.
4 LFOs (host syncable)
Stereo balance on each filter output.
Nibiru 2 is available now as a VST effect plug-in for Windows.
January 14, 2010 · Posted in
Electronic Music
·
Comments Off

on More free synths and effects at Stereoklang, including DroneMaker
Sonic Entropy has introduced Zombie Killah 2, a free synthesizer instrument plug-in for Windows that they describe as "THE ultimate badass synth".
"Most recommended for use for lead parts, especially in Drum'n'Bass, Breakbeat, Dubstep, Jungle music."
Zombie Killah 2 Features:
2 detuned oscillators.
1 sub bass oscillator
Easy and quick modulators:

One-Knob Adjustable Frequency Modulation.
One-Knob Amplitude Modulation.
Double-Knob Pulse Width Modulation.
Vibrato and Tremolo.
3-way filtering.
Host-synced BPM LFO Speeds.

All parameters automatable, but an assignable MIDI CC for LFO Speed is available if needed.
Chorus effect for stereo widening.
10 Factory Presets to get you started.
Zombie Killah 2 is a free VSTi plugin for Windows. Mac users will have to find their own "ultimate badass synth."
SoundMagic Spectral is a free suite of 23 Audio Unit plug-ins that implement real-time spectral processing of sound.
Included in SoundMagic Spectral are the following effects:
Spectral Averaging, Spectral Bin Shift, Spectral Blurring, Spectral DroneMaker, Spectral Emergence, Spectral Filterbank, Spectral Freezing, Spectral Gate and Hold, Spectral Gliding Filters, Spectral Granulation, Spectral Harmonizer, Spectral Partial Glide, Spectral Pitch Shift, Spectral Pulsing, Spectral Shimmer, Spectral Shuffle, Spectral Stretch, Spectral Tracing, Chorus, Comb Filter Bank, Grain Streamer, Idee Fixer, Mr Filterbank
Requirements:
Mac OS X 10.4 and a G4, G5 processor or Intel Mac.
__________________________
December 8, 2009 · Posted in
Electronic Music
·
Comments Off

on Free plug-in for that warm reverb
Free Music Software: KR-Reverb FS is designed for ease of use by adjusting internally the equalization and damping controls to optimal levels to produce a "warm reverb sound suitable for a wide range of applications."
It's available for Mac, Windows & Linux as a free download here >>
Features:
Output Gain control with range
-12db to +12db adjustment.
Adjustable Early Reflections Size
Adjustable Late reflections size
Adjustable Diffusion control
Adjustable Decay control
Adjustable Listener position control
Dry/Wet Mix adjustment.
Windows XP,Vista (VST)
Mac OSX UB (VST,AU)
Linux Native VST
Support for User definable presets
(Save & Load) via Host interface
November 18, 2009 · Posted in
Electronic Music
·
Comments Off

on New free frequency shifter
sg-freakshift
Background info:
This is a not-quite-technically-correct stereo frequency shifter (with seperate controls for the left & right channels) based on techniques seen on this web page: http://www.cim.mcgill.ca/~clark/nordmodularbook/nm_spectrum_shift.html
The reason for this not being technically correct is that doing this the right way would require a lot more CPU. This implementation only achieves true frequency shifting in a certain range of frequencies, while frequencies outside of this range get an effect closer to ring modulation, which is still interesting.
There is also a simple distortion effect and LFOs for modulation.
November 12, 2009 · Posted in
Electronic Music
·
Comments Off

on Bass Cruncher – new free plug-in for download
BASSCRUNCHER
Monophonic Bassline Synthesizer mit einem Quitschigem Lowpassfilter ähnlich dem tb-303.
Features:
Monophonic Synthesizer
1 OSC (saw/pulse waveform)
1 LP Filter mit 303 artiger Resonanz
Drivemode (Soft/Hard sience V1.1)
Filter Stepsequencer in 16 Stufen
November 10, 2009 · Posted in
Electronic Music
·
Comments Off

on 10 new fat refills at Stereoklang
This time there are everything from synth leads to rex loops and cool ambient patches for you to enjoy
Make sure to check them out and spread the word

November 5, 2009 · Posted in
Electronic Music
·
Comments Off

on Free synthesizer that emulates a circuit-bending device
Always fancy software that looks like hardware
Bend Box is a software synthesizer that emulates a circuit-bending device. Can be useful for making experiments and for creating various noise FX. All knobs can be tweaked manually or thru easily assignable MIDI controllers. MIDI Automation is also available.
Watch the great video below

With Bend Box you can get wide range of noises: from the soft gurgling to ringing grinding, or even strange melodical timbres.