There is so much good music out there and very little reaches our ears, that is why we started our SoundCloud player where you as an artist may share your work and promote it in prime position among your peers and electro friends. In the player we have tracks from AfroDJMac, Lebatman, Bears in Nippon and todays contribution from JSD, which is a nice JM Jarre, Tangerine Dreams type of composition, enjoy
Promote your electronic music at Stereoklang by Stereoklang Produktion
Nitzer Ebb needs no further introduction, but fact remains that Bon Harris and Douglas McCarthy with albums like, "That Total Age" and "Belief", in the late 1980s set the scene for EBM going forward, with their devotion to pounding bass rhythms. Having toured with Depeche Mode few doubt their impact on electronic music and after a break in the 1990s the band finally reunited and went on tour again in 2006. Last year the critically acclaimed album Industrial Complex came out and as of right now they are on a long European tour together with Die Krupps. As a special treat for fans both bands play jointly on stage and an exclusive mini album called Rhythm of the Machines can be obtained on site. Stereoklang met up with the band backstage and had a long chat about gear, the synth/EBM scene of today, the shift of label and how they still maintain a enthusiastic crowd everywhere they go.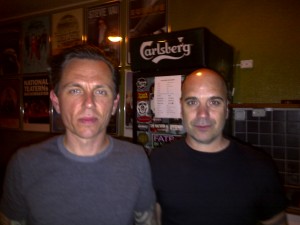 How has your new material been received and how did the collaboration with Die Krupps come about?
Well it is not technically all that much new material, but it has been laid out to fit our tour and the collaboration we have with Die Krupps. But we are of course pleased with the response we have received so far and our fans seems to like it. The idea of collaboration with die Krupps happened in November last year when we met each other in San Antonio, Texas. However we do have a long joint history together, so when Ralph contacted us in the studio with the idea of doing something jointly we were all for it.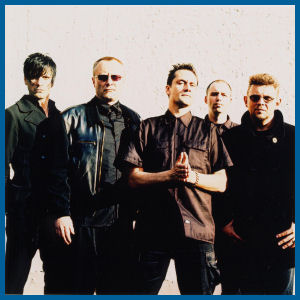 You are celebrating 30 years as a band next year, how do you work to continue excite existing and new fans?
The most important thing is honesty and be 100% true to what you do. We work hard to produce shows that match the expectations of our fans, but we are also very demanding on ourselves to deliver quality over quantity. You need to show on stage that – You mean it!
Sunday synth morning focusing on the KONG drum machine in Reason 5. Using MIDI and an AKAI MPK I tried to see how you could experiment around with the KONG as a means of generating more experimental sounds. All in all 5 different KONGs are used in this song, paired with additional Combinators and one Dr OctoRex for adding more punch. The video is merely a live shoot in order for you to get a feel for the basic set up in creating this type song and which filters and effects are used.
The song is called "Sisters", I might do a more robotic version of it at a later stage, we'll see
More Steelberry Clones tunes can be found here:
http://soundcloud.com/stereoklang-produktion/sets/steelberry-clones
Well we are definitely not the first to jump on the Facebook bandwagon, but who cares – now we are and we are happy to invite you to come and "Like" our fan page.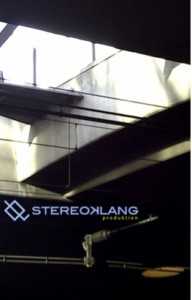 So why are we on Facebook now, well here are a couple of reasons:
1. Easier for you to comment and interact with us
2. We want to have one place where we can be a bit more speculative


3. We sometimes receive freebies that we would like to be able to share with you
4. Some things we learn are too much rumors for the blogg
5. Competitions and events -this is a way for easy interaction with you guys
So, it is brand new, there are still loads of stuff to be done, but make sure to head over to Stereoklang on Facebook and press the "Like" button
Cheers from the Stereoklang crew and depending on your whereabouts we promise to buy you a beer if you are in the neighbourhood.
Saturday morning synth music with robotic voices – original tune from SBC, enjoy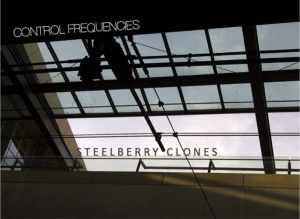 Steelberry Clones – Control frequencies by Stereoklang Produktion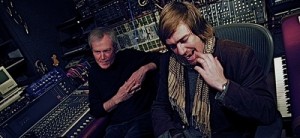 Anyone with the slightest interest in electronic music has come across the works of John Foxx. John more or less on his own reshaped the electronic landscape with albums like Metamatic and The Garden. Starting off in the 1970's forming the band Tiger Lily, that later morphed into the legendary act Ultravox. However, John left the band in 1979 to pursue a solo career and over the years, since then, John has been extremely productive – to say the least. John did withdraw from the music scene for a while to pursue other areas, but reappeared in the 90's via Nation12 and then later on actively started to pursue his music career often in collaboration with others like Louis Gordon, Harold Budd and most recently with Benge (ben Edwards). Currently we are all set for a real treat with the new album called Interplay, featuring John Foxx & the Maths. Without further a due, and introductions, we dive deep into the mind of Mr. John Foxx
The Metamatic album has lots of pop format songs with raw and distorted synths, a sound that still feels fresh. But no-one picked up on that combination until much later, e.g EBM and Futurepop movement in the 90s and even more so by the Skweee movement of the 00s. Not even yourself continued in that direction with those raw synth sounds until your more recent work. – Why didn't you pursue that direction? Was it going against the time too much?
There were many other things to pursue. For instance, reclaiming some of my own ground from 'Systems of Romance' on 'The Garden' album. I also wanted to make 'Cathedral Oceans' and other kinds of quiet music.
Then there was the preoccupation with Psychedelia, and its link to German electronic music. This wasn't at all recognized in England at the time. At one point, I was also afraid that perhaps Metamatic was too raw and minimal and cold. This seems odd, because it seems quite warm now – but it certainly didn't compared to other records being made at the time. A few years later, when I had the perspective to be able to appraise things from a safe distance, I realized there might be something special about Metamatic after all.
You've once said that new instruments like the electric guitar, synthesizers and drum machines changes the shape of the music. That you write to accommodate to the machines – Do you perceive that the DAW/laptop studio made the same impact?
Oh yes, every technological introduction changes the music – there are musicians who would not exist in other environments – The form of many new musicians' work is enabled by intelligent use of new technologies – Autechre for instance, require a portable digital ecology in order to exist in their present form. Theirs is an intelligent, visceral response to new digital environments.
XXX require flexible digital recording technology to review and refine their music. It is clearly not based on any purely acoustic hierarchy of sound.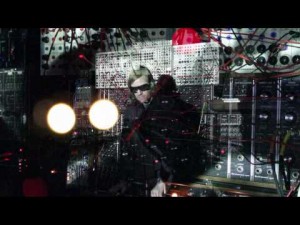 Just as Frank Sinatra changed both singing and recording by using a microphone and an amplifier – enabling him to sing quietly in front of a big band, so DAWs and laptops have created methods of working and kinds of music that were not possible before.
Stereoklang got an exclusive interview with the legend in Swedish new wave, glam rock, and synth pop – Mr. Johan Kinde. The frontman behind the cult band Lustans Lakejer (in English it would be something like "the lackeys of lust"). LL has been around since the early 1980's and their music has always dealt with the passions in life, at least from a male perspective; women, champagne, love, dreams, passion, forbidden fruit, but at the same time with a glimpse in the eye and you can sometime sense that there is a backside to the life of a playboy. Johan and LL has made a long list of classical songs over the years and even had collaborations with some of the members in the UK cult band Japan (Mick Karn and Richard Barbieri). Stereoklang wanted to catch up with Johan now that LL has a new album out and they are ready to hit the road again.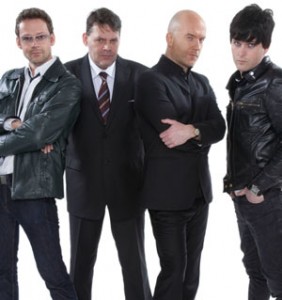 How has the new record been received and are you happy yourself with the result?
"Absolutely!!! The record has been receiving great reviews and has actually climbed to the highest position in the album charts relative to all previous LL albums. Now we are so eager to tour with the new album all across Sweden."
The album for those of you have not heard it yet, is to us an album that takes LL back to its roots, with the synthesizers more in the front, a more electronic touch, but still flirting with sounds found on more recent works like Åkersberga for example.
"In a sense you can say that we really had this ambition from the start, to write more hip songs that are more immediate and perhaps shorter, kind of more fit to be synthesizer based. We wanted them to be more up-tempo songs with more bass sounds. We even had a version of the album that was even more "synthish" – kind of like LL meets Depeche Mode. The Swedish synth pop act SYSTEM even made a remix of the song "Eld och vatten", it was almost as if Vince Clarke had been involved." More over having Jenny Silver singing a duet with Johan almost gives it kind of a "Fade to grey" – kind of feeling.
"As I see it the synthesizers actually won the war over the rockers. Just listen to today´s music scene where synths are more important then ever – Lady Gaga just to name one, even though the traditional "synth music" became more of a niche scene. I think this partly because they just became carbon copies of bands like Depeche Mode – for that reason I found it more interesting when the electro wave came about."
So what synthesizers can we find on the new album?
"It is a combination of hardware and software synths." Johan let us know that he is not very much of a synthesizer guy at all, even though he sometimes gets the lust of acquiring some of them. On the new album, however, you will find the KORG Polysix on almost all of the songs (played live in the recording sessions), coupled with some vintage modular synths kindly supplied by P. Levin from System. The fact that Johan plays most of the instruments himself on the album (not being a true keyboard guy), synthesizers and guitars, gives the album a more natural feeling and not too perfect, a live feeling kind of.
The lyrics has always been a central piece in the works of LL, so we asked Johan for the real story behind the lyrics
The life of a romantic – is probably the best description you can give to the works of Johan and LL, but are they true stories or just dreams? "Most of it is actually self-experienced. Often people say that in the early days it was dreams, but now it is self-experienced, but the truth is more that in the early days I did experience the things I was writing in my lyrics, but PERHAPS I dressed it in words that made it sound better than it was ☺.
Stereoklang got an interview with Emmon, real name is Emma Nylén, who has been very active in the Swedish and Scandinavian electro synthpop scene since several years back. She has been dubbed the title "Electro pop queen of Sweden". Now the rumors are hot on the net that there is a new album on its way and Stereoklang caught up with her to ask her if this is true and also took the opportunity to talk about music production, DJ-ing and of course synthesizers, hard and soft. To find out more about her go here >>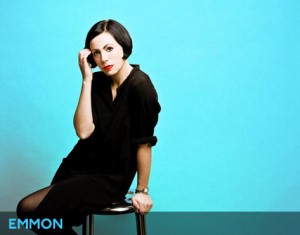 There are frequent rumors that a new album is on its way, true or not?
That is true, and if all goes as planned, the third album with Emmon will be released on Wonderland Records in Sweden in the spring of 2011. "I am just now completing the final mixes to disk." First single "Distance" from the album will be released in March. "In parallel we will head off to Berlin to record a video for single number two, which will be released later this spring."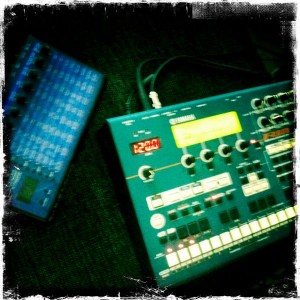 Will we recognize the sound from the previous album, or will it be pretty much the same?
"It will still probably sound very much Emmon but with some new influences. From the responses I received from people who have heard the new material, says the sound is a little darker and harder in the production. All songs emanates from what I think is exciting and inspiring. And since I'm most active in my music making during the darkest time of year so I think even that will to some extent color the music."
Your last album was very much a classic synth pop record with all the right basses and melodies. What do you use in your music production process, the work in the studio and who is involved.
"Trying to describe a creative process is extremely difficult. There is no exact formula for creating music, it usually happens just by itself. For me it's about finding the focus of a mood or feeling that you want to portray and then try to convey this in a good manner.
Previously I have done everything myself during the entire process, from writing songs, record, produce, mix and fix album art."
This time Emmon has chosen to involve Jimmy Monell (mixed the album for the indie-op act Paris some time back). "He is extremely skilled and have worked a long time as an experienced musician and producer. We work very well together and we have the same taste when it comes to music and influences. He complements me incredibly well in many areas and is very easy to interpret what kind of feeling it is that I want to convey with my music and manage to enhance it further."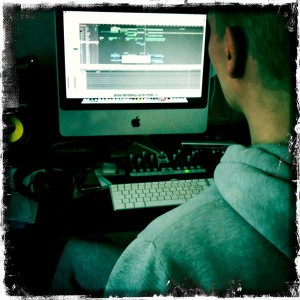 What are your inspirations and how is your relationship to today´s electronic music scene?
"What inspire me the most are movies and pictures. As long as I can remember I have always related my creativity and music to images. A creation of a song probably works in much the same way as when directing the screenplay for a movie sequence. It's all about feel and timing. Currently I am also very keen on horror movies, which probably also is reflected in some of my recent works. The dream would be to ever get the opportunity to make music for a really good film.
I listen to and find inspiration from many different genres of music but of course my heart beats a little extra hard for electronic music. I often seek music that is somewhat dark, and experimental and like bands and artists such as Crystal Castles, Salem, Simian Mobile Disco, The XX, Pj Harvey, The Cure and The Parallax Corporation etc
My vision for the new album has been to create a kind of epic horror film script of warped and mysterious music events while I at the same time wanted to come closer to the music, which once made me want to start creating electronic music."
Analog Signature v3 – Trigger your music creativity
We have had the pleasure of reviewing the latest Reason Refill from Soundcells, based out of Germany. Soundcells definitely belongs among our absolute favorite providers of high-quality Reason refills, and for other formats as well for that matter. The nice thing about Soundcells' Refills is the variety and complexity provided covering everything from chip tunes to ambient to synthpop music.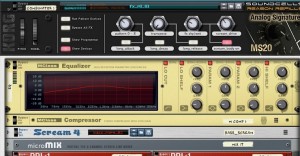 This time we have taken a closer look at the recently released Analog Signature v 3, which is a follow up version 1 and 2 containing some 40 nicely crafted Combinator patches (CMBs) and an additional set of Thor, REX, Scream modules. Being slightly biased, based on the type of music Steelberry Clones are making we must say that the real treat is the MS20 Combinator patches included, all perfectly balanced and with that right low-bass "knorrrr" sound typically for the MS20. The sounds of the Waldorf Microwave and Pulse are so genuine in their sound structure that you can even spot the original pre-sets and inaccuracies that portrayed the original hardware synthesizers. I have added some sample snapshots in the SoundCloud player below, so that you really can see what we mean:
Reason refill sound demo – Analog Signatures v3 by Stereoklang Produktion
So based on the type of music you are in to, and judging from the fact that you are reading this blog, probably indicates that you enjoy the same type of music as we do, this Reason Refill will add those vintage sounds that often are fairly hard to come by. KORG MS20, Waldorf Microwave and Moog are all in there and perfect for punchy bass lines, leads and pads. The Combinator section is probably the one you will use the most, but there is more…
Another thing we really like about the Refills from Soundcells is the fact that they also put in some time to work with some of the effect modules in Reason, such as the Scream Sound Destruction unit, which in our personal view is something often neglected by other Refill providers and even by Propellerhead themselves (judging from the quite poor sets provided with the off-the-shelf Reason package). Soundcells offer smooth and beat enhancing capabilities to your music through the Scream unit that we have not come across anywhere else.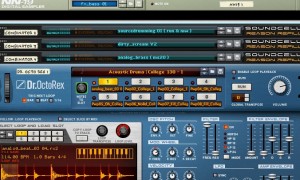 So is everything but glory in this Reason Refill? Well the only part of this Reason Refill that we possibly would have hoped more for is the REX loop section, which in our mind is fairly basic and not so inspiring. If you are looking for standard vintage drumbeats to accompany your tracks, then you will definitely find what you are looking for, but if you are hoping to spice up your tracks with something unique, then you need to look elsewhere.
Overall verdict
Soundcells has done it again, that is delivering a high-quality product that triggers your music creation process
NOTE: We hope to be able to feature the creators behind Soundcells in a later post, so stay tuned
Stereoklang had a quick chat with the band Memmaker when they performed live at this year's ElectriXmas in Malmoe Sweden
Memmaker is a Canadian noise/IDM band currently based in Copenhagen, DK