After more than a decade of obsession over granular synthesis, Robert Henke aka Monolake releases his signature Granulator for Max for Live. Get the instrument for free here: http://www.ableton.com/granulator
Through April 2011, save big on Suite 8 and Max for Live: http://www.ableton.com/maximized
Note: The Monolake Granulator requires Ableton Live 8 and Max for Live.
Liine has released a free Max For Live device, Kapture, that was originally created for Richie Hawtin's Plastikman Live tour.

The sounds and sonic signatures in Plastikman Live are heavily reliant on complex configurations of sends, returns and feedback loops, as well as combinations of instrument and effect parameters. Liine's challenge was to build a system to manage this huge number of parameters in a live scenario.
Kapture is the solution that they came up with. Similar to a preset management system for the whole of Ableton Live, it lets you "Kapture" the state of your set.
More info on Kapture:
We're now very glad to be able to release it to the public and to see how other people use it in performances and in the studio. Kapture is not a polished mainstream product but something developed for a very specific show. However, we think that it's something that many people will find very useful if they are willing to get their hands a little dirty and tweak it to fit their setup.

We aim to continue releasing bits and pieces like this from the Liine Laboratory, more rough and ready experimental/custom devices and works in progress, alongside the polished, premium products such as Griid.
Kapture requires Ableton Live 8 and Max For Live.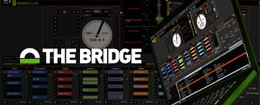 Ableton and Serato have announced the release of The Bridge, a software partnership which brings together elements of DJ performance and production.
The Bridge spans the gap between music production and DJing, creating a natural link between Ableton Live and Scratch Live. The Bridge provides a powerful fusion of DJ and production tools, opening a world of opportunities for DJing, remixing and live performance.
The Bridge 1.0 features
'Ableton Transport Control' allows tight synchronization between Ableton Live and Serato Scratch Live's interface with 'Ableton Transport Control'.
The 'Ableton Player' opens a window into Ableton Live's Clip View to launch samples or tracks in real time with Scratch Live.
Tight Beatgrid implementation ensures that the 'Ableton Player' stays locked to the swing of any set.
Serato DJ performances can be recorded as Ableton Live Sets, complete with song placement and fader movements with 'Mixtape'. (Fader and EQ automation only available when mixtape is recorded with Rane TTM57 SL and Rane Sixty-Eight)
The Bridge requires Scratch Live 2.1.1 and Ableton Live 8.2, which both are now available.
Changes in Scratch Live v2.1.1
Ultra Knob effects for 1 Knob performance control of advanced effects.
32 new Ultra Knob effects and 28 new Super Knob effects including "Echo Out" and "1 Knob HP/LP Filter".
Plug and Play support for the Novation Dicer Scratch Live controller.
Full integration with the Pioneer CDJ-2000 and CDJ-900 in "Advanced HID Mode" including library navigation, album art, overview display, and responsive platter control.
Support for The Bridge, which allows DJs to playback Ableton Live sets through Scratch Live, trigger clips within Scratch Live from the Ableton Player and record mixtapes as a multi-track Ableton file.
Changes in Ableton Live v8.2
Support for The Bridge, our collaborative project with Serato. The Bridge is free for users of Live/Suite 8.
Amp, an audio effect that models guitar amps and cabinets. Amp is free for Suite users.
Some changes were made to the Help Pages regarding how to report a crash and how to contact support. When restarting Live after a crash, Live produces a file named "Ableton Crash Report… .alp", whereas choosing "Get Support.." in Live's Help menu produces a file named "Ableton Status Report… .alp".
Bugfixes, details in the release notes.
The Bridge is free for anyone who owns Serato Scratch Live compatible hardware, and a registered version of Ableton Live 8.
More information: Ableton / Serato
touchAble is a new iPad app that makes it possible to control Ableton Live from your iPad!. Really cool!
"WHY THE NEXT LEVEL CONTROLLER IS NOT JUST A CLIP LAUNCHER? BECAUSE LIVE HAS MUCH MORE TO OFFER, TOUCHABLE PROVIDES A COMPLETE CONTROL SOLUTION.
Navigate around your live set with the touch of a finger, tweak Lives mixer, instruments and fx with full automapping and unlimited tracks & parameters.
touchAble allows live users to walk away from their computer and perform live from anywhere within Wi-Fi range while keeping latency at a minimum.
Play your favourite synths with the unique double keyboard or record your rhythms with the 16 drum pads, including 5 velocity steps & octave selectors.
Access the most important transport and clip functions without losing focus on your set and tweak the same set with two iPads with the unique Dual-User-Mode. Do you need to adjust volume, launch a new clip and play a device? Don't worry – a smart and intuitive screen menu empowers the user to arrange and switch modules on the fly."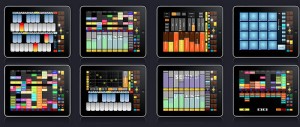 Ableton today announced a way to get hold of a good chunk of new sounds in the form of their new Ableton Partner Instruments. These are new, sample based instruments created by some of the top sound creation producers and available as integrated, custom instruments covering a wide variety of instruments and soundscapes.

To get a taste of these,  you can download a massive Partner Instrument Compilation of 4.4GB.
This  includes everything from acoustic pianos and electronic drums to exotic instruments and cinematic soundscapes; 58 Instrument Racks, 16 Drum Racks, 5 Live Sets and 80 Live Clips.
Download it here:
http://www.ableton.com/partner-instrument-compilation

Live Packs – 10 free Packs by Minus
The Live Sets were made exclusively for Ableton by ten artists from the Minus roster. Each Set comes with a companion Lesson that reveals insights into the artist's musical vision and offers valuable production tips. Includes material from: Click Box, Hobo, Heartthrob & Troy Pierce, Magda, Marc Houle, Fabrizio Maurizi, Barem, Ambivalent, JPLS and Gaiser. This Live Pack requires Live 8.1.3 or higher.
Learn more here:
http://www.ableton.com/minus
Trying to kick ass with Phoscyon and Nepheton. A bit harder than ReBirth.
http://www.youtube.com/watch?v=bKluUXd8pgY
protodeck first demo from Julien Bayle on Vimeo.
Speaking of special Abletronic miracles out of reach of most mortals, meet the Protodeck. Inspired by Robert Henke's legendary Monodeck, it's an all-stops-pulled bundle of delicious overkill. The specs are — insane, really.
87 potentiometers
90 buttons
81 rgb leds
2×20 LCD
2 PIC 18F4620 (20MHz RISC processors)
fully custom rgb led drivers
fully custom firmware
2 MIDI IN/OUT interface
This video takes a look at the Ableton Live audio effects rack.
This is part one of a planned video series that will show you how to use each each of Ableton Live's built-in effects.
Ableton is pleased to announce Able10 – a season of 2 months (November en December) with special offers, events, Give Aways and new products to celebrate the 10 YEARS of ABLETON.
Because of this first Decennium the company is taking the opportunity to look back on an exciting and succesful ten years. The Ableton user community has always played a key role; the company founders and staff would like to say Thank You to all the musicians, producers, performers, DJs, artists, broadcasters, choreographers, engineers and visionaries who have joined the journey so far. Ableton looks forward to sharing the next ten years with this unusually talented, innovative, inspiring and evergrowing Ableton Live community.
As special thanks, Ableton has put together a package of special offers, FREE Live Packs, an Able10 Party, FREE 'get On Tracks coursus for new users, 2 totally new products and birthday handouts.
FREE Live Packs
For Live 8 and Live 8 SUITE users: Ableton is giving away 10 FREE Live Packs from Ableton artists-songs and sounds from 10 truly innovative artists including Múm, Apparat, Thavius Beck, Swayzak and Junie Morrison (formerly of the Ohio Players).
Only in November and December special promotion price on a new Ableton Live 8 and Live 8 SUITE package with a 20% extra Able10 DISCOUNT!
Special PROMOTIONS on UPGRADES
For other Live users: anyone using an older version of Live or Live Suite can upgrade to Suite 8 or Live 8 with up to 20% Able10 discount.
Able10 PARTY – Amsterdam
To celebrate 10 YEARS of Ableton we have organized a special Able10 Party for the Ableton usergroup SATURDAY NOVEMBER 21 at the SUGAR FACTORY Club AMSTERDAM – it will be a free event but with a maximum capacity of 150 guests with a nice program with live music and Live performances of our Ableton star-endorsers and other Ableton musicians and DJ/Producers.
Introducing: Ableton Live INTRO
Ableton Live INTRO is out now. The newest member of the Ableton family provides the essential features of Ableton Live at an unbeatable price of EUR 99.– Live INTRO is the perfect starting place for new producers, DJs and songwriters and a smart way for experienced musicians to inject (REWIRE) Ableton Live's innovative features into their current audio software setup.
FREE UPGRADE to Intro for Live 6 LE en Live 7 LE users. Ableton is offering Live LE users a special Able10 bonus: a completely FREE UPGRADE to Live INTRO.