January 24, 2013 · Posted in
Uncategorized
·
Comments Off

on NAMM 2013: Akai Max 25 and the M-Audio Axiom Air 25
Nate from Akai Professional shows of the new Max 25 MIDI keyboard controller at Winter NAMM 2013.
Nate from M-Audio shows us their latest keyboard controller the M-Audio Axiom Air 25.
New M-Audio Keyboards Controller range extended with three new Axiom AIR models
Akai AX73 Sounddemo (ohne externe Effekte)
Copyrights Volker Hein – 2013
Weitere Infos unter www.tastronauten.de
Crumar Bit One / Bit 99 Sounddemo (ohne externe Effekte)
Copyrights Volker Hein – 2012
Weitere Infos unter www.tastronauten.de
December 19, 2012 · Posted in
Uncategorized
·
Comments Off

on The all new Tabletop from Retronyms – Ready. Set. Play
Big update Tabletop introduces Midi controller support, timeline editor, session sharing, and Tabletop Ready Apps with iMPC from Akai Pro! The update is free! Tabletop is free! http://bit.ly/TXTbd0
Ready. Set. Remix!
The exclusive Soundtrack in this video was created in Tabletop by Richard Devine. You can find the song Glitch Breaker Demo inside the Tabletop in-app community, or on SoundCloud. To celebrate the new update for Tabletop we're making a call for remixes! Download the Glitchbreaker Session right in Tabletop. You get access to all of the custom samples, sequencing, and arrangement. Remix to your heart's content. We can't wait to see what you come up with!
Richard Devine: http://www.facebook.com/pages/Richard-Devine/105387759760
Glitch Breaker https://soundcloud.com/richarddevine/glitch-breaker-made-with-1
December 17, 2012 · Posted in
Uncategorized
·
Comments Off

on Teaser: SunrizerXS 1.3 and AKAI SynthStation 25 demo
A teaser video of the upcoming 1.3 release of this popular iOS synth:
Sunrizer XS synth is a virtual analog synthesizer that takes the definition of iOs synthesizer to the next level.
Thanks to carefully designed architecture and heavy usage of coprocessor it blurs the boundaries between iOs and hardware synthesizers.
Sunrizer XS was built to perform and works perfectly with any MIDI keyboard or sequencer. A lot of research has been done in order to achieve unheard warmth and clarity.
December 14, 2012 · Posted in
Uncategorized
·
Comments Off

on AKAI – iMPC Music Production App for iPad
Akai has teamed up with Retronyms to bring the MPC to your iPad. With more than 1,200 samples, 50 editable programs, 80 editable sequences, and iconic MPC workflow, iMPC is the first app to bring all the functionality of a classic Akai Pro MPC to your iPad.
Developed in partnership with Retronyms, iMPC includes everything you need to create a beat quickly and easily, including built-in effects, plus the ability to create new sequences and record and overdub beats. Time correction from 1/8 note to 1/32T with variable swing, and Note Repeat from 1/8 note to 1/32T with latch control are also built in. The app's built-in sampler can record samples three different ways: using the mic on the iPad, using the line input on the iPad, or using the multi-touch turntable interface in iMPC to record samples directly from iTunes or other music libraries.
Download the iMPC App here: https://itunes.apple.com/us/app/impc/id584548447?ls=1&mt=8
To learn more and download iMPC visit: http://akaiprompc.com/impc
December 7, 2012 · Posted in
Uncategorized
·
Comments Off

on Akai MAX49 Midi/Mackie CV/GATE Controller Review
A quick look at Akai's new Controller keyboard with touch faders, Mackie Control/HUI and MIDI CV/GATE.
November 22, 2012 · Posted in
Uncategorized
·
Comments Off

on Akai EWI4000s plays SampleTank and Addictive Synth on iPad
Playing SampleTank on my iPad2 with my Akai EWI4000s via iRig MIDI. (Note: I meant to say CC74 for "Cutoff" not CC64). Be sure to watch the last minute (from 10:55).
Playing Addictive Synth on my iPad 2 with my Akai EWI4000s thru iRig MIDI. Here's a first look at this breath control freindly, fun and powerful synth! Breathy Flute 00:39 Solo 8:00 Tribal 12:54 Bernzilla Brecker EWI 15:33
Via Bernie Kenerson on Youtube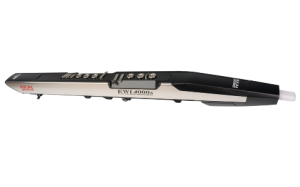 EWI stands for electronic wind instrument; this one is basically an analog modeling synth within a wind controller, so don't expect realistic sounds without hooking the MIDI out to another sound generator that has high quality samples or physical modeling.
November 3, 2012 · Posted in
Uncategorized
·
Comments Off

on In-depth look: AKAI MPC Renaissance
Akai Professional's top product specialist Andy Mac came down to make demonstration of the new MPC Renaissance.
"Fusing Akai Professional's legendary MPC layout and workflow with the power of your computer, MPC Renaissance is an unrivaled instrument for music production. The new flagship is a fully integrated hardware/software system: MPC Renaissance allows you to create using classic hardware controls and an integrated pop-up display, while its exclusive MPC Software empowers you with unprecedented, expandable production capabilities on your Mac or PC."
MPC Renaissance Hardware
Fuses legendary MPC production with the processing power of your computer
Vintage Mode changes output sound character to MPC3000, MPC60 and more
16 backlit genuine MPC pads, 16 Q-Link controls, and adjustable backlit LCD screen
Classic MPC Note Repeat, MPC Swing and MPC transport controls
MPC SOFTWARE for Mac or PC with 128-track sequencing capability
Two XLR-1/4" combo inputs and dedicated turntable input
Four-channel USB 2.0 audio interface and two-port USB 2.0 hub built in
Up to eight pad banks―more than any other MPC ever
Two MIDI inputs and four MIDI outputs
Stereo 1/4" out, stereo assignable mix 1/4" out & S/PDIF I/O
MPC Software
128-track sequencing capability
Up to eight pad banks — more than any other MPC ever
Massive 9GB+ sound library, including all the sounds of the classic MPC3000
Includes The Bank plus three additional free MPC Expansions
Instant mapping and real-time adjustment of VST plugins
Record each track as an MPC drum program, Keygroup program, or VST/AU plugin
Works alone as your main DAW or works seamlessly with your current studio as a VST, RTAS, or AU plugin
Supports WAV, MP3, AIFF, REX, and SND
Supports samples and sequences from any MPC ever made
Compatible with Mac and PC
October 28, 2012 · Posted in
Uncategorized
·
Comments Off

on Jordan Passmore Demo of the Roland JX-10, Roland SH-2, Akai MPC-60
This is a demonstration of two Roland analog synths, a JX-10 and a SH-2, combined with the sequencer/sampler the MPC-60. The MPC-60 is loaded with Linn LM-1 samples (courtesy of ToneBldr, http://www.drivenmachinedrums.com ) and is also sequencing the JX-10 and SH-2. The SH-2 is doing the bass while the JX-10 is doing the melody; Jordan is playing lines over the melody on the JX-10 occasionally. All sounds are mixed on a StudioMaster mixer and there is an analog delay (Washburn Accellerator) on one send and a EH HolyStain on another.
"The MPC-60 is sort of out of shot so near the end I bring the camera around to show what I'm doing with that."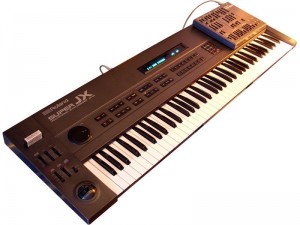 Released in 1985 the JX-10 (Super JX) combines two individual JX-8P's for an outstandingly warm, rich and analog sound which is still used in many modern studios all over the world. This synth was the first Roland Synth to be fitted with a quality 76 note keyboard with velocity and aftertouch. Two DCO's per voice, two ADSR envelope generators per voice, and a resonant lowpass & non-resonant highpass filters are only the beginning. It has a 12 voice polyphony for a total of 24 oscillators and it is by far one of the most programmable synths of its time! However, as on the JX-8P, knobs and sliders have been replaced by low-profile buttons and a nice LCD display. Although this may look sleek and elegant, it makes editing a chore. Assign parameters to the alpha dial for tweaking, one at a time, or get the optional PG-800 Programmer to provide traditional, hands-on, dedicated sliders for editing the JX-10's parameters.
The JX10 has a Chorus effect and a chase-play Delay function. The chase-play function allows programmable delayed repeats of voices by alternating patches of the upper and lower modules. The simple chorus effect is either off, slow or fast. It has two programmable sliders (if you don't use the PG-800) for some real-time control which can be recorded along with other effects and keyboard modes into one of the 64 Program Patches. This is in addition to its standard 50 preset and 50 user patch memory. A simple sketch-pad 1-track real-time sequencer is also on-board. It stores sequence data directly to an M16C card, or an M64C card for Patch/Tone OR sequence data. The M16C has a capacity of 400 notes, the M64C 1440, according to the manual.
The JX-10 also comes in a rack-mount version known as the MKS-70. It's worth noting that the JX-10 can not be edited via SysEx, however the MKS-70 can which is one reason many have chosen the rack version of the keyboard. The JX-10 can make bulk dumps of its sounds over sysex, but only with (discontinued) Roland M64C RAM cartridges.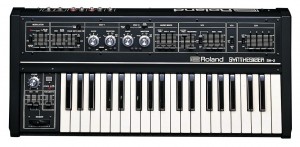 The SH-2 is one of Rolands' early synthesizers. It is very simple in design, look and function. It sounds much like the SH-101 synth, including the typical SH-style sub-oscillator. But the SH-2 employed 2 oscillators for a much fatter sound. It has the typical Roland SH sound – it's a monophonic bass synth that's flexible enough to provoke punchy analog basses, leads and squelchy sounds. The oscillators can be de-tuned as well, another feature the popular SH-101 lacks. But it isn't very pretty to look at as it shares the same design and layout as the SH09. Still it makes a simple and easily programmable mono-synth that can be used in place of the more common SH-101. However the SH-2 is harder to find and so it usually has a higher price than other SH-type synthesizers from Roland.
October 15, 2012 · Posted in
Uncategorized
·
Comments Off

on Electronic music performance: One year later…
Gear used: Elektron Machinedrum as main sequencer, Waldorf Blofeld, Akai mpc500, Korg Ms2000, Clavia Nord Modular G2 and DSI Tetr4.